On 9 August 2022, we witnessed the return of the National Day Parade in all its glory.
After having to settle for scaled-back celebrations for two consecutive years (as a result of the pandemic), it was surreal to see The Float @ Marina Bay filled with 25,000 spectators — all clad in Singapore's national colours — who had turned up to celebrate the nation's 57th birthday. 
More exuberant than ever, this year's edition of the annual event certainly did not disappoint. Helmed by Adrian Pang, a familiar name within the local film, television, and theatre scenes, the Show segment of NDP 2022 was a dazzling celebration of the strength, resilience, and unity displayed by Singaporeans during a very trying period. 
Compiled by Hear65, this list features the six most memorable moments from NDP 2022, including performances from Taufik Batisah, MICappella, Aisyah Aziz, Shabir, and more. Whether you missed Singapore's latest birthday bash or just want to relive it, we have got you covered. 
---
'You Will Be Found' - Aisyah Aziz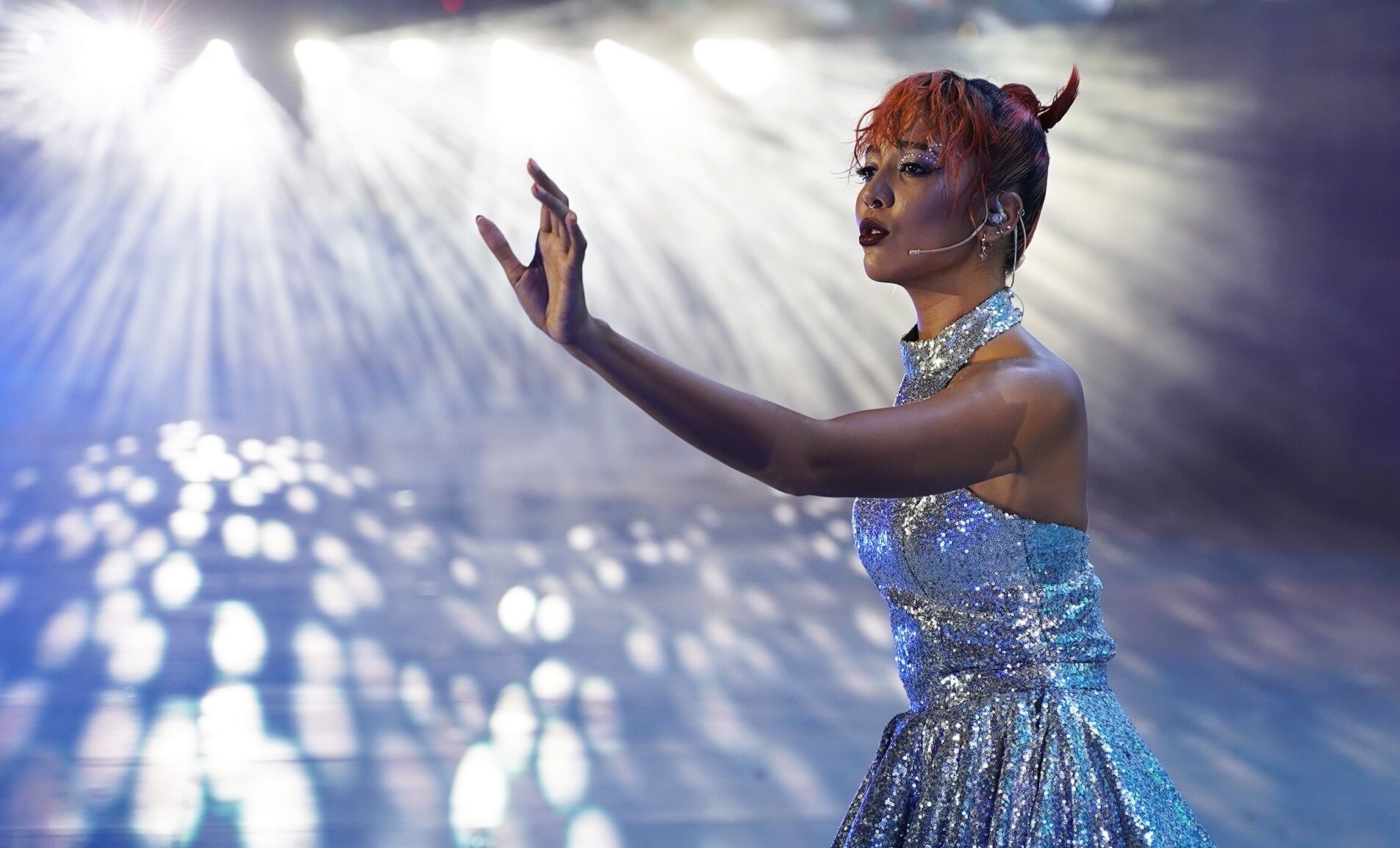 Credit: NDPeeps
As part of the second chapter of the Show — titled "Lights In The Dark" — Aisyah Aziz took to the stage, together with dancers from So Drama Entertainment, LASELLE College of the Arts, and Nanyang Polytechnic, to deliver one of the night's first musical performances. Wearing a long, gleaming dress, the singer-songwriter sang an ethereal rendition of 'You Will Be Found', a song from the soundtrack of the popular musical Dear Evan Hansen. Hopeful and emotional, the performance was a fitting tribute to the frontline workers and citizens who played an important role in Singapore's battle against the pandemic. 
---
'We Are A Symphony' - MICappella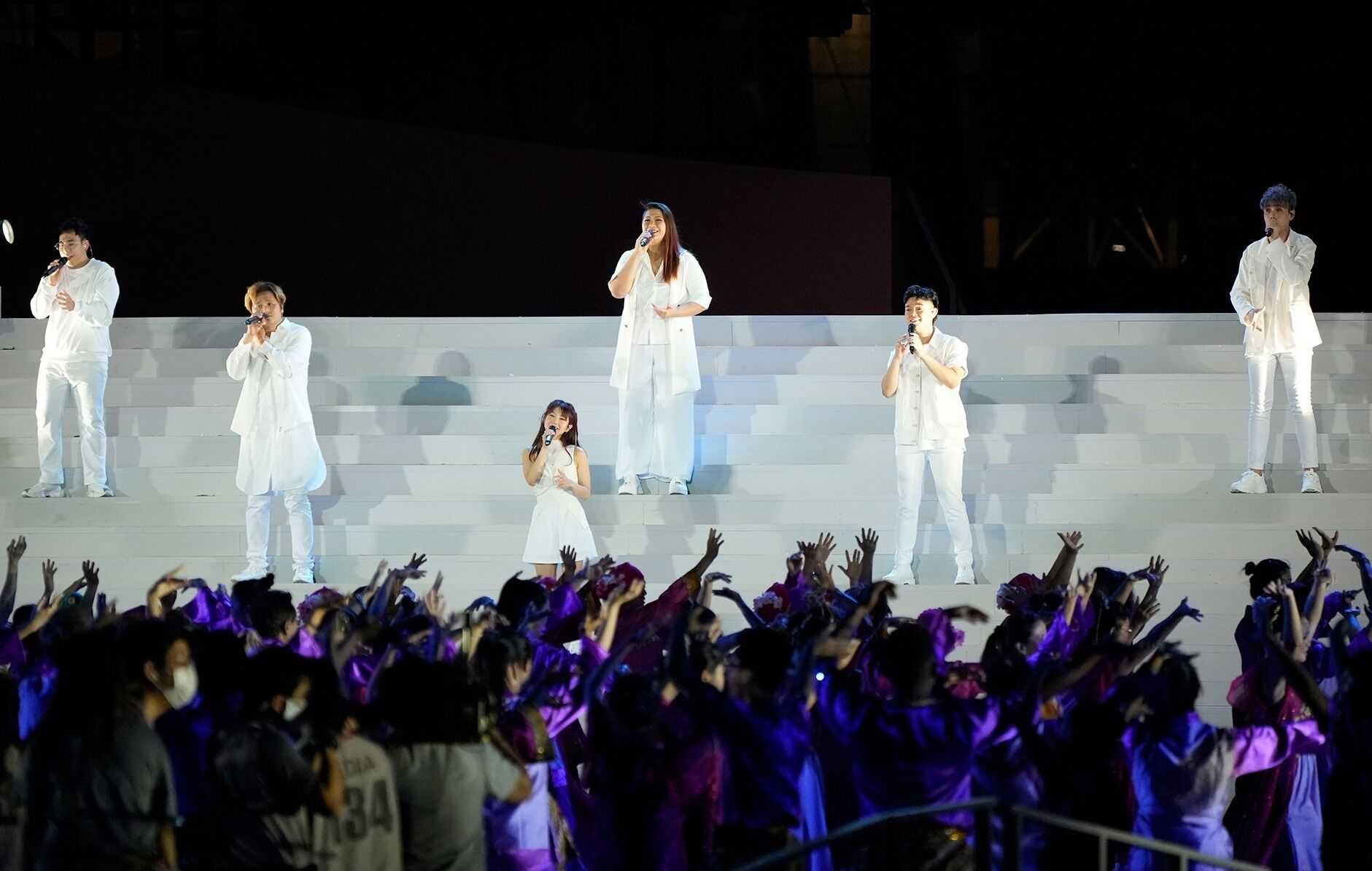 Credit: NDPeeps
Returning to the NDP stage for the first time since 2018, a capella sensations MICappella treated those in attendance to a stirring live version of their brand new single, 'We Are A Symphony' in the Show's third chapter, "Together". With their angelic vocals, the sextet — along with a colourful sea of performers from the People's Association (PA) and the Ministry of Social and Family Development (MSF) — reminded us of the importance of "standing together through tough times, sharing our hopes and dreams, and being united as one voice".
---
Medley by Jacintha Abisheganaden, Rahimah Rahim, Shabir, and Liu Ling Ling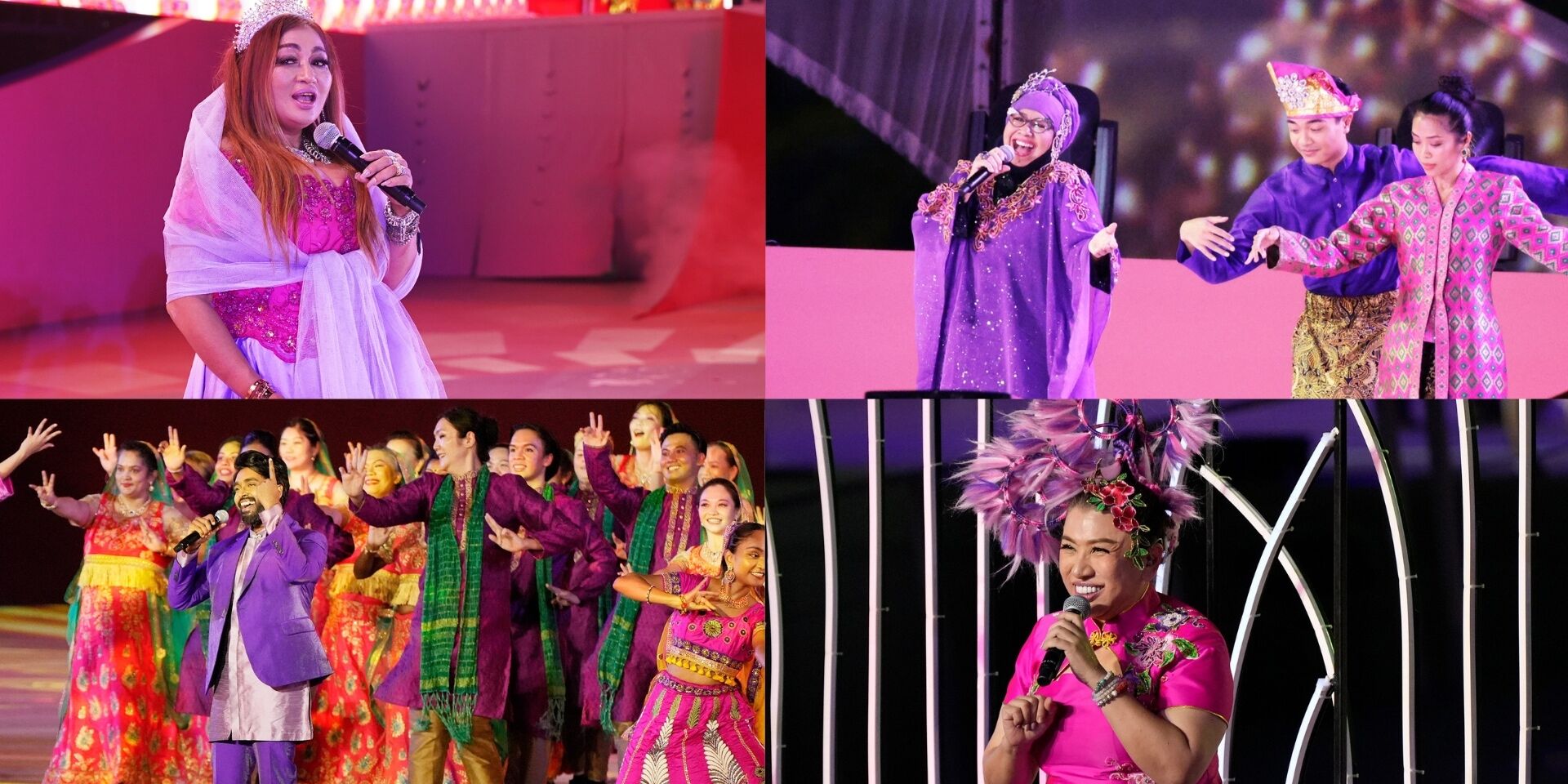 Credit: NDPeeps
In the second performance of the third chapter of the Show segment, artists across different genres and languages were assembled for a very special medley that celebrated Singapore's arts and culture. Kicking off the performance was Jacintha Abisheganaden, who whisked everyone back to the past with a presentation of 'Beauty World (Cha-Cha-Cha)', a delightful number from Dick Lee's renowned 1988 musical Beauty World. Next up was local legend Rahimah Rahim, whose impassioned spin on P. Ramlee's 'Getaran Jiwa' with her distinctive voice. The multi-talented Shabir then arrived to deliver an uplifting live rendition of 'Singai Naadu', a song that he wrote and composed for Singapore a decade ago. Rounding off the medley was getai veteran Liu Ling Ling, who got everyone at The Float moving with her infectious cover of '一人一半 (Yi Ren Yi Ban').
Watch the medley from 9:32 onwards: 
---
ShiGGa Shay and Elaine Khoo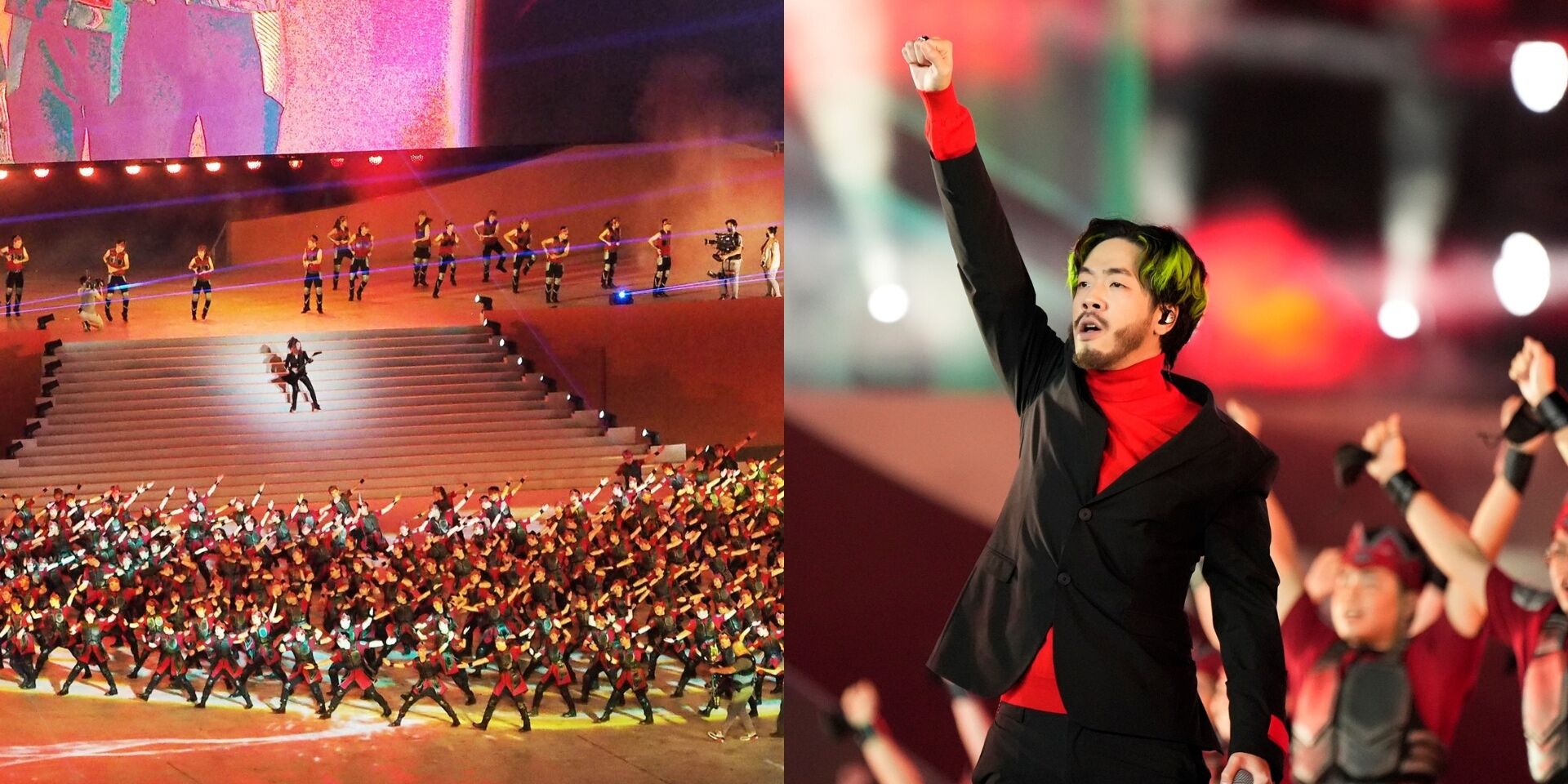 Credit: NDPeeps
An aptly fiery musical display was the centrepiece of the Show's fourth chapter, named "Fight". Blending guitarist Elaine Khoo's electrifying riffs and rapper ShiGGa Shay's authoritative voice, the performance was a powerful anthem that reflected the warrior spirit of Singaporeans during difficult times. The two were also joined on stage by performers from Sokka Gakkai Singapore.
---
'Stronger Together' - Taufik Batisah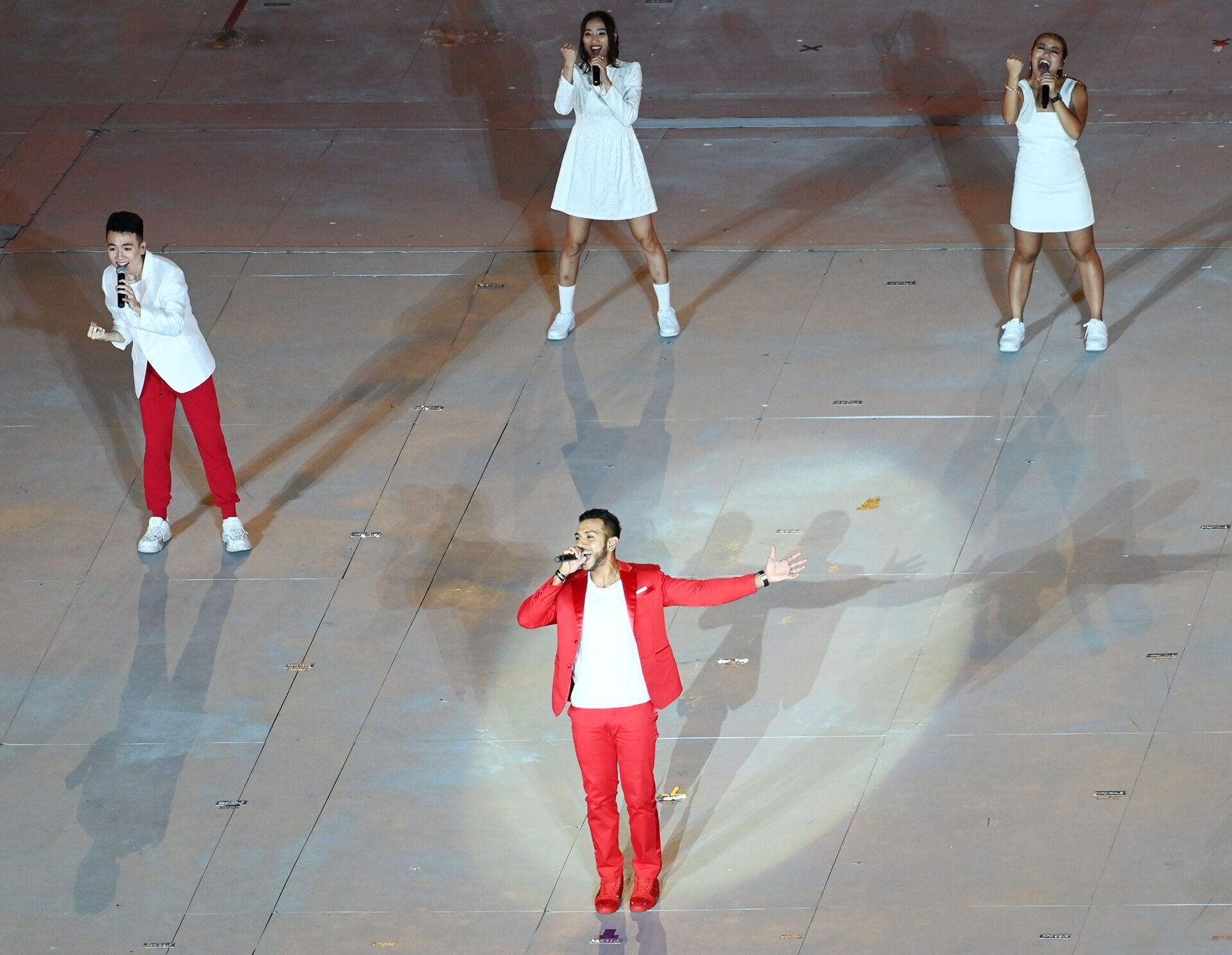 Credit: NDPeeps
"Singapore, we've gone through some crazy times. But moving into the future, as long as we help each other, we will always rise up stronger, together!" declared Taufik Batisah as he gave a jubilant performance of this year's NDP theme song 'Stronger Together'. Joined by 300 students, as well as everyone in attendance, the first-ever winner of Singapore Idol — dressed in red and white — wrapped up an extremely memorable NDP Show on a high note. 
---
'Majulah Singapura' - Singaporeans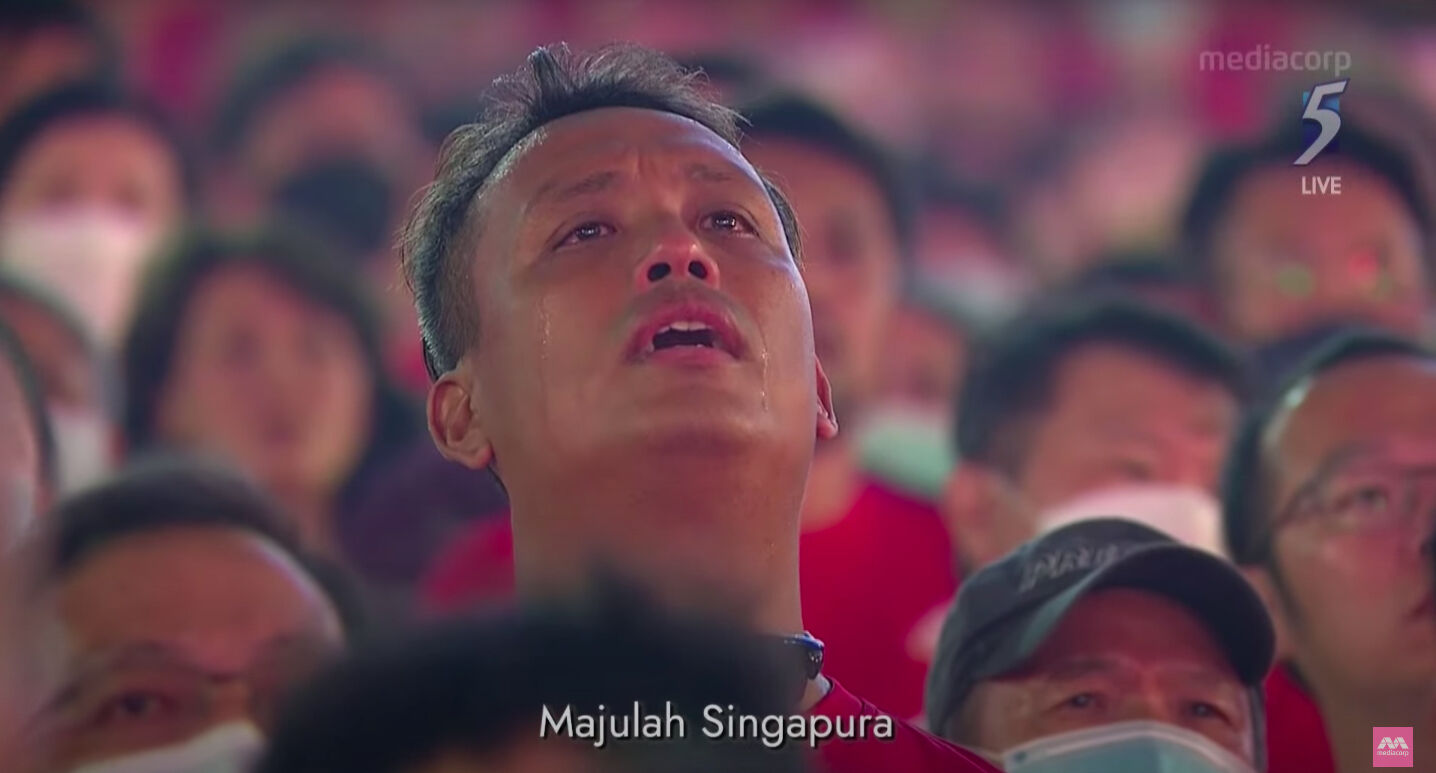 Credit: NDPeeps
The singing of the National Anthem has always been an NDP staple, but there was something truly special about this year's iteration of the activity. A palpable sense of solidarity was felt as Singaporeans, both at The Float and around the rest of the country, united to form a massive choir. After a long and difficult battle with the pandemic, singing 'Majulah Singapura'  was cathartic for many, and it was such a beautiful experience that it brought at least one Singaporean (pictured above) to tears. 
---
Relive the whole of NDP 2022 here:
---