Since the beginning, we've been reviewing music on Hear65 every week, and now we'd like to break away from this tradition and pass the baton over to you - the listeners of Singapore's music. If you've ever been itching to share your thoughts about a new track release, or simply want to introduce good earworms to more listeners, then read on. 
For the uninitiated, the Hear65 website has a Review Function to help visitors discover and gain greater insight into the music in Singapore. Good music should always be shared, and we are inviting contributions from friends and fans of our homegrown artists.
Every two weeks, the Hear65 team will select a few reviews to publish in a Review Round Up article. Just check out the latest releases and submit your review for a chance to be featured. 
Here's what readers have to say this week:
---
Move On - Brielle Kaga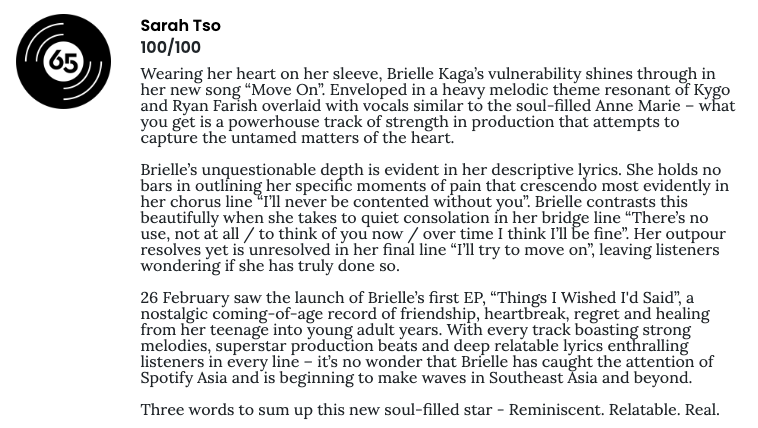 Sarah Tso, 100/100: Wearing her heart on her sleeve, Brielle Kaga's vulnerability shines through in her new song "Move On". Enveloped in a heavy melodic theme resonant of Kygo and Ryan Farish overlaid with vocals similar to the soul-filled Anne Marie – what you get is a powerhouse track of strength in production that attempts to capture the untamed matters of the heart.  
Brielle's unquestionable depth is evident in her descriptive lyrics. She holds no bars in outlining her specific moments of pain that crescendo most evidently in her chorus line "I'll never be contented without you". Brielle contrasts this beautifully when she takes to quiet consolation in her bridge line "There's no use, not at all / to think of you now / over time I think I'll be fine". Her outpour resolves yet is unresolved in her final line "I'll try to move on", leaving listeners wondering if she has truly done so. 
26 February saw the launch of Brielle's first EP, "Things I Wished I'd Said", a nostalgic coming-of-age record of friendship, heartbreak, regret and healing from her teenage into young adult years. With every track boasting strong melodies, superstar production beats and deep relatable lyrics enthralling listeners in every line – it's no wonder that Brielle has caught the attention of Spotify Asia and is beginning to make waves in Southeast Asia and beyond. 
Three words to sum up this new soul-filled star - Reminiscent. Relatable. Real.
---
Green Light - Absence!

Jedidiah Tan, 78/100: This song ticks off alot of the checkmarks for a classic synth pop sound, such as gated reverb on the drums and era-accurate synth patches. However, it definitely brings a modern vibe with the guitar parts in the back being in a more 'indie' application. Definitely a song worth checking out for fans of the genre.
---
Chapter 1: Vivid - Name.

April, 100/100: I am a very huge fan of this artist! Ever since I discovered his music, I have been following his masterpieces across social media such as Youtube, Instagram, and of course from Spotify. 
I don't know but when I listen to his music, I easily get emotional and I think this is one of the best and unique style I have ever listen to. Just want to share with everyone that this music. really helps me when I want to have a good and relaxing day :) Please continue to create good music like this one. You have no idea how excited I feel every time you announce that you're going to release a new album. 
I am not an expert when it comes to music but this song reminds me of some classical music from Disney <3 Thank you that I found this song on Hear65.com! Love you guys! <3 
---
illusion - Shirley Ho

Cedric, 100/100: Illusion is a light-hearted song bolstered by a catchy guitar riff reminiscent of today's indie pop while also retrospective to a 70s kind of vibe. Kind of like Carpenters meets The Cranberries. The song has an authentic feel with unique raw vocals as well as a bittersweet melody as a good companion. It's the perfect song for easy listening when one wants to relax after a long day's work. Playful and upbeat with a breezy zip in its melodic step, one can't help but fall prey to Illusion's catchy tune and dance-friendly melodies. Illusion is that amazing song that will keep you hooked from the first verse! Love it!
---
---