Since the beginning, we've been reviewing music on Hear65 every week, and now we'd like to break away from this tradition and pass the baton over to you - the listeners of Singapore's music. If you've ever been itching to share your thoughts about a new track release, or simply want to introduce good earworms to more listeners, then read on. 
For the uninitiated, the Hear65 website has a Review Function to help visitors discover and gain greater insight into the music in Singapore. Good music should always be shared, and we are inviting contributions from friends and fans of our homegrown artists.
Every two weeks, the Hear65 team will select 6-8 reviews to publish in a Review Round Up article. Just check out the latest releases and submit your review for a chance to be featured. 
Here's what readers have to say this week:
---
快乐乐乐 - JOANNA DONG

Alyssa Woon, 100/100: Love how the original Christmas tune could be switched up to such a good alternative CNY hit!! Loving the lyrics and the whole music arrangement!! Been on repeat!! A must-listen 😍 and an interesting take on CNY music. Sooo groovy!!
---
ENIL PAAINDHIDUM KAADHALAE - SHABIR, JONITA GANDHI

Ruzbihan Sameer, 79/100: When you think of Shabir, you know that his instrumental arrangements will elevate our listening experience. And this song just proves that again. Even though the intro and verse gives a melodious vibe, the chorus has a very catchy and enchanting tune. Jonita and Shabir combination for the song is something that the audience will love to hear, but disappointingly, Jonita's solo was just a few lines. The lyrics of the song was also very poetic in nature, which is kind of a norm now in Shabir's songs. Overall, it is a really good and catchy song that can be listened to on loop.
---
DRIPPY - RVND, HEYOKAH, KNWN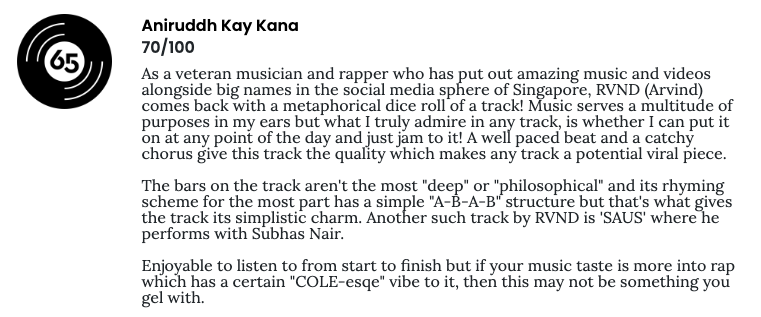 Aniruddh Kay Kana, 70/100: As a veteran musician and rapper who has put out amazing music and videos alongside big names in the social media sphere of Singapore, RVND (Arvind) comes back with a metaphorical dice roll of a track! Music serves a multitude of purposes in my ears but what I truly admire in any track, is whether I can put it on at any point of the day and just jam to it! A well paced beat and a catchy chorus give this track the quality which makes any track a potential viral piece. The bars on the track aren't the most "deep" or "philosophical" and its rhyming scheme for the most part has a simple "A-B-A-B" structure but that's what gives the track its simplistic charm. Another such track by RVND is 'SAUS' where he performs with Subhas Nair. Enjoyable to listen to from start to finish but if your music taste is more into rap which has a certain "COLE-esqe" vibe to it, then this may not be something you gel with.
---
GOLDEN RATIO - DANIEL SID, EVANTURETIME

Mandeep Randhawa, 100/100: I've been following Daniel Sid from the early days prior to the big hair and beard. By busking around the world and relentlessness to always learn, I've seen Daniel's John Mayer-esque style of play evolve over time. This is even more prominent in his latest release Golden Ratio, stepping out of his comfort zone to pursue new beats and vocal style, the whole song in my opinion was executed to perfection. I am truly excited to see what more tricks and surprises Daniel Sid has in store for us.
---
SCRATCHING THE SURFACE - PAPER CITIZEN

Ben, 99/100: Dulcet tones crooning over the ever-present cynicism, this heady tune easily straddles digital space: hailing from a happier time and yearning for the same. The distortion of the bridge as the music builds towards an inexorable crescendo at the same time confuses, yet uplifts the listener toward yet another uncertain future - one more "new normal" that the world's far too tired of hearing of. The chorus of our times indeed.
99 - DSML, VENUS LANDING

Peter Catahan, 100/100: A very funky, jazzy, and super catchy song! You can't help but follow the beat and lyrics. And the melody will make you sing along and find yourself having a Last Song Syndrome (LSS)! I have it on repeat!
---
ICHIGO - LEON MARKCUS

Syazana, 100/100: I listened to ichigo and irrevocably fell for the lightheartedness that the song carries with it. Leon is pretty witty yet aptly romantic when it comes to the lyrics written in the song, enough to make any girl swoon over. Allow a WORLD of listeners, this song successfully reaches out to younger audiences or awake any free-spirited souls who find difficulty in expressing their true feelings for their special someone. It's a splendid earworm, one that increases dopamine levels, because it magically transports your mind to a cloudy place filled with less worry and more smileys! Thank you Leon Markcus, for releasing good music for all of us to listen!
---
WORLD GONE CRAZY (I'VE GOT YOU) - TRUST THE CHAOS

Jason, 100/100: Strong chorus, powerful vocals, great message. Just the song we need to stay sane through these crazy times. I've Got You, as much as this song got us rocking out.
---
---