February is here and we all know what that means: it is once again time to start making plans for the most romantic day of the year (if you haven't already done so).
A candlelight dinner, a picnic with a view, and a movie date are probably the first ideas that come to mind when you are thinking of how to celebrate Valentine's Day with that special someone. But if you really want to impress them, there's no better way to do so than by surprising them with a gift that never gets old — music.
To help you plan a date that neither one of you will forget, Hear65 has compiled a guide to local Valentine's Day gigs and events that you do not want to miss this month. From an electrifying rock concert to a swing-themed dance party, there's something here for every pair of lovebirds. 
---
Budak Pantai Presents Love You Long Time

When: 10 February, 8 PM 
Where: Pasir Panjang Power Station
Tickets: $38, available here
When it comes to mixing humour and music, no one does it like homegrown vocal outfit Budak Pantai. The veteran group will bring the Pasir Panjang Power Station to life on 10 February with a special concert that promises to be filled with both love and laughter. According to the quintet, couples who show up will also learn "the secret to longevity".
---
Roses 2023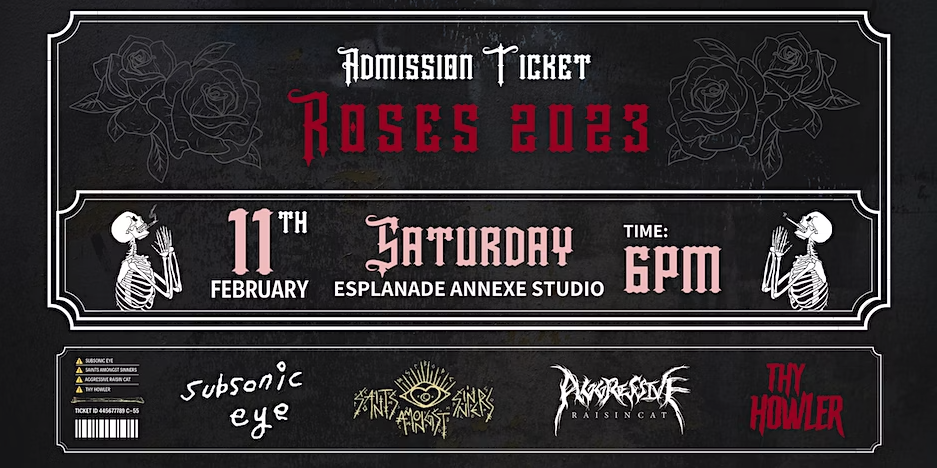 When: 11 February, 6 PM 
Where: Esplanade Annexe Studio
Tickets: $40.03-$69, available here
Set to feature performances from indie rock quintet Subsonic Eye, psychedelic outfit Saints Amongst Sinners, alternative rock band Thy Howler, and budding progressive metalcore band Aggressive Raisin Cat, Roses 2023 will celebrate not only the ups, but also the downs that come with being in a relationship through four dazzling hour-long sets.
---
Band Weekend: L.O.V.E Fam Jam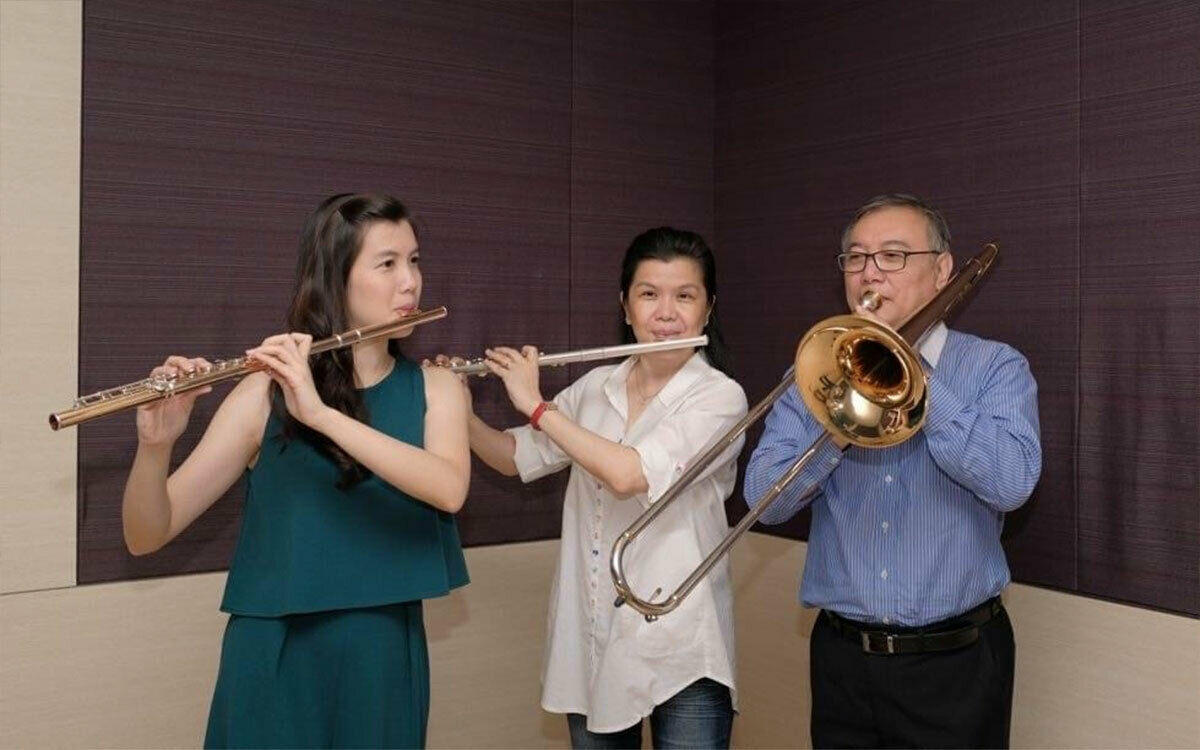 When: 11 February, 6:45 PM and 7:45 PM
Where: Esplanade Concourse
Tickets: Free, more information is available here
Family band Ho Ho Ho — made up of trombonist Vincent, flautist and pianist Mei, and modern and baroque flautist Rachel — will take you through the different phases of love at their free Valentine's Day concert at the Esplanade Concourse. Tunes that will be featured in their diverse setlist include 'Salut d'Amour', 'Persecución', 'Just the Way You Are', and 'Can't Help Falling in Love'.
---
Pop Up! Club - Love Bites 2023 (pre VDAY party for everybody)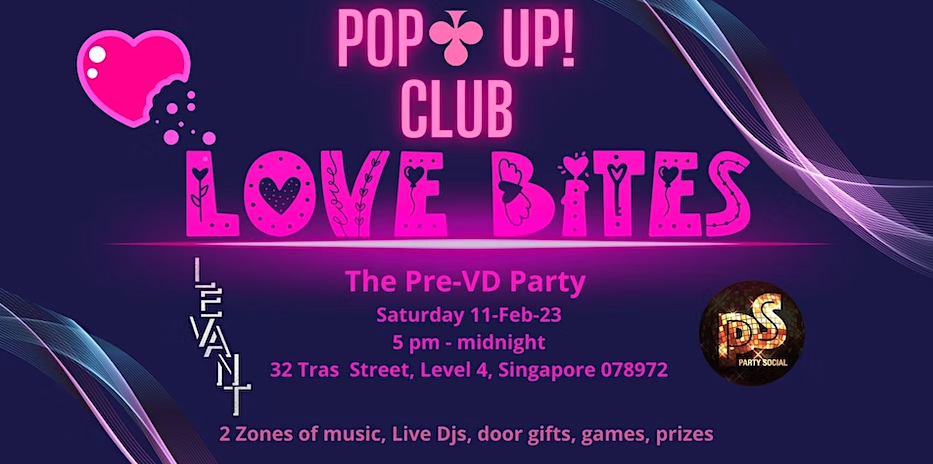 When: 11 February, 5 PM 
Where: Levant Bar
Tickets: $20-$40, available here
Billed as a pre-Valentine's Day party for everyone, Pop Up! Club - Love Bites 2023 will give guests the option of choosing from two live music areas to party the night away at — Zone 1 (Top 40s) and Zone 2 (House Music). Aside from hosting performances from DJ Firmix and hypeman Young Khalifa, resident DJ Bernie Soiree, and more, the event will also feature games with prizes to be won.
---
Singapore Indian Symphony Orchestra (SISO) Presents 2023 Valentine's Day Special Grand Musical Live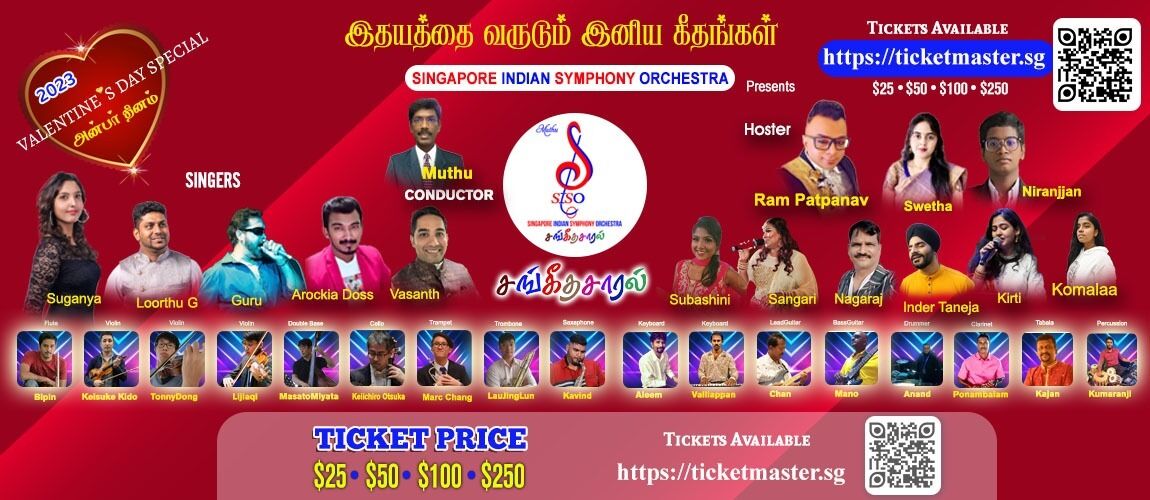 When: 11 February, 4:30 PM
Where: Kreta Ayer People's Theatre
Tickets: $25-$250, available here
At the Singapore Indian Symphony Orchestra's (SISO) 2023 Valentine's Day Special Grand Musical Live, musicians from Singapore and neighbouring Malaysia will capture the hearts of guests with presentations of Tamil tunes as well as a selection of other Indian numbers. 
---
Love Songs of the Last Century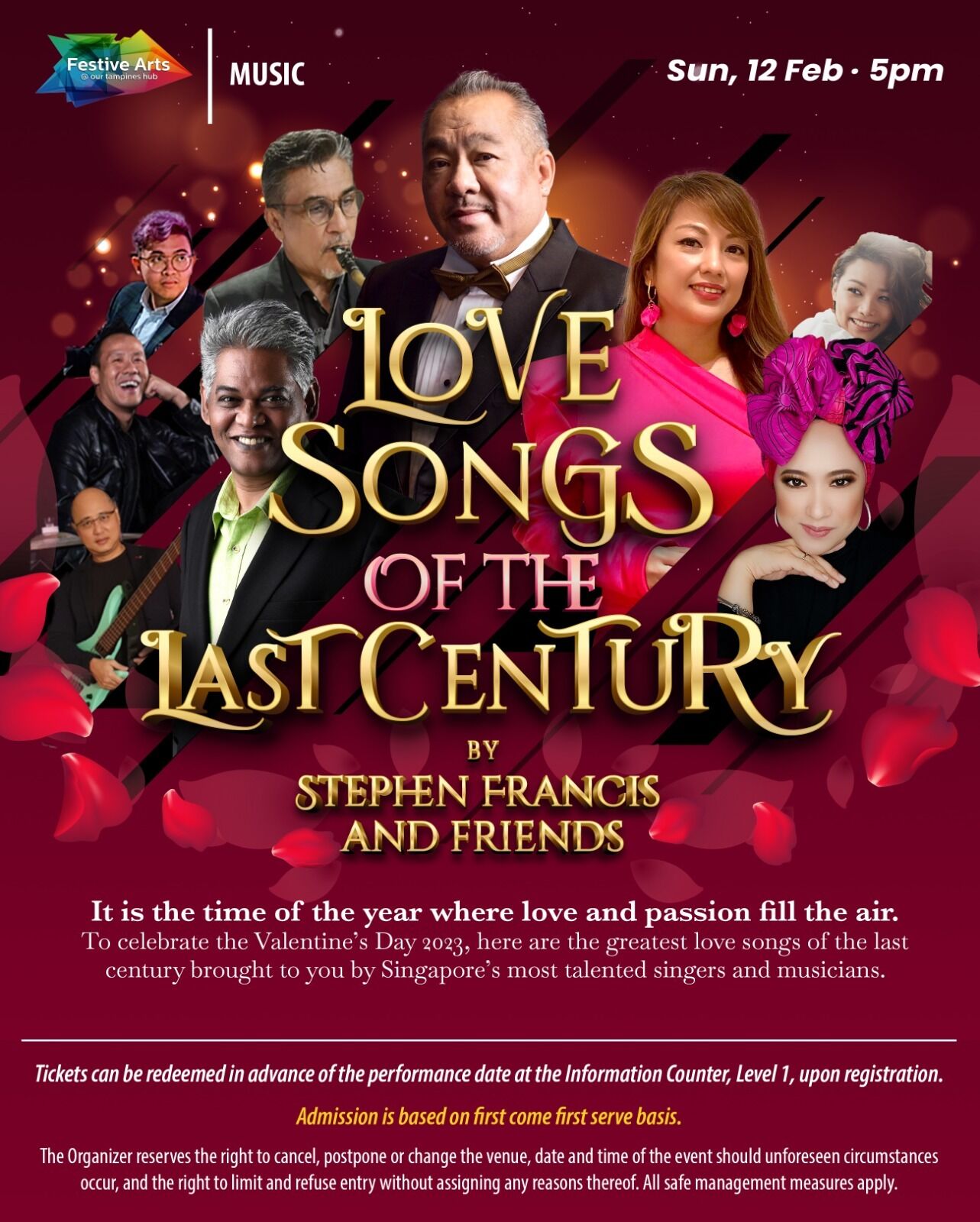 When: 12 February, 5 PM
Where: Festive Arts Theatre, Our Tampines Hub
Tickets: Free, tickets available on a first-come-first-served basis. More information can be found here.
Join vocalist and pianist Stephen Francis and singers and musicians from the Little Red Dot as they put their own spins on some of the most memorable love tunes to be released in the last century. Tickets can be collected on a first-come-first-served basis from Our Tampines Hub's Customer Service Counter from 10 AM to 10 PM daily before the event. 
---
Love is in the Air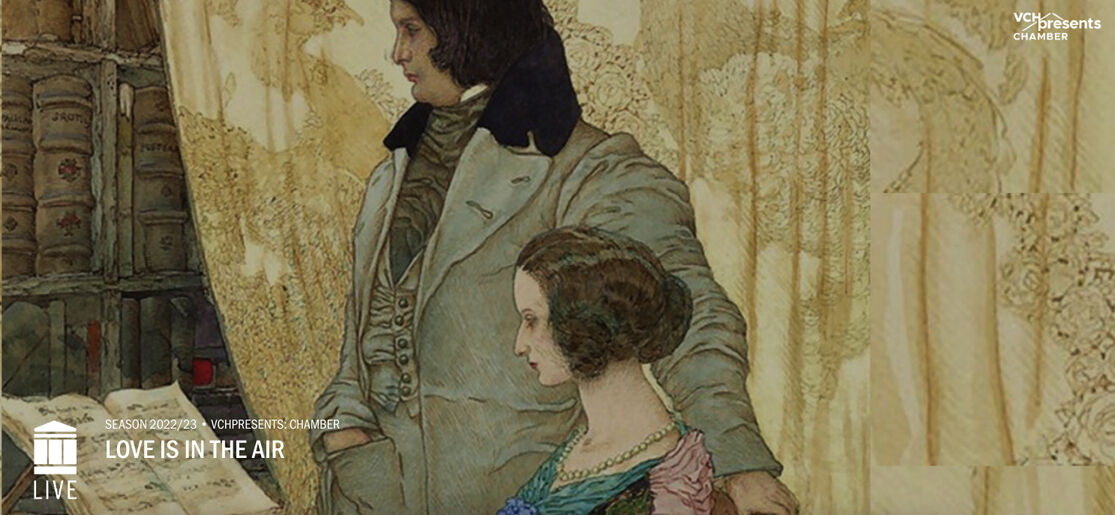 When: 12 February, 4 PM
Where: Victoria Concert Hall
Tickets: $20, available here
Featuring Tseng Chieh-An, Ye Lin, Zhao Tian, Gu Bing Jie, Jamshid Saydikarimov, Albert Tiu, and Xiao Zhe, Love in the Air will celebrate the unwavering love between Robert and Clara Schumann, a couple that Romantic classical music enthusiasts would be familiar with. The night's programme will include Clara's 'Piano Trio in G minor, Op. 17' and Robert's 'Piano Quintet in E-flat Major, Op. 44'.
---
Candlelight: Valentine's Day Special ft. 'Romeo and Juliet' and more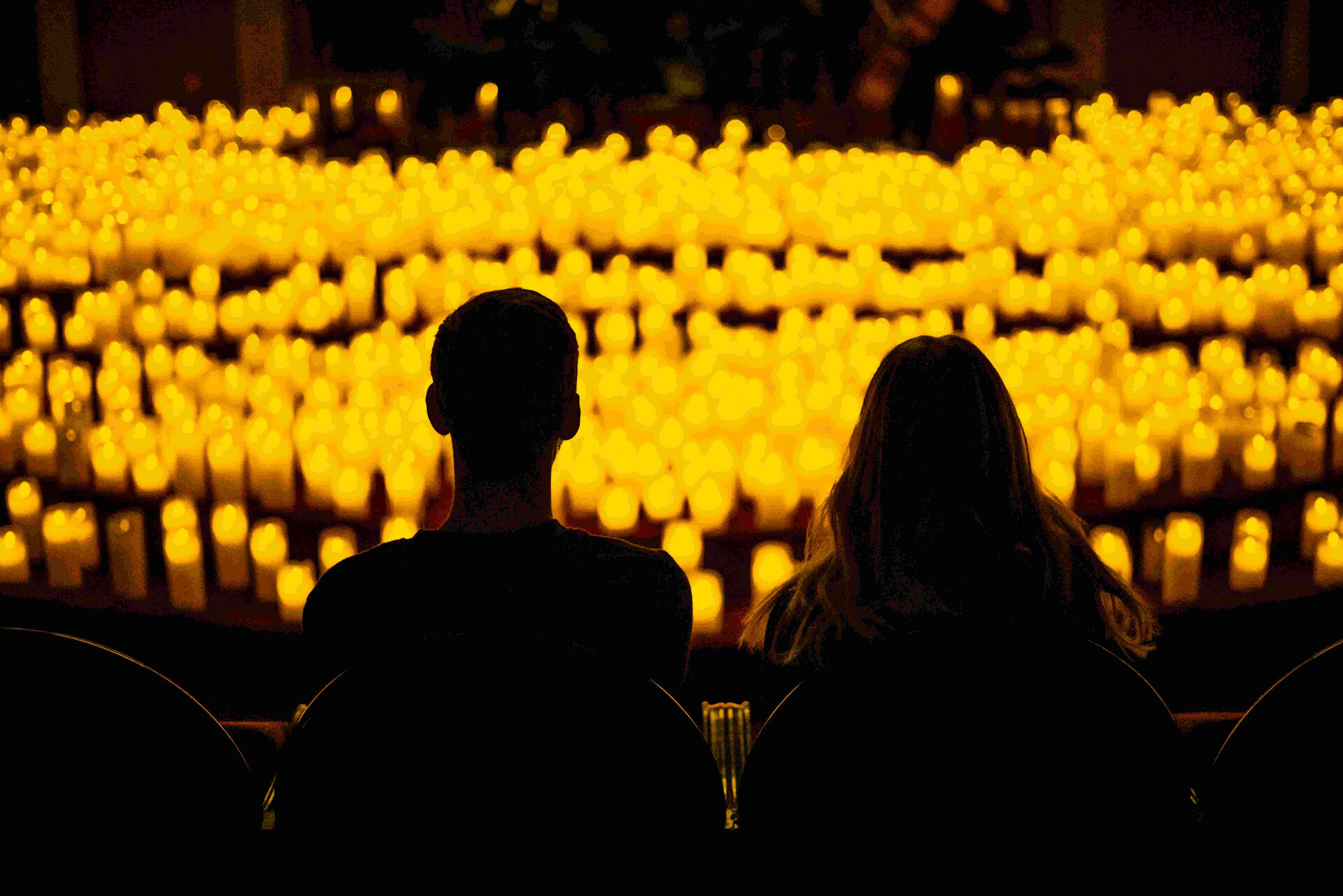 When: 13 and 14 February, 7 PM and 9 PM
Where: CHIJMES Hall
Tickets: $35-$81, available here
In celebration of Valentine's Day, Fever has put together an extra-romantic instalment of its popular Candlelight Concerts series. Titled "Candlelight: Valentine's Day Special ft. 'Romeo and Juliet'" and more, the special event will see the Vocalise String Quartet entertain lovebirds in attendance with their renditions of Pyotr Ilyich Tchaikovsky's 'Fantasy Overture from Romeo and Juliet', Radiohead's 'True Love Waits', the Crazy Rich Asians version of Elvis Presley's 'Can't Help Falling in Love with You', and more. 
---
Valentine's Day Dance Party with Sinclair Ang & His Rhythmakers@The Jazz Loft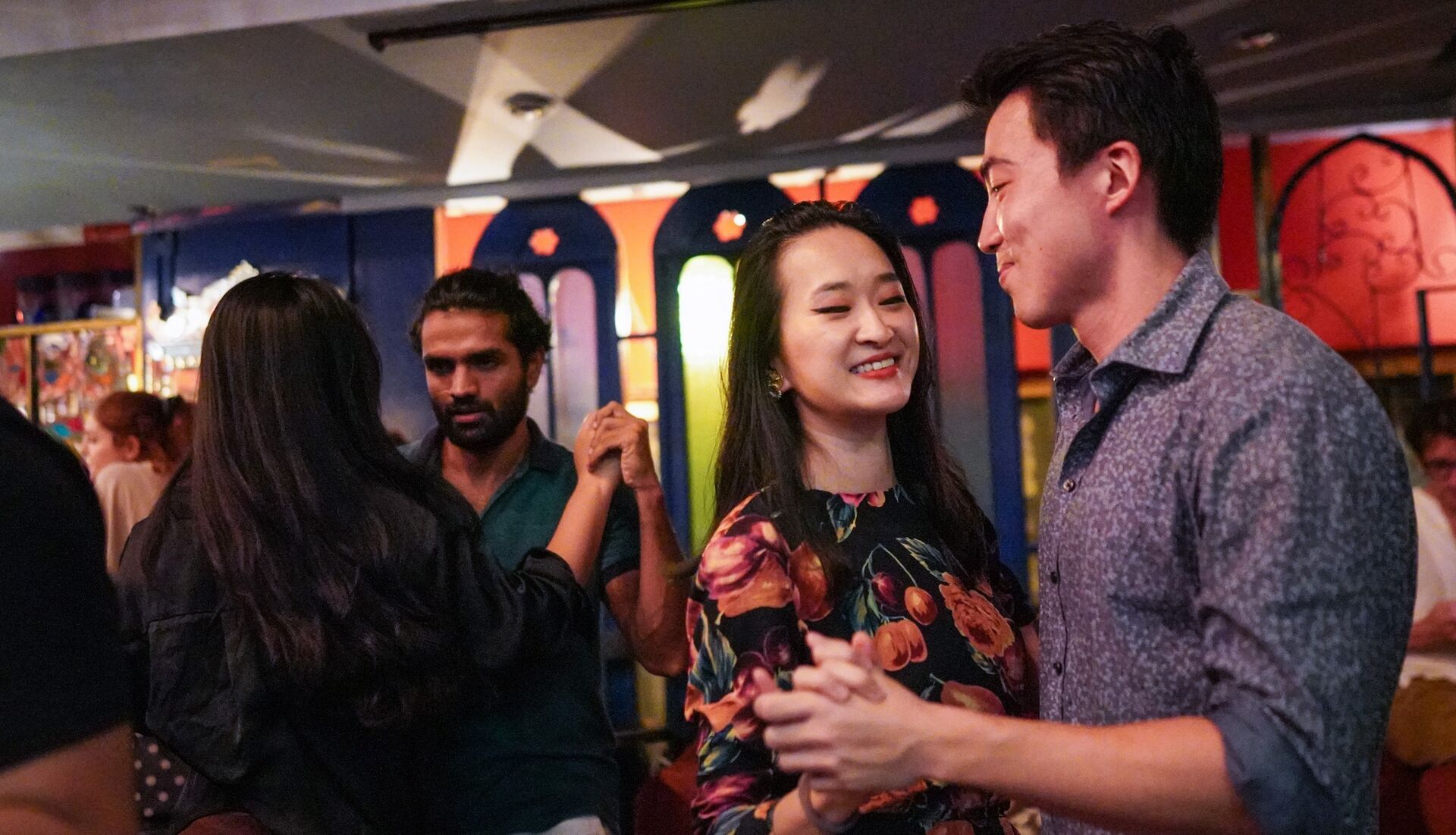 When: 14 February, 8:15 PM (band starts playing at 9 PM)
Where: Blu Jaz, Bali Lane
Tickets: $22, available here
Grab your dancing shoes and head on over to The Jazz Loft at Blu Jaz to join Sinclair Ang & His Rhythmakers for an evening filled with love tunes from the swing era. Scheduled to take place on Valentine's Day itself, this event can be enjoyed by those who wish to jam, dance, or just listen to some great music. Guests will also be able to participate in a Lindy Hop taster class before the band takes the stage. 
---