Sounds are repositories of meanings and histories. That's why the classical canon endures today. Popularity has never been its concern. But it has its advocates and evangelists. Mr. Lim Soon Lee is one such stalwart. The longstanding multi-instrumentalist and conductor has dedicated his life to sharing the beauty and resonance he has found in classical music. Mandopop idol Wang Lee Hom is amongst those who can testify to his prowess and sincerity. In the following interview, he deconstructs his love for that music with us.

---
Tell the people who you are.
My name is Lim Soon Lee. I have been conducting the National University of Singapore Symphony Orchestra for over 20 years. I also teach masterclasses for string instruments and piano.
What got you interested in pursuing a career in music?
I believe it's by accident. I remember coming out of NS and thinking of doing something unrelated to my studies. So, I started privately teaching the piano and violin and performing in my church as well. That experience made me realise that I enjoyed music. So, I applied for the Singapore Public Service Commission Scholarship. After which, I got to study in the Eastman School of Music in New York.
What was your biggest takeaway from studying at Eastman?
I got to learn under all the teachers who have been teaching for over half a century. They shared with me that the greatest thing is the love and passion for music. One of my teachers, who was around 86 years old, would share his time in World War I and how music was shared during that time. They had to copy it by hand and pass it around the community. It touched me that music was not just about playing, it's about the communication too. I also got a chance to play in a good orchestra with another one of my teachers, Dr David, who eventually trained me to conduct. The greatest takeaway was that I learnt both the music and the personality of a musician. I'm grateful to the school for training me to be all-rounded musician.
Out of all the genres of music, why did you choose to pursue classical music?

Interestingly enough, I performed pop music when I was in the Singapore Broadcasting Orchestra, which I loved. But, I realised that since I started out in classical music, why not continue my training in it? Classical music taught me about the history of performance practices and the techniques of the instruments. So I thought that if I had both the technique and musical foundation, I could play all sorts of music.
Why is the viola so special to you?
It's an interesting beginning. After I finished my violin diploma, I asked my mother what I should do and she suggested that I learn another instrument; a viola. So, I went to buy a one, which my father paid for. It cost about $1000, which is really expensive but it's what kept me going. It took me half a year to learn the grade 8 pieces and I ended up finishing my scholarship with a distinction. After that, I came back and served in the Singapore Symphony Orchestra.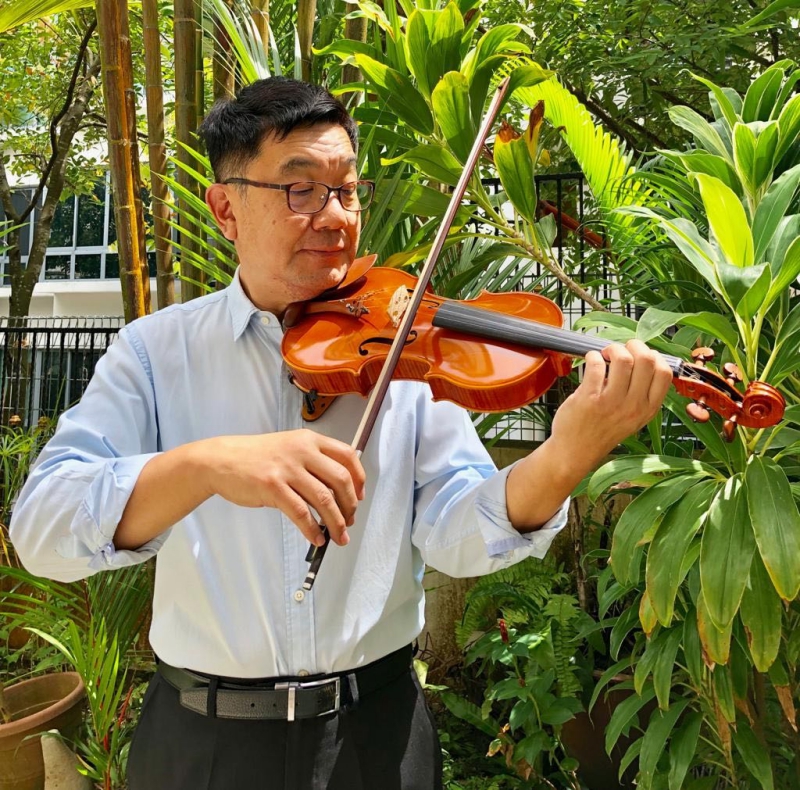 When you decided to learn another instrument, why did you choose the viola?
It's almost similar to the violin. I feel that the viola sounds very close to a human voice. Although it is a big instrument, my teacher told me not to press too hard because it would be similar to pressing on the vocal chords when you sing. It has a big sound but you need a delicate touch as opposed to the violin.
How is the experience different when you play an instrument compared to when you are conducting?
When I studied conducting, I asked my professor if I could actually be a conductor. He told me that once I mastered the viola, I could. And I realised that conducting is similar to playing an instrument. When you think of the dynamics and anything about the music when you're playing, it's the same when you're thinking about the gestures, body language and communication when you're conducting. The only difference, which is the greatest challenge as a conductor, is not having an instrument to practice at home. When you're on stage, you use the whole orchestra like an instrument to practice.
However, I do prepare at home to understand the piece completely so when I give guidance, the orchestra would understand what I'm thinking through my gestures. And with an orchestra, you have a whole spectrum of sound; from the percussion to the violin to the brass instruments to the wood wind instruments and it's amazing. It does improve my skill in playing the viola because I hear more colours from the orchestra.
At the recent Wang Lee Hom concert, he gave a speech to thank you. How was he like as a student?
He was a quiet and young boy when I first met him. He would quietly look at me whenever I gave a demonstration. I told my wife back then, out of the twelve students in my class, there was one gifted student, which was Lee Hom. He was always attentive which made him very easy to teach. I'm glad that he pursued this career as it was what he loved since he was young.
We met because he was looking for a violin teacher. And this happened in the US. During the four years I was with him, I saw him grow.
Why do think classical music is important in this day and age?
The very basis of classical music is to teach you how to learn the notes. When you start learning all of it, you'll slowly build your foundation – your rhythm and your sensitivity to music. When you learn classical music, you'll be able to adapt to any music through your technique and interpretation. It also covers different eras and styles of performances which I believe is good for young children. And if they want to continue with pop music, I'm sure that they will enjoy it more. Not just because they will understand the beautiful tunes from pop music, they will understand that the tune has a lot of meaning within the harmony. When I was listening to Lady Gaga or The Greatest Showman soundtrack, the music touched me. And it wasn't just because of the lyrics alone, it was because of the music behind it. Classical music taught me the tension in the notes and in between phrases. You'll get a more holistic understanding of music. Through classical music, you'll see the building of the musicality within yourself and it is going to last for a lifetime.
---