Rapid-fire rapper Axel Brizzy and soulful singer-songwriter YAØ teamed up and unleashed 'Wanna Know' upon the masses on 29 March. Produced by J.SON and PravOnTheLoose, the track serves as an anthemic record of the two young men's journey in the music industry and the hustle it takes to get past the many obstacles along the way.
On 3 April, a music video was released for 'Wanna Know'. The video sees the pair navigating through a series of hazy and abnormal events within the house it is set in. In our candid sit-down with Axel and YAØ, they shared with us the process behind the song and the video and how it was like working with each other.
Take us through the process of the conceptualisation and production of the song.
YAØ: The production was quite interesting because the beat was actually form PravOnTheLoose. He made the beat, and I helped out a bit on the keyboards – like the piano and the chords. At the same time, Axel reached out and said he wanted to work with me. I felt that the beat fit Axel really well, so from there, I wrote a short chorus over the beat and it worked out.
Axel: YAØ and I met through HishamThaMC, actually. We sort of coexist and coincide with one another in terms of style and age already, so I thought why not we try to work on something? So, I texted him.  
One day, YAØ was like, "Yo, bro, I just made this beat with PravOnTheLoose and I think it suits you. Tell me what you think." And he sent me that beat. I thought it was cool, so I suggested we meet up to do it. We met at like a small space and wrote the verses and chorus on the same day, but we never followed-up since. That's why the song took so long. We knew where we wanted to go with it but we weren't sure what to do with it because he has National Service and I have school, and we just left the song there and only came back to it this year.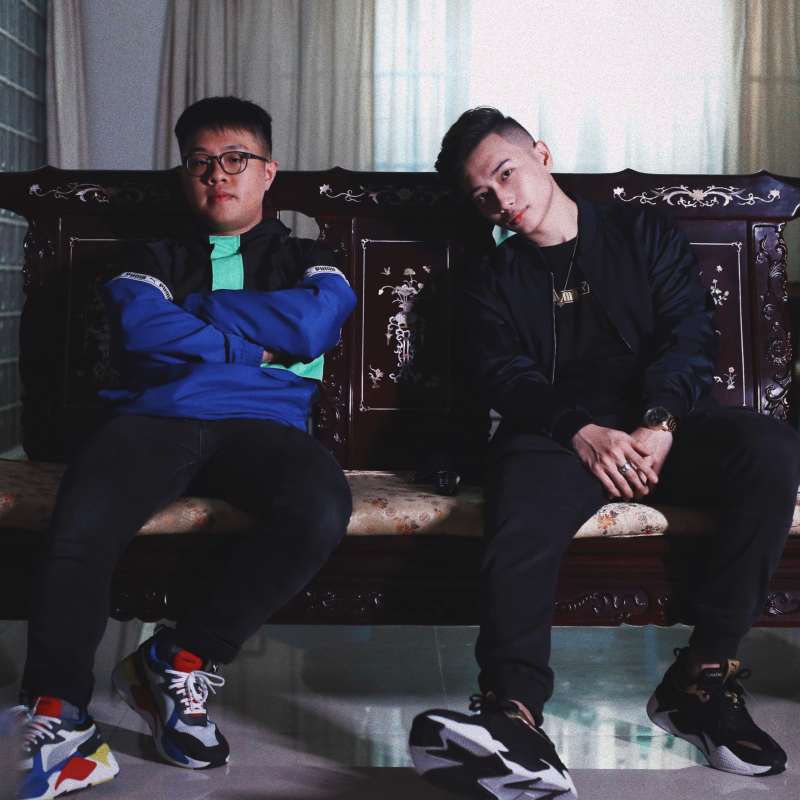 How would you describe your chemistry?

Axel: A lot of times, when we write lyrics, whatever I write relates to him, and vice versa. So, there's not a lot of vetting needed between us. All in all, I think our chemistry just flows really smoothly, and when it comes to feedback, we both are willing to be receptive and open towards the other's criticisms.

YAØ: We don't really argue; I think we agree with each other, to a certain extent, because we just want to make something that will do well in the market, something that really pops.

Axel: We also have similar tastes and styles when it comes to music. We both love Chance the Rapper, for example. His song 'No Problem' was the main inspiration behind this collaboration.
YAØ: There are no such songs in the local scene, so we wanted to go into that kind of territory and experiment more.

In the song, you talk about working hard towards your dreams. How important is it to your that people recognise the hustle it takes to make it big?

Axel: We're not signed; we don't have a record deal; 360 deal; we don't have none of that. We can keep grinding, but if people don't catch on and if organisers don't hire us, we'll still have to work day jobs. There's so much doubt in our minds and I feel like this song perfectly captures everything.
YAØ: With everything that's happening in music right now, like how fast people can put out music and get big overnight, when we were writing this song, part of me was thinking, "Should we even release this song? What if it doesn't blow up?" Then I remembered what actually made me start doing music; I wanted to express something that can't be expressed easily and only through music. That's the one thing that keeps me going through all the uncertainties.
Let's move on to the music video. Why did you choose to frame the plot of the video in a dream?
Axel: The couple that worked on the video, Bless7Up, came up with the storyboard and they shared it with us, and we related to it. The concept is very much like Childish Gambino's 'Sweatpants', and we thought it's cool. But, we don't want it to be too similar either. For Childish, he's like on drugs or something and keeps seeing the same faces. Obviously, we're not. We were thinking of reflecting what would happen if life changed up in a weird way.

In the video, my mum called a fortune teller for me. But, even in real life, I'm actually afraid of seeing a fortune teller, because I don't know what they're going to say about my career; What am I going to do if they tell me my career is not for me? What do I do then? So, I walked out upon seeing that there's a fortune teller. Then, everything weird starts happening. It's supposed to scare me, but in the end I wake up and I'm still in the studio doing what I love. The video shows that every now and then, we have "trips" where things are weird, but they won't stop us from doing what we love. 
YAØ: I can relate to Axel's story; it's pretty much the same. For my part in the video, the chorus, with the gospel, it's like a "higher being" kind of thing. It's like a song that's stuck in your head and pushes you to keep moving on in the music industry. I guess that's my part in the story – trying to give hope. I resonate a lot with the concept of being a spiritual energy of sorts; I'm a very spiritual person and everything I come up with is just very positive. 

How was the filming process for the music video? Could you take us through how it went down? 
Axel: It was tough because, first of all, YAØ and PravOnTheLoose have NS, and Bless7Up have work during the day, so we could only film on days when they're free. So it was pretty hard to coordinate with everyone in terms of when they were available. We were supposed to film a week before we actually had the shoot, but I was down with a high fever, so we postponed it to the following week, during which I had a fever again. But I felt so bad, so I just went down for the shoot. Because this music video was on such a huge scale and so many people were involved, time was really precious. We didn't want to postpone it any further.
It ended up being a two-day shoot. On day one, we shot the choir scene and the last supper-inspired scene, both of which involved the same people. On day two, we brought in the dancers and the rest of the cast like my barber and such. That ensures that we don't take up too much of everyone's time. Both days, we shot till the A.M., because our shoots started at around 8pm when everyone ended work. By the time we ended it was about 3am. It's crazy but it's very fulfilling and we are very happy with the end product.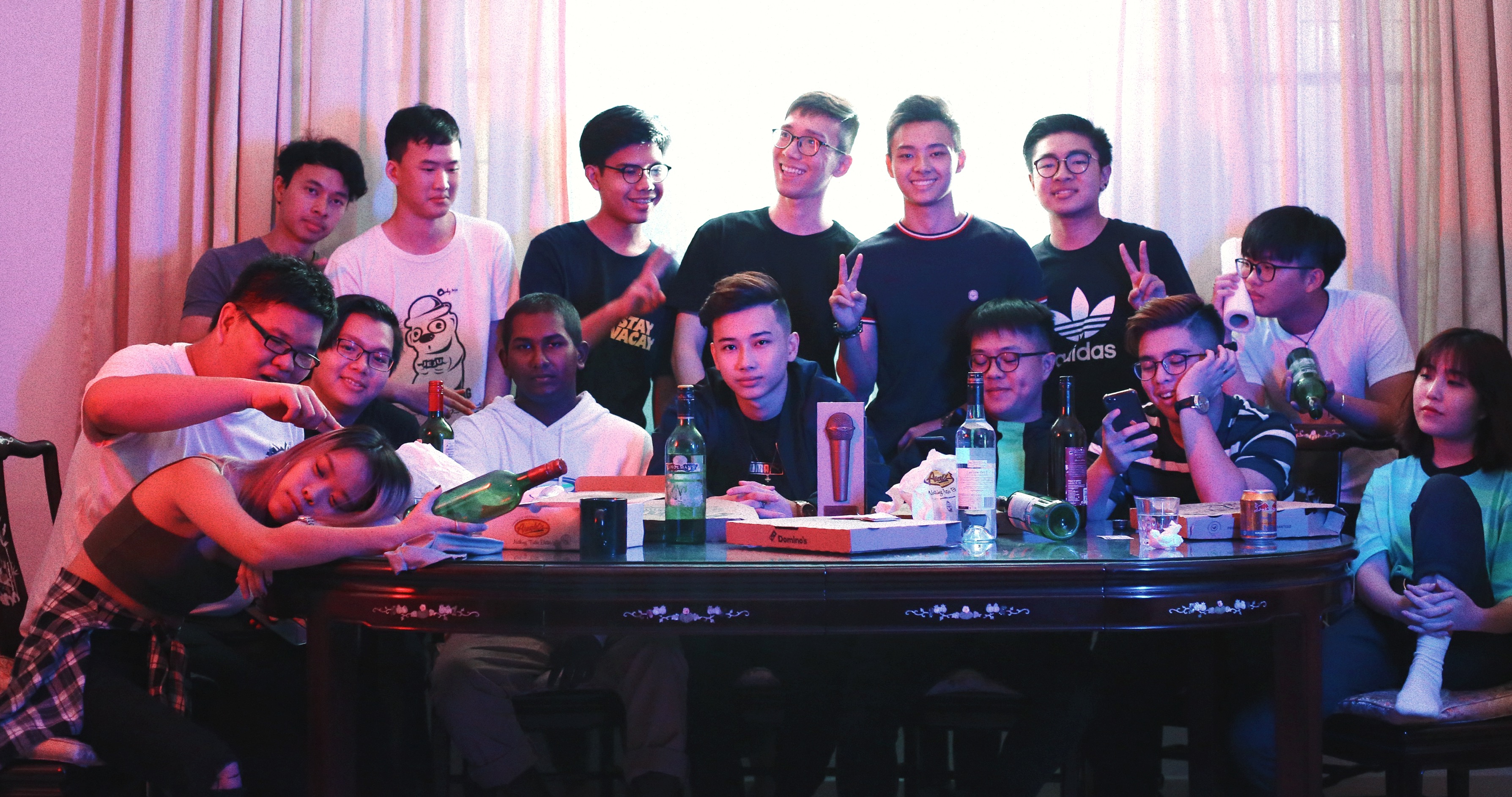 In line with the hustle hard theme of the song, what is the best advice you have benefitted from?
Axel: For people like YAØ and I, we definitely need someone more experienced in the music scene to guide us. And for me, that person is J.SON. He's a very experienced producer. Sometimes, there's a drought for artists in Singapore where we don't get booked for a while, and I'm like, "Shit, is it because people no longer like me?", I'm very fragile and sensitive as an artist in that sense. J.SON was very straight-up about it and he told me that every artist in Singapore has been through a drought, because doing music is tough, and that it's totally normal. If you don't weather the storm and get through it, then you're not meant to do this in the first place. ,

YAØ: I think Axel said most of what I wanted to say as well, about J.SON. But, I think what I can hopefully contribute is that I want tell people to just be themselves, even if they're different or weird. You should embrace it because no one else out there can be like you. If you put yourself out there and just be the best version of that, I'm sure something will go well for you.  

Finally, what's next for you, collectively and individually?

Axel: I mean, collectively, we really like how 'Wanna Know' turned out so we've been playing around with the idea of more songs or even an EP, or maybe even performing together at events. Nothing has been set in stone yet, so we'll see how it goes. As for YAØ, he's got some really big plans coming up.
YAØ: I have an EP coming out, probably around July this year. I'm done with most of the songs already and I'm just left with two songs to finish. So, I probably will have a new song out, maybe next month or the month after that. So, this is the first time I'm revealing it, but the EP is called Love and City Lights, and it'll be out around July.  

Axel: For me, creatively, I've been in a space where I don't know what to do next after 'Wanna Know' came out. Every song of mine sounds different, so I don't know what I'm going to do next. So, right now, I don't have any projects set. I'm just writing every day and I want to make sure that the stuff I put out are good and that they really represent me.
I'm going to be honest and say that I'm not very proud of some stuff that I have put out. Not because they're not good, but because I feel that they don't really represent me well as an artist and that I no longer connect with my older music. So, I hope to put out music that I really connect with 100% and work with people that see my vision. But I can say, for sure, that, singles will be coming this year.
---