The arc of history rarely has a clean break. But Coming Up Roses
 isn't fazed by the cosmic thrust of the universe. Last week, the Singaporean quartet released Waters, a five-track mini album into ether. Befitting its christening, frontwoman-bassist Emily Sera guitarists Darius Oon and Lorenzo Romero and drummer Bruce Tan unspool a musicality that dichotomises alt-rock's surging intensity and the atmospheric, reverie-ready ethereality of more hushed sounds. The bifurcation is clear across songs but anchoring the sweep of florid arrangements is an emotional core that emanates a poignant, unifying power.
In the interview below, the band reflects on having its first long-form release out and how it'll face the future to come.
---
Congratulations on the release of your mini-album, Waters! How does it feel to have it out in the world?
 Darius: I'm kind of relieved that it's out because it's been a long way to this point. Maybe not for a lot of other bands, but because we sort of started out with doing the whole Baybeats thing, it was a very fast learning process where we had to absorb a lot of things about marketing and the different aspects of the music business that you might not think about. We feel proud of ourselves for reaching that point where we've released our music and people have listened to it.
Emily: Adding on to what Darius said, I look at it as like a marathon – where there's a start and an end. For marathon runners, there's always another marathon to run. Likewise, for us, we are not stopping here – there's always more to come. But running our first marathon is always the most memorable and the biggest achievement we can have, for now.
I think we can all agree that we are all proud of what we've done, mainly because we've put our hearts and souls into the writing and recording process, and trying to get people to know what we're about and share our story. We hope our music will reach and touch people's hearts – and it already has for some. So that's the biggest takeaway for me, and it's the most rewarding part of the process.


In the Singaporean context, where singles are the move, what made you want to release an album?
Darius: The funny thing is that our so-called "mini-album" is only five tracks long. The reason we chose to call it a mini-album is because we didn't want people to just view it as a random collection of songs. We wanted to have a story to the album. When you're listening to an album, you're usually looking for a story and meaning behind the collection of songs. We wanted the same thing, except in a more condensed format. That's why we chose to call it a mini-album over what you might call an extended play or EP.
I guess the whole concept of having a mini-album, having a story to the overarching record, is that we wanted to have more people to be able to connect to it. And rather than connect to the individual songs, we wanted them to be able to connect to this piece of work as a whole. I mean, that's what a lot of artists do with releasing singles – and that's totally cool – but we wanted people to listen to it like how you would an album.
It also comes with the nature of our songs and the meaning behind them, because we're writing a lot about our own experiences growing up in Singapore and realising the kind of things you do when you go through adolescence. And so, we feel that it's all these little moments that come together and we present it as this one solid thing about growing up – and that's the mini-album for us.
Emily: I think the overall reason for it being a mini-album is because we wanted it to introduce who we are and why we are, in a certain way. If you listen to our music, there's always a very stark difference between certain songs compared to the others. That's because we write from our own experiences, and every experience will not be the same – even if it's the same subject matter, the way we react to the situation will be different. That's why there's two different sides to the band – a more dreamy side and a more alt-rock side. These two sides represent the different ways we respond to the same situation.
If you listen to the mini-album and think deeper into the meaning of the lyrics, a lot of it has to do with relationships. And I think at our age, relationships are one of the more important things in our lives. We respond to all of them differently. We hope that others who feel the same way will be able to connect with an entire mini-album that showcases the spectrum.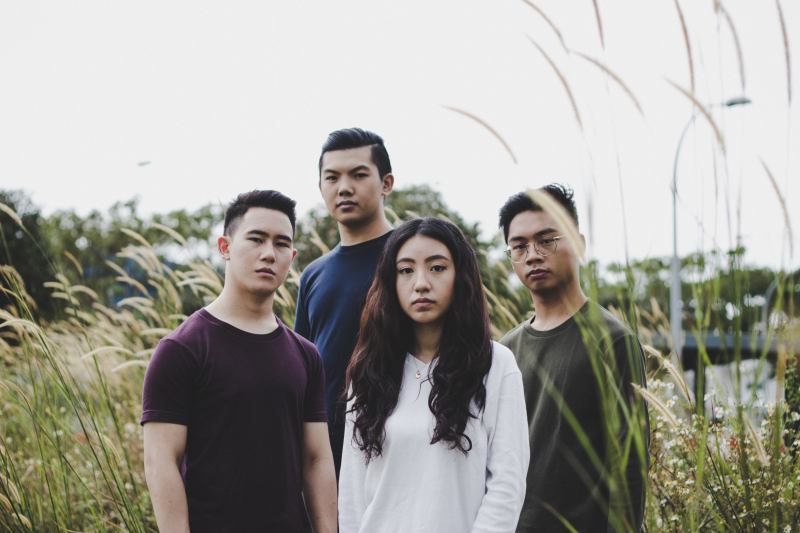 So how do you decide which songs deserve the softer or heavier treatment?
Darius: When we write songs, we don't really set it out like, "This song is going to have this sound". We just write to what we think it should be – it's very much an ongoing process where we could be midway through a song and we'd change it completely. The way we write music is based a lot on our emotions, a lot of how we feel in that moment when we are jamming together in the room. Whenever one of us brings a song to the band, it's sort of the bones of the structure – the melodies, the chords and stuff – but the whole arrangement is a band thing. When the band comes together, the song kind of makes itself in that sense; it'll flesh itself out. At the end, we'll decide if it's good and what to do with it.
Bruce: What Darius said ties in to why we decided to make the release a mini-album instead of a single. A lot of the subject matter is very similar between the songs, but we show a harsher side through the alt-rock sound and a softer side through the dreamier songs. On different days, we react differently to the same situations. Sometimes, one emotion bleeds into another when you're in your train of thought – you can go from sad to happy, and then suddenly you become angry. That is really what we are trying to bring forth in the mini-album – where the music can reflect both sides of ourselves present in the same situation.

And how did it feel to finally play the songs that you have worked on for so long live?
Lorenzo: We've been planning our launch since before the start of this year. We've been thinking about it as an entire release campaign for the mini-album, so we've been scheduling our stuff months ahead of the actual day. Upon reaching the night itself, showing what we've been planning and making for the past few months was a relieving experience. We've done it; we've achieved our goal; we've achieved a certain benchmark. It also feels like a weight is off our shoulders [laughs] – and a relief that everything turned out well.
Emily: As relieved as we all are, I think we can't forget to mention how much we enjoyed the process. I feel like we were really enjoying the moment and we were really happy. We got videos sent to us from friends, family and the people that were there. When I look at how Lorenzo was in the videos, he was really into the music – that's something you can only experience if you're there. Just yesterday, I stumbled upon a photo of me playing and I didn't realise how happy I was until I looked at the photo. I hope, for everyone, not just us, that it was an amazing experience that they'll remember for life.

Lastly, given the vortex of opinions that is social media, how ready are you to process criticism at this stage?

Darius: We live in a day and age where a lot of people can share their opinions via social media. You can just go to the comments section and you can see a lot of good things, but you can also see a lot of bad things as well. To be brutally honest, it really hurts when you see bad comments about your music, especially when you know you've put in so much effort. But at the same time, you also have to remind yourself that everyone likes something different; music is such a personal thing. You have to be ready to know that there are bound to be people who don't like your music. The most important thing is for us to believe in our own music – if we believe in it enough to release it and work so hard to make sure it's dressed up and polished, we should be proud of it no matter what others might say about it.
Emily: I always emphasise that we are all human; when you can be happy, you can be sad as well. And it's okay to be sad. I just go through that phase of being upset, but then I get back up because that's what we have to do if we want to continue making music. It's a very tough industry and it's very easy to criticise people, but it's also very easy for people to praise you. It's easy for me to focus on the bad stuff, but because of that, I want to be better so I try to convince people who don't like our music to give us a chance. At least I try, and I just want to keep improving.
---