When you look through Singapore music, it's impossible not to come across The Observatory. Considered a quintessential and defining keystone of the local music scene,  the band is one of the country's most notable acts. 
Formed in 2001, The Observatory is an experimental, avant-garde rock band that is constantly evolving and growing. In their 19 years and with every record, the group has crossed a myriad of genres - from electronic to progressive rock to post-punk, refusing to stick with a single sound but rather, consistently reinventing and fine-tuning their craft. 
"A lot of what we do musically has a big component of improvisation...It's about spontaneity and intuition, which keeps each experience of the music fresh and different," says Dharma, guitarist of The Observatory.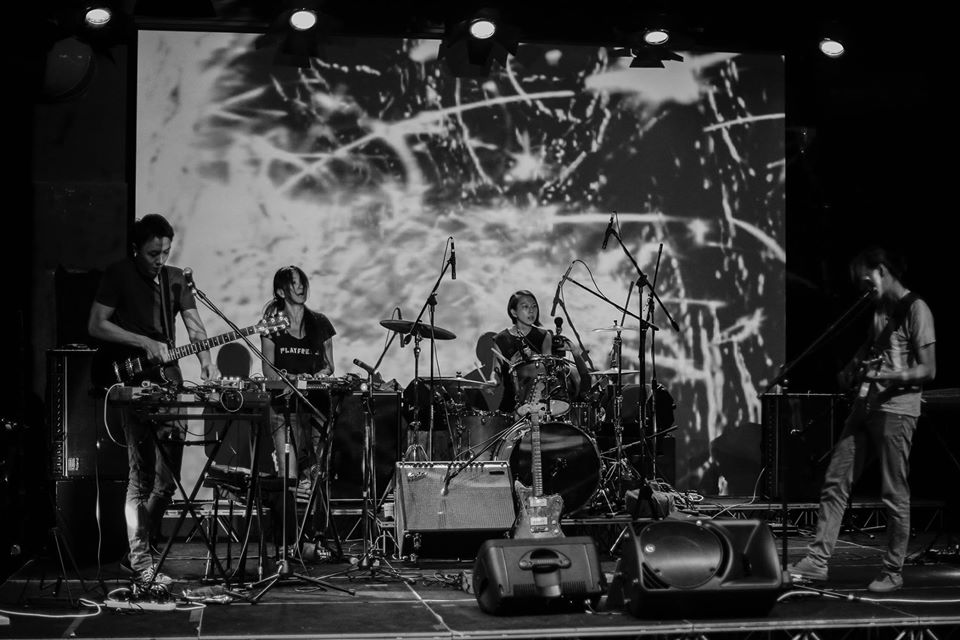 The Observatory at the August is the Cruellest album launch in 2018. From left: Yuen Chee Wai, Vivian Wang (alumni), Cheryl Ong and Leslie Low (alumni). Photo taken from The Observatory official Facebook page.

Keeping to the theme of evolution and continuous artistic growth, the group has always had an ever-changing line-up of members, all coming from influential 90s Singaporean bands and having an impeccable dedication to their music. Currently, the group consists of Dharma, Yuen Chee Wai and Cheryl Ong. 
Most recently, the band, alongside filmmaker Eric Lee, worked on a project called SOURCE × Audible Lands, an intimate film and music series that spotlight musicians from local and regional migrant worker communities. Armed with the mission to showcase the lesser-known side of migrant workers, the project celebrates the passion and talent of these musicians and highlights this fragment of Singapore's diverse music scene. 
The project came about after the band came in contact with Chris Yeo, director of the 2018 mystery thriller film, A Land Imagined, that tells the story of the disappearance of a construction worker. "He gave us some insights to a world that was hidden away from the rest of Singapore, and it made us more curious," Chee Wai tells Hear65. 
"We are musicians working in a rather niche genre, and to eventually find out that there are musicians in the migrant community made us determined to reach out to them and get to know them more. We simply wanted to tell a simple story that there are some really great musicians in there, using music to bond with each other, and to reminisce about their homes," says Chee Wai.
The project was filmed in 2019 and featured Isan Band by Friends of Thai Workers Association; Myanmar's U Than Naing and his guitar ensemble; and from Bangladesh: Banglar Kantha-Dibashram Cultural Group, violinist-singer Billal Hossain and friends, plus music teacher and keyboardist Malay Ghosh and friends. It was also supposed to include a live performance by the featured musicians at its premiere at this year's Singapore International Festival of Arts (SIFA). With the advent of the coronavirus pandemic, the premiere had to be cancelled and short snippets of the film are now being showcased on the festival's website. 
Hear65 caught up with The Observatory to talk more about SOURCE × Audible Lands and what else the band has in store for the future.
---
Hi The Observatory! Tell us, how has COVID-19 been treating the band?
Chee Wai: COVID-19 is impartial to all. So we are pretty much affected by it the same way as everyone else. Shows put on hold, overseas trips and projects cancelled, not being able to rehearse, uncertainty on what's to come in the next 6 months at least.


How did you guys cope during the circuit breaker period? 
Cheryl: It was quite difficult initially. Given the type of music we do which is improvisatory in nature, it was tough to not be able to be in the studio and create together. It was challenging for us as our instruments are all rather loud in nature and a home environment was not conducive for playing given the lack of space and proper sound-proofing. That said, we have been working on new material - a rather new direction that we are currently pursuing given the limitations of creating material from our respective homes and being physically apart. 
Mentally, it has been rather strenuous as well, dealing with the grim news of whatever that is happening around the world and also coming to terms with the fact that many artists including ourselves are struggling through this period and our livelihoods will be under threat for a while. 


How has it been different creating music and working in the time of COVID-19? 
Dharma: Not as good as how and what we are used to. With the advent of [the pandemic], we have had to work in our own personal individual spaces which we also share with our families, to a certain extent our neighbours too. Obviously, many limitations as to what we are able to do but yet we have decided to carry on making music this way [for now], knowing that it will bring about a different quality and character to the new material we are working on. Looking at things from a positive angle, I do feel we will be able to incorporate this new quality with our preferred way of making music - heavy elements of improvisation - in the future when things open up, or more directly when the vaccine is ready to be pumped into our veins!  
Another important aspect of our music that we dearly miss is being able to perform live to an audience or sharing our music live with an audience within the same space. Unfortunately, there is nothing that can replace this experience, not even online live streaming. Again, this is something we are going to have to live with for the time being.  


Congrats on the launch of SOURCE × Audible Lands project with SIFA and on your work alongside some talented artists and musicians in the migrant worker community. Could you tell us more about how the project came to be and its intended purpose? From its ideation to production, what was the entire process of this project like?
Chee Wai: The idea was brewing last year when we were exposed to more information about the migrant workers community, and the various issues that they were facing. We learned a lot from our friends who had worked with them before. We thought it would be apt to present this as Source, which is a programme of ours that deals with the relationship between film, moving images and music. In a Source event, we usually present a film or something that deals with moving images, and then couple it with a sound or music performance related to the film. Only that for this SIFA iteration, we went a step further by proposing that we produce the film itself.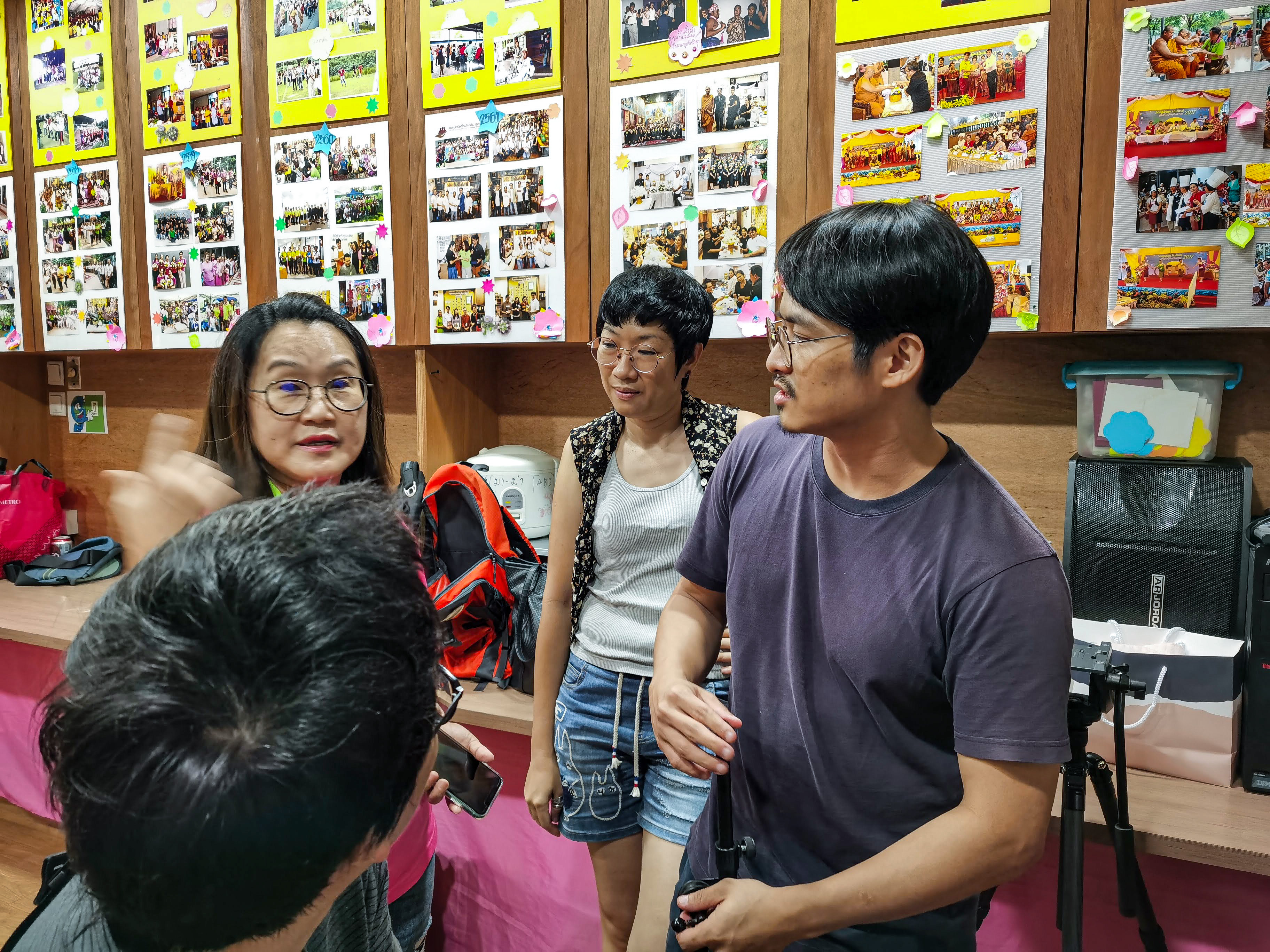 Eric Lee and Yuen Chee Wai at Chomrom Samakkee Thai Klai Baan (formerly known as Friends of Thai Worker's association). Photo credits to Mish'aal Syed Nasar.
This came in a form of the documentary that we roped Eric in to shoot. The intended presentation of it in SIFA was supposed to have the screening of the full documentary, followed by a music performance by 2 migrant musician groups, The Observatory and Otomo Yoshihide. Because of the intense working schedules of the migrant musicians, we had planned on a way to play music together using music conduction that Otomo-san devised. 
Cheryl: It is an ongoing process, one that was unfortunately stopped short due to COVID-19. With any sort of collaborative work, we realised it was important for us [and the various migrant worker community] to get to know each other before even embarking on any form of musical collaboration. 
Through the process, along with Eric, we also got to understand first-hand the living and working conditions of the migrant worker community. Some of which are not desirable nor fair, and even with this, they continue to want to create - to write poems, songs and play music. It's admirable and very humbling for us to see that. With the entire covid outbreak in the dormitories, we have all been concerned about their safety and well-being and have been in touch with some of them mainly through Eric. To be honest, at times, we feel rather helpless as we are unable to help them directly due to limitations.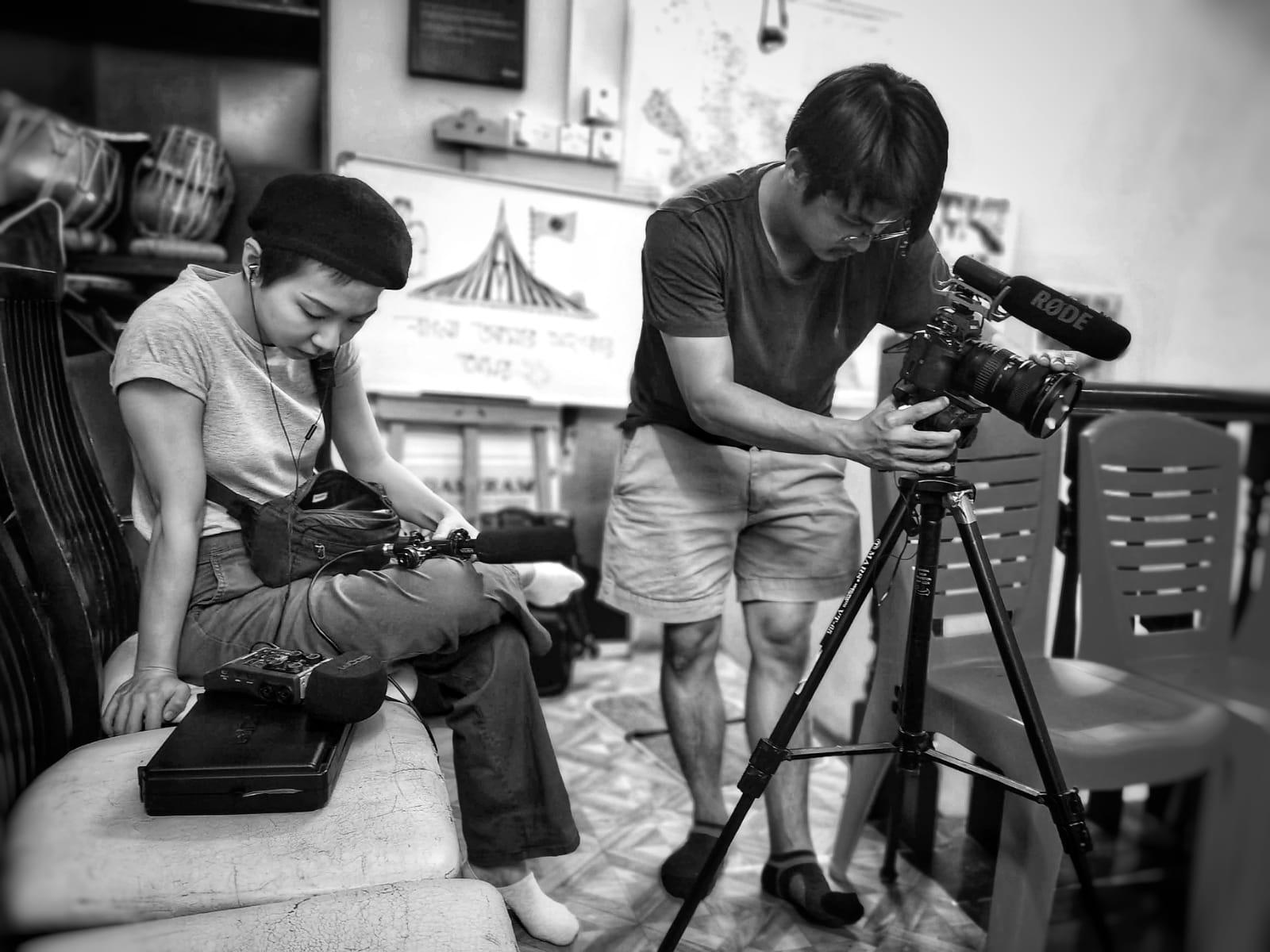 Cheryl Ong and Eric recording the Dibashram Cultural Group's rehearsal. Photo credits to Mish'aal Syed Nasar.
Moving forward, we would like to continue this process but are also cognisant of the challenges that might come given the covid situation with the migrant worker dormitories. Time and access might be potential challenges. 
What were your biggest takeaways working on this project and seeing music performed and interpreted by the communities you worked with? 
Dharma: Many thoughts and sentiments came out from working on this project. For one, was the very admirable sense of determination these people have to create and perform music. They work in very tough jobs, live in miserable conditions and get paid a salary that is unrealistic for survival in Singapore. Yet, in all this hardship they make the effort to find time, space and energy to create music. Witnessing them perform whilst understanding the context of their hardship, one can feel the pain, sorrow, beauty, hope and joy in their music.   
There have also been many questions relating to socio-political matters that came to mind, like racism, xenophobia, capitalism, exploitation, from working on this project.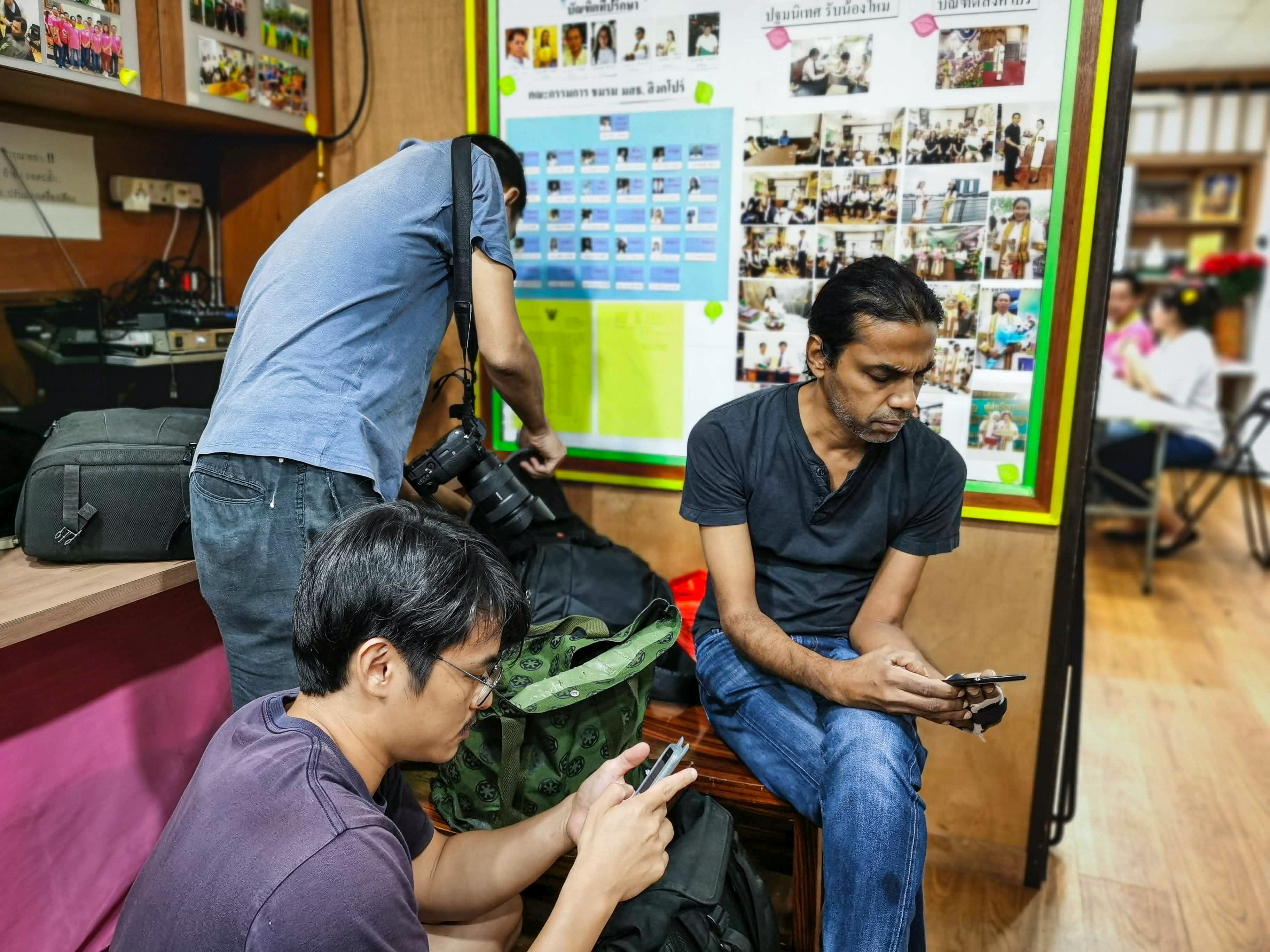 Eric Lee and Dharma on set. Photo credits to Mish'aal Syed Nasar.
How did the musicians feel about this collaborative project? What are some hopes they have for the future as they continue performing music in Singapore? 
Dharma: They were very happy to be involved in this project, very enthusiastic too. They kept asking us what kind of songs and themes would work well for this project, what would go down well with the audience. We encouraged them to play what they wanted to play and not worry about pleasing the audience rather think more about what they would like to share with us. That worked well with them as they were very keen to share their culture. We didn't get to pursue the interaction as much as we hoped for due to COVID-19, but we did sense their hope that through this platform there would be a better understanding of the lives of migrant workers here.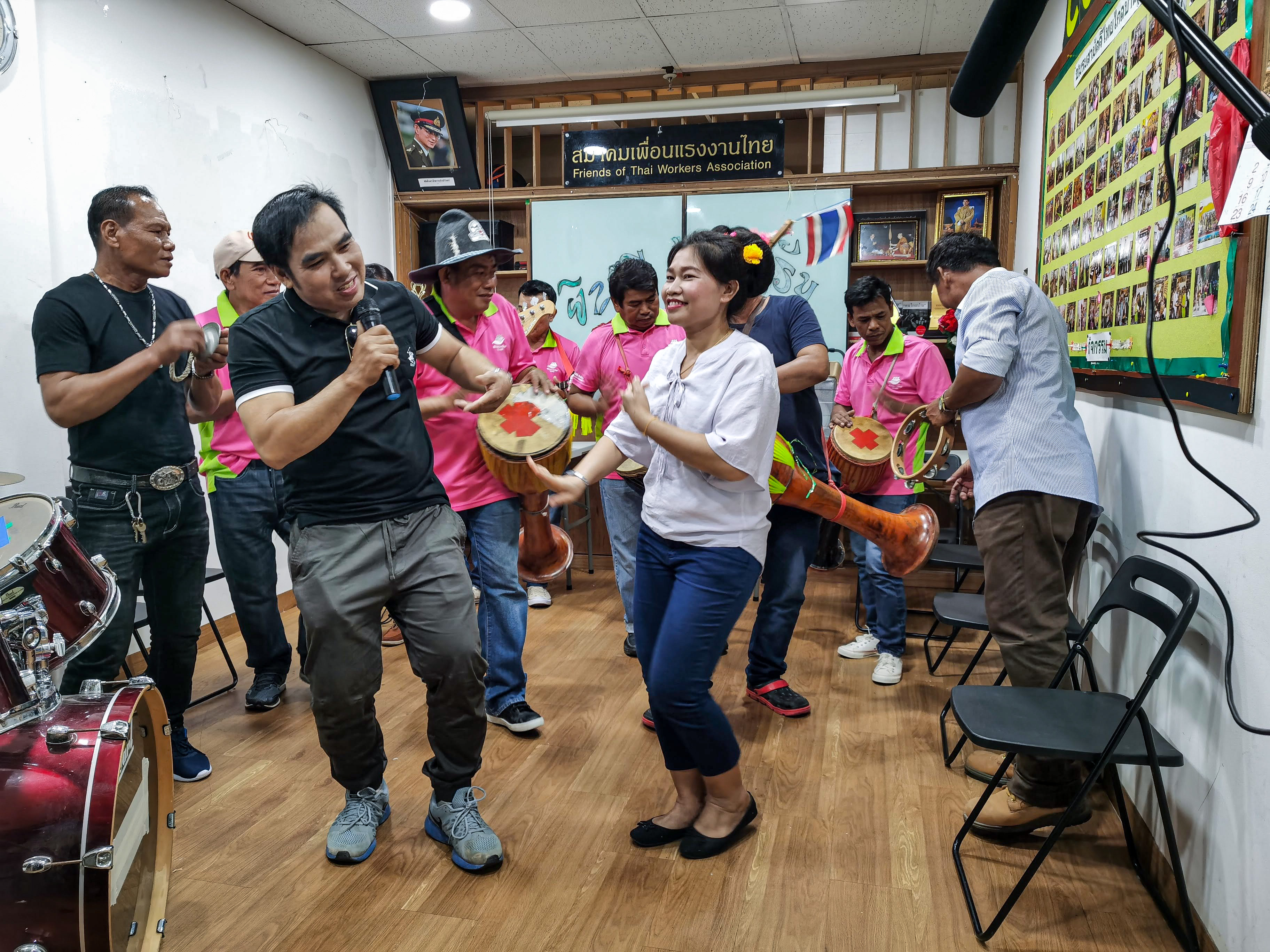 Isan Band performing at Chomrom Samakkee Thai Klai Baan. Photo credits to Mish'aal Syed Nasar.
What are some ways you would recommend for readers to support the community and where can they continue to enjoy these works and collaborations?
Chee Wai: Before we can even begin to support the community, we should really take the first step to understand them, and accord them a human right that is equivalent as everyone else's. It is always very sensitive working on a project that presents migrant workers as collaborators because it is loaded with a lot of baggage that includes being seen as being opportunistic. It took a lot of time for us to research and dig deep on our practice, before we became a lot more aware enough to approach this project with a lot of caution and sensitivity. We would encourage everyone to not dehumanise them, and to really appreciate them as human beings. Engage them like how you would engage your neighbours or your fellow friends and colleagues. We got to know them through music as a medium. You can find other ways to engage with them. TWC2 is one of the best places to start.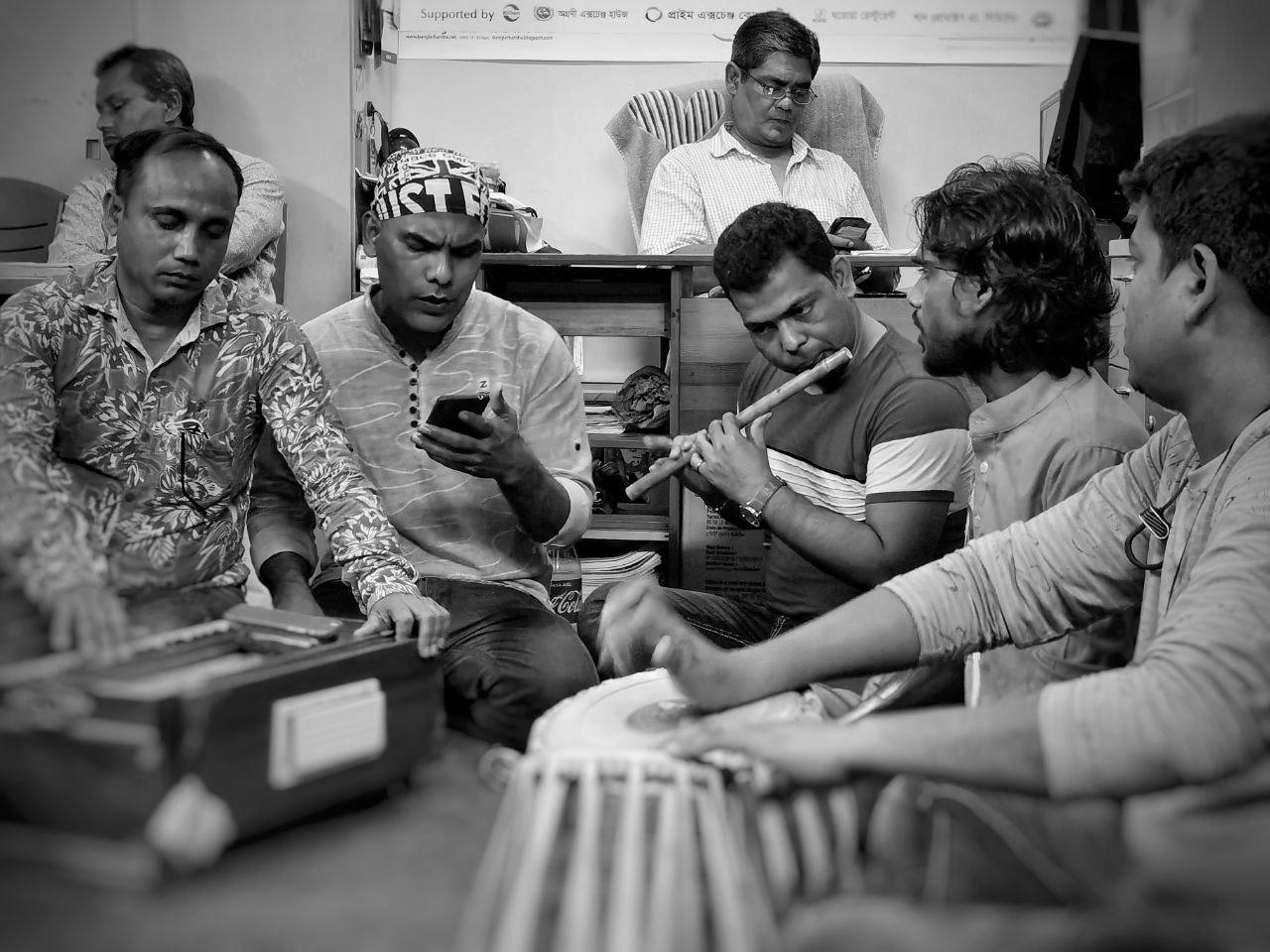 Dibashram Cultural Group rehearsing. Photo credits to Mish'aal Syed Nasar.
For the migrant music groups, you can donate musical instruments to them if you have any. We know for sure that the Isan Band requires a sound system and guitar amplifier for their rehearsal space. Malay Ghosh has dreams of recording and releasing a CD album. Banglar Kantha takes donations to help with the rental of their rehearsal space. Or if you come across the Myanmese musicians playing music in the park, join them. If you have any events and think that you require these specific bands to play, you can also consider approaching them. But most importantly, society needs to seriously relook at how we treat the migrant workers in Singapore. 
Is the band working on any other projects at the moment? Anything readers can look forward to in the near future?
Cheryl: We just released the pre-order of 'Authority is Alive', a live recording that we did with Haino Keiji at last year's Playfreely. We are working on new material that we hope will translate into a new project. We are also looking forward to recording the material that we have premiered at BlackKajiXtra Nusasonic and BlackKaji Arts Science Late. That process was stopped short due to COVID-19 and we hope to resume that once international travel bans and quarantine measures are lifted. 
Watch The Observatory Live at BlackKaji ArtScience Late:
Pre-order 'Authority is Alive' below:
---
Catch the last episode of SOURCE x Audible Lands series here:
---