The third edition of UFM100.3 x Hear65 Presents: LIVE from the Lion City will be happening on Saturday, 18 May at 3pm. Held at lyf@SMU, this session will feature performances by three up-and-coming homegrown Mandopop artists – Celeste Syn (冼佩瑾), Shelby Wang (王曉敏) and Ariane Goh (伍芝儀).
We caught up with the three talented artists to have a quick chat about their journey in music as well as the upcoming showcase. Check out what they had to say below.
Can you tell us more about yourself and your music?
Celeste: I'm a Singaporean singer-songwriter who was based in Taipei for 5 years. I've always wanted to live there since my first encounter with the city. The songs on my album WHY were written there. I'd say my music is theatrical and quirky – there is only one love ballad on my album.
Shelby: Honestly, I think that my music is very closely tied to my personality. I enjoy modernity and the fast-paced city life, yet at the same time I find a lot of charm in old things and their history; I also do film and instant photography in my spare time That's probably why my music has touches of old-school elements such as funk and jazz, yet still maintaining an overall modern sound. I enjoy evolving alongside my music, as it is a culmination of my imagination and stories around me. Lastly, being an optimist and someone with a bad memory when it comes to remembering bad things, my music tends to have a positive/hopeful twist even when the song is about sad topics.
Ariane: I sing and I write songs for mostly myself, as well as for other artists and for television. I've worked with songwriters and producers across Singapore, Malaysia, Taiwan, Hong Kong, South Korea and China. I've also got songs placed in those regions. I enjoy listening to R&B, soul and pop, which explains the kind of music that I make.
What are some highlights in your music career?
Celeste: Being able to live and make music in Taipei. Also, I was blessed with the opportunity to work behind the scenes as a production assistant at JVR Music. Looking back, it was the teamwork and friendships that still bring a smile to my face. And hotpot.
Shelby: Right now, it is the release of my debut EP, 在你的世界存在 Interconnecting Worlds. I've thoroughly enjoyed the creative process and collaboration behind the creation of this piece of work; from songwriting to music video production, to promoting and performing it. Some other highlights would be my recent Taipei performance at Legacy Mini, and also having my song featured in the Hong Kong cinema release 初戀⽇日記, To love or not to love.
Ariane: The Noise Music Mentorship Programme in 2014 opened so many doors for me in my career. Then, there was the Warner Chappell Music Asia Songwriting Camp that happened in 2017 where I sold my first co-written song, as well as the MUST International Songwriting Camp in 2018 where I got connected to many artists and top producers and songwriters internationally. And more recently, the Zaobao 'Sing My Song' 2019 programme was where I released my first single 'Where Did You Go?' feat. MC Yao Zong from Taipei, produced by local veteran Tat Tong.
What were some challenges you faced in your music career and how did you overcome them?
Celeste: Songwriting has always been something very personal. Sharing that part of me took a little getting used to. The turning point came when I saw that my music could impact and help others.
Shelby: I have met people who did not like my music because it's kind of weird and not the typical sound that people normally associate with Mandopop. I have to always be reflective and take constructive criticism as an opportunity to improve. At the same time, I think it is really important to believe in your music and to keep on creating no matter what.
Ariane: The biggest challenge I face to this day is producing new content, just like every creative individual. And one way to over come it would be to collaborate! Collaborations don't necessarily work out all the time but if you never try, you'll never know.
What would you like to achieve with your music?
Celeste: I hope my that message can touch hearts and change lives.
Shelby: I want to create songs that will become part of people's lives!
Ariane: I want people to recognise me for my talent, my music, my voice and not for how I look. I want people to be able to hear the heart behind what I do.
How does it feel to be playing UFM100.3 x Hear65 Presents: LIVE from the Lion City?
Celeste: I'm thankful for UFM100.3 and Hear65's support for the local music scene. I'm excited and honoured to be given a platform to showcase my works.
Shelby: Having released my EP in February, I think I'm still relatively new in the local music scene so I'm really honoured to be part of this great programme promoting local music! It's gonna be fun!
Ariane: I love the initiative and I look forward to it! I believe in local music and therefore am always pushing for songs that are written, sung and produced in Singapore.
Why do you think it is important to highlight music in Singapore?
Celeste: Music speaks to the heart. In a fast-paced society, we tend to neglect the importance of slowing down just for a second to look around and appreciate things that are non work-related. I need such reminders too, even as a musician.
Shelby: I personally really enjoy listening to some local artists; Singapore has many cool things coming out music-wise. Music also forms part of our cultural identity. As a country with its local music scene still at an early stage, resources and support are really helpful for musicians to continue creating more music. I think it's great that there are more and more programmes and initiatives providing local musicians with platforms to showcase original works because it helps them reach out to a bigger audience.
Ariane : It is part of building an identity that we have as Singaporeans. Music is a powerful tool; It's magical. It is able to reach people, regardless of language and the differences we have as individuals. We need to embrace what is made in Singapore!
UFM100.3 x Hear65 Presents: LIVE from the Lion City will be happening on Saturday, 18 May, 3pm at lyf@SMU. More details can be found here.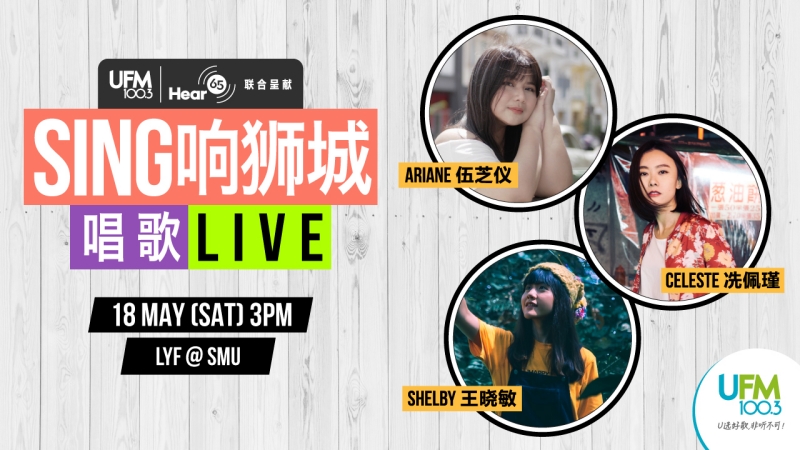 ---