Singer, actress, host – she has done it all. After rising to fame through Zhejiang TV's Sing! China, Singaporean jazz talent Joanna Dong held her first solo concerts at the Esplanade Concert Hall last weekend. Originally a one-night only concert on 30th June, all 1,600 tickets sold out swiftly, leading to a second show on 1st July and allowing more fans the chance to get up close and personal with Joanna.
Titled "So Here I Am", the two-hour long show featured Joanna performing some of her previous competition tunes, as well as new songs from her new EP with the same title. Read on to find out five reasons why we loved Joanna's show!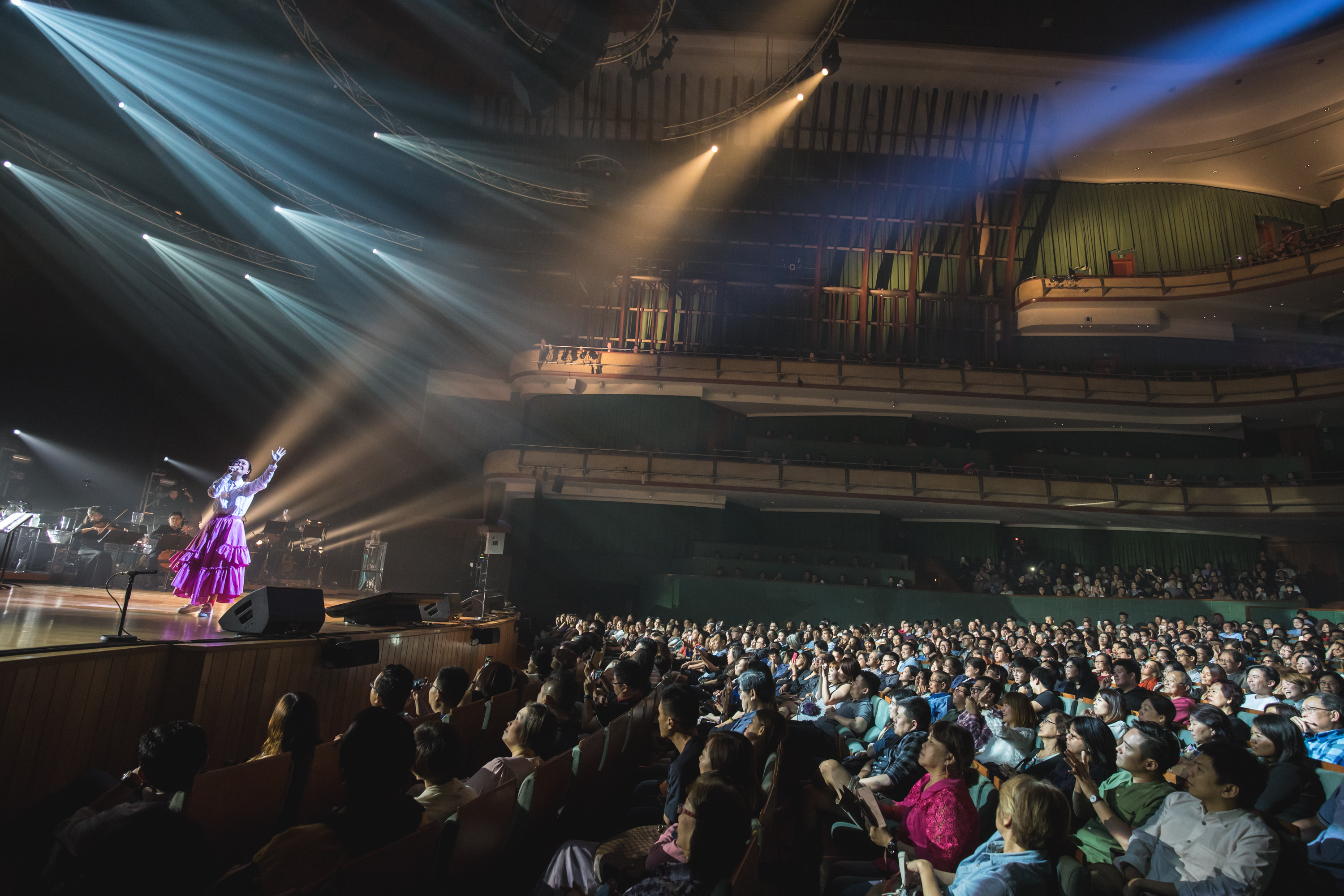 She is not afraid to be herself
When it came to the naming the concert, Joanna wanted to show her most authentic side to the audience, hence the Chinese name "Wo Shi Zhen De" (roughly "I am real"). Given that this was her first major solo concert, Joanna owned it completely from the choice of songs, to the candid moments when she told personal stories and interacted with the audience.
The talking sections were our favourite, as Joanna joked with the audience in both English and Mandarin, occasionally slipping into Singlish, which drew laughter from the audience. Joanna treated the three-storey high venue like an intimate lounge, interacting with the audience as if we were her friends. Joanna was not afraid to be her most candid self in front of the crowd, even joking about the need for a teleprompter due to her tendency to forget the programme lineup.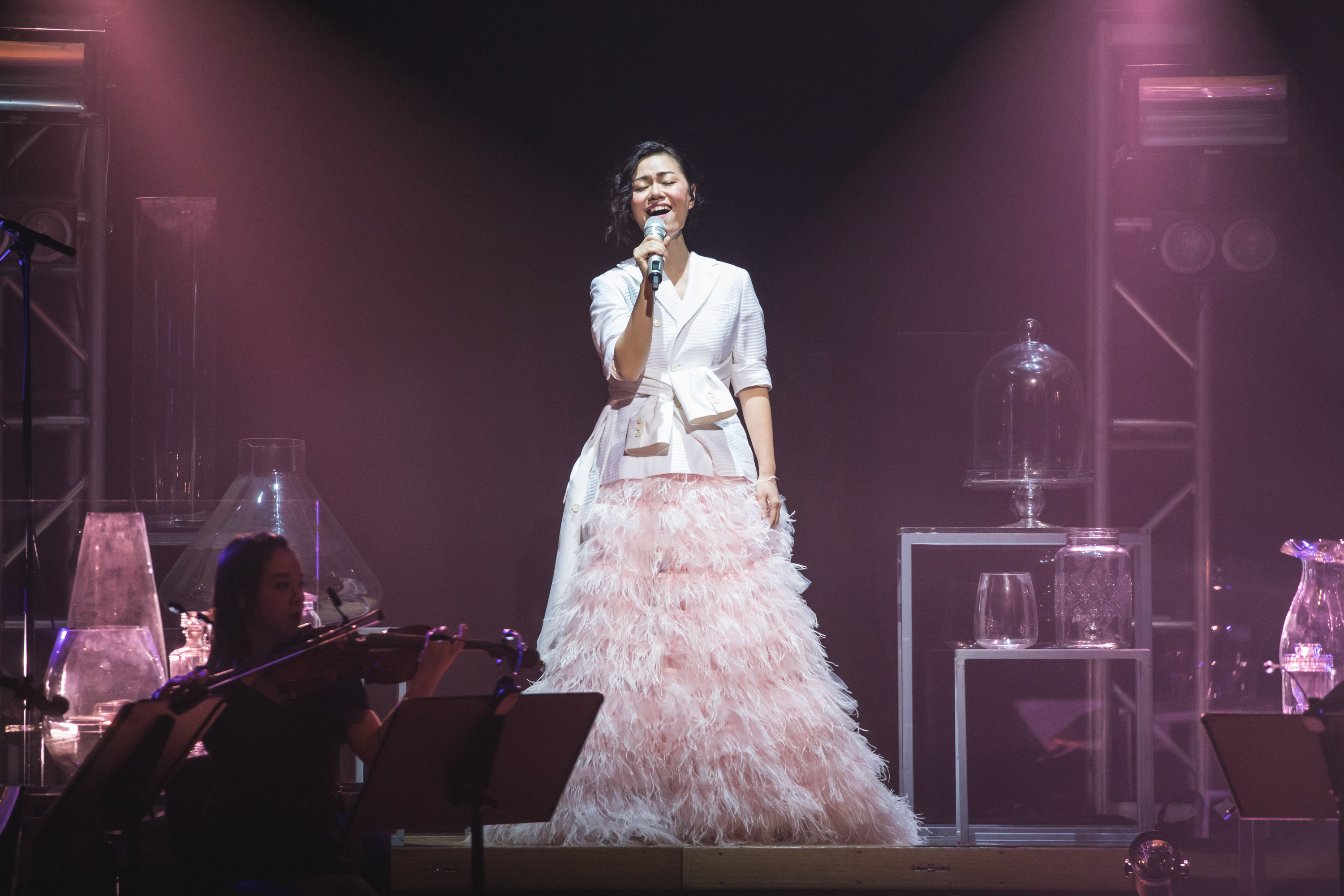 A music lesson and more
Joanna's concert was different from any other we've ever attended because it was so fun for the audience. Joanna not only let the audience have fun by encouraging them to snap their fingers and bop along to the music in their seats, she also went the extra mile to share her love for jazz by conducting an impromptu singing class.
Using the Chinese nursery rhyme 'Ke Ren Lai' (which roughly translates to 'We have a guest'), Joanna made the audience echo after her as she performs different variations of the song using jazz techniques, demonstrating how jazz allows one "freedom within the rules". Joanna even joked, saying that she has hit the educational KPI (Key Performance Indicator) of the venue by teaching the audience more about jazz music.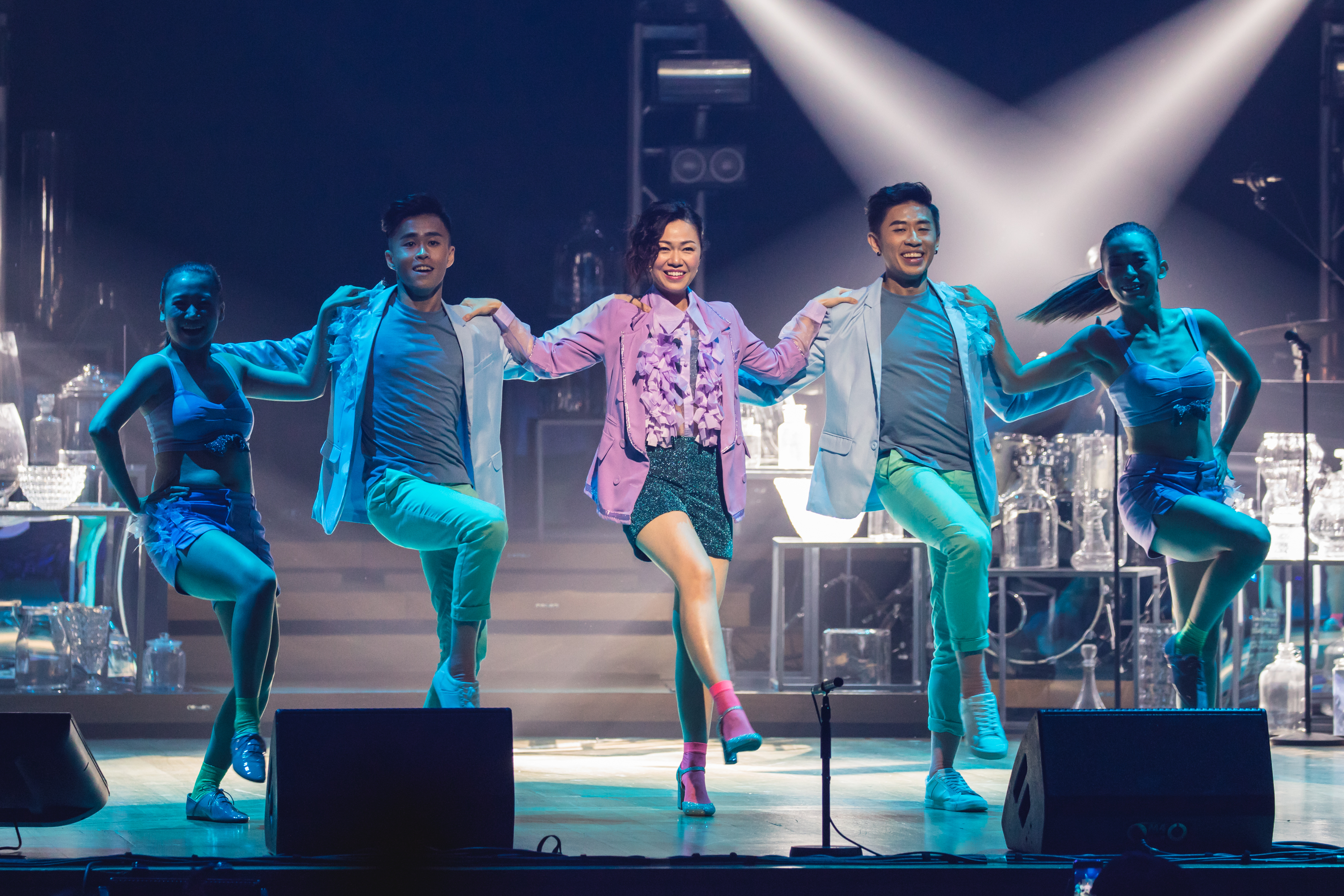 The many sides of Joanna Dong
We went in expecting a simple jazz concert with just Joanna and her band, and we were so wrong.
The show started with a showy 'I Want Your Love', a classic she has previously performed on Sing! China. Joanna took over the stage immediately with her strong presence, dancing alongside four dancers decked in frilly purple outfits.
Joanna also wowed the audience with her powerful vocals during her covers of 'Unable to resist you' by Jeff Chang, and 'Fade Away' by Jay Chou. Accompanied by the piano and a spotlight, Joanna brought our focus back to her soothing voice and moving performance.
Ending the night with a surprise encore component, Joanna returned to the concert hall through the back door, donning her signature blue frock while singing 'Love Song 1990', the track which got her through the preliminary rounds of Sing! China, which also shot her to fame.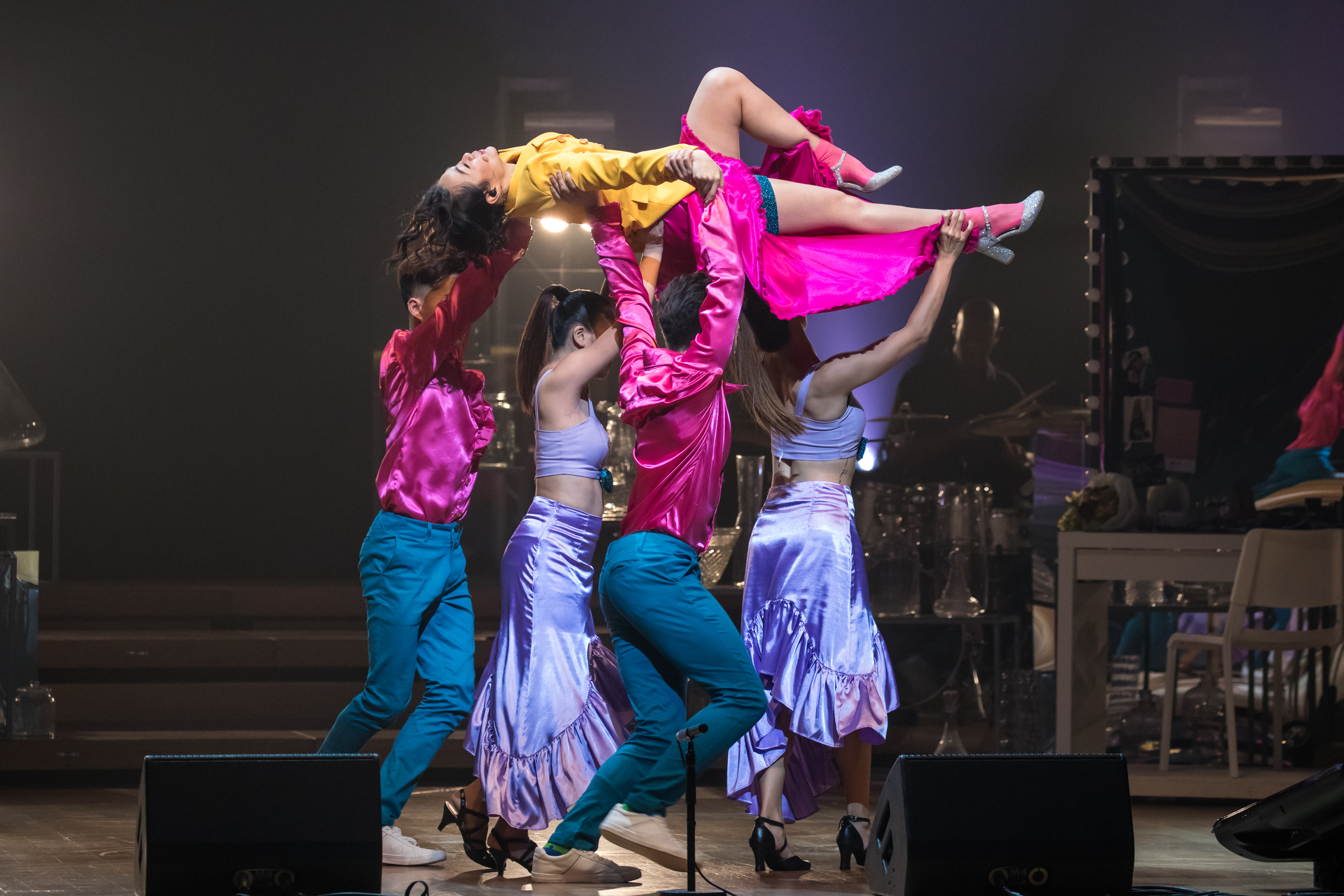 A show and tell
Throughout the concert, Joanna brought the audience through the journey of her life, from the competitions she has participated in, to the lessons learnt through hosting various travel programmes.
Joanna brought out a rack of outfits she wore for her competitions since she was young, bringing the audience into a show-and-tell session. With every outfit came a story, and Joanna took the audience down memory lane as she recalled the competitions she has participated in since she was a child, while parading in the colourful headdresses that her mother hand-made for her.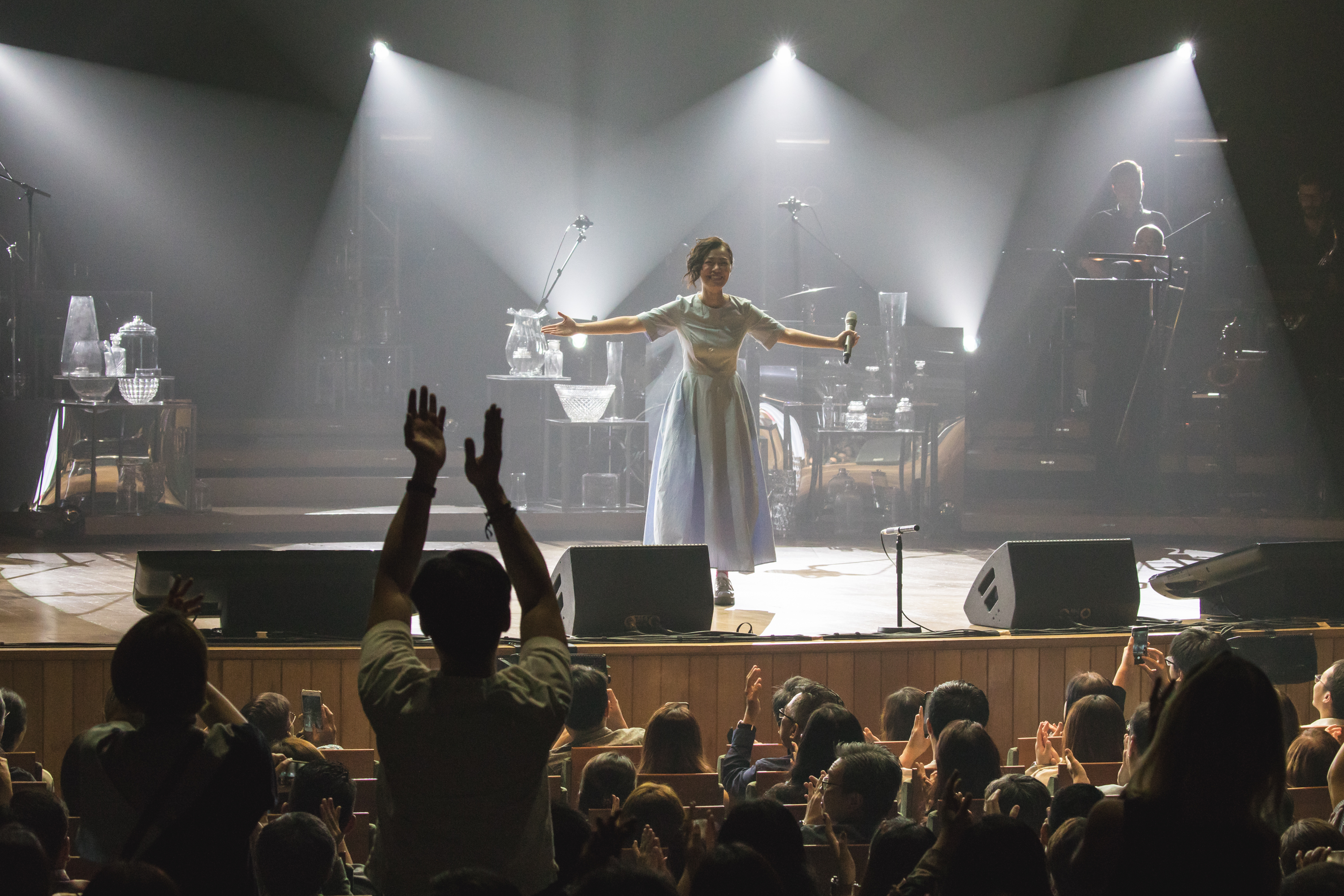 She gave it her all
Joanna pushed herself to her limits - trying songs from different genres, dancing along with the dancers and even being lifted in the air.
Making the concert truly her own, Joanna sang 'Unable to Resist You', a song that she missed out on during the competition due to mentor Jay Chou dismissing it as "having not enough wow factor". She also brought in fun tunes 'Sister' by Jeannie Hsieh, as well as 'LOVE-ing' by Mayday, allowing her to bring an element of light-heartedness to the concert.
As the concert drew to a close, Joanna humbly reflected that she has given her all to this concert, and she was extremely content with the two shows she put up for the Singapore audience.
Photos by Alvin Ho, courtesy of Esplanade - Theatres on the Bay
Many thanks to Red Roof Records for the invite
---