If singing karaoke is on your post-Circuit Breaker bucket list, you're in luck, because you will be able to tick it off even before CB ends.
Over the next four Saturdays, Hear65 Sing Along SG will present a reimagined digital karaoke concert experience, for you to sing along with 16 Singaporean artists in the comfort of your bedroom. From 23 May to 13 June, each three-hour session will feature four artists singing their original songs with lyrics on-screen, so you can skip all the Googling and sing to your heart's content. 
The Pinholes, Tabitha Nauser, THELIONCITYBOY, and RRILEY will be the first four artists in the lineup, with the shows hosted by Munah Bagharib. Starting this Saturday (23 May), Hear65 Sing Along SG will be streamed live on Hear65's Youtube and Twitch channels and Bandwagon's Facebook and Twitter pages from 7:30pm. Audiences can also donate to the artists and musicians via Hear65's Twitch page.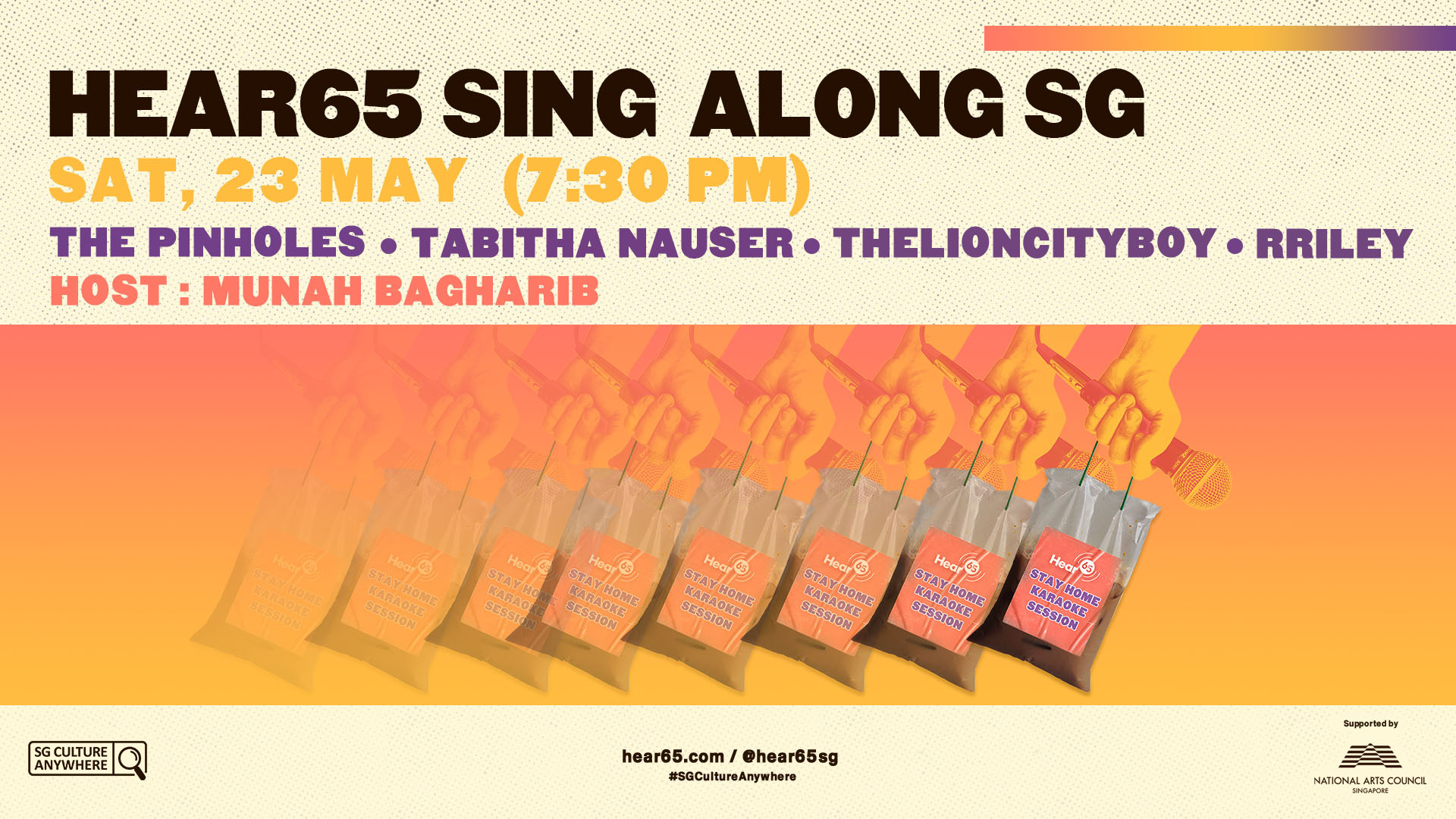 Hear65 Sing Along SG was created to provide a unique platform for 16 Singaporean artists across 8 different genres, with the engagement of over 90 self-employed practitioners (SEP) in the arts community. In light of the cancellation of gigs during the COVID-19 period, artists, musicians, audio engineers, and crew, among other arts practitioners, have experienced as high as a 70% hit in income.
"Many of our artists and groups have used technology and digitalisation to create innovative content and to reach audiences in exciting new ways. NAC's latest National Music Consumption Survey found that in 2019, Singaporeans increasingly turned to online channels to listen to music and to discover music performed by Singaporeans. We hope Singaporeans will enjoy Hear65 Sing Along SG with their families and friends virtually, and become new fans of home-grown music," said Paul Tan, Deputy Chief Executive (Planning & Corporate Development), National Arts Council.
Added Clarence Chan, Founder, Bandwagon, "Hear65's vision has always been to connect people to music from Singapore. This project is a culmination of the different creative talents in Singapore, from the artists, musicians, mixing engineers, project managers, video crew, and publicists. In this difficult time and together as a family, we want to bring joy and inspiration in the best way we know how. We hope everyone will enjoy and support this project wholeheartedly!

---
From now till 21 May,  vote for the artist you want to sing along with in the final session on 13 June! 
---