National Day is just around the corner, and this year promises a more exciting celebration than ever with the easing of COVID-19 restrictions. With the theme of 'Stronger Together, Majulah', the National Day Parade (NDP) 2022 returns to a full live crowd at The Float @ Marina Bay.
The NDP 2022 theme song, 'Stronger Together' is performed by none other than the original Singapore Idol, Taufik Batisah. The accompanying music video was directed by esteemed director and producer Lindsay Jialin. Inspired by the stories of real-life the video emphasises the importance of community resilience and unity.
With over 15 years of professional experience in the industry, Lindsay is no stranger to the local production scene. From directing branding videos to working on international feature films, she has always embraced a wide range of genres and styles. And now, directing the music video of the NDP theme song is the latest addition to her ever-growing filmography.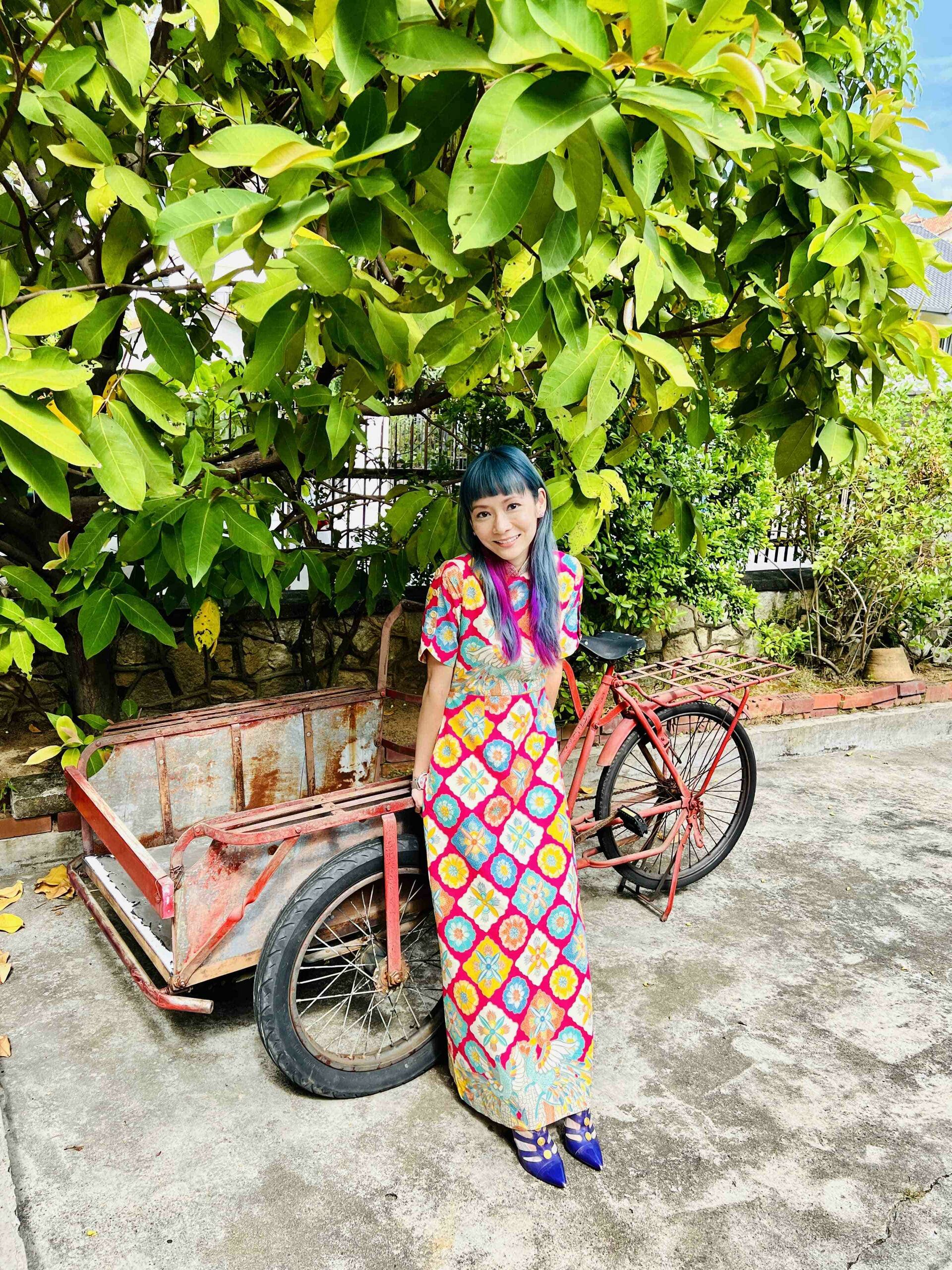 Here at Hear65, we sat down with Lindsay and spoke with her about her experience directing this music video, her overarching vision, and how she sought to express the theme of 'Stronger Together' in the video.
---
Hello Lindsay! Congratulations on the music video. How did this opportunity come together for you? Did the NDP team approach you with an idea in mind already, or were you allowed to conceptualize your own vision?
Lindsay: It's a bit of both! I was invited among a few other directors to come in to pitch for this year's National Day music video. We were given a brief by the creative director and the National Day committee. From there, it was up to us directors, after listening to the song and reading the brief, to envision this year's music video based on how we feel about the music and lyrics of the song.
We were given quite a bit of creative freedom to come up with everything. The stories and talents, and everything else that you see in the music video were actually by me and my team. We just had to present it to the National Day committee, and that's where they will give us feedback on what could be better, what would work, and what would not work. We then tweak from there, but nothing major has changed since we won the pitch. So they really gave us creative freedom, which is quite amazing.

The first words one sees when watching the video are 'Inspired by True Stories'. What did it mean to you to represent these authentic Singaporean stories in the video?
Lindsay: The lyrics really resonated with me the first time I heard this year's theme song. I felt that it could resonate with a lot of Singaporeans too. So that's why I wanted to come up with some real Singapore stories and put them into the music video. We tried our best to include Singaporeans from all walks of life and not leave anyone out because we feel like this song can really resonate with a lot of Singaporeans given our challenges over the past two years.

So how did we get inspired? I'm a person who appreciates heritage a lot. And I like how people of different generations can cross generations and enjoy activities together. I also like bridging generation gaps, regardless of race and religion. So that's why we thought of stories that are friendly enough to show to our fellow Singaporeans and hopefully inspire them.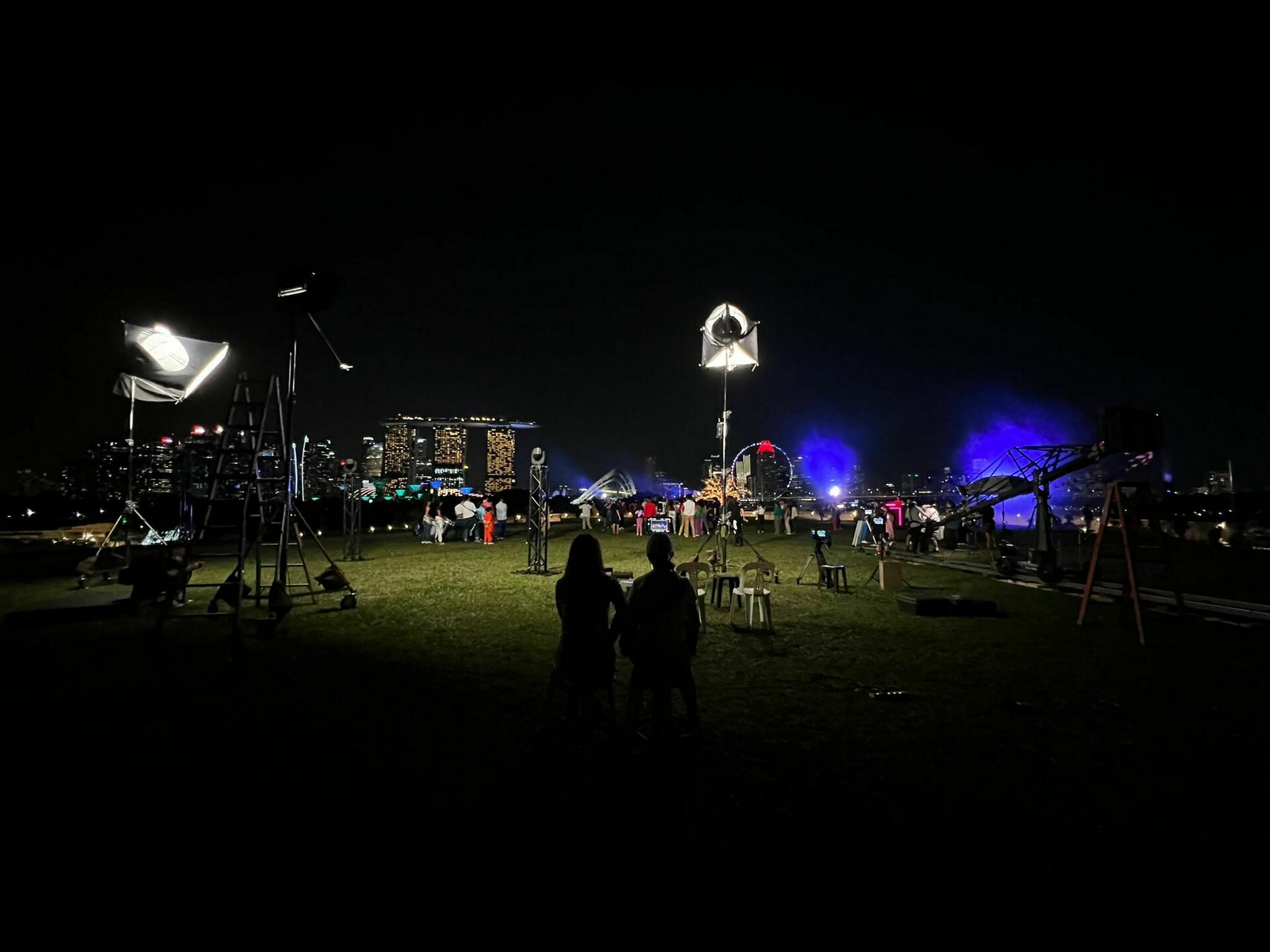 In the past two years, the music videos reflected the trying times we were in; we saw Zoom calls to illustrate the quarantine period and animations of crowds to replace actual people. This year's NDP's theme is 'Stronger Together'. How important was it for this year's video to reflect the idea of Singapore emerging stronger from the pandemic and people coming together again? 
Lindsay: It is quite important because this year's song is different. The songs from past years were more midtempo, but this year, the song is a little bit more uptempo, it's happier, and it gives us a sense of positivity. So we wanted to concentrate on that.
The lyrics and the visuals remind and inspire us to appreciate the little gestures we took for granted and to be grateful for every pocket of happiness in our everyday lives. For example, it took a pandemic to make us realize the importance of having a simple meal with our family outside. Every little gesture from each individual being matters. If we accumulate all this and come together, I really feel that we can be stronger together. 
The music video is also to give ourselves a pat on the back for all that we've been through and celebrate and take pride in how far we've come. I think it is really time for us to just move forward together and be better, just like in pre-pandemic times. Because we've done it before and I think we can do it again.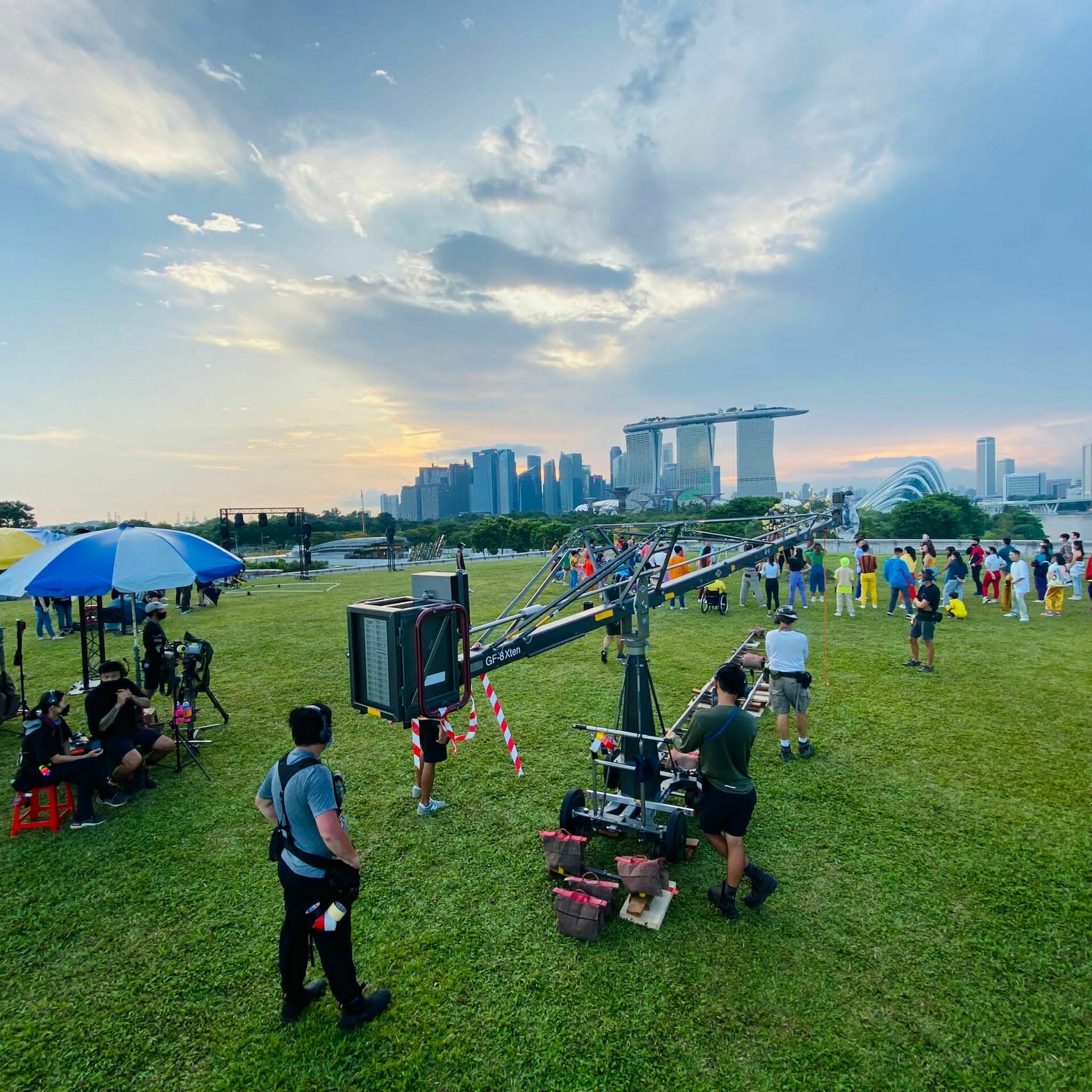 One particularly memorable scene was the choreographed sequence at the end where everyone came together - including Taufik Batisah and the entire dance crew. Do you have a personal favourite moment in the video? Or a favourite moment while filming on set?
Lindsay: I can't really tell you a favourite moment because we did this over four days of shoot and every moment was just so important. We can all say, including my producers and director of photography, that the most challenging one would be the last scene you've mentioned because we needed to do it in one take. But I can't say that that's my favourite scene because my heart also feels for the other stories. 
So in that scene, we don't only have professional dancers, we also have non-professional dancers and even dancers from different kinds of groups coming together. Our oldest performer is 78 while our youngest performer was just eight years old. So you can really see how music and dance can bring everyone together. We had Dance Spectrum International, a dance group that features special needs members who like to dance. We also have Redeafinition, who are deaf dancers. They can't actually hear the music but they make use of the vibrations of the sound through the floor. Everyone just came together and danced in this ending scene to show that we can come together despite our differences and backgrounds. So I feel that this scene is very iconic. It was really, really fun. I won't tell you how many takes we took to get a perfect take but it was really great.
Also, it's not just about the dancers, but also the crew. We had to attach the camera smoothly as it records the dancers, and then we had to attach it to a crane as the crane brings the camera up for a top angle. So it's not just in front of the camera, but also behind the scenes where we have to work together.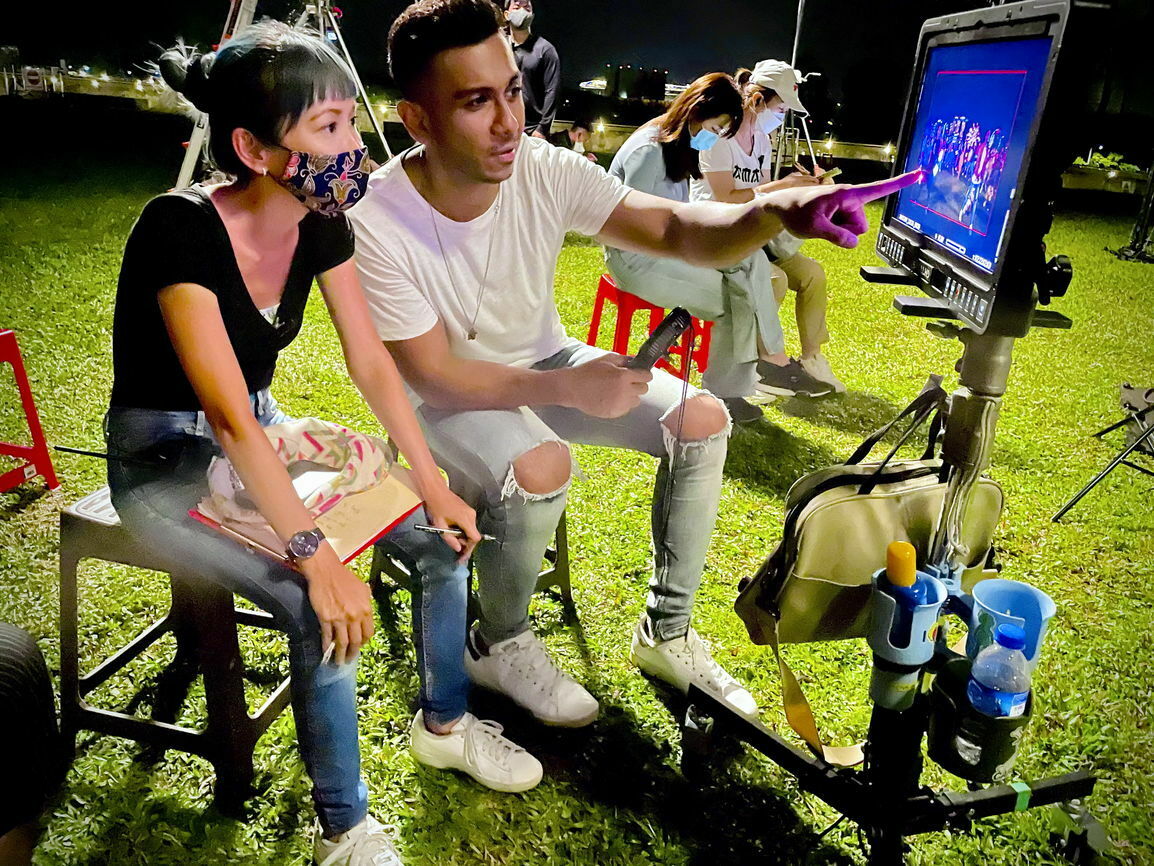 Of course, this year's theme song is sung by Taufik Batisah, who previously did the iconic 2005 theme song 'Reach Out For the Stars'. What was it like directing Taufik?
Lindsay: He was great. He's very professional. He's been industry for so long so he knows how to deliver. I knew him since Singapore Idol days when I was working at Mediacorp. So that's how we got to know each other. In 2020, we worked together on the National Day concert as well. Every time I work with him, he's very connected and humble.
I like to call him the Singaporean Usher. As you can see, the way he danced in the last scene and the way he carries himself, he just has a lot of music in him. I think he's just the perfect artist for this year's NDP theme song.
Do you have a personal favourite NDP song and video from the past?
Lindsay: I think every year is different, but I do like last year's song. The melody is nice and the video was co-directed by my current producer, Junxiang. So it was great. It's such a small world because I didn't know he directed it until I met him.
I read some comments on the music video page on YouTube. People were saying that last year's song was 'The Road Ahead' and this year it's 'Stronger Together'. It's like a nice continuation, where the road ahead leads us to be stronger together. So I thought that was quite nice.
Lastly, what advice would you give to Singaporean youths who aspire to be directors or producers?
Lindsay: I think they need a lot of passion. Every industry needs passion of course, but in this industry, I think that you need a little bit more passion. People think it's glitz and glamour but if you look behind the scenes, we're actually doing a lot of work. It's constant. It's non-stop. It's churning out your energy, creativity, and strength for a work of art.
I would say, tell stories that you know. Don't stop getting inspired by stories and don't just try to look for the big picture. Look at anything in front of you. You never know. A story might just strike you. You can talk to anyone⁠—a stranger along the road or the uncle sitting by the void deck—they have tons of stories. Don't look too far, because we have a lot of stories that have yet to be told. And I'm just very lucky to have this platform to tell six simple stories in the music video. I wish I could tell a hundred more.
The last advice I'll give is not to give up. The journey is not easy because art is subjective. Some may like it, but some don't. But don't give up and just do your thing. And watch a lot of movies. That will help. (laughs)
---