Singapore's very own Ming Bridges will be opening for Niall Horan next month when he brings the Flicker World Tour to the Lion City.
Ming Bridges is an Australian-Singaporean singer-songwriter, actress and model who got her start in 2006 when she won a singing competition hosted by Teenage Magazine. In 2008, she began acting when she accepted a leading role in R.E.M: The Next Generation, a local children's detective show that aired on Okto channel's Kid Central.
In 2011, Ming signed to Funkie Monkies Production after performing her song 'I Want You Back' for its directors. In February of 2012, she released her debut album, Who Knows, which featured nine English songs and three Mandarin songs. Later that same year, she released her second album, Ming Day - 明天, an all-mandarin album. The album was followed-up by 2014's Morphosis, an entirely English album.
Ming has won multiple awards for her music. In 2012, she was named Music Act Of The Year by Elle Singapore magazine and was awarded the prizes for Best Local Singer and Best Local Album in 2013 by Singapore Entertainment Awards.
We had the pleasure of speaking to Ming ahead of her performance here in June when she opens for Niall Horan. Check out what she had to say below on new music and more.
---
You dropped a song 'Raw' last year, but it seems like you've taken a small break from music to focus on your fashion company. Does this show mark you returning to music in a public way?
Music is something I'm constantly working on – I've actually been writing demos and doing collabs behind the scene for the last two years with a different vibe to my old sound. I'm a pretty spontaneous person and a sustainable fashion business has always been a dream of mine since I was younger so I decided it was about time I invested the energy into launching rentadella, but by no means have I paused music.
I've been actively writing and doing things in the lead up to releasing a new album and relaunching myself as an English musician in Singapore. This gig will definitely be a fun way to share some of the things I've been working on.
Have you been working on new music? Your last album was poppy, but 'Raw' felt a bit different, so I'm wondering where your mind is now when it comes to new music.
My music taste has always been all over the shop. When it comes to writing I always start with my guitar so I guess now that I'm out on my own without a label adding the bells and whistles, my songs are now the roots of where most of my song writing is done. Just simple, stripped down guitar numbers. I always love a good hook. I'd love to explore new styles soon but right now I'm just enjoying playing my songs for what they are.
Finally, how do you feel about opening for Niall Horan? What can people expect from your performance?
I've supported Niall from when I was watching X Factor back in boarding school in England so it's crazy to think I'm now opening for him! His new style is great - edgy, acoustic but still poppy and catchy. You can tell this album is very real to him.
I'm still writing songs weekly so you wouldn't be surprised to find me singing a song I wrote the night before, ha!
---
Niall Horan and Ming Bridges will be performing at The Star Theatre, Singapore on Tuesday, June 12. Tickets are now on sale for S$88, $118 and $148. Get your tickets 
here
. 
In the meantime, check out the music video for Ming Bridges' 'Summertime Love' below.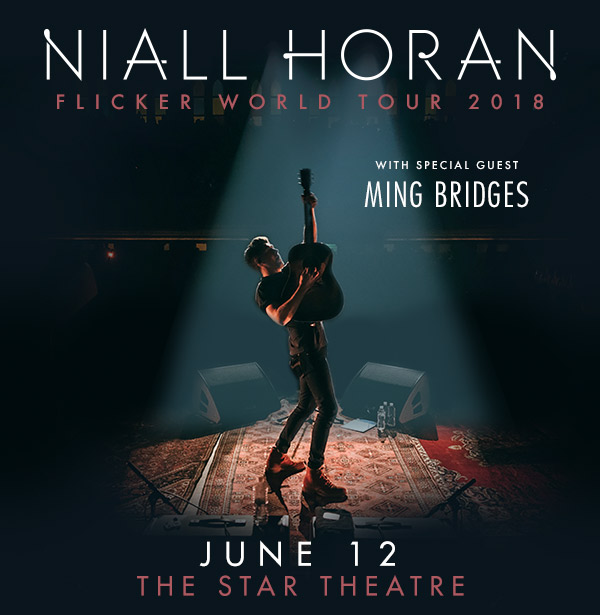 ---