Known for her technical jazz beats and scintillating lyrics, bittymacbeth comes back with an EP riddled with empathy and meaningful stories.
In her latest release, entitled Better Not Bitter, the Singaporean singer-songwriter-bassist tackles pressing social and personal issues against the backdrop of chill pop, R&B and jazz. Described to be 'a grown up version' of her previous EP, Beauty for Ashes, bitty showcases a more refined technical approach while simultaneously recalling tales of discrimination, anxiety and social burden.
"For me, it was to be a different version of myself, and represent that sonically. When I made my first record, I think I was still a little idealistic. With Better Not Bitter, it's about my growing up as a persona and a musician, and so the songs reflect that [through] more savvy production and songwriting," bitty tells Hear65.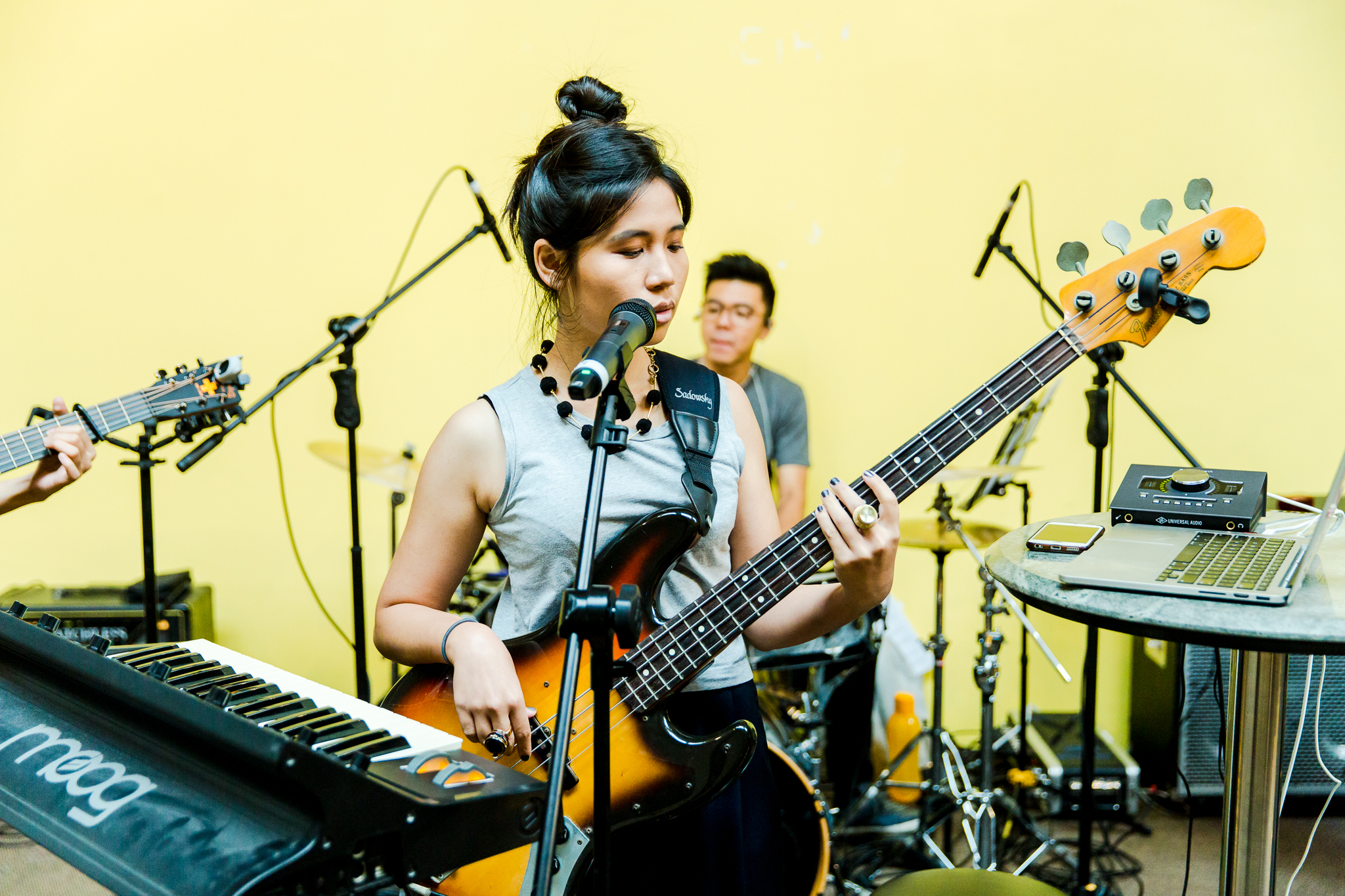 Better Not Bitter is bitty's first EP coming out of Berklee College of Music. The recent graduate spent almost three years in Boston, during which she learnt and experimented with different musical styles and techniques, collaborated with friends and developed as a person, as well as a songwriter and producer. 
In fact, the 26-year-old owes much of her latest EP and who she is as a musician today to her experiences at Berklee. "I am super certain I would not have written some of the music I've written if I had not gone to Berklee," she says. Bitty explains that before leaving for college, she was mainly known as a jazz singer and bassist resembling those in the likes of Esperanza Spalding. Since then, she has come into being an all-around musician that can loosely explore between genres and techniques. 
As bitty enters a whole new stage in her musical career, Hear65 caught up with the local musician to talk about her experience at Berklee and what's in store for the future, as well as get a track-by-track guide on her latest EP, Better Not Bitter.
---
How has the response been like to the release of your EP?
I've got really varied but all-around sweet and encouraging messages from the audience. I got compliments on the conceptualised continuous flow from interludes to tracks, on the mix, how the music was such a vibe and how the #BETTERNOTBITTER mini-documentary series was meaningful for them. 
You went to study at Berklee College of Music, what has been the most eye-opening lesson you learnt while there? 
I really had so many eye-opening lessons about both music and life there, I don't think any one interview has space for them all! I would say it's that the most difficult but important learning you'll ever have to do is to unlearn and listen. With music, more important than putting all the craziest licks and solos is to just really listen for what it needs on a case by case basis. Every song is different. There is no right or wrong, just how you serve the music. 
And applying this in life, we have to unlearn our preconceived notions of what we think we are entitled to and how we perceive other people. We should really take the time to listen to people's stories and truths about their lived experience and pain. 
Is there anything you would advise any young musicians wanting to study music formally?
I get this question a lot. There's no formula for this. I would actually advise against it if you haven't made your own cost benefit analysis. What do you want to get out of studying music? The piece of paper? The people? The knowledge? The environment? Is that worth the amount you're going to pay for it? This is the same advice Soh Wen Ming gave me. 
For me, I wanted to have international connections so it would make partnerships easier eventually, as well as to have that formalised setting in a country where the genres I concentrate originate from. Plus, having the professional equipment and one on one guidance and mentoring would definitely help grow my production skills. 
Moving forward, is there anything you would like to achieve for your music career? Anything exciting we can expect from you soon?
So many things. I want to properly tour a country, and as I sang in my recent collaboration, 'Leap of Faith', with Axel Brizzy, "sell out shows in more than one state, maybe in Taipei or Paris s'il vous plaît". I was recently offered a publishing deal, so maybe sell my first song to a major label? I'd like to explore more meaningful collaborations with other rappers and singers and produce for more emerging artists.
Something exciting will happen at the end of the year! Something not "bittymacbeth". That's all I'll say.
Check out the stories, adventures and experiences behind Better Not Bitter:
---
Prelude
I asked Jake, another Singaporean at Berklee who's a great friend of mine, to just play me a neo-soul progression up to his own improvisation. I [added] a glitch effect, which was a tedious process, but it worked!

Also the 'tiktaktok clikclakclok' at the start is the sound of me turning on the studio gear, flipping the switches and pressing the buttons on the hardware compressors and preamps, and plugging in the cables. Literally, I got in the studio, made music, and this is it. 
Trace (Comfortable Symphony)
'Trace (Comfortable Sympathy)' came to be after an afternoon at a cafe when I learnt that my friend was living in a somewhat abusive family situation. My friend revealed that they always wore modest clothing to cover up scars. So I thought of creating wordplay of the phrase "constellations of stars", while also using this imagery of tracing someone's scars, to capture that really personal and intimate act of opening up to someone, even in the darkest parts of your life.
Musically, this is a beat-driven track that I worked on with DAMYE, my co-producer. Thanks to his sensibilities, we made a slick R&B/hip-hop [melody]. He was supposed to finish the production but he went back to Korea so I ended up producing 75% of the track myself, apart from some of his work on the beat and additional synths.
Please Mind the Gap
The stories of these intermission tracks, like this one and 'I Just Wanna Feel', are really expansions or backstories behind the singles themselves. 
Given what 'Fly.' is about, I wanted to paint this picture of a Singapore that was always progressing, growing, developing, faster than what most people can really catch up to. So, I recorded sounds of construction drills and hammers, the sounds of the MRT travelling through a tunnel, the announcements, the doors opening and closing, the two distinct EZ-link card tap sounds, really old traditional Chinese music playing from my neighbour's radio in the mornings, bird sounds, bike sounds, the sound of someone stepping on the flat metal drain cover.
With the spoken word, the words flowed almost instantly for me, I think I wrote it in 15min. I got the title from our ever-present reminder at MRT stations: "Doors are closing, please mind the gap." 
Fly.
I've always felt paralysed by my fear of the future. It legit keeps me up at night now and then. So it was just a matter of time before I would write 'Fly'. I was getting closer and closer to that fork in the road where I felt I had to choose between my ideal career and a realistic job.
I really wanted to say what all young people were trying to say basically with the line "And when I think I've found my place, it's just a 99-year-lease."
I Just Wanna Feel
This is meant to form a whole sentence with the single it precludes: "I Just Wanna Feel Beautiful, In My Skin". It's the sound of someone, getting ready to go out and going through a beauty routine, so you hear the sounds of cream being applied, hair product being sprayed and hair being dried and styled. 
I really wanted the sounds of the creams in there too for this, because whitening products are still a common trend in Asia. So, I brought all the moisturisers and sprays I was using to the studio and recorded myself moisturising and spraying products into the air. I found that the sound of the cream being slathered across my skin was actually not as wet and "juicy" as I had hoped it would be. My solution to this was to go to the supermarket, by a slab of salmon, go home and record myself marinating it in my room.
Sorry to leave you with that image of raw salmon being caressed every time you listen to this!
Beautiful, in My Skin
'Beautiful, In My Skin' explores how beauty and race intersect in the prevalent problem, colourism — this has been something I have never been able to escape. So, I finally wrote a song about that. And also to address broader issues like the minority myth which I learnt more about by being in the US. 
I guess this is written for anybody who's had to feel like they've been 'the other' in their community, felt like they could never really fit in and constantly second-guess how they can feel worthy and valued.
A big part of this is also the sound design. I jangled my jewellery to create a metallic shaker sound to mimic the sound of chains — being a slave to beauty ideals — and also added in the sound of the glass shattering as a metaphor for breaking the glass ceiling before accepting and resolving that "I'm just gonna be beautiful in the skin that I'm in".
Conclusion
'Conclusion' is basically the conclusion of the EP, that no matter what I have in life to be depressed about, I must try to 'Get Better.'
This was my first time working with a vocoder. Basically, you can speak or sing anything, and it'll sound like the musical keys you play instead, or a mix of both if you prefer. If you listen closely to 'Conclusion' , you will actually hear the lyrics from an unreleased song.
Get Better. Not Bitter.
I have a specific friend break-up story that went into writing this song, which I've covered multiple times. But I guess I was also a little bitter at the time because I felt like I'd had to pass up on great opportunities due to bad timing.

This was the first song I wrote completely in Boston. I'd record the demo in my dorm room while my roommate was out. I had a very '80s sounding demo when I first showed it to my Italian friend, Orumo, who produced it. Ironically, for a very funky tune, co-produced by a guitarist, there are no guitars on it. 
Over subsequent rounds of mixing in the studio, we experimented with adding vocoder backing vocals, extra percussion sounds, sound effects like bird chirps — affectionately named 'birbs' — and generally a lot of ear candy things. 
---