With a swift glissando of the Guzheng followed by a grand opening melody line played by the Erhu, the nation welcomes the arrival of not one, but two kings.
'Wang Zhe' - which translates to king - is the name of the latest collaboration between award-winning Mandopop singer Alfred Sim and the duke of Caldecott Hill, Ian Fang. The single is an eclectic mix of oriental and electronic styles, which is a refreshing change from the ex-Project Superstar champion's emotional ballads. 
Hear65 went behind the scenes of 'Wang Zhe' and spoke with Alfred and Ian, who shared with us about how the single was conceived and put together.
---
Hi Alfred! It's been a while since you last released a single. Tell us about what you've been up to in the break from releasing music.
I've been focusing a lot on my family - taking care of my son Momo and preparing the arrival of the second baby. It has been a busy period doing all these work (at home and during work), also at the same time, I'm writing new songs before the release of the latest single '王者'.
 

 

View this post on Instagram

 
Hi Ian! As you're predominantly known as an actor, how was the experience like to be featured in a song as a rapper?
Acting is my career; music is my hobby. I have released a few singles too. I always love to work with singers and create some different elements in music.
 

 

View this post on Instagram

 
Tell us how the collaboration came about.
Alfred: So this is something new that I have never worked on before, so I got producer Bryan Tay to help conceptualise the whole idea. I wanted to do something that is not something that I usually do, because my releases had been in the direction of ballad and pop-rock. In the process of composing this song, I had ideas of adding rap elements to the song, that's when I thought of Ian Fang straightaway, as he had released hip-hop songs previously.
How was the idea behind the song conceived?
Alfred: I wanted something more positive, something energetic and epic, where it is more encouraging and can help to guide and give a direction to anybody who faces difficulties. It is important to face your issues/difficulties with confidence and always try your best to outdo yourself. I shared this concept with my lyricist and I thought it was very well done. It fits the song, especially in the chorus segment. It's something like a war cry.

For the rap part, I gave Ian the liberty to actually come up with something along the same concept and arrangement of the song. Ian completed his part within 1-2 days, almost the full version of the rap. We only had to tweak a little on the rhythm and the way we execute the rap part.
Here's a short clip of Ian recording his rap part in the studio:
The fusion of Chinese traditional instrumentals and electronic beats is something very different from your previous songs, which are mostly ballads. Tell us more about the choice of sound?
Alfred: I actually like oriental infused music, especially because I grew up in the era where Kitaro was a hit. I really like the fusion type of music where I can put different musical instruments into something more trendy and current. That's another reason why I worked with Bryan Tay. We explored different types of sounds. It was a very fun session with him, but at the same time, there are also instances that we were stuck. He was very careful and tactful not to override everything. At the same time, I was experimenting with the sound as this is my first time trying out something new. It is really an interesting and eye-opening experience for me.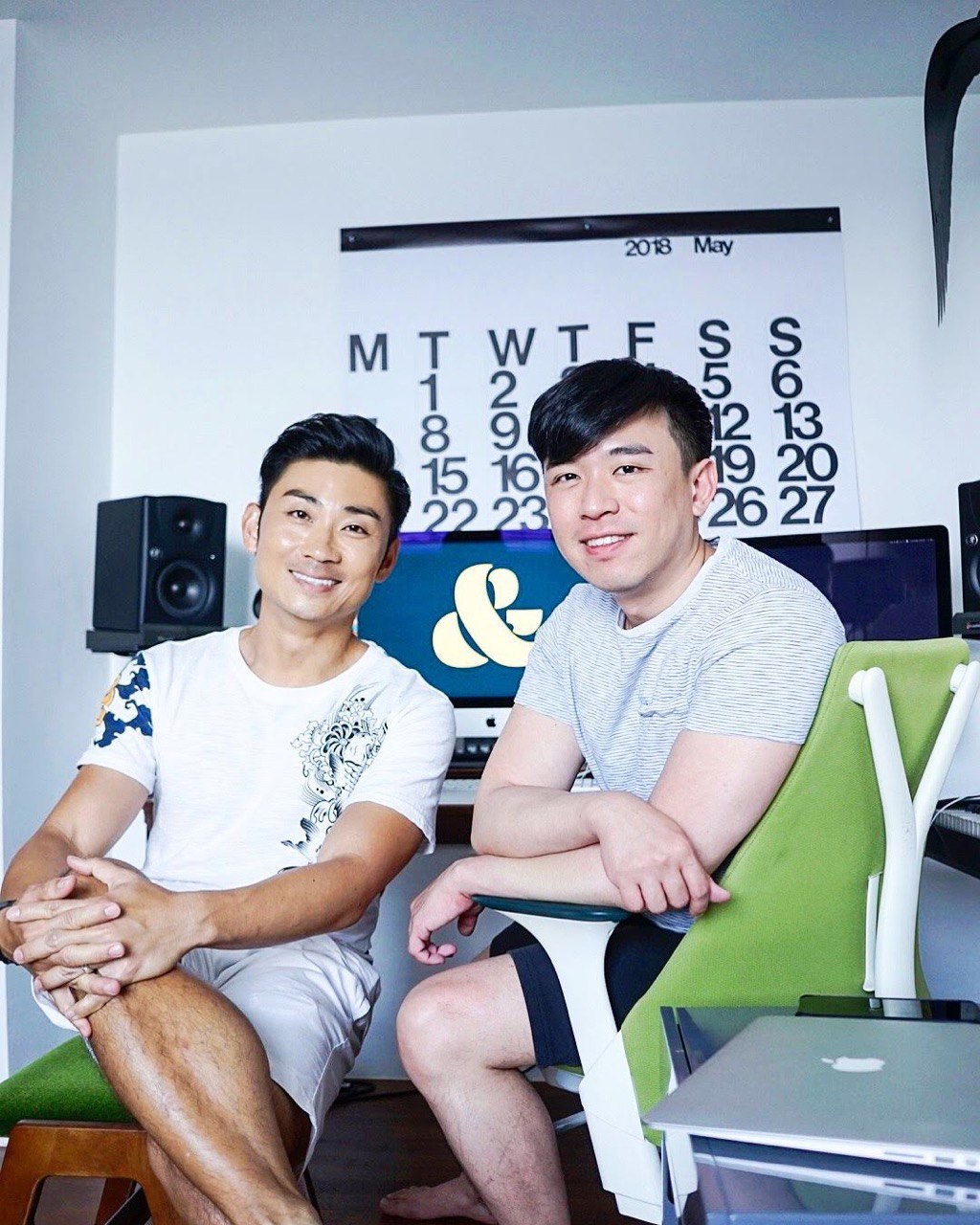 How was it like working together for the first time?
Alfred: There isn't any point where we were unsure of things. We were given our own chance to explore our strengths, so everybody was just putting their strengths together. For a first time, I would say that it is a success and the final product came out great.
Moving forward, for Alfred, how would you foresee your music style evolving? 
My strengths are still ballad and pop-rock genres, so those are still the genres that I will be continuing to make music in. But at the same time, I will be trying different music arrangement styles, exploring different beats and electronic stuff as well. Of course, it's not easy to do that for Mandarin ballad but I am sure this is the trend. I will slowly progress and move into this area, but it does not mean that I am breaking off from my current strength, which is working on ballad genres.

For Ian, what are some upcoming projects your fans can look forward to?
 I just started a drama production called Mister Flower, which has no confirmed debut date yet.
---
Bask in glory as you listen to 'Wang Zhe' here:
---