Hear65 has teamed up with Mandarin radio station, UFM100.3, to present UFM100.3 x Hear65 Presents: LIVE from the Lion City. The event is part of a series of monthly showcases that feature Chinese music performed by our homegrown talents. The previous edition saw stunning performances by Celeste Syn, Shelby Wang and Ariane Goh.
Hosted by SPH Radio, UFM100.3 DJ Xiaozhu (小猪), the fourth iteration of the event will feature Soph T. (霏霏) and Elizabeth Low (刘嘉慧). They will be performing a series of covers and originals for the audience at CHIJMES Lawn on Saturday, 29 June at 7pm. 
Soph T. (霏霏) is an aspiring bilingual singer-songwriter who comes from a classical singing background. She combines both modern and classical vocal techniques to create her own class of sounds. Her talents have gotten her involved in many events and performances, which includes her own showcase at the Esplanade Concourse in May 2018, as well as an intimate session at Room 2F with local singer-songwriter Zeeaura. She was also crowned champion in the Stärker Music Jams 2018 competition during the Stärker Music Carnival. The 22-year old singer would be presenting an intimate acoustic set of contemporary Mandarin songs, as well as an original.
Joining her is Elizabeth Low (刘嘉慧), a passionate, and soulful singer. Also known as Eli, her boldness and persistence has led her to several overseas performances in Hong Kong and Taiwan. In 2018, she represented Singapore in the Chinese music reality show, Sing!China, where she was a part of Jay Chou's team. Currently, she is a freelance event singer, music teacher and graphic designer. She hopes to inspire and share joy through music.
Don't miss Soph T. And Elizabeth Low at UFM100.3 x Hear65 Presents: LIVE from the Lion City. 
UFM100.3 x Hear65 Presents: LIVE from the Lion City will be happening on Saturday, 29 June, 7pm at CHIJMES Lawn. Find out more here.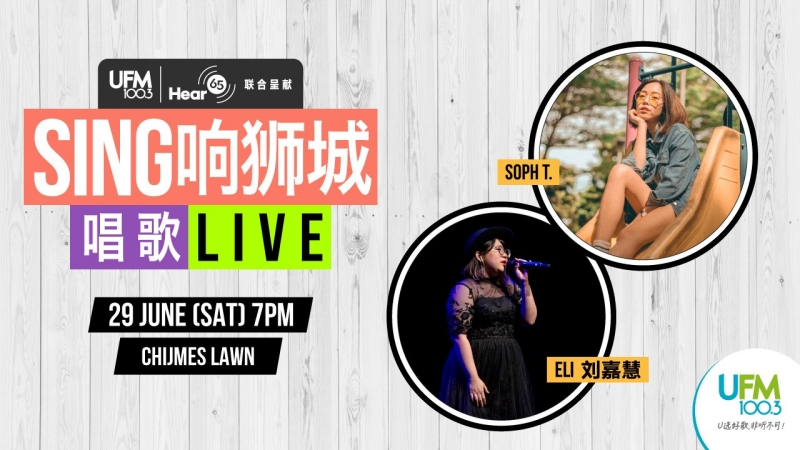 ---