Aisyah Aziz is an entrancing proposition. The Singaporean singer has a honeyed voice that radiates warmth, drawing in the listener with its exquisite tone and power. It's a balance of eyes-closed intensity and enveloping sweetness – its lyrical freight is almost secondary to itself. 



Recently, Aziz, who blossomed into national consciousness with her heat-seeking trajectory in the Malay pop world, was featured prominently in this year's official National Day song and music video. Her head-turning run has also seen her star in the new TV adaptation of Dick Lee's iconic musical Fried Rice Paradise.


This week, she will fly the flag for Singapore at the Made In Singapore Showcase presented by Zendyll and HUGO, held as part of Music Matters Live 2019. 

Ahead of the her set, we speak to Aziz about her evolution as an artist.

What's been the most interesting thing that has happened to you in 2019 so far? 
Well, I did a two-night show in KL. It was my first-ever solo showcase where I've got nobody helping out – just me, the band and the show producer; without the label and without anyone else. That's crazy for me because most of the time, throughout the last four or five years of my career, it's always been my label helping me out. So, that was cool. I'm doing more – it's addictive!
What drew you to music? What made you want to make your own original material?
I've always wanted to sing because I've always been a vocalist. I've never really been into songwriting per se because of how I was brought up, basically. When I was younger, I joined a lot of singing competitions. It's always been me showcasing my voice, it was never about writing songs about certain things. 
Songwriting only came a lot later – I can safely say that it's only been about three years since I started writing. I started with writing my own melodies first, and slowly I put in words. Over time, I realised that my forte is definitely creating my own toplines. Most of the time, I would already have a structure, and then my friend would come in to help me with it. That has been a lot of fun, actually.

Now, I want to sing more of my originals. So, when I did the show earlier this year, I was singing a lot of my new originals that nobody has heard before – and it was liberating. People are telling me to record them, so it's a good start. It's more of a courage thing, I think. It's more of being okay with releasing your stuff without judging your own creation.


Does that mean we get to hear more original music from you? 
Yes. I'll be playing a lot of unreleased material at the Made In Singapore gig.
And what does it mean to you to be playing at the Made In Singapore stage at Music Matters Live this year?
Well, I've always heard of Music Matters as a music conference, and Jon [Chua] told me that this year, it'll be one of the biggest music festivals in Singapore. This is my first time ever playing a festival in Singapore. Most of the time, I'll be playing big shows in KL, so it was never for my own people. So, I'm excited for this one. I'm very nervous, too. I'll be flying my band down – they are also excited to be playing in Singapore, so we're going to have a good time!
On an emotional level, is there a difference between singing in Malay and in English for you?
Yes there is, because I grew up singing in Malay. So, the way I pronounce words and the way I interpret them in my head is also different. Malay music is more poetic – you have to read between the lines. The Malay language also plays a part. P. Ramlee depicted the whole language as so beautiful, poetic and romantic. There are some songs that need to be sung in Malay. That's why I'm trying to write my songs in Malay – if you sing it in English, it doesn't give you the same vibe or emotion. 
Singing in English is fun, but singing in Malay has always been closer to my heart. Now, I'm learning to love it more and show more of that side of me to the world. 
Will your new original material be in Malay, English or both? 
Both, but predominantly English, just so that more people can listen to it, but I want to introduce Malay in it too. 
What made you want to go independent?
I think it's a different journey for everybody, but I was in a label for way too long – ever since I started out. So I decided to just take myself out of it for a while – try to write and work on my body of work first. Once done, then we can go to a label to help distribute it because I already know them, we're acquainted and did not leave on a bad note. I think I just needed to get myself away from that because they were dictating for too long – but to be fair, I allowed them to, and I wouldn't blame them a hundred percent. It was more of a realisation that I had, and a decision I made because of it. 
Now that you're independent, how do you feel?
It's scary. I cannot sleep, bodoh! [Laughs] Now, that there's no one pushing me, I got to push myself. It's fun, but I also don't know what's in store for me and I don't know what's coming. It might be a bad decision, it might not, but I don't want to think about it. 
I realised that everybody was talking for me. Now that I'm independent, I realised that I put myself in a position where I'm the boss and I can say stuff. I can draw a whack-ass logo and say it's art! [Laughs] I'm braver. I get to drop whatever I want, however long the song is – nobody is going to say that it's too long or too short. 
You're also known for your uncompromising fashion sense. Why do you think music and fashion complement each other so well? 
I feel like because music is such a big thing and everybody listens to music across so many genres, when you idolise the person, whatever they wear becomes your influence. It's always a performance; it's always an expression – two pop elements coming together in a marriage. I feel that music and fashion has been moving in tandem for a long time – from the 1920s flappers in jazz to contemporary artists such as Michael Jackson, Lady Gaga and Kanye West. Take Madonna for example, designers were inspired by her provocativeness, and they were inspired to design something specially for her to showcase on tour. So, I feel like there's always been that chemistry between fashion and music – there's no fashion without music. It is impossible to have a fashion show without music, and it is also crazy to go on stage wearing things that don't express you at all. 
What do you enjoy most about mixing up the two? 
I love dressing up! I love using my own expression. People might say, "Oh, that's a bit too much for a Malay girl", but I never care. I love putting myself in something that is a bit disorienting, or something that's a bit out of the ordinary. I love being onstage wearing stuff like that. I feel like it just goes with who I am, and nobody can say anything because the stage is mine now. 
How do you deal with the kind of criticism that you get for your fashion choices? 
I have the support of my family – the only two people I need to impress are my parents. And I feel like I've gotten past that wall with them; I'm no longer afraid to wear something that's a bit revealing. I'm not afraid of what people say, I'm just afraid that they will see it and like call me up and have hour-long conversations with me about god, you know?[Laughs] And that's happened before!

But now, I feel like they are allowing me to be more free. It was a necessary evil – I had to get over that first. Now, my mum can say to me, "What I want for you is not what you want for yourself. I need to allow you to express yourself." And that's good enough! I don't need anything else. I just need them to understand that I'm not doing this for publicity; I just want to be myself and I want to be comfortable.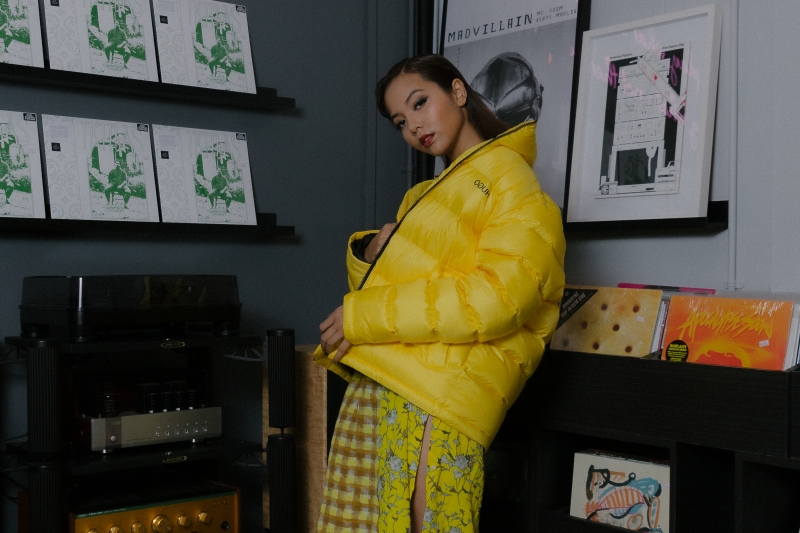 Acting is also another one of your ventures. Where does that stand in your portfolio? 

Well, it's definitely music first, and then acting. I used to only want to sing and be a musician, but I kind of like acting, actually, because I love being somebody else. Even when I do my music videos, I get to be something else and I always enjoyed that too. It's like when you are really you, you can't be that crazy chick. But, once you're in that wig, you can be whoever you want. It's like an alter ego. 
So, acting is fun – and I never thought that I would say this. I love acting. My first experience with Fried Rice Paradise – we all became really close friends, and everybody was just vibing and it was fun. They were teaching me also, and giving me guidance and such. It was a great production – it looked like a movie!
What does being in this year's NDP song mean to you?
This one means a lot. There was a hundred over people in that huge room – it was like a warehouse, so we only filled up half of it. It was weird because everyone was quiet – and these are talents and artists. And once we started jammed, it quickly became, "Everybody please go back to your positions!" 
This is the only time every single one of us was going to be in the same room, ever. There were veterans who came to me and asked to get to know me – they don't know who you are, and you also kind of have no idea who they are also. But it was weird because everyone was just trying to get the shots – we didn't want to overstay our welcome with any of the legends. 
I just found it a little weird. In Malaysia, nobody would be able to calm down such a situation – everybody would be talking, dancing, singing or rapping. This was very orderly – with the loudhailers and everything. 
But it was fun. You get to see everything and it was a bit of a goosebumps moment also, you know? To see all the legends there, such as Ramli Sarip, and that one transition line he sang, was awesome! [Laughs]
Finally, what else do people need to know about you? 
I'm working on a live EP project, so hopefully that's going to come out early next year. This is going my first body of work without a label. It's going to be a lot of firsts – I always feel like I'm coming back from somewhere but I don't know where, and that needs to change. [Laughs] 
I'm probably going to be planning a small Malaysia tour, too. It's a lot of music coming out, and I'll be playing at Music Matters Live on 14 September. 

---
Catch Aisyah Aziz at the Made In Singapore Showcase of Music Matters Live 2019, happening on Saturday, 14 September, at the Fountain Square. For more information and regular updates, visit Music Matters Live's
official website
or
Facebook page
. Admission to the events is free. 
---