Yesterday, Singapore laid out the welcome mat to one of the most influential and zeitgeist-steering figures of our time: Apple CEO Tim Cook. Besides famously touring Tiong Bahru Market, he also took in some insight about the ecosystem of Singaporean music from The Sam Willows' Jon Chua JX, also of Zendyll Studios, and Singaporean pop icon Sezairi. 
Meeting with Chua and Sezairi at Zendyll Studios, he was brought up to speed on the local music industry and struggles that musicians face here. He was also treated to a live piano rendition of Sezairi's simmering ballad 'It's You' and new music from both artists, including Sezairi's 'She Moves' and Chua's 'Give It Back'.
Cook also shared about this experience on social media.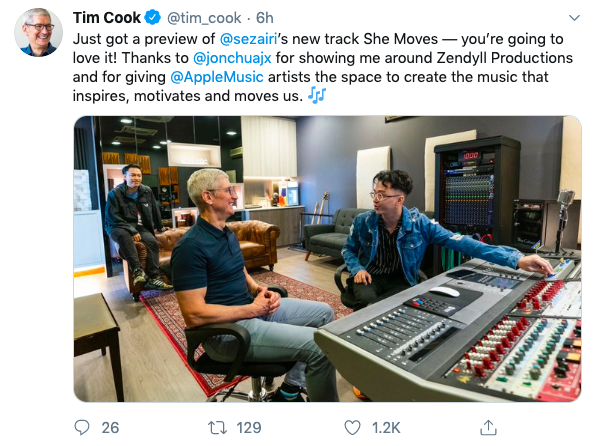 Below, both musicians share their thoughts on this historic meeting.
"It was great meeting Tim Cook because he really understands what small businesses go through, despite being the CEO of one of the largest companies in the world. He has a clear passion for music and I could tell that he was intrigued by how the Singapore music scene is booming. He listened to my upcoming track and liked it, which gave me a huge confidence for it. He told me I have a really good voice and he was very impressed by the way Zendyll operates as a modern music agency". – Jon Chua JX
"I would never have imagined to be able to talk to Tim Cook about how my journey and how Apple has changed the way we make music in and out of the studio. Also honoured to let him hear an unreleased track and even played 'It's You' for him on the piano live.' – Sezairi
---