Baybeats Music Festival is back again for another edition this year from 17 to 19 August 2018. Presented by the Esplanade, the 3-day festival celebrates non-mainstream, alternative music so you may expect genres like pop-punk, metal, funk and even hip-hop! 
Started in 2002, the festival showcases a variety of local and regional acts. Some years even saw the festival bringing in bigger names from America like Anberlin, Copeland and Jon Auer from The Posies. 
The festival recently released this year's line-up and set timings via Instagram. This year's line-up is particularly refreshing, with the addition of hip-hop acts and a collaboration with alternative club night EMONIGHTSG. 
Baybeats features four stages: the Chillout stage (Esplanade Concourse), the Arena stage (Esplanade Outdoor Theatre), the Powerhouse stage (The Edge) and the Esplanade Annexe Studio.
The festival's Powerhouse stage is well-known for its ideal location. Set right by the Esplanade Waterfront, old-time Baybeats goers will remember watching bands while fireworks from National Day Parade rehearsals go off behind them. However, the location has been earmarked for Esplanade's new theatre, which will begin construction in 2019. As a final bid goodbye to the Powerhouse stage we grew to love, iconic bands like Caracal, Wormrot and The Full Pledge Munkees that have previously graced the stage have been invited back.
Here's the full line-up:
Day 1 (17 August, Friday)
Kin Leonn

Annette

Coming Up Roses

Cadence

Disco Hue

Totemo (IS)

Trust The Chaos

Terminal Cry

Knightingale

Wormrot

EMONIGHTSG

Day 2 (18 August, Saturday)
Midnight Fusic (MY)

Totemo (IS)

Dreebsy

Falling Feathers

Force Vomit

Zamaera (MY)

Osr313

Paris In The Making

The Full Pledge Munkees

Hundredth (US)

Akeem Jahat

Yung Raja x Fariz Jabba

Day 3 (19 August, Sunday)
Love x Stereo (KR)

Knightingale

Sangriento

Midnight Fusic (MY)

Sheren's Closet

Mooner (ID)

Glassmouth

Kyoto Protocol (MY)

Superman is Dead (ID)

Caracal

Cosmic Owls 

Pleasantry
And here are the full set times: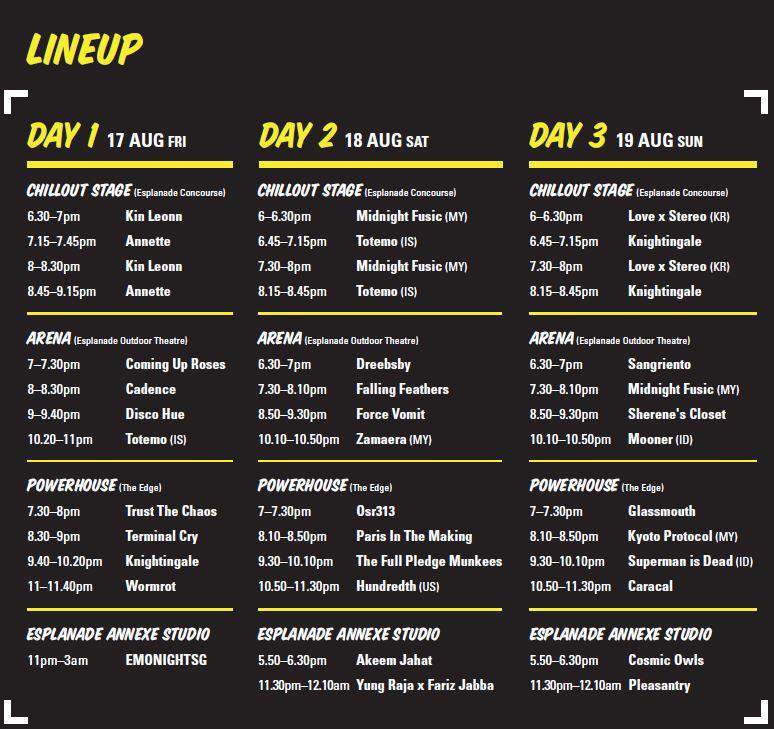 ---