Set across 4 sprawling days for its 20th Anniversary, Baybeats 2021 returned for a Thursday and weekender of the island's best and brightest, the mainstay alternative music festival hosting a mammoth showing at The Esplanade. Adding an extra day on top of its usual duration, the festival, held from 4-7 November, marked a stark return of live music the country dearly missed.
 

 

View this post on Instagram

 

The annual event had everything; in fact, reception was so hot from the go that tickets to various shows were snapped up within the hour of release, and cruising from indoor theatre to outdoor stage frantically (stage-hopping, you've been missed) was a sight for sore eyes. And what's a gig without crummy ticket scalpers - just days after bookings had gone live, and due to overwhelming demand for minimised seatings in socially-distanced venues, pairs of tickets were being sold online and via messaging groups. It's bad enough we've had to go this long without shows, but come on folks, be better.

Regardless, the celebration of sound was a necessary step in the direction of live performances resuming, and all of this ostensibly spells a less bleak gigging and music scene come 2022. Here, we look back at some of the weekend's shenanigans from our writer's room.
---
Day 1
BGourd, by Leland Tan
Grand closer of day 1 was the nippy, gritty BGourd. The rapper has amassed quite a following over the course of his celebrated mixtapes with some shining producers, and warping Veggie Wraps Vol.2's two-step 'State' into an acoustic number while retaining his flow's brashness showed a touch of class. 
"I ain't belivin' in fame; Take it like a gourd, I wanna light up in flames", the Laughing Tiger clad rapper yells to the ground. His spritely demeanour presents tinges of the whimsical but make no doubt - this is someone who shapes his craft to a tee. 'Fresh Air', his second of the night, underlines that vigour, the Veg' combining with famed production studio Tell Your Children for his recently released animated MV. The number was accompanied by furious dancing from the closer, and he inevitably rushed to hydrate straight after.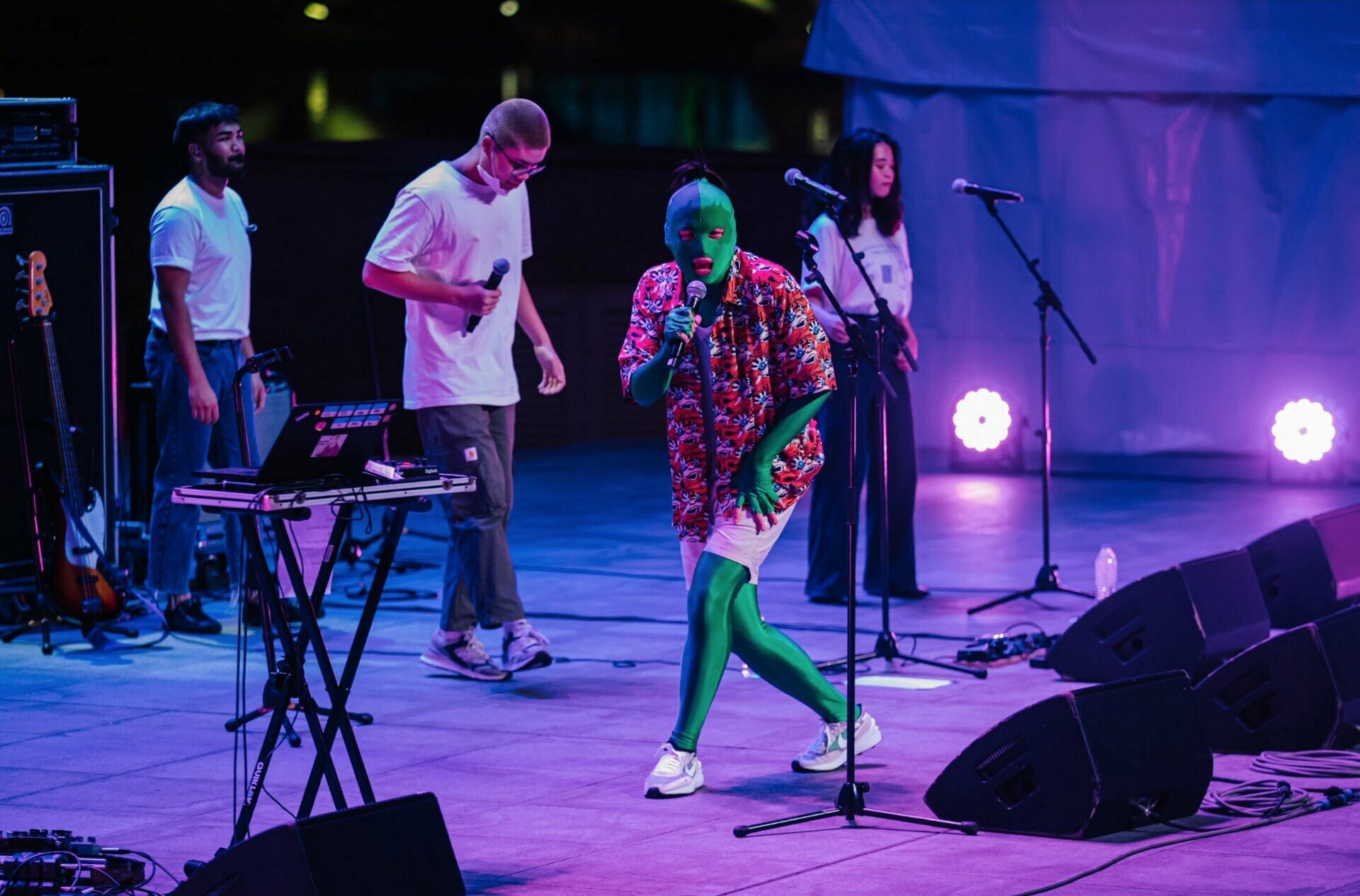 Debuting 'Far Sight' that night, which coincided a day before its official release, meant audiences were stunned with new material that, by contrast, didn't feel new at all. Not that the track felt unfamiliar - it was by all counts a magnificent first listen. But rather, despite the rapper's virgin performance, it was irrevocably warm as if this had been a seasoned number all along. Danikiddo's introduction on-stage was met with jubilance from the audience and likewise, endearing respect from the closer, before the Mediocre Haircut Crew rapper bounced into Diwali wishes and the championing of certain social issues that had taken spotlight recently. 
Halal Sol's deep cuts took limelight with 'Baste' thereafter, one of the producer's impressive collabs prior to his debut album. 'V Dubs' brought on up-and-comer Mary Sue to stage with the cackling and distortion from its opener thwarting audiences into attention, and with good reason - the duo debuting an unreleased remix of Subsonic Eye with odes to Nature of Things after.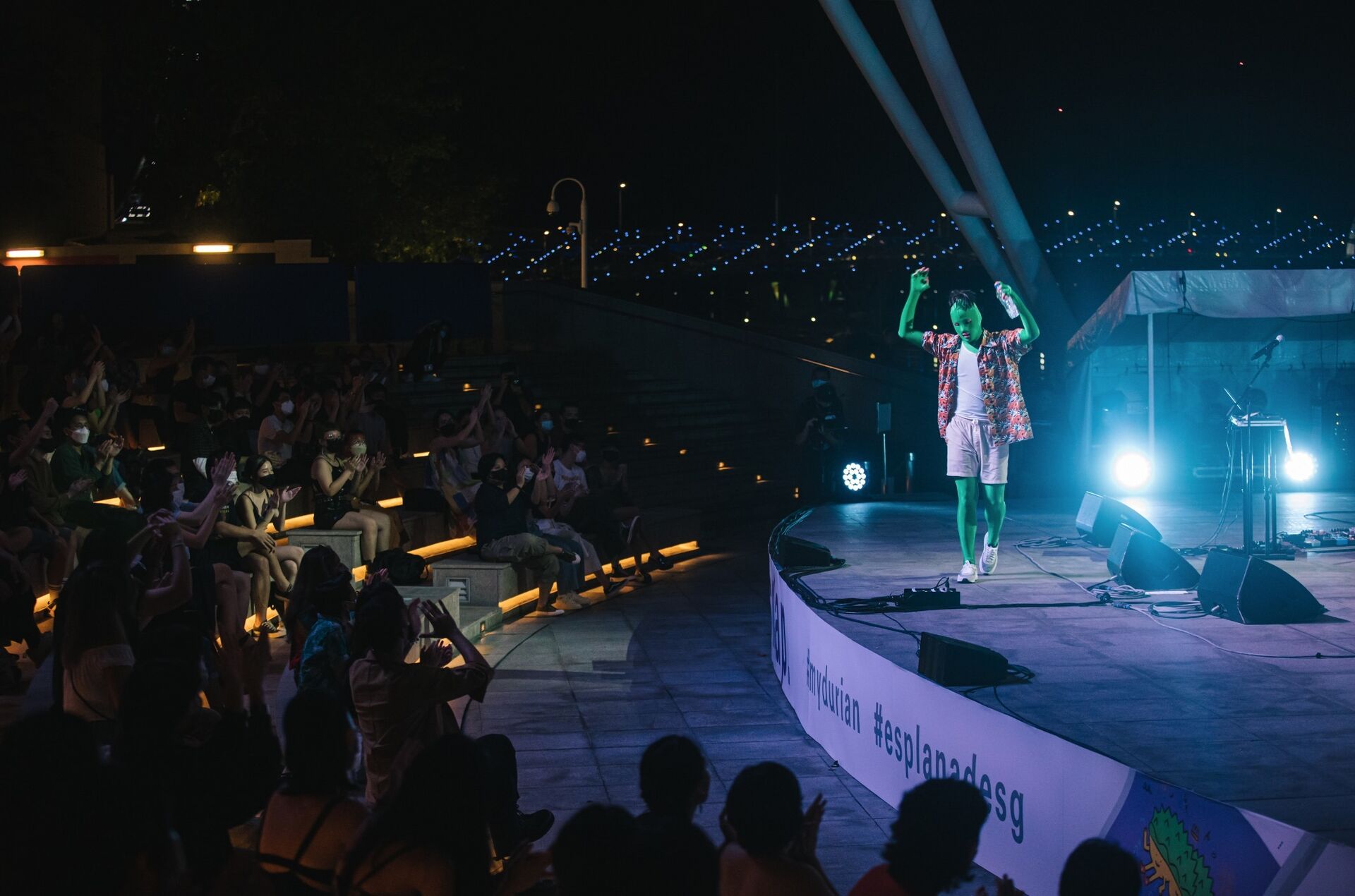 Fellow veg producer Beansprouts and BGourd's 'Whack', the sportiest display of the night took course for the set's final stages, before down-tempo 'Virtual Machine' and 'Now 4' concluded the night. The latter evoked a flurry of thanks giving and salutes from the green headliner, who confesses to it being his most emotional endeavour thus far, and a marker of his 4 beefy albums. 
If you haven't explored the rapper's releases thus far, there's no time like the present -the 24-year-old can only get better and tastier from here on out.
---

Day 2
RENE, by Sabiq Rafid
RENE, accompanied by her band in Joshua Chan, Danny Lim, Joshua Cheng, and Badrul Amin brought about a poised performance at the Esplanade Outdoor Theatre.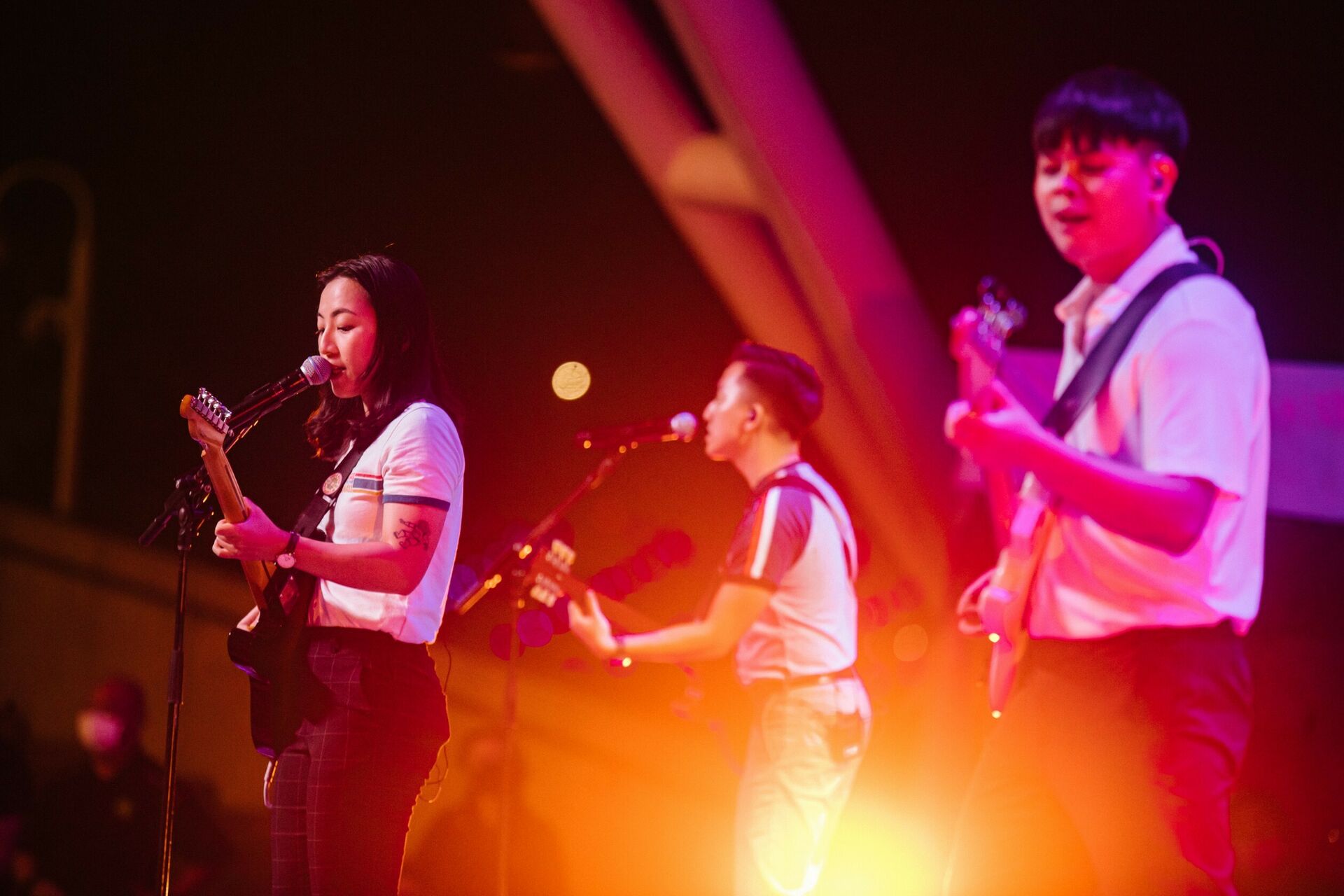 The set kicked off with an announcement playing over the speakers 'preparing for blast-off', followed by a 10-second countdown mimicking a space shuttle launch that led to the opening track of the night - 'Cheese On Toast'.
"I'm so excited," RENE sang in the opening line; it's as if she wrote it just for the night.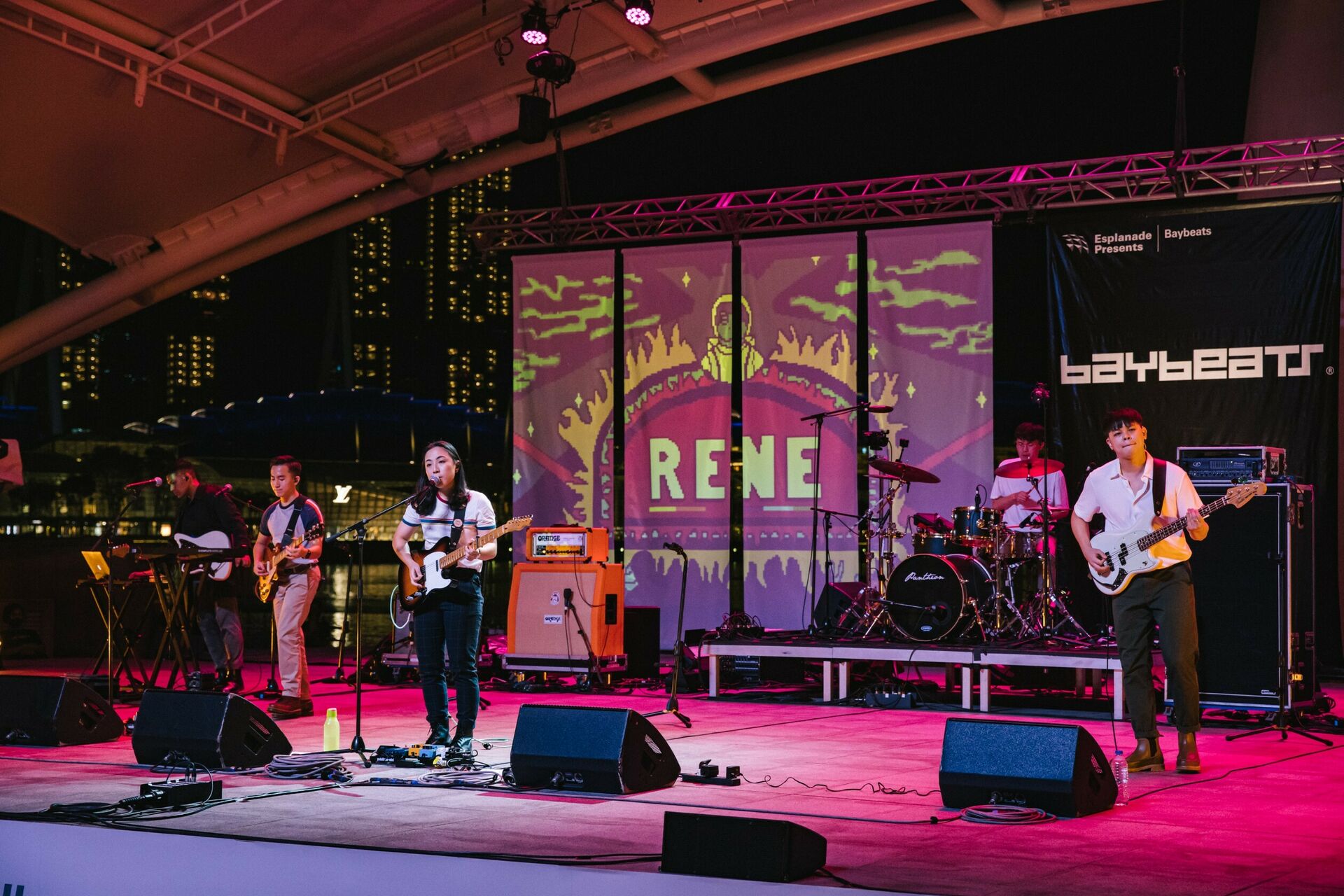 Part of the 6 budding bands to play this year, this marked RENE and her band's debut at Baybeats. While that may be a feat a tad bit unnerving, you could instantly tell that it didn't bother them. The band all dressed up and buckled in Dr. Martens were all smiles, visibly enjoying themselves with each song being played.
RENE also unveiled two new songs, namely 'Rule The World' and 'Better Than To Brood'; the latter climaxing in a breakdown, with RENE shredding her guitar. "It's a reminder that sometimes you just got to walk away from things or people that you love even though it's difficult," RENE explained when introducing the latter.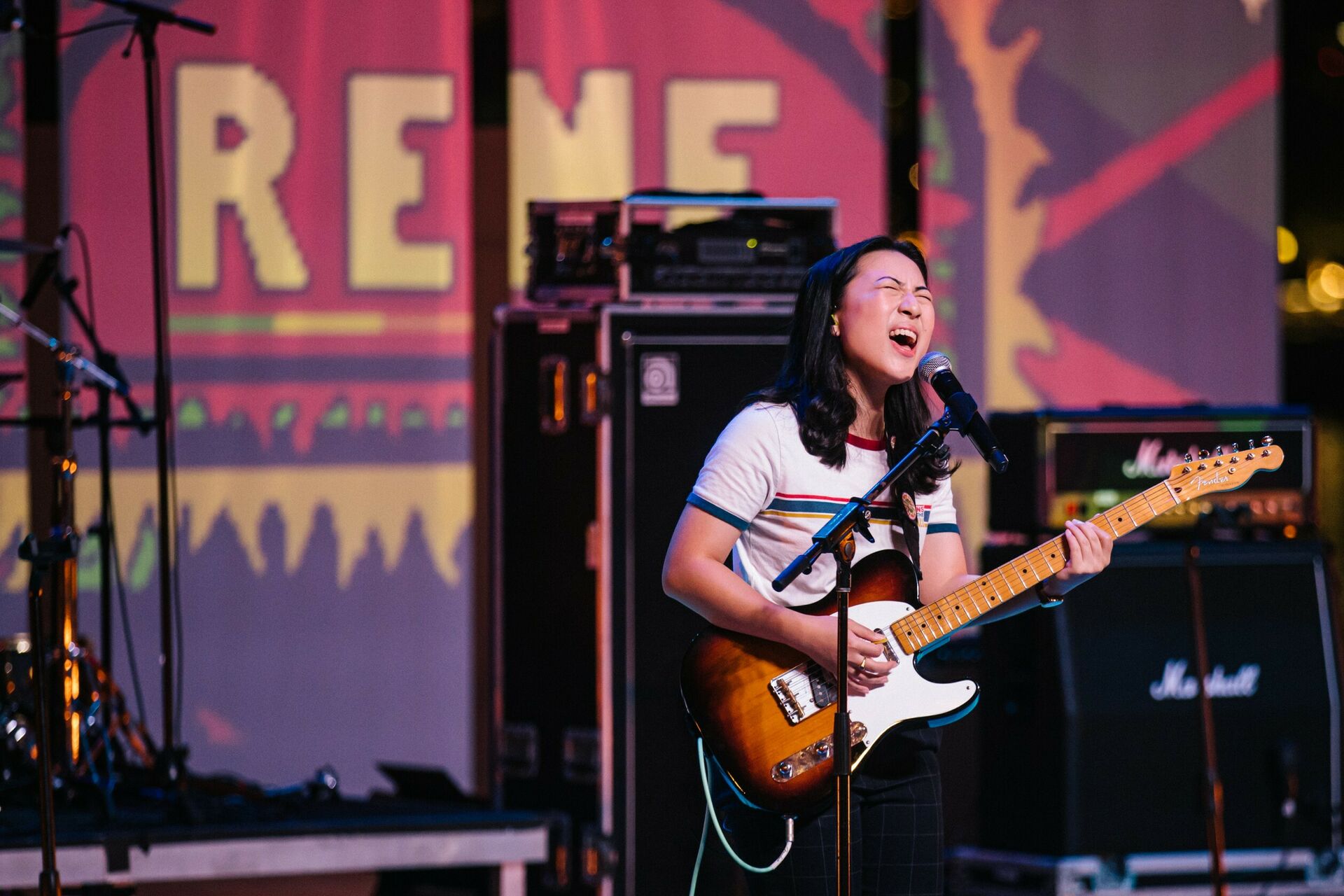 The set closes off with 'U.F.O' taken from RENE's latest EP Something To Hide. RENE, anything but concealing with her boisterous set, spoke with candour declaring her sentiments on the death penalty, and holding up a sign that said "Gay Rights!"
Amateur Takes Control, by Ynez Wahab
The uncontrollably exuberant Amateur Takes Control quite literally took control of the stage at Esplanade Theatre for the day's closing act. 
What started out as a solo project by founder Adel Rashid, eventually evolved into a five-piece instrumental rock outfit which boasts textured guitar tones layered upon atmospheric rhythms.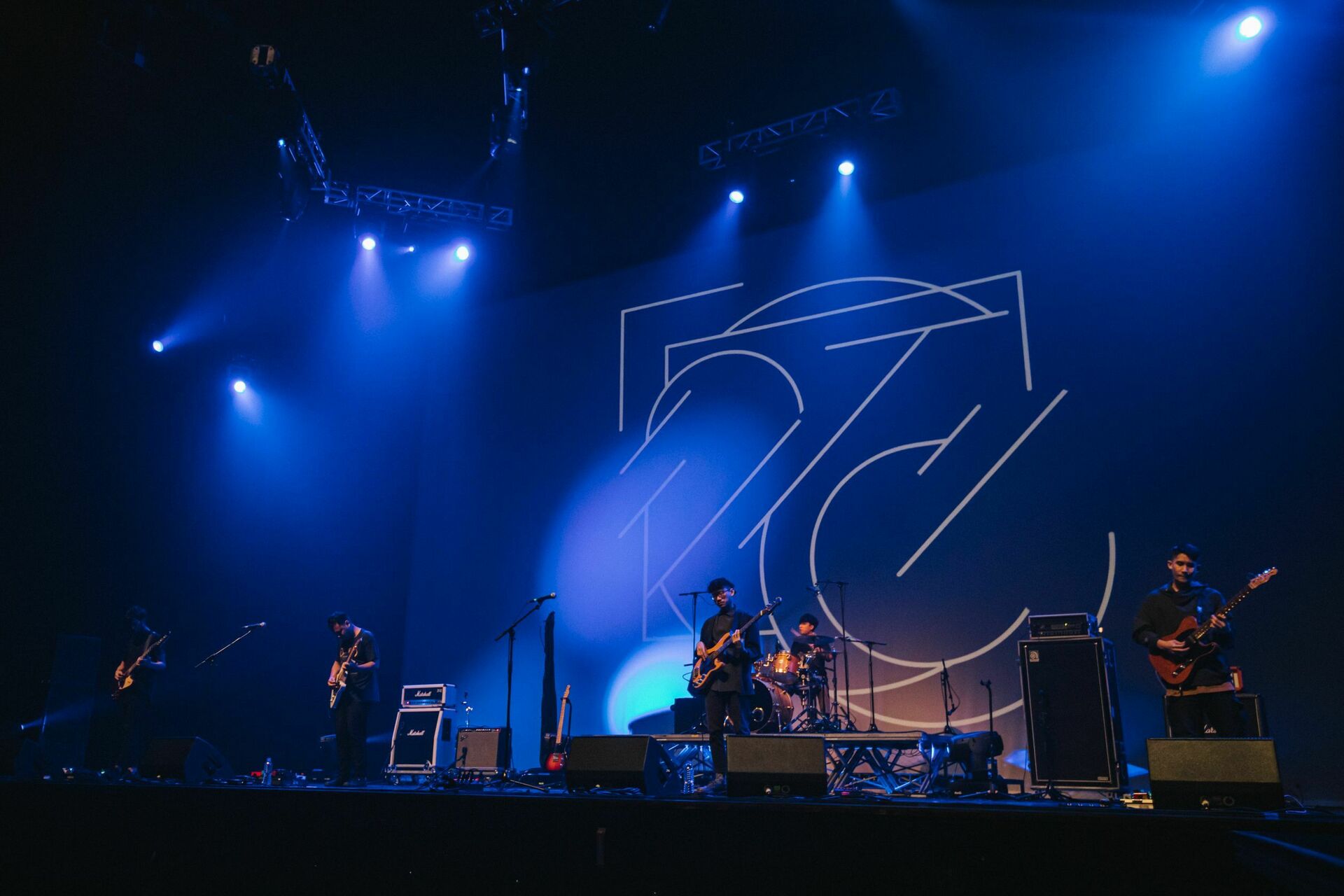 Having been around for a decade and a half, the band members are certainly no strangers (or shall I say amateurs) to performing live. Seeing as this clearly wasn't their first rodeo, you could tell that they were fully comfortable with showing off their musical prowess on stage. 
Playing several unreleased tracks in their hard-hitting set, the instrumental rock quintet once again captivates audiences with the incendiary riffs in their ambient soundscape.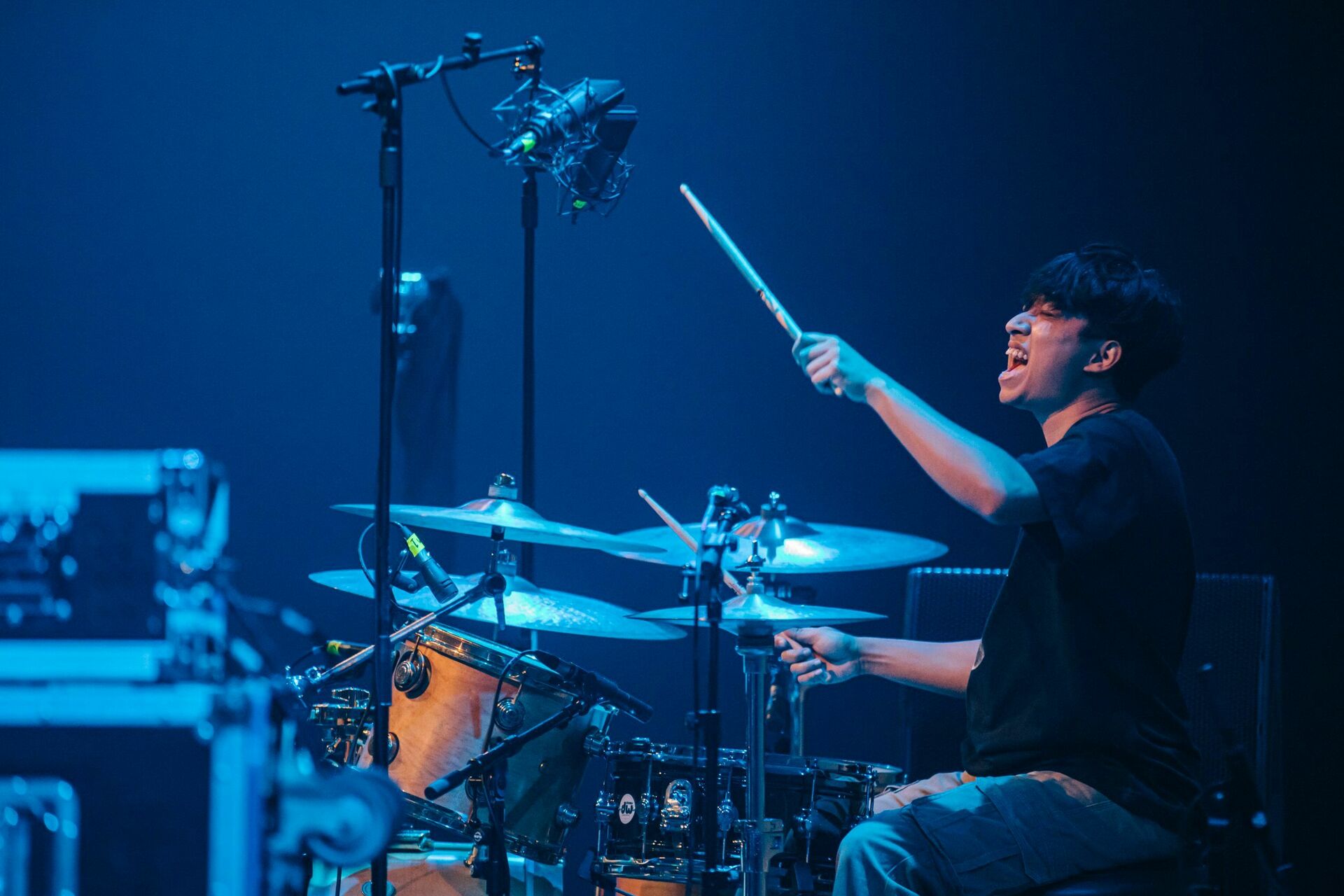 Drummer Hydhir Ramli signals the start of the set, and counts in the band, automatically activating an emotionally charged commencement to their first song. 
Bathed in cerulean strobe lights, the guitarists can be seen picking at their guitars effortlessly as they move in synchrony to the tranquil track that by this time, has shrouded the theatre in a canopy of cathartic melodies. 
At the halfway mark, the beat reaches a gradual crescendo as all the members of the band begin playing with an ardent intensity, strumming their guitars with gusto, and displaying a marked certitude of their craft.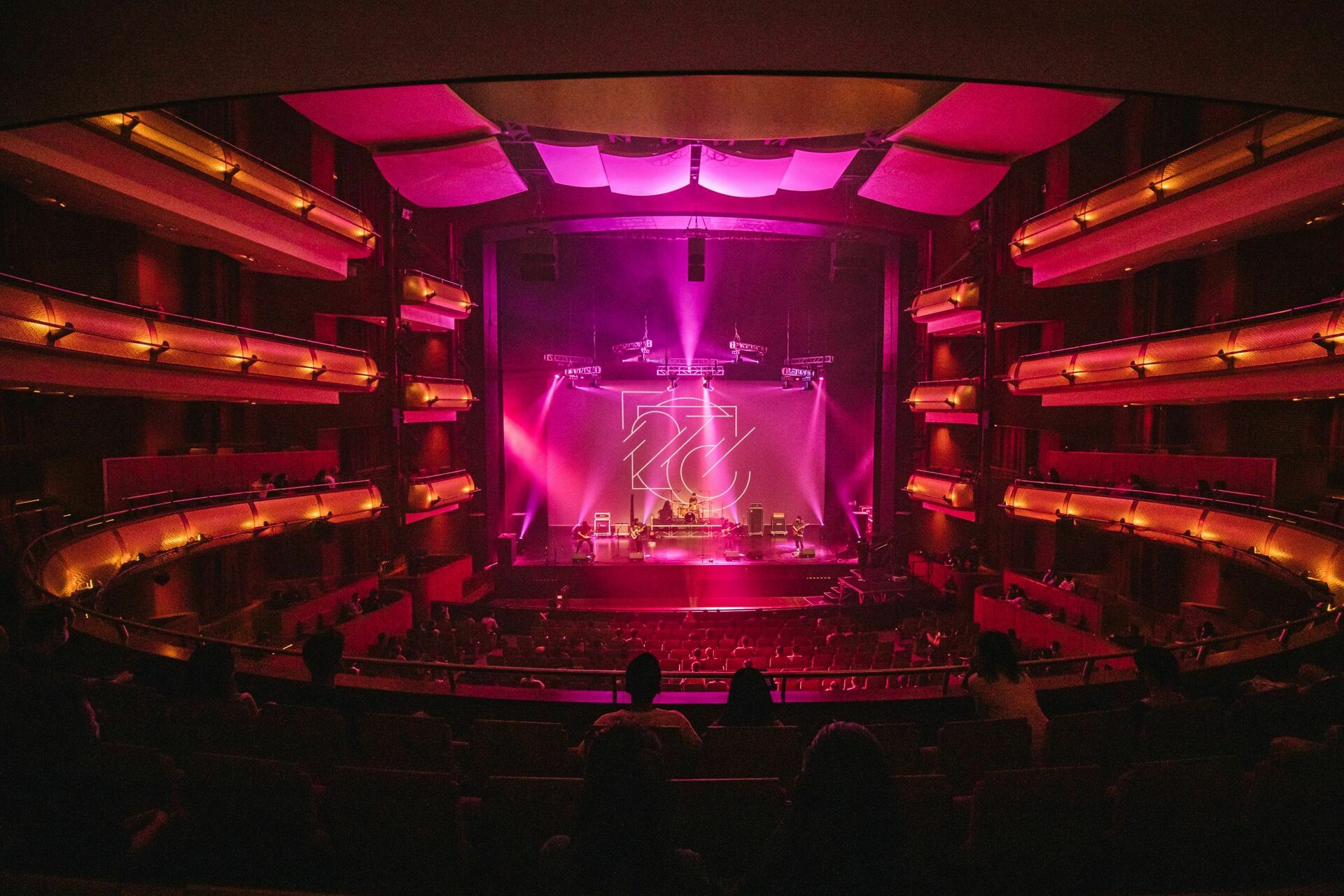 This resounding reverberation continues into the second half of their set where the ensuing tracks all produce a sort of rippling effect as one song trickles into the next seamlessly. All this is accompanied by a scenic change in the colour hue of the set as the electrifying blue lighting progressively fades into a deeper shade of vermillion. 
If these songs are indicative of what their upcoming album is shaping out to be, then fans of ATC certainly have a lot to look forward to—after all, this is what decorous post-rock should endeavour to sound like.
---
Day 3
Blush, by Shanne Gan
Alternative-rock quartet Blush may be newly formed, but from the way they played, you would have thought that they had been around for years. Admittedly, the members of Blush are far from new to the scene, with them hailing from well-known bands Sobs, Cosmic Child, Forests, and hauste.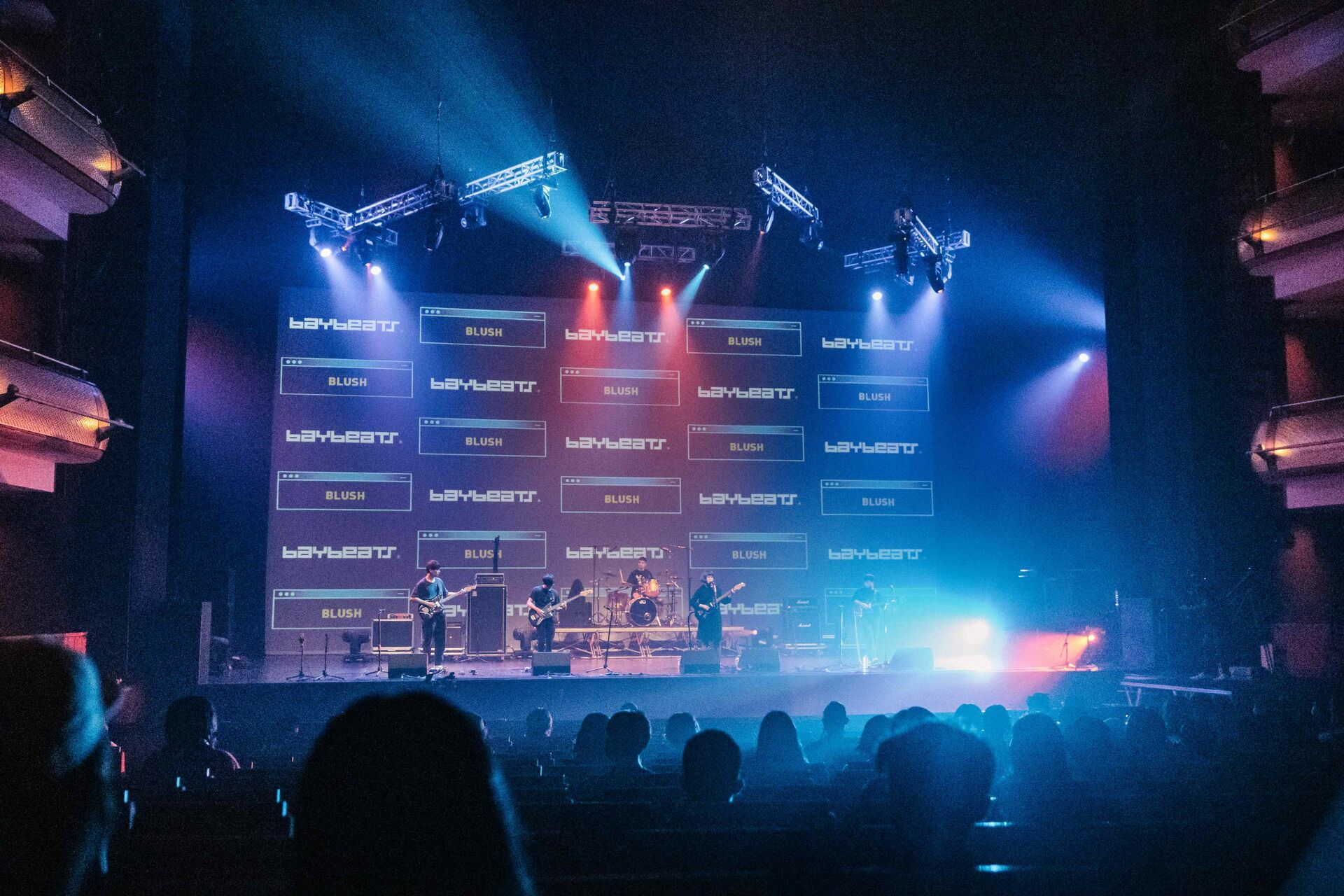 Being seated near the front, the set was loud yet cathartic as everyone welcomed the live music and buzzing atmosphere of concerts that we haven't experienced in a while. As Blush only has one released song thus far, I was eager to see what the band had in store for us. The group entered the stage clad in all-black, kicking off their first-ever live performance with their debut single 'Best Friend', an illusory, feel-good tune about – you guessed it – best friends. 
I was immediately captivated by vocalist Soffi Peters who mesmerized the audience with her dreamy vocals. It was also a treat watching hauste's Daniel Lim and Cosmic Child's Zhang Bo and Daniel Pei on stage doing what they did best on their guitars – their passion and love for music clear as day.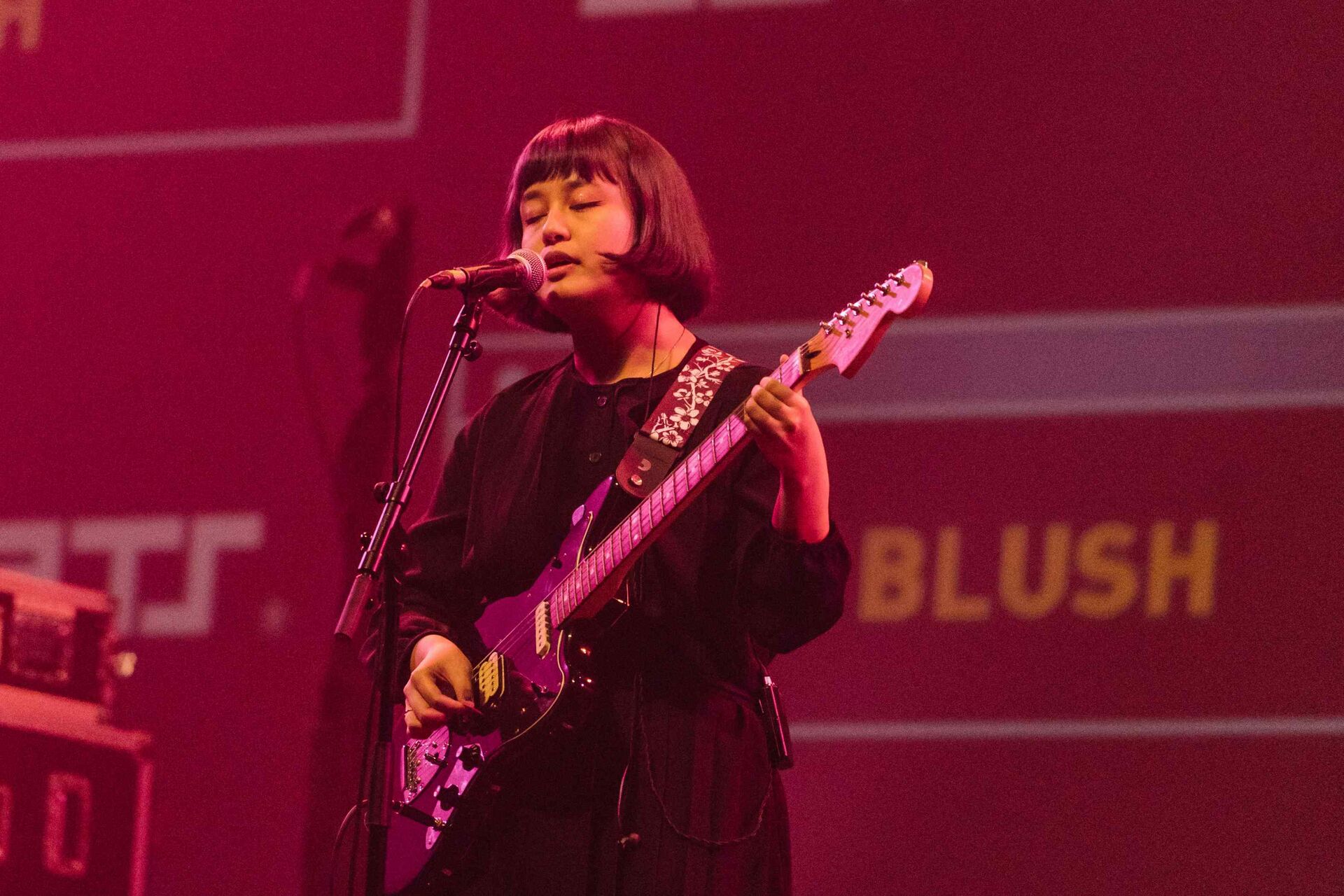 Eagle eyes also spotted a familiar face joining the quartet on stage. Nicholas Wong of heavy-hitting bands like Marijannah, The Caulfield Cult, and Blood Pact was their drummer for the night, and while Blush's dream-pop sound is worlds away from the music he's known for, Wong fit right in with them. Hitting the drums with vigor, his enthusiasm was contagious.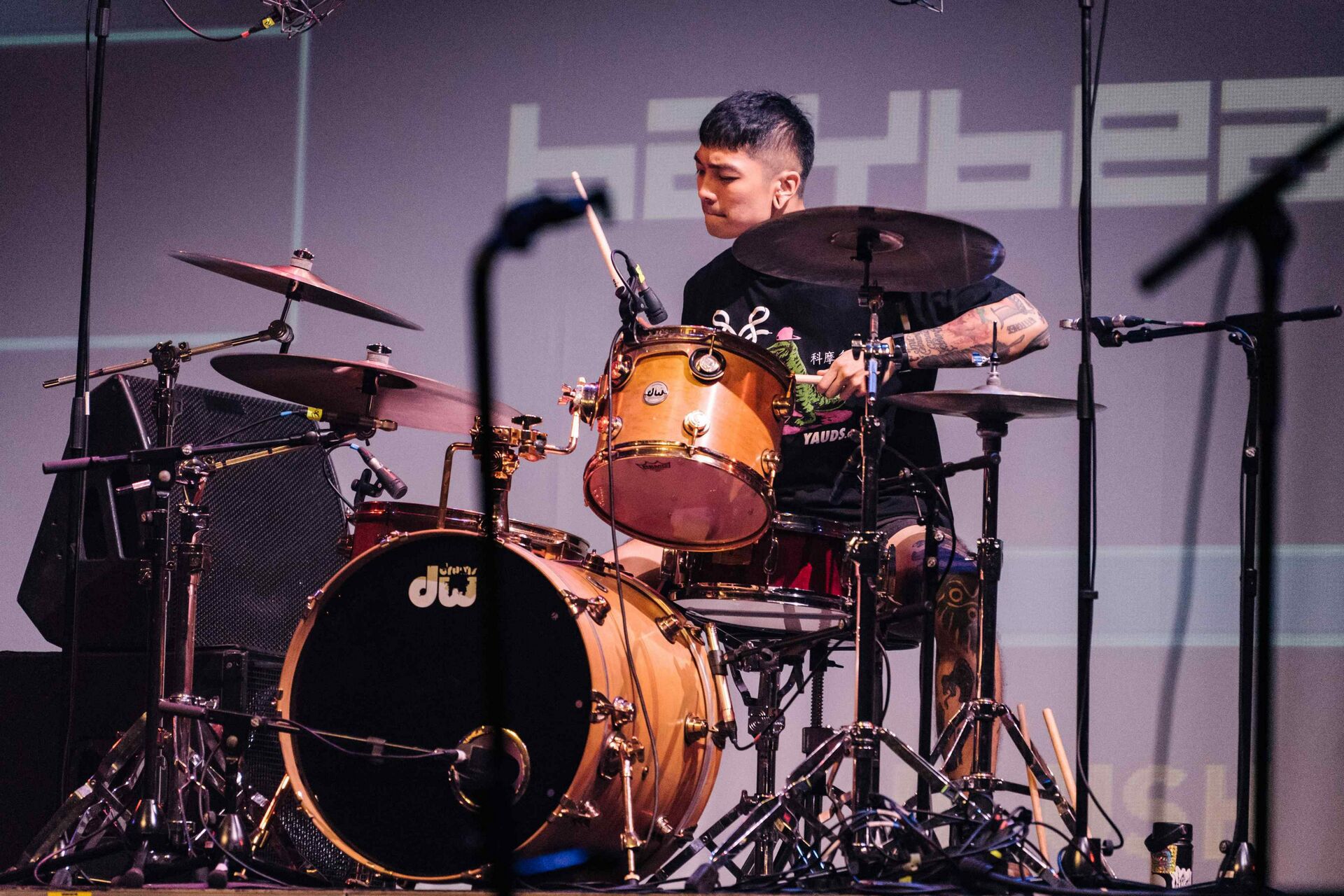 Apart from treating the audience with first listens of their unreleased tracks, the indie rock four-piece also gifted us with a cover of Weezer's 'O Girlfriend'. "This one's a cover from one of our favourite bands," Peters said before we were swathed in the opening guitar strums of the 2001 pop-rock tune. 
When they started playing their last song of the night, it was almost as if the melancholic tune echoed what everyone felt knowing that Blush's set was ending. In short, the band's performance, while simple and no-frills, left me wanting more.
To Blush: when are we getting more music?
Spacewalk, by Leland Tan
Spacewalk brought out the biggest of guns for their Saturday evening spot at the Esplanade Outdoor Theatre, sporting an 8-member ensemble made up of a keyboardist, drums, backup vocalists, congas, and possibly an entire hidden circus somewhere behind.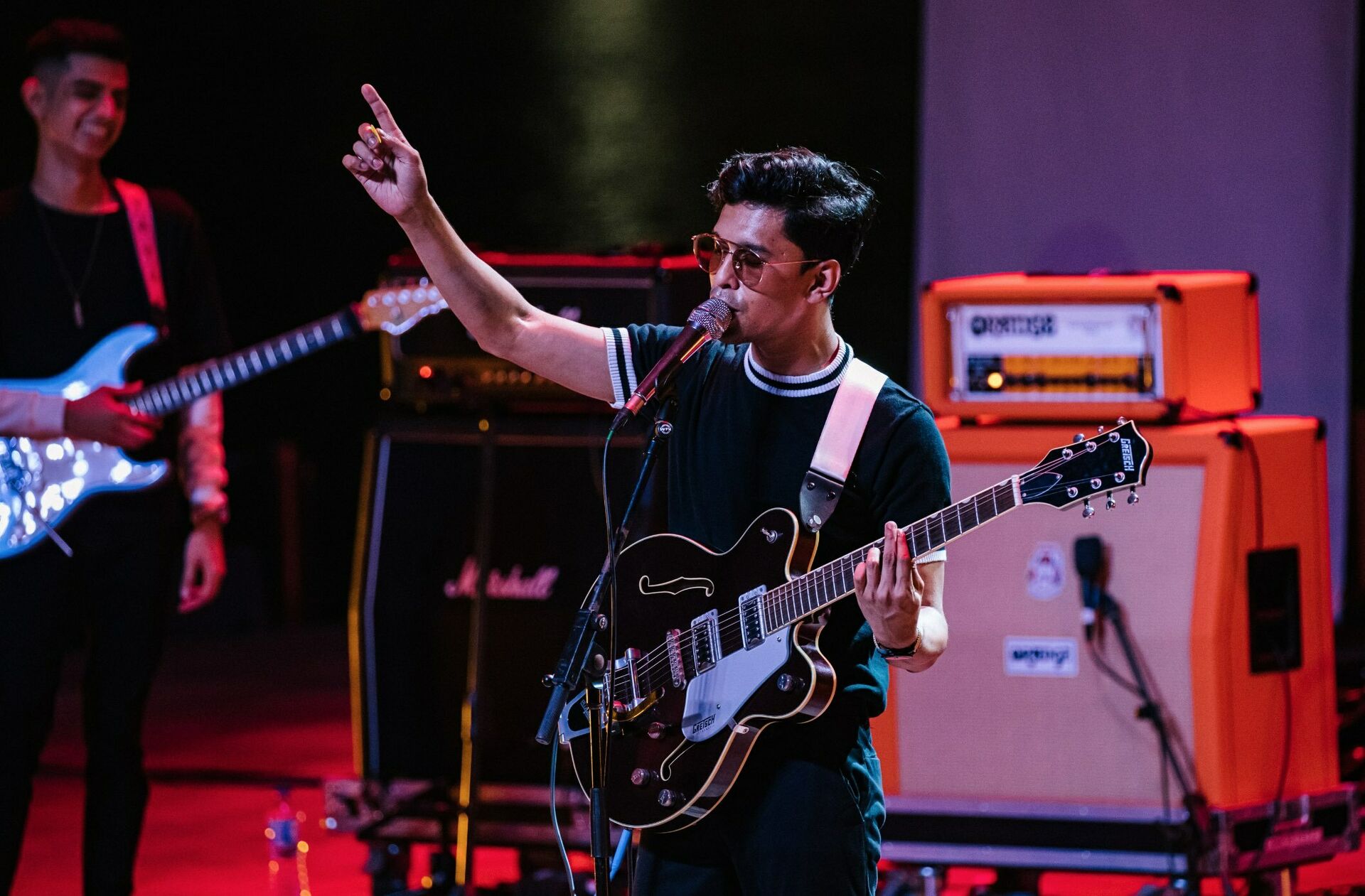 The group are fronted by vocalist-guitarist Firdaus Juma'at, and flanked by the shining crew around him, they conjure genres of flowery rock rifts that sit well with surf rock aficionados, summertime jukebox heads, and a suave demeanour not too far sounding from the likes of Aussie outfit The Jungle Giants, or local 5-piece Shirly Temple.
'Dream On Dreamer' opened proceedings with a build-up that crescendoed into Juma'at's smoky vocals, and though he met with some mic trouble which was dealt with swiftly by the crew, the group and frontman never missed a breezy verse.
After parading upcoming single 'Too Fast, Take It Slow', Juma'at promptly called out the group's band manager, who he confesses also doubles as his fiancée, conjuring their best Fleetwood Mac impression. That aside, the shade-donning strummer is candidly honest in and of the performance, exclaiming that the set wouldn't have been possible without his mate printing out his lyric sheet for him, of which he had totally forgotten about.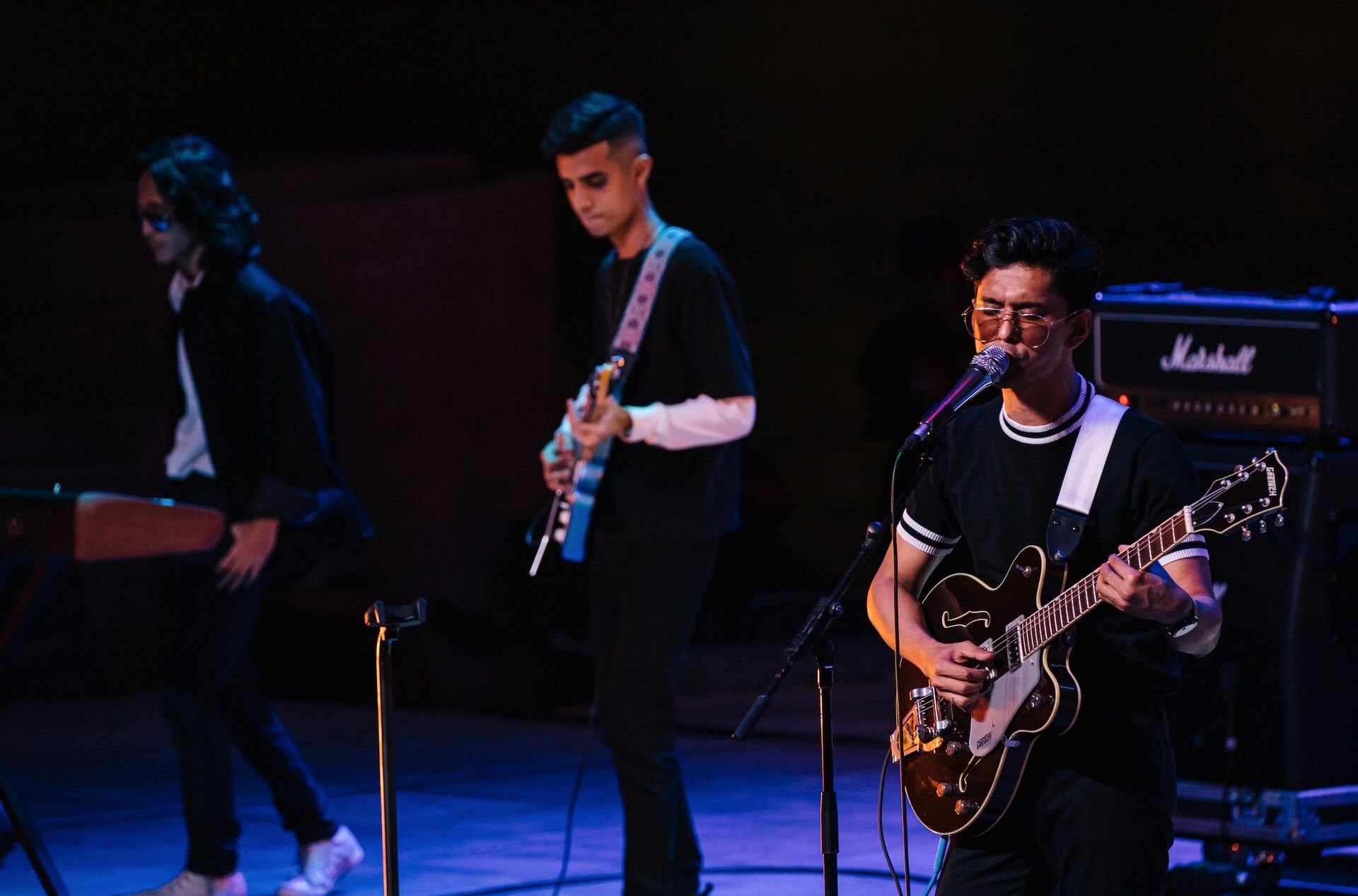 It's a surprise then that a quick search on their discography reveals all but two tracks released so far, with their set that night mostly consisting of unreleased material from an EP that's set to drop later this month, the subdued frontman reveals. Mystery Coffee is its working title, before running onto 'It's Time To Cari Ganti (It's Time To Find A New Vibe)'.
"Some of you might know this, but we're all from RP (Republic Polytechnic)," before strumming into closer 'I Had No Grooves', their first official single from 2019. The triple threat of vocalists meant they replicated its suave energy to a tee, although its latter stages of pure cacophony weren't to be as the curtains were promptly drawn for punters to make their way for Pleasantry indoors, and our Saturday night had only just begun. A surprise stand-out for uplifter of Day 3.
Pleasantry, by Sabiq Rafid
Live gigs have been my anchor to familiarity for as long as I can remember, and when we sailed into uncharted waters with this pandemic and gigs being put to an indefinite pause, it felt as though I lost most sense of said familiarity. While we're still amidst the figuring out of what's familiar and normal, Baybeats and Esplanade swept in a flurry, providing us audiences a space to escape from the dissonance.
Pleasantry rose up to the occasion and did exactly that.
Backdropped with footage captured in the backseat of a car, the visuals that accompanied the band's performance didn't make much for a spectacle, but they were captivating enough to draw your attention to them. And almost immediately, we were greeted to the guitar-driven harmonies that we all knew and loved from the group, ushering in the mellifluous vocals of Sam to take center stage. We were treated to four new unreleased songs, namely (working titles) Constellation, Quiet, Waxing, and an unnamed number.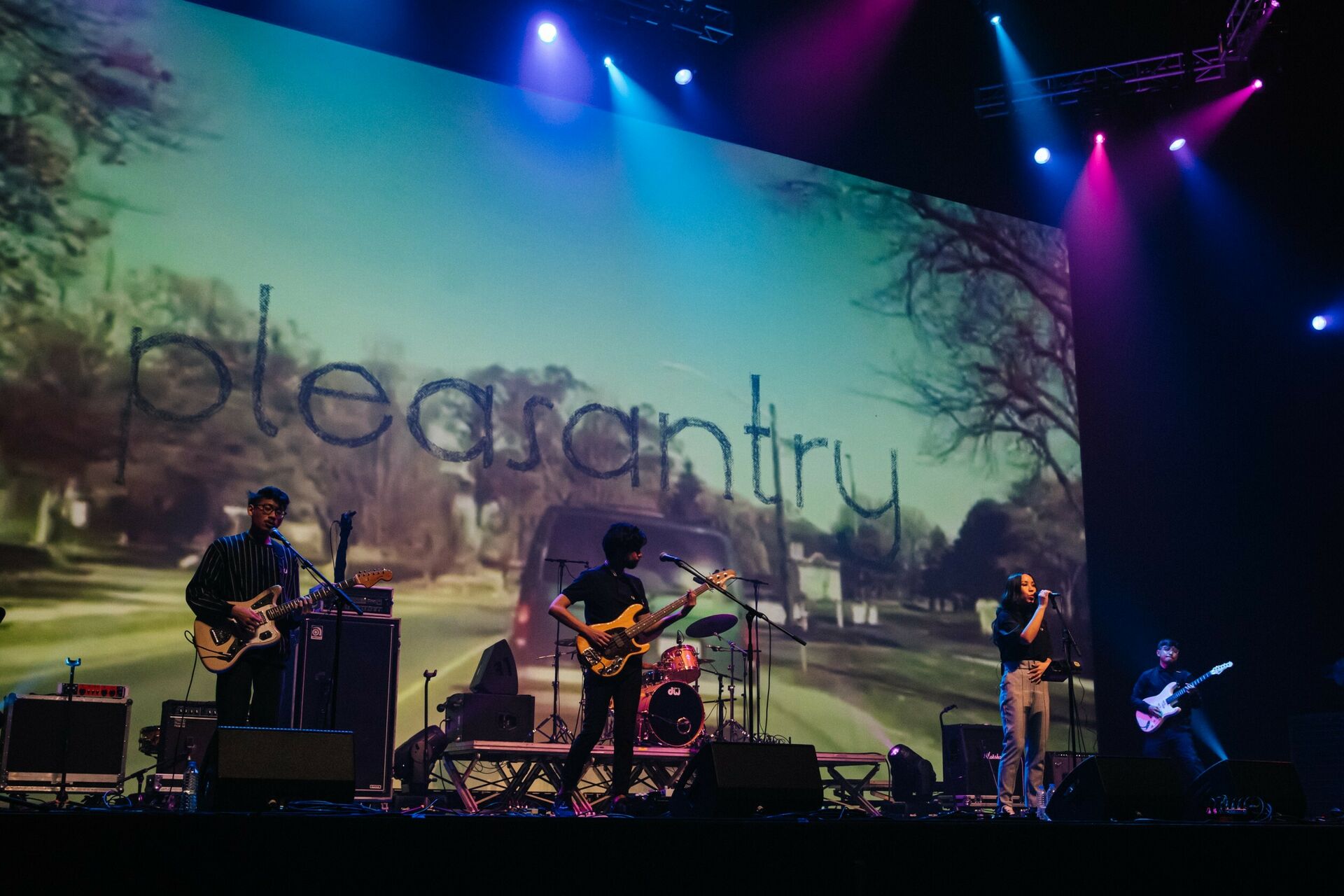 While I was ecstatic that we were getting an exclusive listen as to what's to come from them, I couldn't help but hope that they would play something from their cult classic Synapses. Alas, they didn't. However, they did appease my "please-play-your-old-songs" hunger by performing Coasts, taken from their split EP with San-Franciscan native Starry Eyed Cadet. Sam teasingly invited all of us to raise our phone's flashlights - starring up the entire Esplanade Theatre. Goosebumps, all over.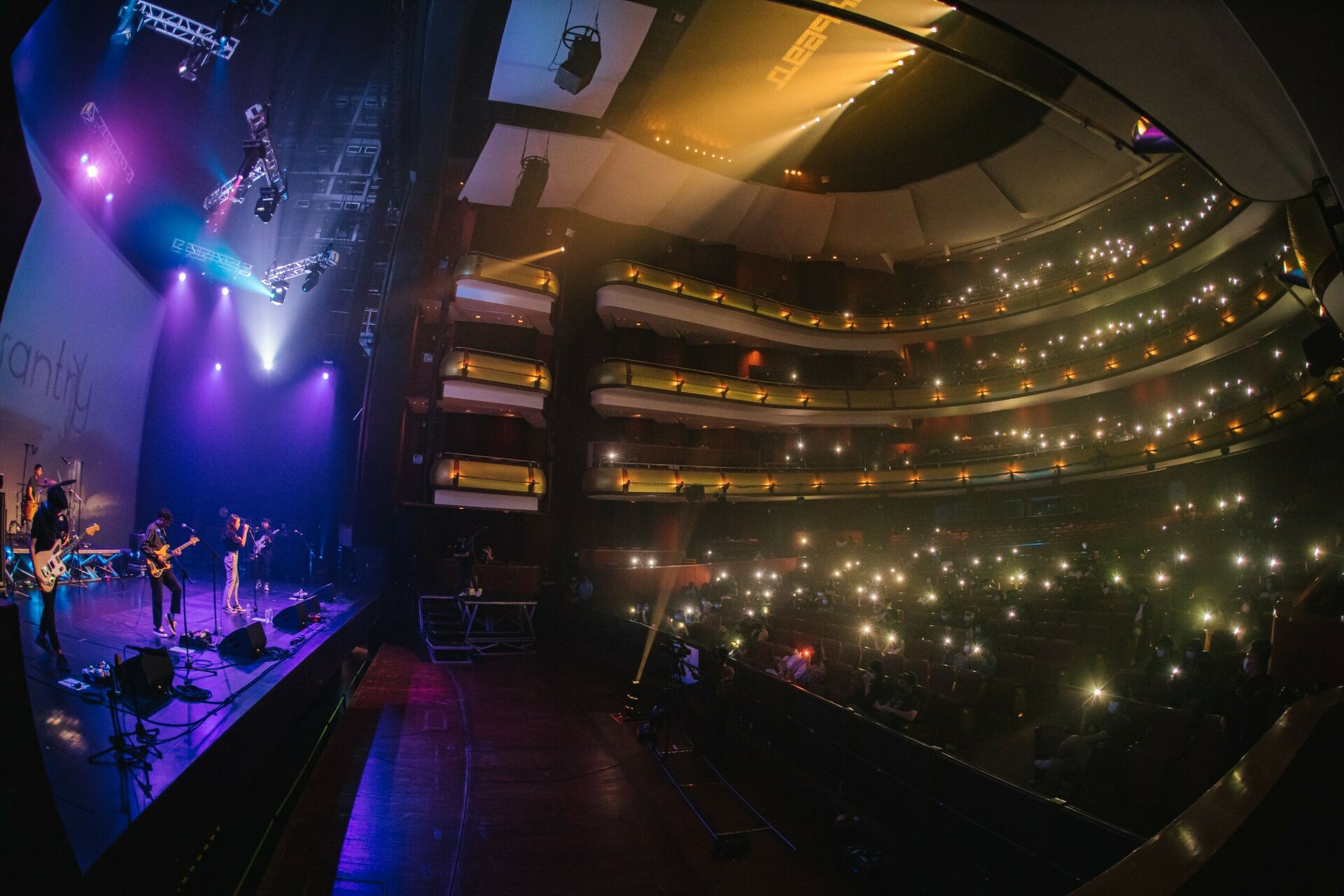 Suddenly, I was transported to 2015 and familiarity felt like an arm's reach away. Its opening lyrics seemingly replied to all of my initial inner thoughts, with the lyrics "Where do we go now? / We gotta get out / And get it back / Get it back" echoing through the theatre, culminating the performance to roaring applause - bidding farewell and giving our prising appreciation to the band.
---
Day 4
Electrico, by Shanne Gan
To put it simply, Electrico's set at Baybeats this year was everything you'd expect and more. The Singapore indie rock pioneers know how to put on a good show, and we were made well-aware of that in their thirty-minute set.
Kicking things off with the addictive 'Fire In The Sky', the exhilarating energy in the air was more than apparent as the music scene veterans made their long-awaited return to the stage. "Let me just say, it's really really nice to be back on stage because it's been eight years since we've been on stage," said vocalist and lead guitarist David Tan, before the theatre erupted into cheers.
"The last time we were on stage was actually Baybeats in 2013."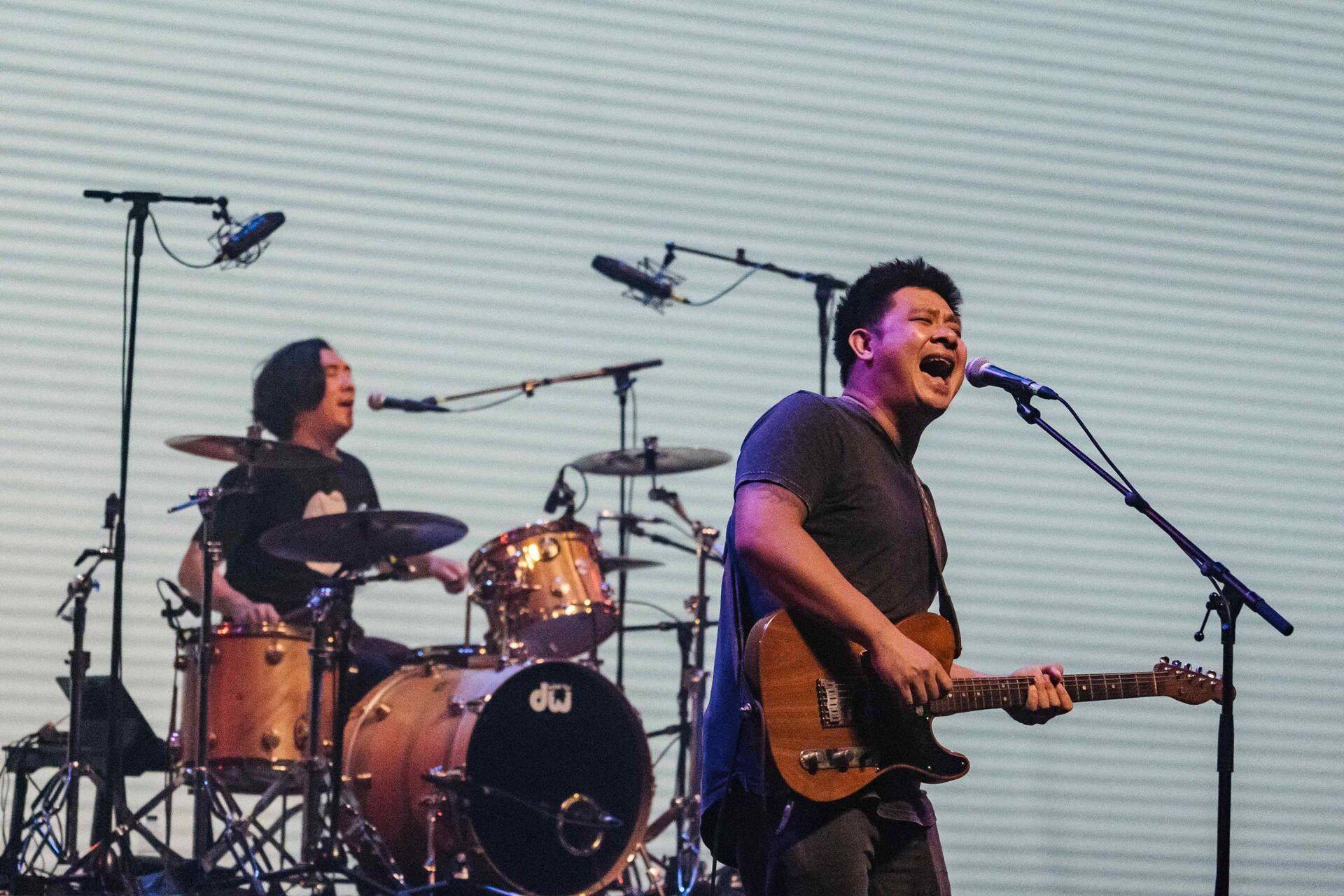 Songs on the setlist also included the upbeat 'Love In New Wave', as well as the wistful tune 'Shadow'. "You know that you're mine/I feel so alive/But you swim in your shadow" crooned the lead guitarist. Fans also witnessed the first live performance of 'Easy Come Easy Go', a song about hope from their newest EP released this year.
Apart from a long-awaited douse of good music, the band also did not fall short with a solid selection of jokes. Not straying from their practice of cracking jokes during guitar-tuning breaks, bassist Desmond Goh didn't disappoint with the ultimate cringeworthy quip.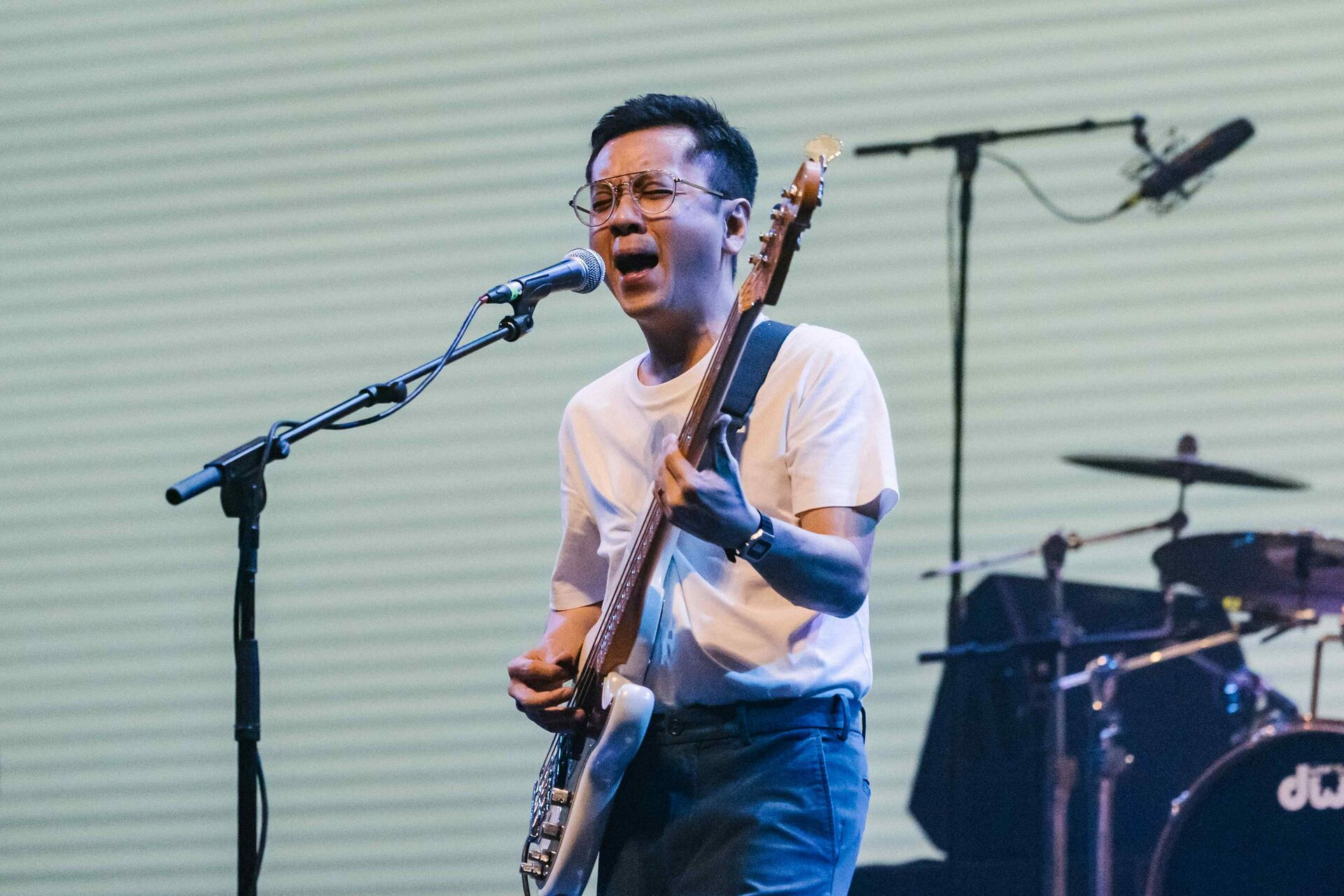 "Recently I went to the zoo – I went to the butterfly enclosure," he said. "And I think I swallowed some, so there's butterflies in my stomach right now."
Cue: five seconds of collective silence from the audience as we struggled to recover from the crummy joke. The 'Runaway' act also commented multiple times about how impressed they were with the crowd. 
"We were quite worried about the 'no audience participation' thing, but it seems like you guys are doing great," Tan said with a smile. And he wasn't lying – the crowd was, no pun intended, electrifying, whooping and cheering throughout their set. The audience was invited to join them in clapping along during songs – incomparable to pre-COVID shows where dancing and singing along were permitted but still a form of interaction between musician and fans that has been deeply missed nevertheless.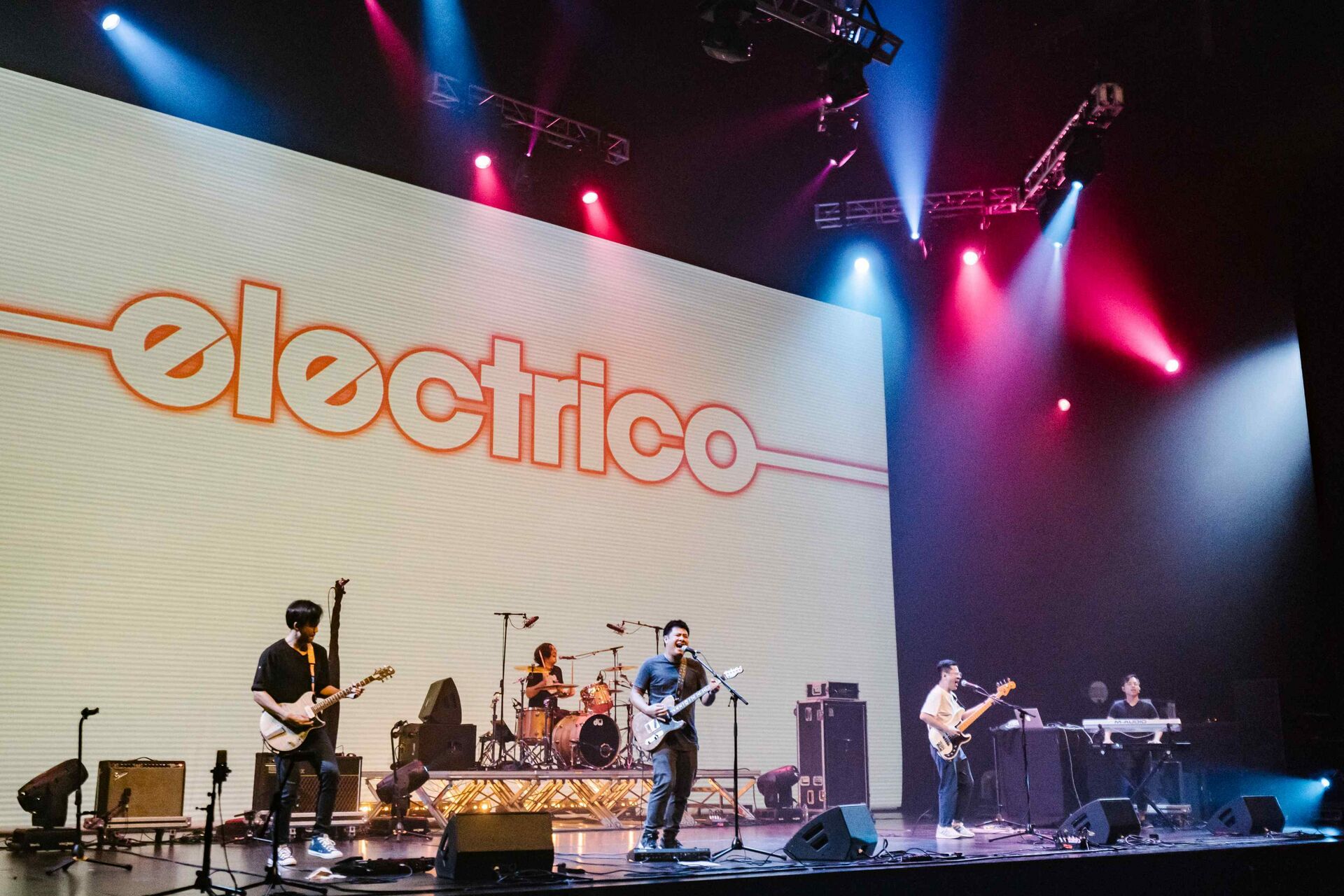 "It's Sunday, let's have some gospel music," Tan declared. While the audience prepared themselves for a euphonious church hymn, what came next had everyone bursting into laughter as the trio began their performance of their iconic National Day Parade song, 'What Do You See'. During those few minutes, everyone in the theatre was seemingly transported back to August 2009, when the theme song was played everywhere in celebration of the nation's big day. 
Just when we thought their set couldn't possibly get any better, Electrico gave us the perfect finale with, as Tan put it, "an oldie but a goodie". An Electrico classic, 'Runaway' was their closing song of choice, which saw the audience singing along and dancing in their seats to the infectious tune (to the best of their ability with the COVID measures in place).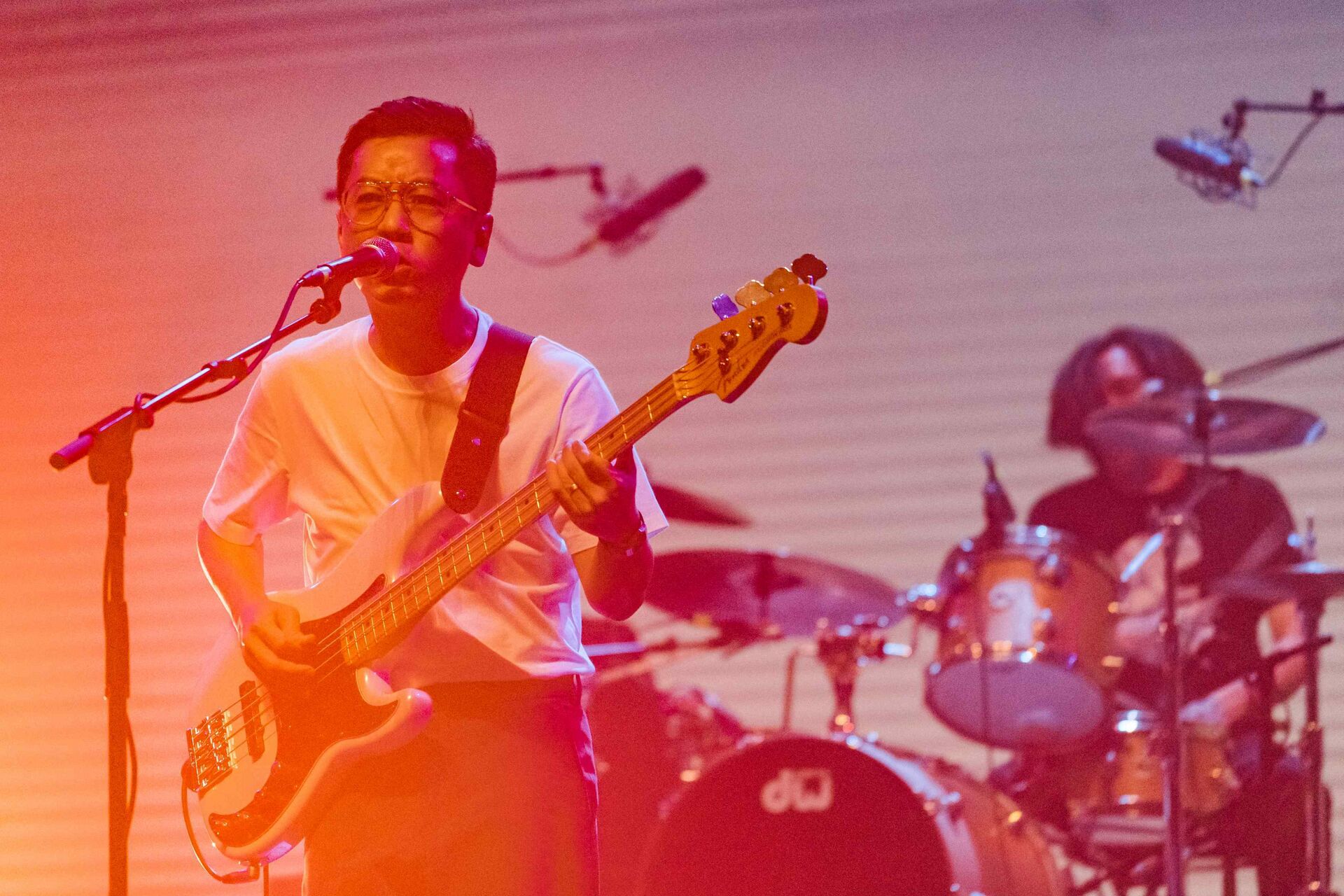 Another night, another show where Electrico have proven yet again why they are, and will always be one of Singapore's leading acts. Here's to more brilliant live gigs and not-so-brilliant dad jokes.
Summations, by Ynez Wahab
Post-metal quartet Summations was the final local band to perform at Baybeats 2021, and they certainly ended the festival with a bang. 
Formed in late 2017, the four-piece instrumental band which was originally composed of an eclectic mix of musicians from various Singaporean bands, first played at Baybeats when they were selected for the Baybeats Budding Programme in 2019. 
Fast forward two years later, and they've had a slight line-up change but are still going strong nonetheless.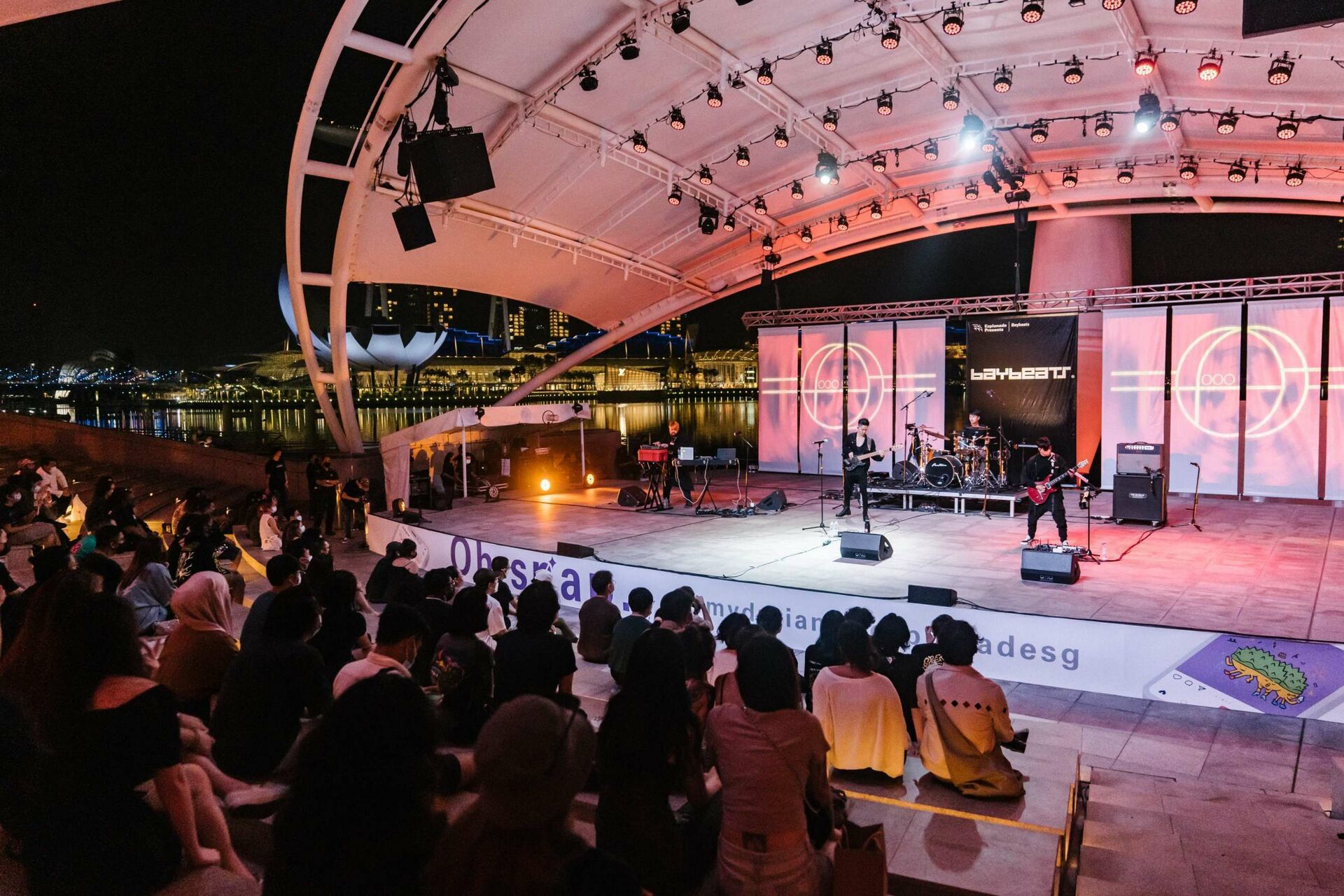 At the beginning of the set, the band members who are all clad in black can be seen strolling onto a dimly-lit stage and taking their designated spots on the dais. As a pinkish hue washes over them, they waste no time in methodically jamming on their respective instruments.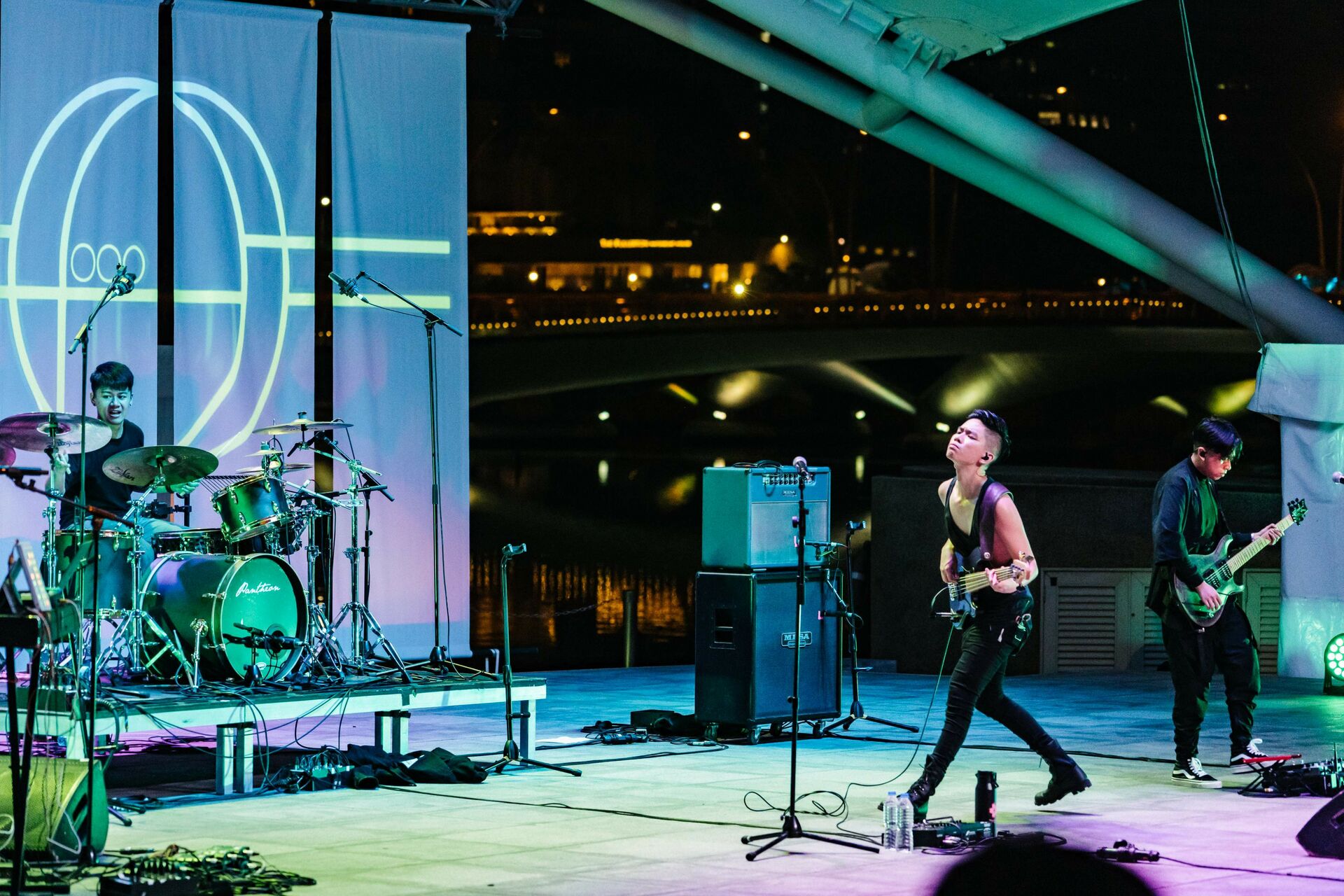 Just a few minutes in, and the crowd seems to be entranced, rhythmically bobbing their heads to the metrical cadences of the band's post-rock beats. Watching their set, it becomes evident that each member of the band constitutes an important part of the 'body politic' that is, Summations—from the bassist and drummer to the guitarist and keyboardist—all of these musicians seem to feed off each other's raw energy on stage. 
When the yellow strobe lights start pulsating during the second track, a tumult of emotions appear to have hit the band as the drummer begins to pick up the pace, and the guitarist gets into the groove, showing off his finger-picking chops and screaming guitar licks. During which, the keyboardist begins mashing the keys with heightened fervour, and the bassist starts plucking at his strings assiduously.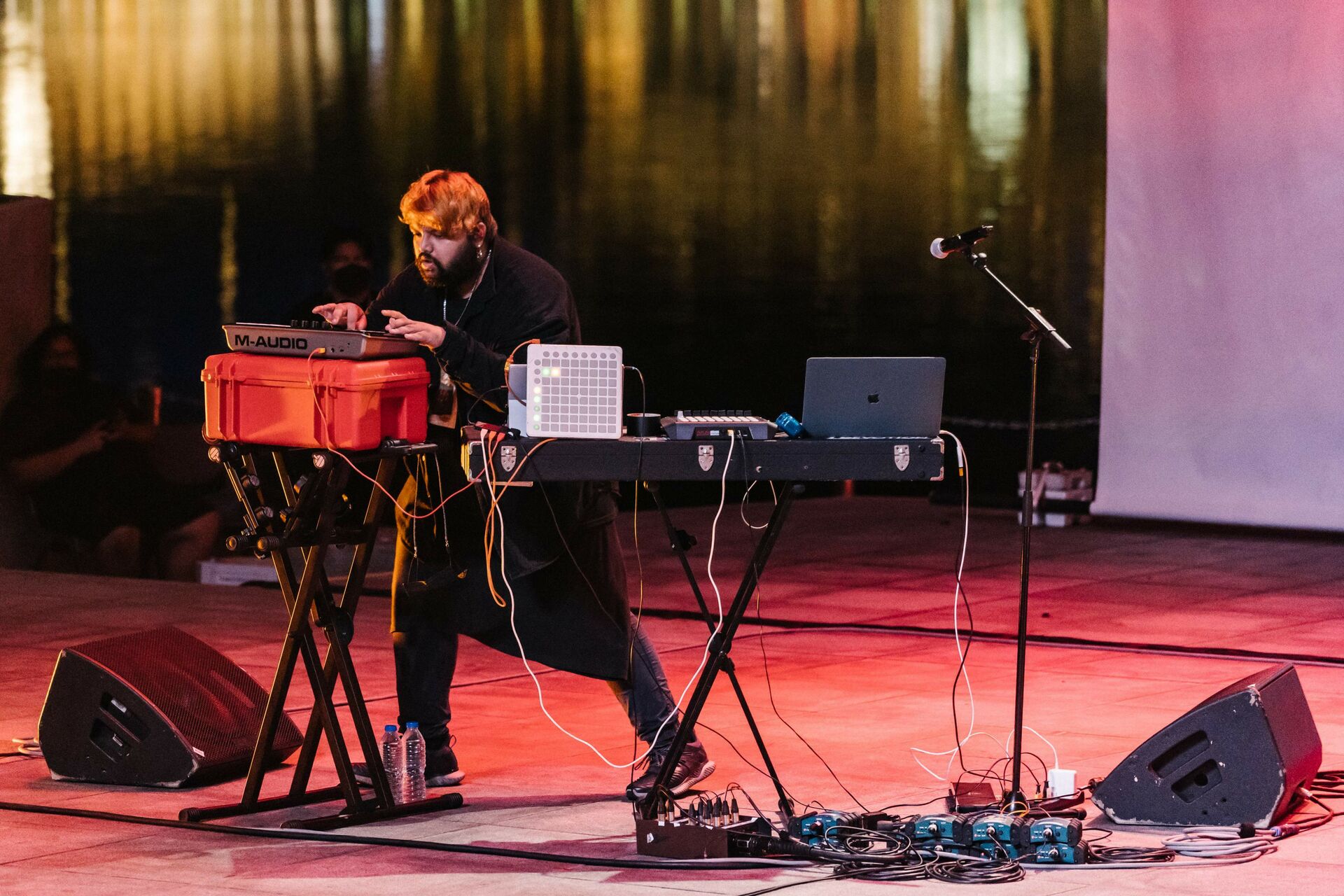 But that's not all, the band even performed a cover rendition of Hans Zimmer's Interstellar soundtrack, which is what keyboardist Sean Sundaran deems "the greatest movie soundtrack of all time," and with good reason as The Space Odyssey is an epic as far as sci-fi films go.
This, coupled with the rest of the set, is where the band's smooth blend of electronic and metal instrumentation well and truly shines through. If you're new to the band, I implore you to check them out on Spotify. 
---
Baybeats 2021 is available for repeat streaming till the end of the month. For a re-cap of all days' performances, including interviews with the artists and commentary, visit the Baybeats YouTube channel. We'll see you in 2022.
---