IGNITE! Music Festival started as a humble event in 2008 geared with a simple mission to introduce the public to talented local artists. Fast forward to today, the festival has grown to be a staple and one of the most iconic events in Singapore music.
Driven on passion, compassion and a mission, IGNITE! is entirely run by the student-body of Singapore's Republic Polytechnic, making it the only student-run event of its stature. With absolute resilience and never-ending hard work, these creative and innovative youths have organised and curated an annual, highly-anticipated festival, on par with local festival giants like Baybeats. 

Photos provided by IGNITE! team.
In its 12 years, IGNITE! has grown immensely, attracting thousands and thousands of festival-goers, featuring 116 musicians and artists, and raising awareness for youth volunteerism. In its previous runs, the festival has invited some of the most talented names in the scene, like The Great Spy Experiment, Charlie Lim, Electrico, Jammerz Arena, Plainsunset, Replug, The Sam Willows, Gentle Bones, Iman's League and so many more. 
That same energy continues this year in their 13th installment - IGNITE! Stay Home Edition. Even amidst a global pandemic, nothing can stop these passionate students from showcasing Singaporean music, in all its glory. For the first time ever, the highly-regarded festival will be moving to our screens and bringing the fire and spirit of IGNITE! right in our homes.

Tune in to IGNITE! Stay Home Edition on 18 July at 8PM streamed via IGNITE! Music Festival's official Facebook and YouTube pages
Hear65 caught up with IGNITE!'s Festival Director, Mr Ganesh Kalyanam, also affectionately known as 'Papa Bear' by students, to talk about this year's festival and the ups and downs of organising an online event, in the age of COVID-19.
---
How did you come up with the concept for IGNITE! Stay Home Edition? Could you walk us through the process of creating the festival?
When COVID-19 hit us, we initially thought of a smaller scale festival on campus but with the entire safe distancing requirement that proved to be rather difficult. But we were resolute that we would still want to celebrate the talents of our local musicians as well as continue to provide a platform for our students to put up a show that would be meaningful and opportunities for them to apply their producing and marketing skills. Therefore, we decided to take IGNITE! Online! 


IGNITE! has always had a history of spotlighting talented Singaporean artists. How did you curate this year's line up?
Like we always did. We polled our students for the local acts that they would like to see as part of IGNITE! One of the considerations that were slightly different this year was that instead of how well a group could perform live on stage, we were looking for groups that could record and come across well online. Therefore, this year's lineup features groups that were daring enough to take on the challenge.

Joie Tan at IGNITE! Music Festival 2018
When the news about COVID-19 just broke out, were there any fears of having to cancel the event?
Yes! Nevertheless, with the students and management rallying together we were able to convince some of our naysayers that although we may not be able to mount an onsite concert we could still bring across the spirit of IGNITE! Online.
 
What struggles did you face organising the event? How did you overcome them?
Several of the groups were worried that they had not had enough time to practice together due to the Circuit Breaker to be able to produce a good rendition of their works. However, as we went into phase 2 some of the bands were able to go into studios to do their recordings with safety measures in place. Other bands creatively used technology to record separately and stitch everything together in post-production. The team also took a different approach in the marketing efforts as well, gearing towards marketing on digital platforms and digital media partnerships as well.
 
What were your biggest takeaways from working on an online show? Do you feel there any advantages or disadvantages to organising a virtual festival, what are they?
We realized that where there's a will there's a way! We managed to view challenges as opportunities and leveraged what technology could offer. Creativity and innovation are often the product of necessity and adversity. It was heartening to see the different bands find ways of recording their songs and making them online friendly!
I think there will still be many who like me would still prefer going to a live concert and soak in the vibes. We will definitely miss the crowds cheering their favourite bands on and supporting new groups doing their debut performances. The atmosphere at IGNITE! has always been electric!
However, doing this virtual festival has brought our costs down and has allowed us to try new innovative ways of presenting our show. I would like to see if the convenience of enjoying this festival from home could bring in new audiences who may not necessarily like going to crowded concerts.
Moving forward we may want to explore a hybrid festival that has both live elements and virtual elements, tapping on the opportunities and benefits that both forms offer.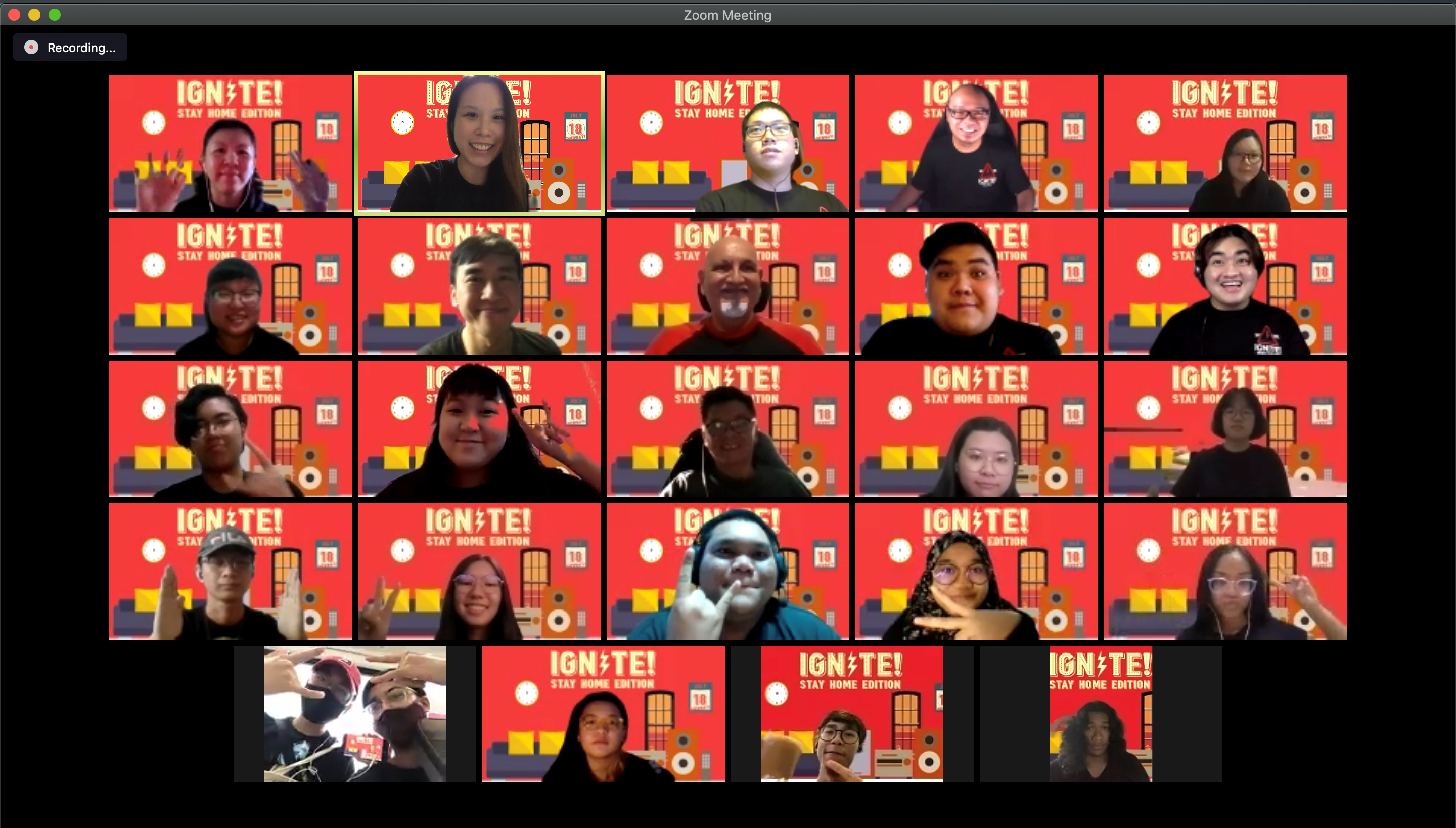 The team behind IGNITE! Stay Home Edition, including Festival Director, Ganesh "Papa Bear" Kalyanam (second row, third from left)
Beyond being online and the amazing lineup, is there anything exciting that viewers can expect from this weekend's show?
Besides great music, great stories, and great prizes, I think the audience will enjoy the creativity and never say die spirit of our performers and crew. Our Prize Sponsor, Sennheiser will also be having exclusive giveaways during the show. This would only be available during the stream so do check it out! We are also glad to have 987FM DJ Charmian and Faraday's Dan host the show as well!

What do you hope the audience takes away from IGNITE! Stay Home Edition?
I hope the heartfelt and real sharing by various people in the music scene will inspire us not to give up and continue to pursue our passions and the shout outs to our health workers and all those keeping us safe should also kindle our compassion for those struggling during these trying times.
I hope the audiences get to appreciate the amazing talent we have in Singapore and continue to support the local music scene, on whatever platform they perform.
---
Tune in to IGNITE! Stay Home Edition on 18 July at 8PM streamed via IGNITE! Music Festival's official Facebook and YouTube pages.
---