Batucada group Wicked Aura have had their fair shares of ups and downs over their remarkable 15-year-long career. 
They began as a one-off percussion project for ZoukOut 2003 but have endured over the years, honing their irresistible blend of samba, Afro-Brazilian percussion and even rock and metal to the delight of their audiences. They've played countless shows, released two studio albums, and weathered the departure and passing of band members. 
Wicked Aura have more than earned their right to celebrate their 15th anniversary with a proper bang this July. Their 15th anniversary show, dubbed Wicked Aura 15th: Still Making Fists will feature bands such as SMU Samba Masala and Sintoxicate as well as guest perfomer Syed Mahdzar of Stompin' Ground and Bushmen, and weish of .gif and sub:shaman fame. 
Ahead of the show, Budi of Wicked Aura sat down with Hear65 to tell us about the band's journey, musical development, and what they've taken away from it all. (The interview has been edited for length and clarity.)
---
On how Wicked Aura found their sound:
I've been in the music scene for a long time. I've always considered us to be outsiders, especially in terms of the Singapore music scene. I've always hated using the word local because local can mean anything anywhere. I've never actually done the whole #SupportLocal thing. We just happen to be from Singapore. I don't go out in front of a crowd overseas and say "Hey we're from Singapore, check this out." We just go out there and start playing.
The Singapore music scene is growing so that's great, we're just not waving the flag everywhere we go. Wicked Aura has never been media-savvy as well, we're not heavy into marketing ourselves. We do what we do and that's the most important thing for us. We love to play live. I think any band or artist should prove their mettle on stage, live in front of people... If you can do a good job on stage, you'll be fine. I don't care how good you are on a record, if you can't back it up live, it means nothing. Wicked Aura's music is meant to be experienced live, yeah we have some records out but we care so much more about our live shows.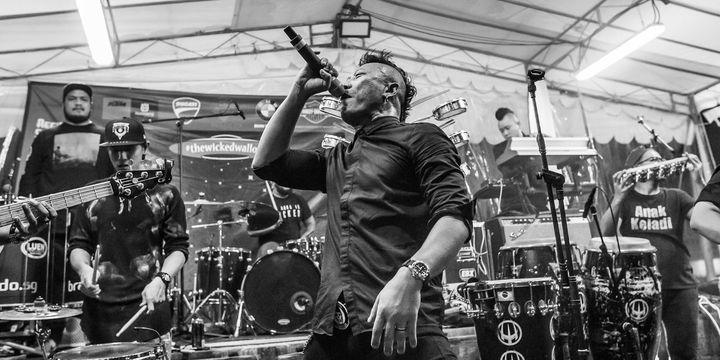 Right now, the sound that we have on the Beginning the End album is a product of 14-15 years of evolution and we're very proud of it. That body of work, for me, sounds like we found our voice. As a songwriter, finding my voice on that record is such a great thing. The way we wrote the songs, in terms of arrangements is quite unique. People can do that with electronics but we did it organically. I also like how I've grown as a musician over the past 14 years. I grew up playing in punk and metal bands and I come from that scene and that ethos still lives inside me. So for me to draw from those influences to craft and write an Afro-Brazilian record is a huge deal to me.
But here's the weird thing, at the end of the day, the music we make has elements of rock and roll in them but it's mostly dance music. It's music that makes you move. Sure the themes might be about religion, life, death, sex and whatnot and I don't care how people interpret my lyrics, it could mean different things to different people. But it moves people.
And this band has a lot of fun, they know how to party. Of course as the years have gone by, we've mellowed out and slowed down, there have been casualties, we've love a few members, the line-up has changed. At least half of the original line-up is not here anymore... The heart of the music is still there, and I'm still here. So we'll go as long as we can. The band went from being 24-hour-party people to mellowed out adults, we're mostly all married with kids, I just recently had a kid. But make no mistake, we're still firecrackers. When we hit the stage, we know how to throw down.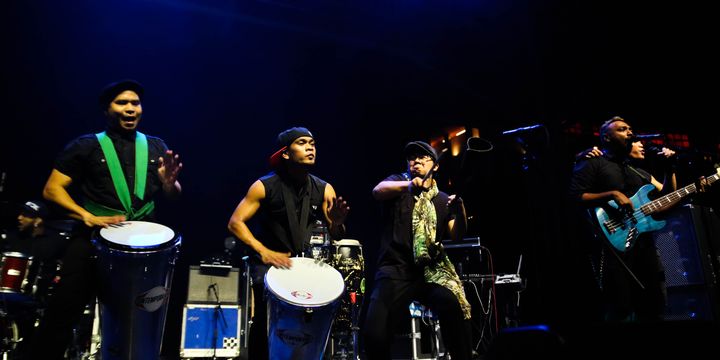 On their fans and playing live:
When we started out, I think the average age [in Wicked Aura] was like 25 to 26 and the fans have always been of a certain age group, say 15 to 30. As we got older, the demographic somehow stayed the same. Of course we have fans that grew older with us, but we're still bringing in that 15 to 30 crowd, even at our most recent shows. Somehow, we're still pulling in the teenagers, and that's astounding to me. I don't know how that's happening but it's great. We've done plenty of gigs and we hate playing to the same old faces. I speak on behalf of the band when I say that we don't like this whole clique thing, where every time you play a show, you see your friends from other bands, that's great but I'd rather play to aunties and uncles and students who know nothing about us and have that chance to convert them into fans.
But the thing is, no matter where we perform, we never compromise. We play what we want to play, we are Wicked Aura through and through. You should never, ever compromise. I don't think anyone with artistic integrity will ever want to. We keep playing to old and new faces and that way, we keep building our fanbase. Thing about Wicked Aura is that we're not exclusive to any community. We're not a part of the metal community, or the pop community. We're just Wicked Aura. There's a bit of everything in the music. I'm sure every other band is doing their own thing too and that deserves nothing but respect and in that sense, I support Singapore music. That's where I'm from, that's where I grew up, but I only support good Singapore music. I will not support something just because it has the Singapore label on it. It has to appeal to me. It's the same way I am with friends in bands: we can be really close but if I'm not a fan of the music you're making, I'll be honest with you. I owe it to you and myself as musicians to be honest about the art we're making.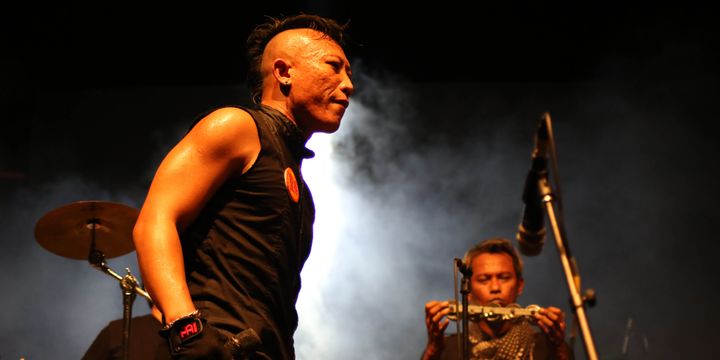 On advice for the younger generation:
This is going to sound very cliche but it's the truth. You have to be honest and true to yourself when you're writing your material. Some people wants to be cutting edge, some just want to be part of the herd and play it safe. There are a lot of people who are content with the fact that their music has a familiar tinge to it, they get happy when people say "Eh, your song reminds me of Ed Sheeran". But why sound like Ed Sheeran or anyone else when you can sound like your own self? Sure, draw from influences, but sprinkle those influences in, don't drown in them. 
At the end of the day, whatever you create, make sure it's who you truly are and it's something you can be happy with 10, 20, 30 years down the road. Don't do something you don't want to do just for the sake of it to fit in... Have fun doing what you're doing it, while you still can. Even the whole tortured singer-songwriter genius does it because he has fun. It's a form of catharsis. There's an amount of demons that we all want to exorcise and music is our way of getting it out. So why not have fun while having fun? Know where you come from and know where you're going but no matter what, enjoy the ride.
---