The joy from placing first runner-up in reality television show The Sing-Off, the sadness of not being able to perform live due to the COVID-19 pandemic, and the pride of being able to represent Singapore at international stages as a revolutionary Mandopop a cappella group are some of the emotions experienced by Peter Huang since the start of his MICappella journey. Unknown to most, Peter has been constantly battling with physical and emotional pain for a large part of his life.
At the age of 12, Peter was diagnosed with Perthes Disease, a childhood condition that affected his hip joint, hence limiting his mobility greatly. Despite that, he courageously pursued his passion for music, having studied at the Berklee College of Music, then touring the United States, Canada, and Taiwan as a solo artist. In 2009, the idea of forming a Mandopop a cappella group came to mind. Peter wanted to continue doing a cappella, which he enjoyed during his schooling days, while giving the genre a fresh look influenced by contemporary pop-rock. As a result, the MICappella we are familiar with today, was born.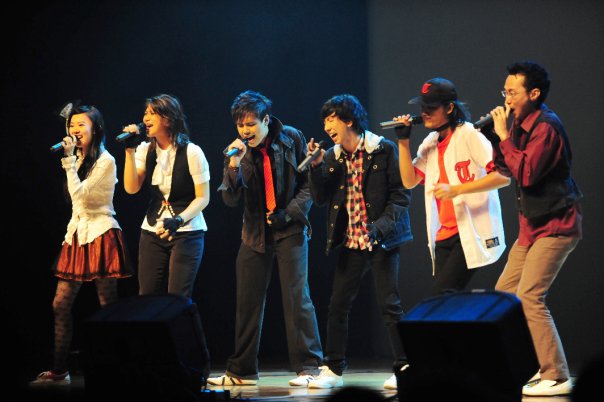 MICappella's first international performance in Taiwan, 2009
Hear65 caught up with Peter following his recent major surgery and he shared with us how he has been coping with pain, recovery, and change all this while balancing his work as a full-time musician during the COVID-19 pandemic.
---
Hi Peter! We're happy to hear that you're into your second month of recovery. Share with us about how you first found out about your condition and how it was like growing up with Perthes Disease.
I first found out about Perthes' disease when I was `12 years old. I felt massive pain in my left hip gradually building up and an x-ray at that point revealed that I had this condition. I was told to stop walking on my left leg and convert to using crutches outside of home and using a wheelchair at home for four years. The news was devastating to me for obvious reasons, as a school athlete and a highly active young teenager, but it also pushed me towards using music as an outlet for my frustrations and depression.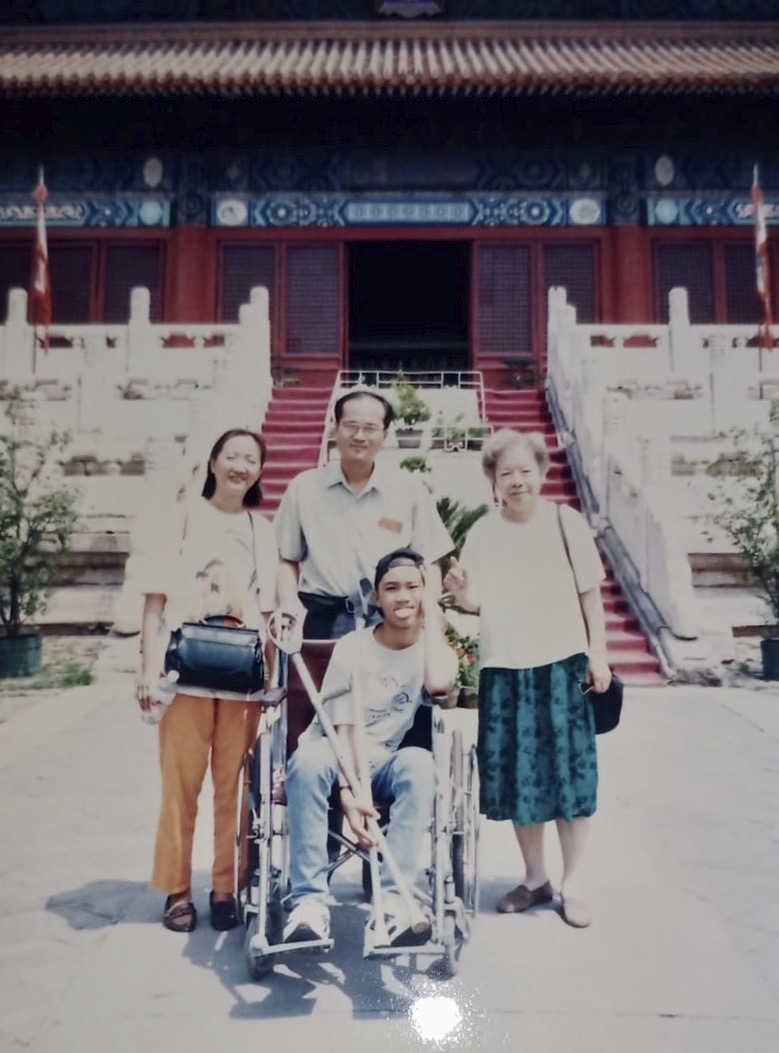 Peter and his family during his teenage years
Growing up with this condition meant constantly feeling pain in my left hip since 1995 and often being misunderstood because it's a condition where the pain comes and goes depending on the day at times. There are certain days when I feel almost normal at best and can take part in some sports, and also days where I have difficulty even walking on flat ground, not to mention climbing stairs, and that can be easily misconstrued by others. However, the level of pain gradually increased over time to the point that the bad days significantly outnumber the good days, until a hip replacement surgery is done. I had my first hip resurfacing implant done at the age of 26 after 13 years of continuous pain. However, this first implant wore out and started to slice off the bone it was attached to in March 2020 and I had to get it quickly replaced by a larger implant.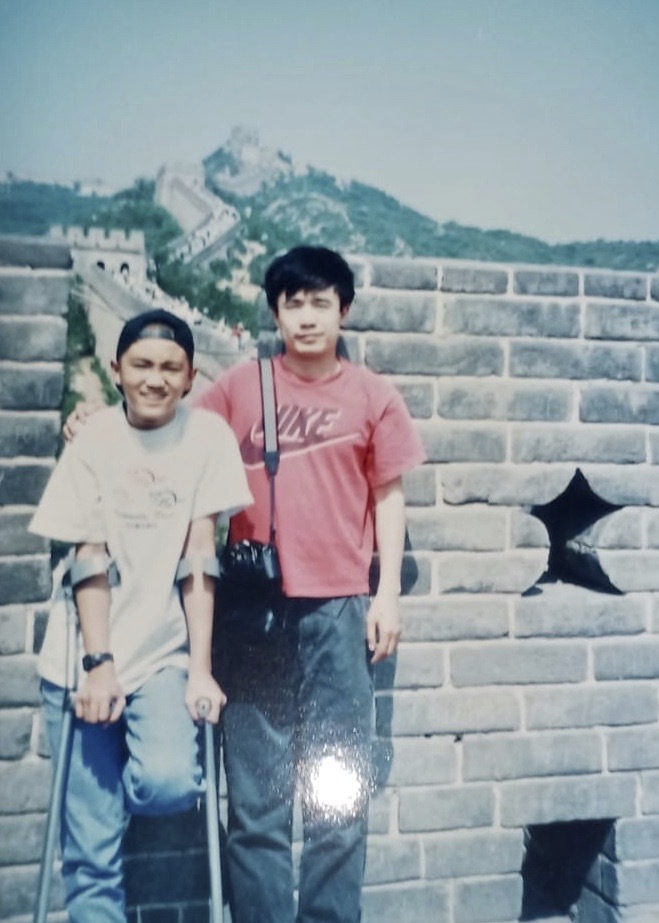 Peter visiting the Great Wall of China
How did you cope with this condition growing up and how have your coping mechanisms changed throughout this journey?
It was certainly no bed of roses, but music certainly helped immensely. Music served as an outlet of my emotions to vent my frustrations, but also as a welcome distraction from physical frustrations and discomfort. This certainly has not changed, but with the surgery being effective in removing most of the long-standing pain, I am glad to include music as part of celebrating the pain relief.
Who are some pillars of support who have motivated you over the course of the surgeries?
I started having major surgeries on my leg in 2003, with the first few to lengthen my leg which was shortened by the original condition, and the subsequent few to replace the joint completely in 2008 and then in 2020. Since my surgeries began, the support system has shifted from mainly my parents when i was younger and now to my amazing wife.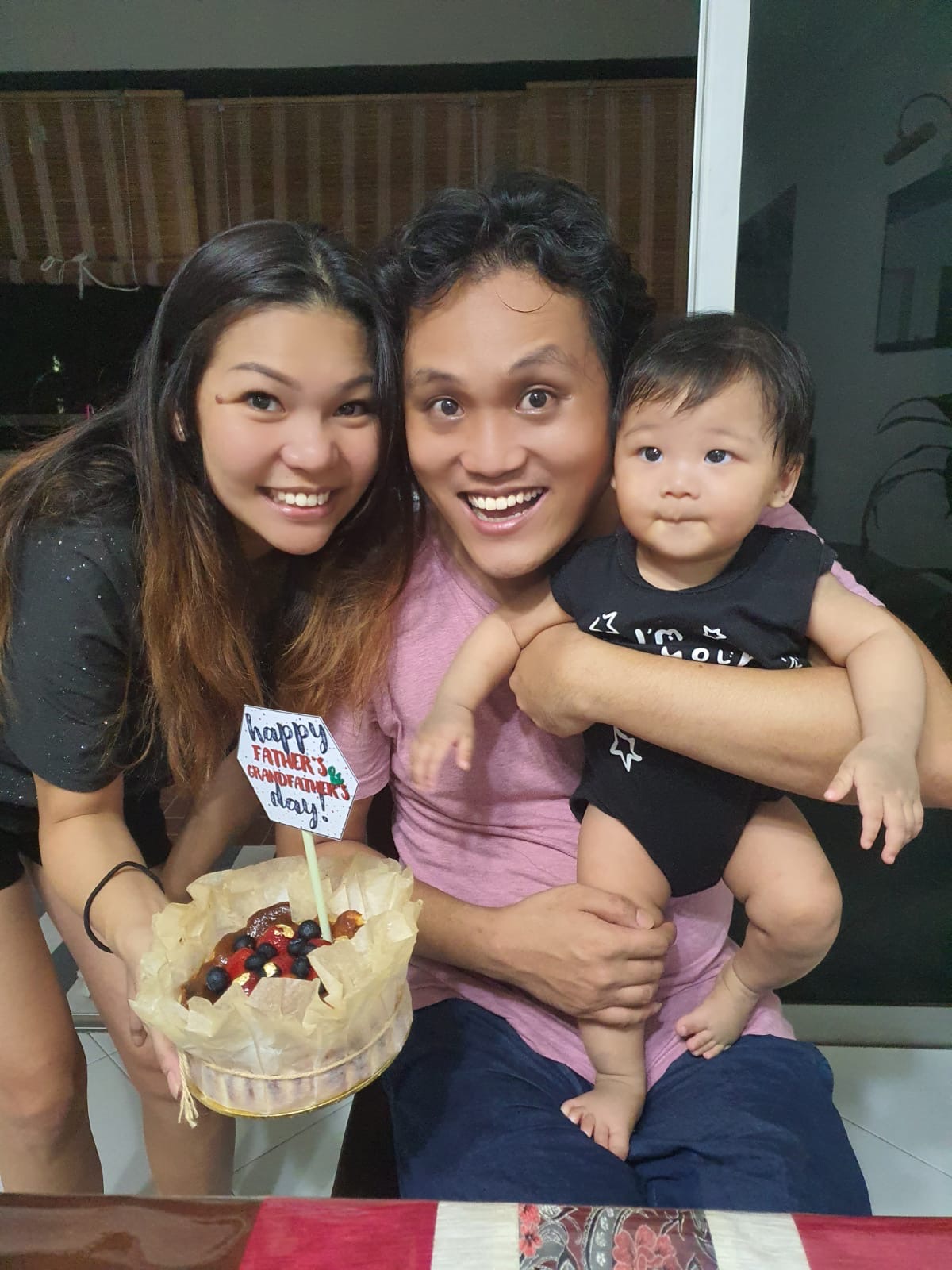 Peter with his wife and son celebrating Father's Day this year
As a musician, COVID-19 has seen live performances come to a halt and musicians adapting in new ways of music-making. Tell us about how COVID-19 has impacted MICappella and any other of your own performances.
As with many other performing arts, all live performances have been stopped. We have turned our attention towards live streaming or performances with different platforms and working with organizations on commissioned works on video. We are also still discussing our songwriting direction in preparation for another upcoming EP. It has definitely had a major impact on our workload and direction, but we are determined to find ways to stay active and engaged with our audiences online.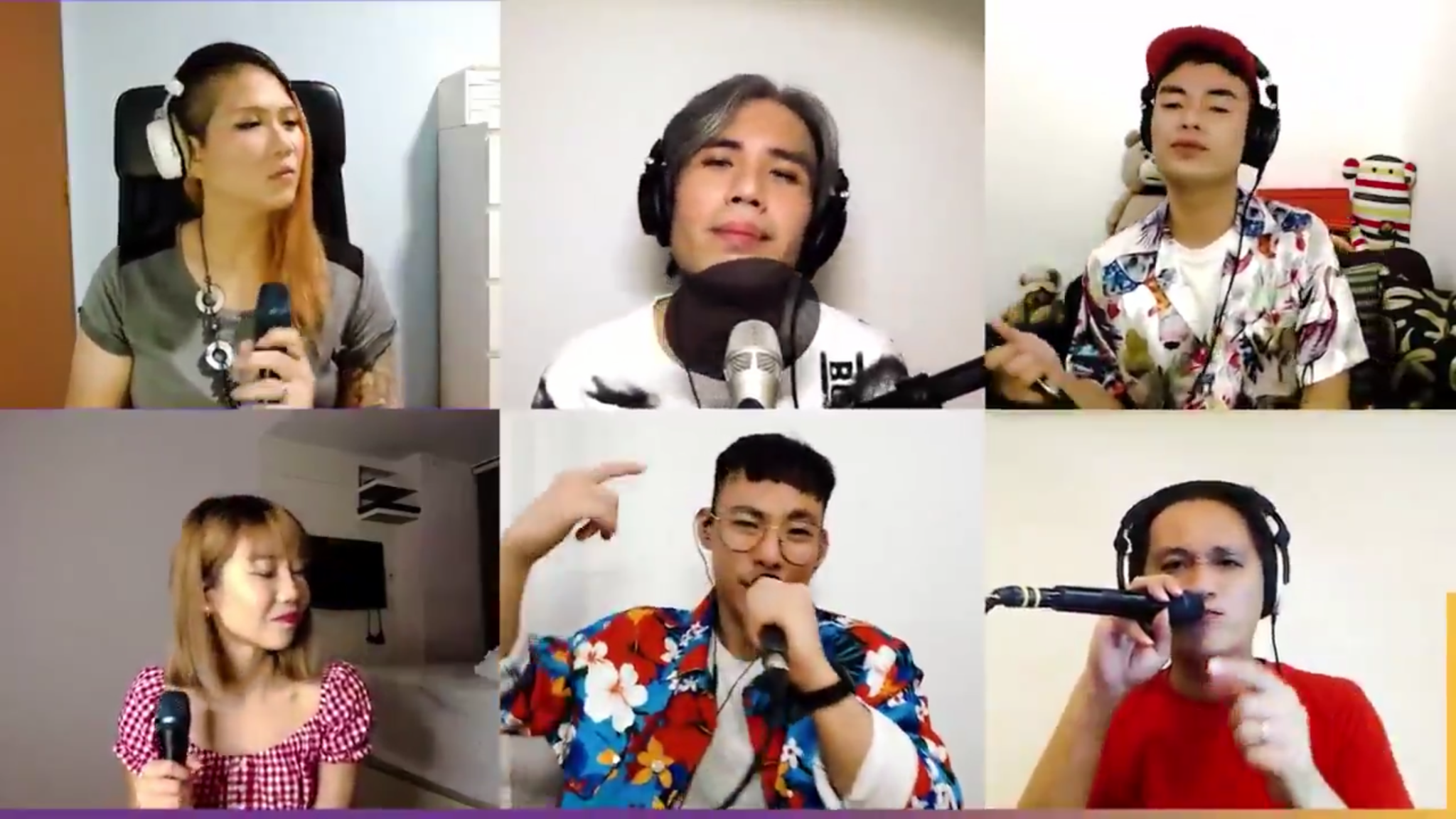 MICappella's livestream performance on Hear65 Sing Along SG digital karaoke series during Circuit Breaker
Personally, my individual performances have also stopped since the end of March but I have continued to arrange a cappella pieces for both my own group and groups overseas. Apart from that, I've also had hip surgery to remove my previous artificial hip and implant a new one. The surgery happened in the middle of Circuit Breaker and I have been gradually recovering since. As a result, this medical issue plus taking care of a new baby boy has been taking up much of my energy and time since Circuit Breaker.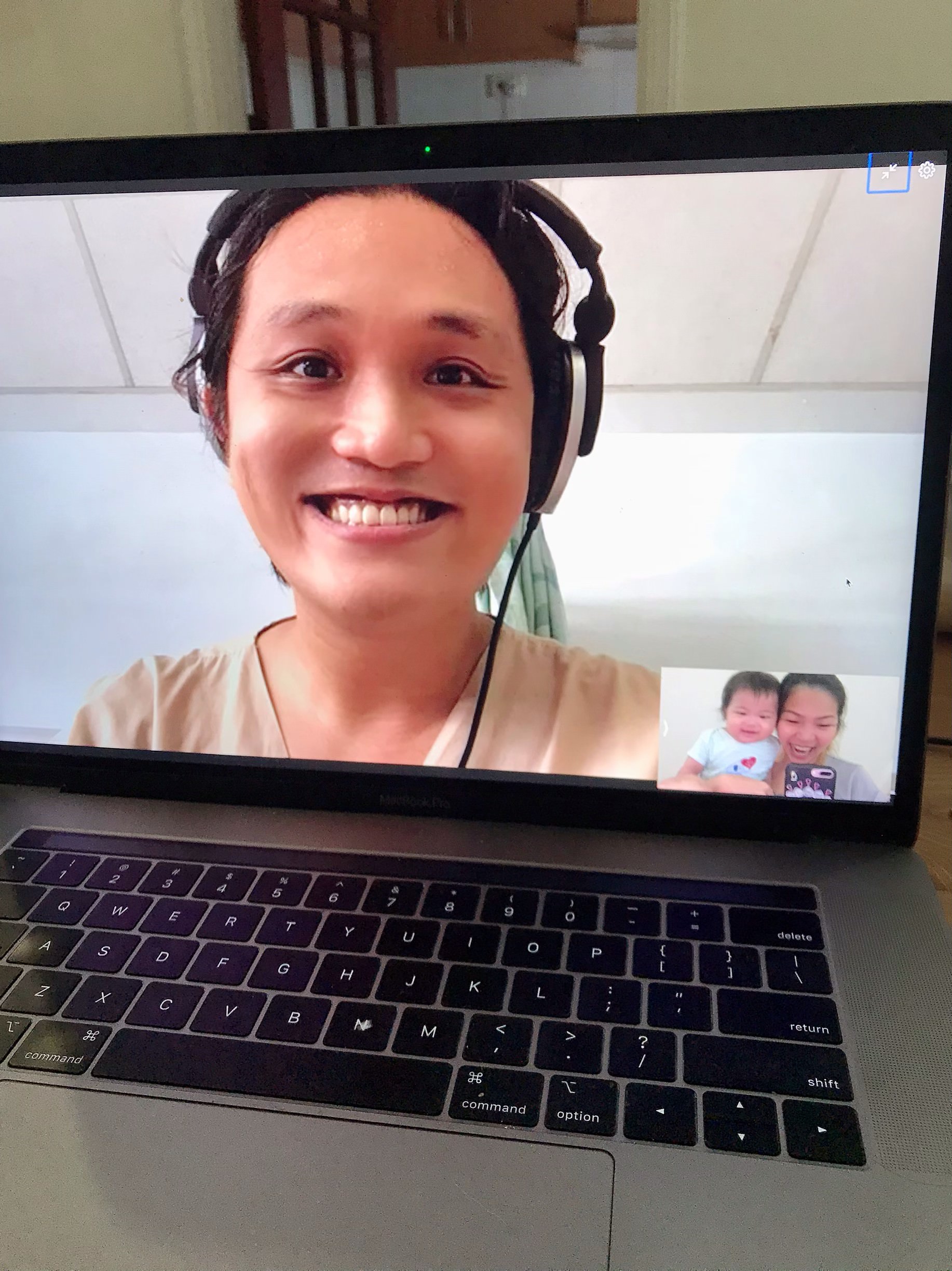 Peter video calling his wife and son upon completion of his surgery in the hospital
What are you most looking forward to after recovering from surgery?
Once COVID-19 measures are more relaxed and I am physically stronger with help from physiotherapy, I am looking forward to return back into full contact sports, and of course, performing on stage with full choreography and energy level in front of live audiences one day. As much as we are glad to use technology to continue interacting with our audiences, nothing replaces directly interacting with real people in the audience, or on the baseball field or basketball court. With that in mind, I would like to encourage everybody out there to please continue to wear your mask, maintain social distancing, and stay home if you don't need to go out. This is the only way right now for us to beat this disease together until a vaccine is found. Only then, we can return to life as we knew it and continue celebrating life with a renewed perspective and appreciation. 
Any advice/motivational words for people suffering from the same disease or words of wisdom for your fans?
My condition is a rare one, though it is not life-threatening, it is one that is incredibly painful and very difficult both emotionally and psychologically for the patient and his/her family. For parents out there with children with this condition, I would like to encourage them to stay positive and understanding because I am an example of how a person with this condition can live an active and fulfilling lifestyle albeit with some physical discomfort. It results in the necessity to be determined and keep the mind's eye on the goals they would like to achieve because they always have physical pain to fight through. 
In a strange way, I am thankful for this constant physical pain for reminding me that nothing comes easy. We are only flesh and blood and there is nothing that we should take for granted. As a result, I am always appreciative of the music I get to enjoy, the physical function I can still achieve, and the time that I get to spend with my favourite people doing my favourite activities. 
---
Watch a recent performance by MICappella on Hear65 Sing Along SG's livestream here: 
Cover image credit: Peter Huang Facebook
---