Hear65 has teamed up with Mandarin radio station, UFM100.3, to present UFM100.3 x Hear65 Presents: LIVE from the Lion City.
The event is part of a series of monthly showcases that feature Chinese music performed by our homegrown talents. 
Hosted by UFM100.3 DJs, the previous, first-ever edition featured performances from Boon Hui Lu 文慧如, Marcus Lee 李俊纬 and The Cold Cut Duo 双节奏. This time round, Goose 我鳥 and Yokez 叶玉棂 x Isaac Yong 杨征宇 will be on hand to deliver remarkable music at COURTS Eastpoint, with host,  SPH Radio, UFM100.3 DJ Chengyao 承尧.
Goose 我鳥, a well-known name to many in the Mandopop scene in Singapore, blends the melancholy of post-rock with the up-tempo qualities of folk-pop to create a lull and dreamy push-pull captivating soundscape, in which he imparts his personal heartfelt experiences. His new single '謝謝你說再見', among many others, is proof of his poignant storytelling.
Joining him are two budding singer-songwriters, Yokez 叶玉棂, who has participated in numerous songwriting competitions, even emerging as a finalist in SG:SW 2018 | Write The Songs. She released a 5-track-EP 首张全创作EP, consisting of original tracks in June 2018. Isaac Yong 杨征宇's songwriting earned him first place of the Music Xpress Songwriting Competition in 2015 with his original song 'Late Night'. Both musicians have been signed to local independent music publisher, Touch Music Publishing, as exclusive songwriters and their original tracks have also gone on Spotify's Top 50 Viral Tracks in Southeast Asia.
All three artists will perform original songs and covers during the two-hour event. Don't miss this intimate session with three phenomenal artists.

UFM100.3 x Hear65 Presents: LIVE from the Lion City will be happening on Sunday, 28 April, at COURTS Eastpoint. More details can be found at here.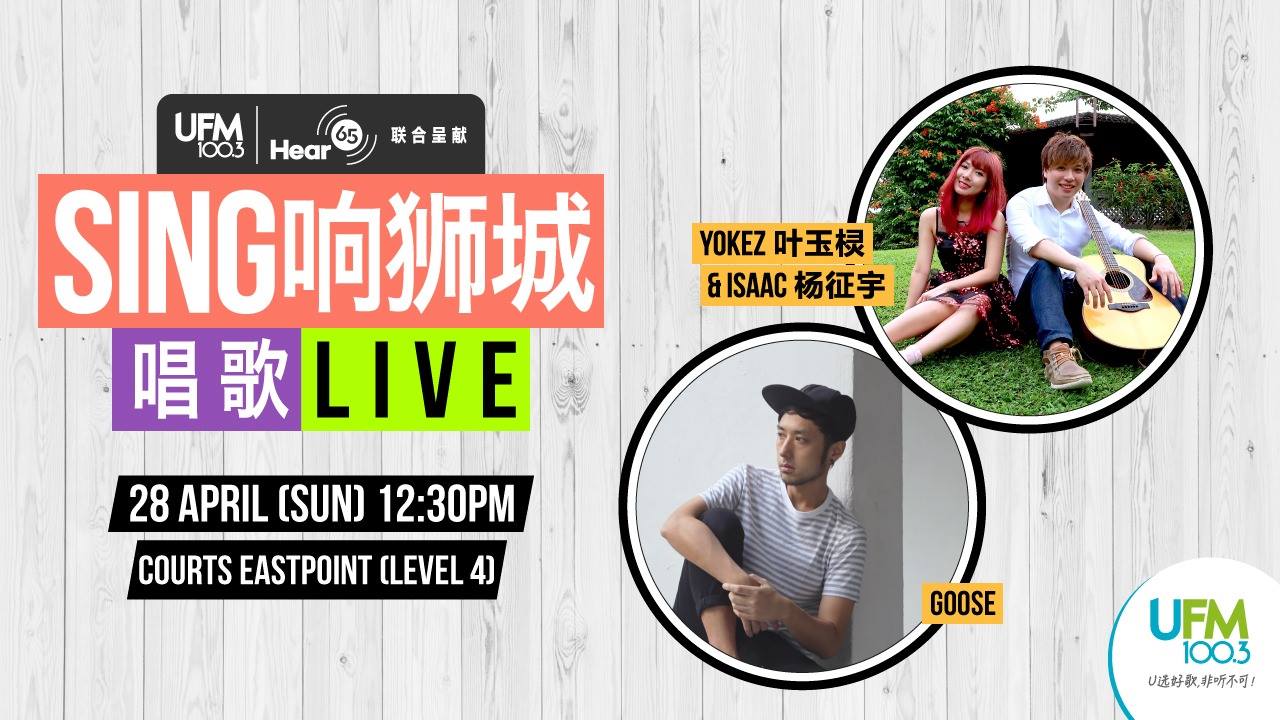 ---