December is always synonymous with the holidays and the season of giving, and while some of your favourite stores and spots might be closed for celebrations, the music industry continues to thrive and live shows in Singapore show no signs of slowing down. From the launch of Zendyll Records to concerts by Charlie Lim, Yumi and more, here is our guide to the local gigs you can't afford to miss this December. 
---
Kilo Live x HUGO Present: Zendyll Records Launch
When: 1 December
Where: Kilo Lounge
Celebrate the launch of Zendyll Records, a brand new label founded by Jon Chua of The Sam Willows, aimed at Artist & Repertoire (A&R) development, music publishing, production and more. To welcome Zendyll Records into the local music community, a slew of top local acts will be performing at the launch including the likes of The Sam Willows, Tabitha Nauser and Fariz Jabba. With a line-up like that, it would be hard to imagine skipping the launch. 
For more information on the launch, click here. 
---
Tropika 1st Edition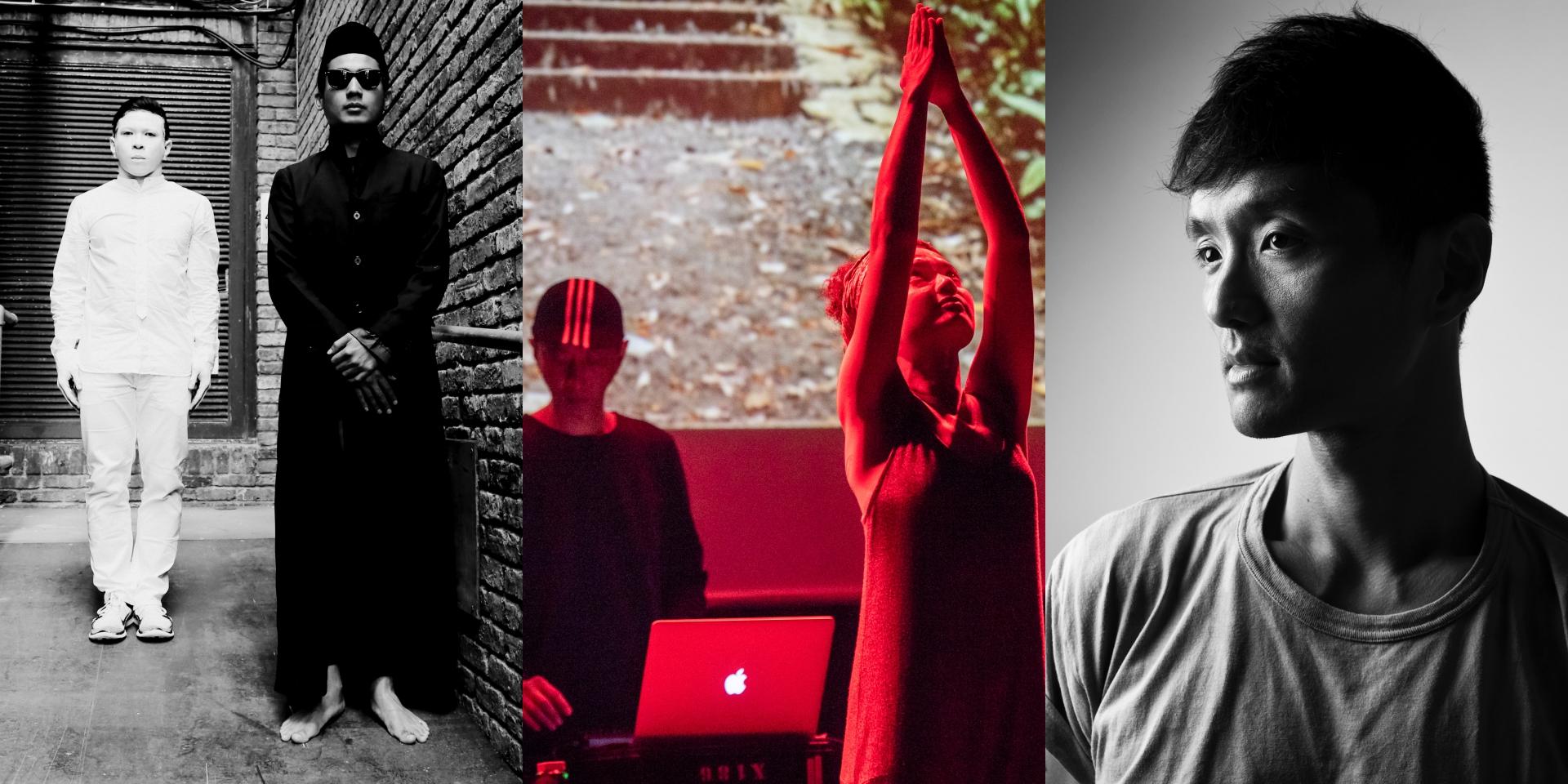 When: 2 December
Where: Fort Gate 
This Sunday, Fort Canning Park, Fort Gate will be the staging ground for Tropika, a homegrown entity focused on global music, art and film that aims to connect socially conscious individuals. Carrying the torch will be astoundingly original audio-visual project NADA, Syndicate honcho Kiat and Singaporean poet and multi-disciplinary artist Deborah Emmanuel, who will come together as a duo aptly christened Polymorphism, Darker Than Wax co-captain FUNK BAST*RD and spectrum-blasting collective the Beatroot Ensemble.

For more information, click here. 
---
Charlie Lim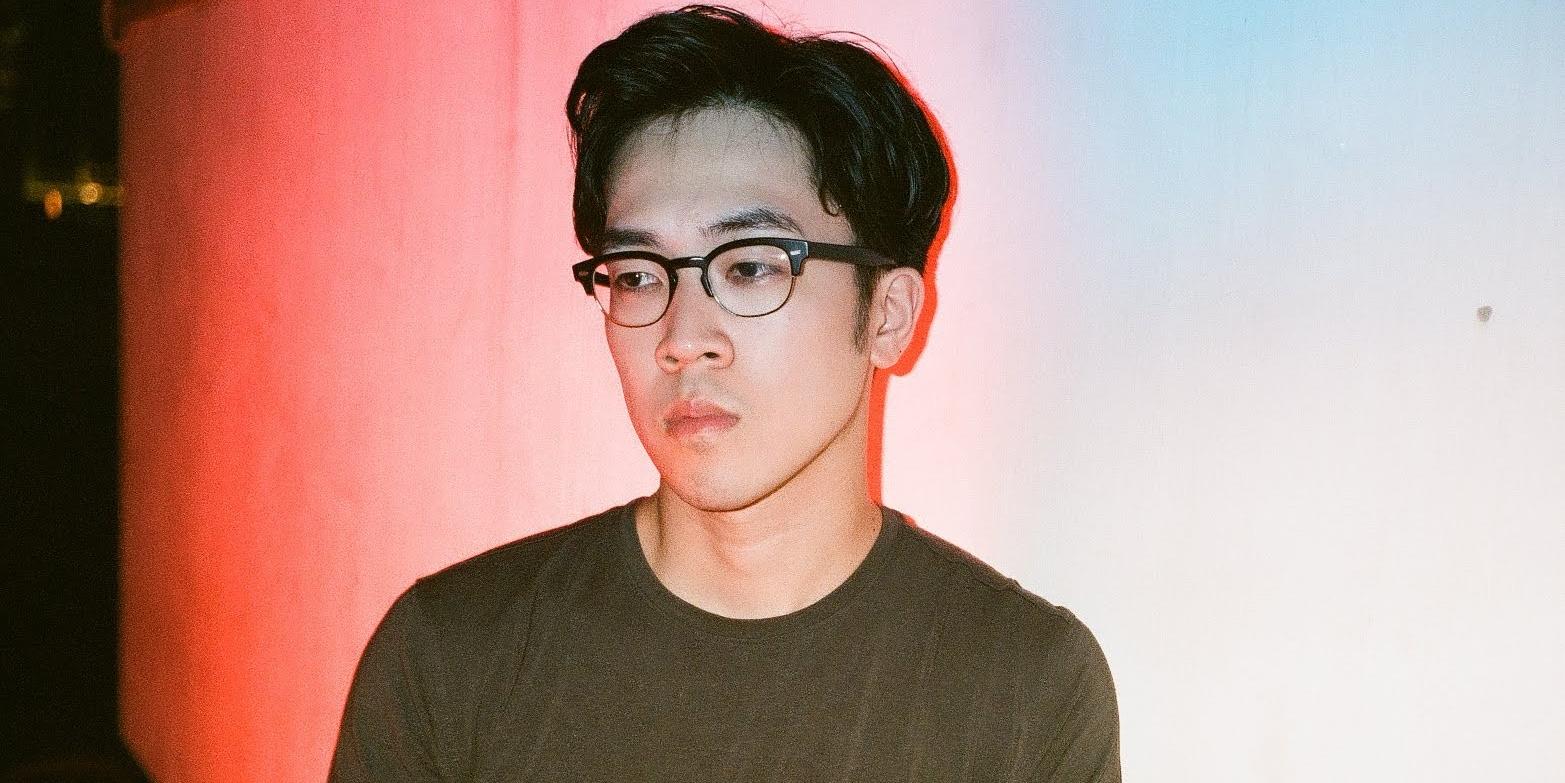 When: 7 December
Where: Star Theatre
Local singer-songwriter Charlie Lim is set to hold his biggest show yet when he takes over the Star Theatre for a one-night-only show. Fans can expect to heat Charlie's classic hits as well as tracks off his latest record, CHECK-HOOK. The show will feature appearances from Fariz Jabba, Yung Raja and Weish. The show will be opened by .gif. 
For more information, click here. 
---
WAV(Y) Pool Party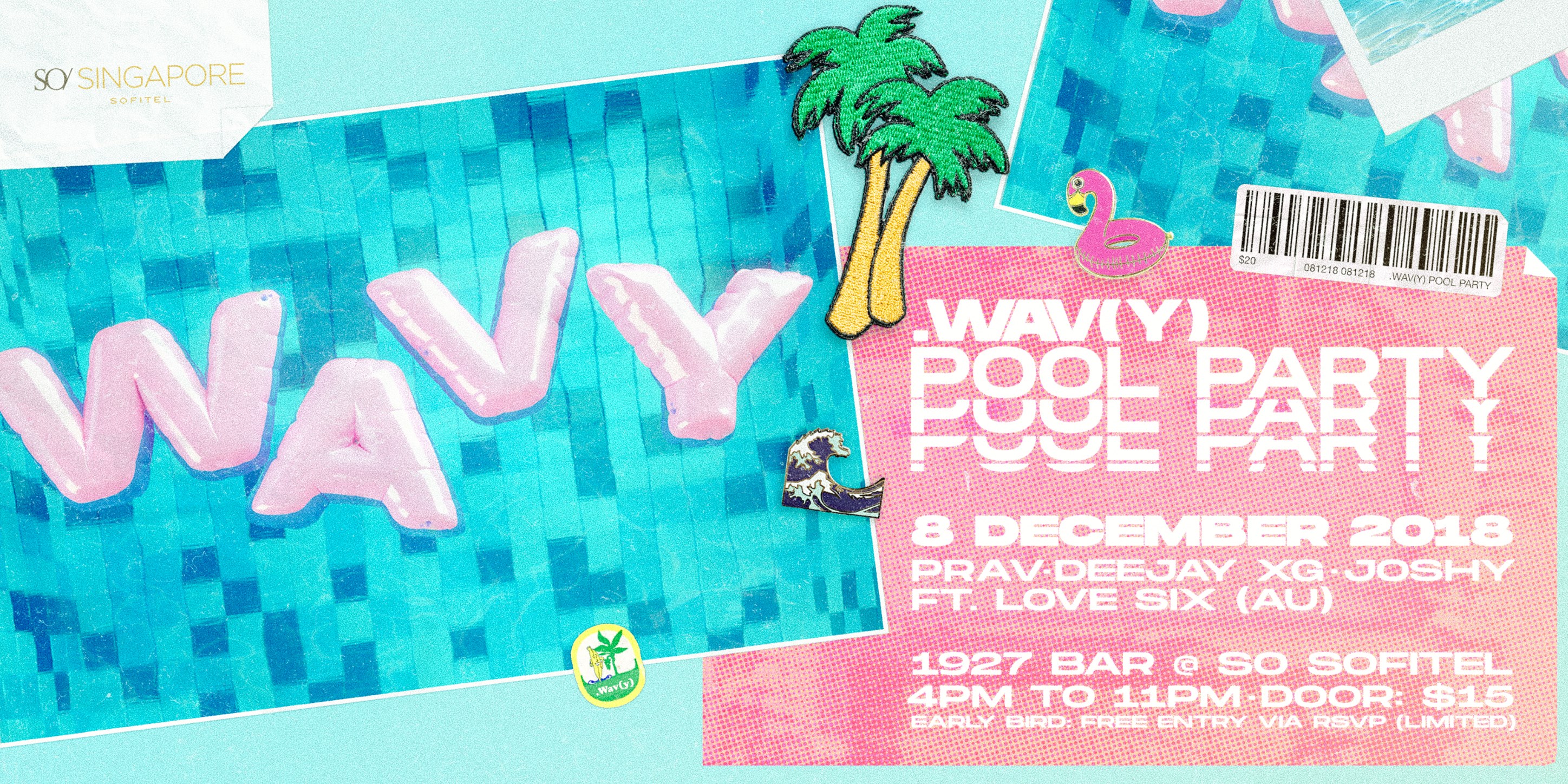 When: 8 December
Where: Sofitel Singapore 
Singapore's biggest hip-hop party, WAV(Y) is back once again with a brand new concept. The first of its kind under the WAV(Y) banner, the WAV(Y) Pool Party is set to feature local WAV(Y) staples PRAV, Deejay XG and Josh. 
For more information, click here. 
---
STFU: Super Time For U Christmas Edition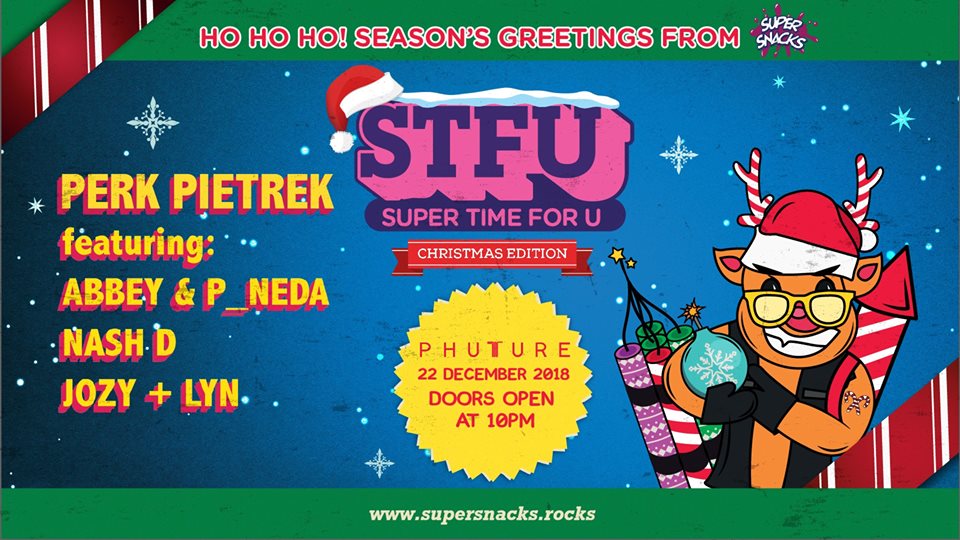 When: 22 December
Where: Phuture, Zouk
Super Snacks is back this December for a very special holiday edition of  genre bending. This X'mas edition will see upcoming rapper, P_NEDA, who has been making waves recently with his single "WTH R U" and pop singer, ABBEY, sharing the stage with Perk Pietrek. Representing the new generation of talented selectors are DJs Jozy & Lyn alongside hip-hop connoisseur Nash D. 
For more information, click here. 
---
Hard Luck Club: 13 Years of Eatmepoptart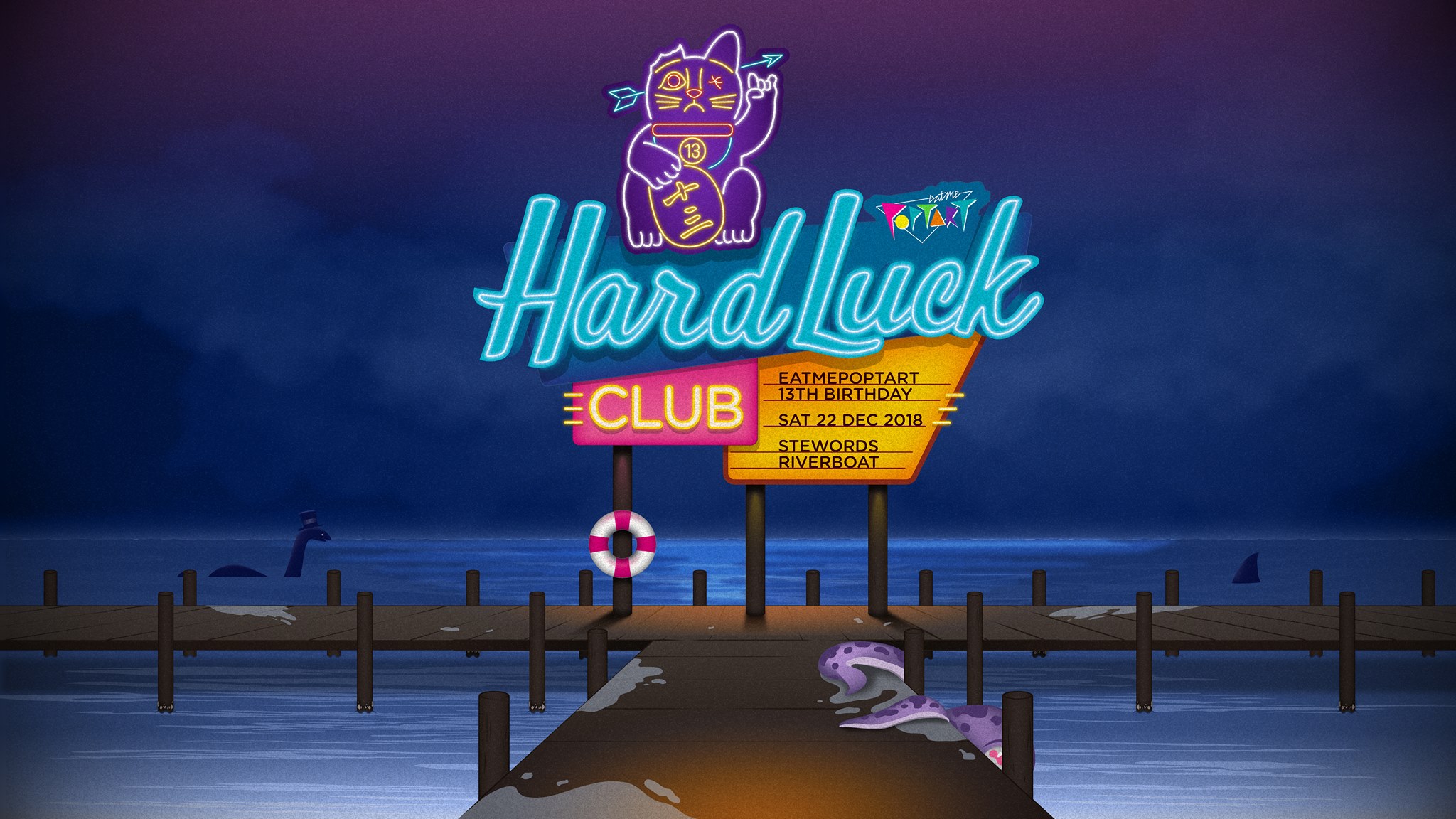 When: 22 December
Where: Stewords Riverboat, Marina South Pier
Over the past 13 years, Eatmepoptart has solidified its spot among the greats party nights Singapore has ever seen. To celebrate its 13th birthday, the collective will be taking over the legendary Stewords Riverboat. With local DJ heroes weelikeme & KiDG helming the decks all throughout the night, party-goers are guaranteed an amazing night. 

For more information, click here. 
---
Jazzy Christmas: A Big Band, Big Bang! 
When: 22 December
Where: Esplanade Concert Hall
Fill your hearts with the spirit of Christmas with local jazz legend, Jeremy Monteiro. The king of swing will put on spectacular jazzy Christmas performance with friends from near and far, and completing the lineup are the members of the Jazz Association Singapore Orchestra. Bring your friends and family to celebrate the festive season!
For more information, click here. 
---
Yumi 10 Years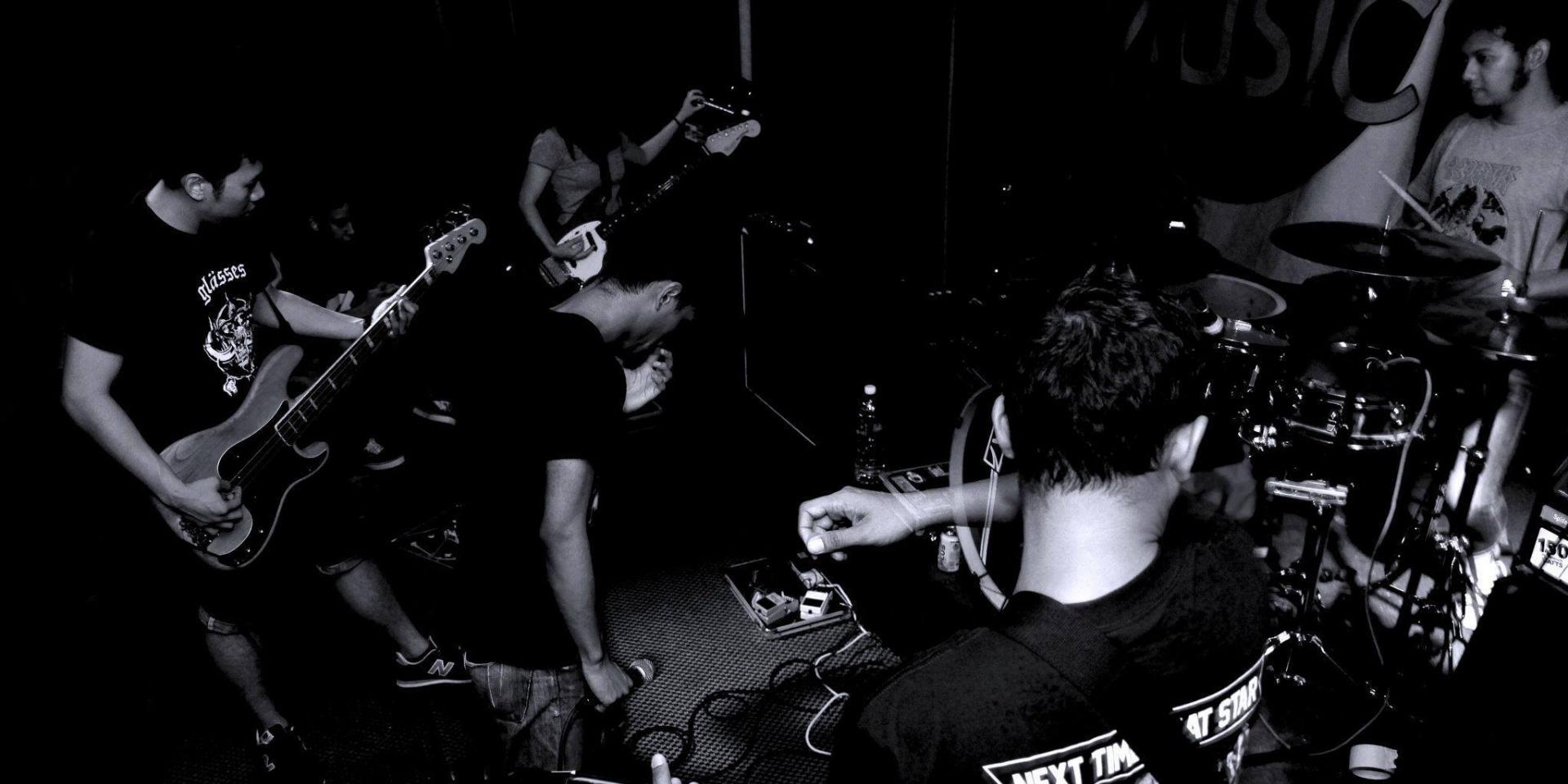 When: 29 December
Where: Lithe House 
Homegrown screamo band Yumi is throwing a party to celebrate ten years of music. With support from local bands Susurrus and Istillah, as well as Malaysian-Singaporean band Jaddah, the night promises to be one of epic proportions. Round up the troops and mosh one last time before 2019 rolls around. 

For more information, click here. 
---
Ken Loh
When: 29 December
Where: Esplanade Recital Studio
Almost a year after the release of his debut EP songs about them., Ken is returning to Singapore for his first ticketed show at the Esplanade Recital Studio, 29th December 2018. Ken Loh will be supported by Hasyir Ibrahim (Lead Guitar), Umar Sirhan (Keys), Kyla T (Synths) and friends. The show will be opened by Sam Driscoll.

For more information, click here. 
---