Get ready to dance, sing and help a cause, all at the same time, at UNHEARD!
Organised by vocal-teaching music school Vine Music Studio and co-organised by record label Where Are The Fruits, UNHEARD is an online charity concert aimed to raise money for Daughters of Tomorrow (DOT), a non-profit organisation that is determined to help underprivileged women.
UNHEARD is in support of DOT's Power Up Online initiative that centres on empowering women through technology provision, bridging courses and career training, amidst the current COVID-19 crisis. 
This spectacular digital event includes an exciting lineup of female performers and musicians from all over the world to show their support and raise funds for women heavily affected by the pandemic. Attendees can expect artists in the likes of Annette Lee, Miss Lou, HubbaBubbas, Marian Carmel, Amni Musfirah, and so much more.
Check the full line up here: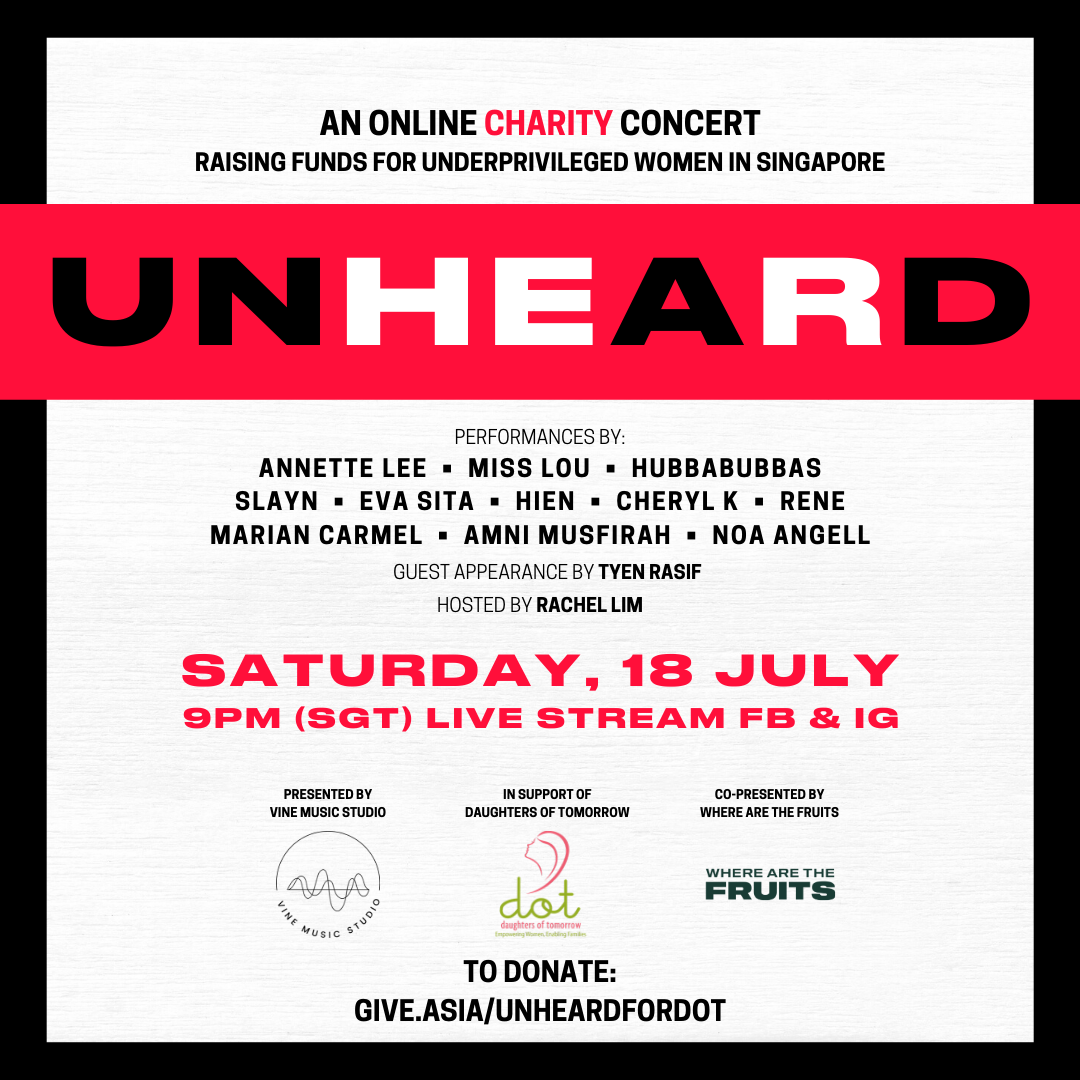 "This is a meaningful way we as women can show our unity, empathy and resilience, through this global collective action of female singer-songwriters using our art for a greater purpose," said Cherie, Co-Founder of Vine Music Studio and one-half of pop producer-songwriter artist duo SLAYN, through a press statement. 
The concert will take place on Saturday, 18 July at 9PM. The concert will be streamed live through Vine Music Studio's Facebook and Instagram pages. 
Click here to donate to DOT's cause and help support underprivileged women in Singapore. All proceeds will go directly to the Power Up Online initiative. 
For more information, visit Vine Music Studio's official website.
---