Impulse – a moment of musical intersection wherein Indian classical music and the pop/rock fold embrace with jazz-minded improvisational splendour and flourish. At the ongoing Singapore Festival of the Arts (SIFA), that phenomenon will unfold via Varsha, the Singaporean Carnatic music fusion band, that, since its inception four years ago, has been expanding the vernacular of Indian classical music with a sublimely edifying aplomb.
More than the sum of its parts, Varsha is Sai Vigneshwar on vocals, Sai Akileshwar on Indian percussion, Mohamed Noor on drums and percussion, Dr Tony Makarome on upright bass and Paul Danial on guitar. Legends of Singaporean music, the quintet sat down with us ahead of its SIFA showing to shine a light on its take on the evolution of Carnatic music. 

---
How has 2019 been for you?
Tony: 2019 has been a fruitful year for us, because, first of all, we were invited to perform in SIFA, so that kind of changed our year's plan. Originally, we were just going to redecorate our studio, but it turns out that we actually had to write some new songs and put stuff together. Vignesh is busy writing lyrics now, and Md Noor had to dig out one of his treasures from the past, which we are going to rejuvenate for the show – a great song called 'Gratitude'.

Paul: Personally, 2019 has been very fruitful for me too. Apart from some probable musical product endorsements and having my own music on video for the very first time, being involved with Varsha has been something that I have been waiting for a very long time. I knew Md Noor from previous cross-border, East-meets-West fusion projects such as Carnatic bass. So going through the Varsha compositions done by Tony and the Sai brothers, is another phase where I get to immerse myself even deeper into the Carnatic world. It's going to be interesting. 

Md Noor: 2019 is a great year, personally, because I get to release my second album. For Varsha, it's also a wonderful year because we get to perform for SIFA. Varsha was formed four years ago. Back then, we did a couple of shows, but we have always been trying to connect with each other and find time to get the band together to do more stuff. Time has been a very difficult element for us because we all have our own individual projects going on. This festival actually brought us back together; it's a push for us to get everyone back together and get back on track. We also discussed producing our own music. With this festival, we have a lot of original compositions, done by Tony, Vig and Akilesh, and I am glad one of my compositions is being featured in Varsha too.  It's a wonderful year and I'm looking forward to this festival. 

Vignesh: 2019 has been a very interesting year. In the Carnatic norm, you don't actually compose songs generally; you may improvise, you might create patterns around the existing format, but you don't consider yourself a composer. However, sitting down and working for SIFA and for Impulse, the programme that Varsha is going to do, we sat down and, literally on an impulse, wrote a few songs and they are shaping out really well. 
With the colours that Tony and Paul are bringing into these songs, the music has taken on a whole new life. Everyone's been meshing really well with each other, so I'm very grateful for that. And of course, for having a mentor such as Md Noor on board. He was one of the first people to actively try to bring classical Indian music into a pop-rock fusion kind of setup. Having three amazing veteran musicians working with my brother and I, we always feel like we have so much to learn, so it's been a fantastic ride. 

Akilesh: Personally, 2019 has been a good journey for me. Like what Md Noor said, we formed four years ago specially for an Indian festival at the Esplanade. It was just a project band and for the longest time, we wanted to do an EP, but we never really went through with it. Through SIFA, we are "forced" to write our originals. That helped put things into perspective about our future, in terms of really pushing ourselves further. In summary, 2019 has really been a rejuvenation of Varsha and setting goals for ourselves. 

Why do you feel that classical Indian music needs to be updated or incorporated into the pop and rock world? 

Akilesh: There have been a few individuals and groups that have been incorporating classical Indian music into pop and rock, such as Md Noor and his brothers. They have been doing this quite a lot in the past, and they are still doing it. In fact, this is the 50th year of Md Noor being a performer. So, there has been many forerunners prior to us. In essence, what we are trying to do is to take the opposite approach – using Carnatic music as the foundation, and building upon it with elements from pop/rock rather than having the pop/rock element as the base and then adding elements of Carnatic music. I won't say we are doing anything remarkably different, but it's just our approach that is different. 

We are going with the approach that we have because we have a good foundation in classical Indian music. We want to show the audience that classical Indian music can be reimagined and repurposed, and that the barrier of entry into Carnatic music should not be too high. Even for Tony and Paul, they have been dabbling in classical Indian music for a few years now. It just felt very organic and natural. We kind of just want to reintroduce Carnatic music to people, albeit in a very familiar form. 

Md Noor, what is it about working with Varsha that is different from all your previous projects? 
Md Noor: Well, I grew up playing Indian music, including a lot of Indian pop. Even back in the 1950s and 1960s, the pop and film industries were very influenced by Carnatic music. Times have changed and technology has evolved, so the music sounds very modern now. In India, the Carnatic scene is very different because they are very strict when it comes to wanting to experiment or change. That was the case for the very long time, as far as my understanding goes, until the sitar was introduced to The Beatles. Even then, that was in Europe. It was not very accepted in India. 
With Varsha, we wanted to explore further into Indian rhythms, and it was very difficult back then because many people weren't accepting of that. But these guys are very open to it, which is rare. That was how we met, actually. We only wanted to do rhythm collaborations, but as things progressed, we wanted to try that out different musical elements, which was where Tony and Paul came in. So the whole concept of Varsha, for me at least, is way beyond pop music – it's influenced by different cultures in Singapore.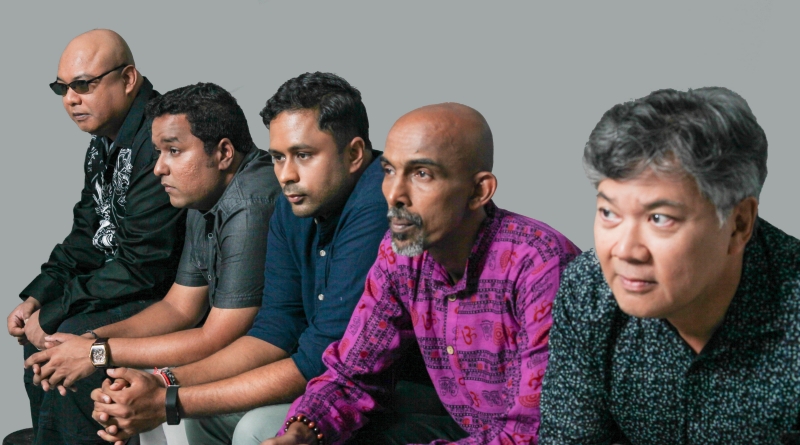 What about Tony and Paul? Being non-Indian, what made you want to engage in or study Indian music? 
Paul: My fascination with Indian music came from my family because, despite my Portuguese heritage, part of my family descended from Malayali lineage. The music from film also tickled my ear when I was young. As mentioned earlier, when The Beatles started playing the sitar, as a guitar player, the fusion music that I was slowly exposed to were sounds and flavours that pulled me in towards Carnatic music. 
Tony: I grew up in Singapore in the '60s, a time when people weren't so self-conscious of music that was of different origins. It seemed like everybody's communities were in everybody's faces. For example, on TV, the Chinese shows were right next to the Bharatanatyam programmes. It didn't even occur to me that there was something different. To me, it was all Singapore culture. So I was listening to the Indian music on TV and I wanted to learn how to play them, without thinking that I can't because I'm Chinese. 

If you grew up with different kinds of sounds, it'd be the same as if you grew up with different kinds of food; you wouldn't even think, "I shouldn't be mixing Chinese food with Indian food". Different music is a part of us in different ways. It seems only natural that when we get ideas, this other colour will come to us. 
And what should people expect from your upcoming performances? 
Akilesh: When we rehearse or perform, it's just pure joy. Although we take our music seriously, when we enter the zone, it's just about being creative and having fun. What I would say to the attendees is that when you're there, expect fun on- and off-stage. I'm not sure how much this answers your question, but it's the fun and joy that we want to share with everyone. It may be in a language that some might not understand, but we believe that the sonic elements will make it an enjoyable show. 
Vignesh: What I would like for people to take away is the idea that all music in the world is a form of communication. And because we live in a place where there are so many influences coming together, this sort of music is ours. Hopefully people can see some reflection of their heritage or some expression of their joy in our music. 
Md Noor: If people are expecting something from Varsha, I would rather they don't. Coming without any expectations is the best way to receive from this band. With our different backgrounds and influences, we just want to share our music. Varsha has got no genre, it's just pure music – sounds coming together like a family to share our emotions and expressions through our instruments. I believe that people will bring home the joy that we shared. 

Paul: I'm still the new guy in Varsha, but I'm very honoured to be invited to play with the band. What the audience can expect from us is, exactly what Md Noor said, the unexpected. It's going to be all about the feel and soul behind the music.

Tony: Varsha is a band that, if you pay $20, on a really good night, will give you a $29 to $35 kind of show, but we never drop below $22.50. [laughs] You'll at least get your money's worth. For students, you only pay $10, that's a profit, man! 

But anyway, the basis of this band is all about improvisation. When we play, we give ourselves to the moment. A lot of things will happen that will be quite magical. With Tim O'Dwyer joining in as well, even more colours will be introduced. This is a band that accepts another player with a different style and actually evolves with it. We are not stuck on a certain sound and we can take in new people and influences and make it fit into the puzzle. 

How would you explain what Indian music is, considering all the common misconceptions from film and other areas?  
Tony: It's another style out of the many styles that I respect. I listen to many types of music, and every kind of music,, in its own way has something to contribute. In terms of Indian music identity, it's something that is still developing. Sometimes the best thing to do is to not put a label on it, but let it evolve. Then, it's able to take in other global influences as well. Who knows what could happen in a hundred years? 
Paul: The idea of Indian music has been evolving. Look at the musical Glee, for example. It's kind of like an exchange of ideas, so I wouldn't call it stealing or say who's copying who. Musicals have been changing in different forms. But it's still music, so I'm not against it. Tony gets my vote: Don't put a label on it. 
Md Noor: In India, it used to be that music was made for the movies. Outside of the music in film, you don't really hear so much of other kinds of Indian. But when things changed over in India, it trickled down here, too, and that was when things started to evolve in this part of the world. People started to understand. Indian music has been evolving a lot and its no longer just music tied to films. 
Finally, given Varsha's niche, experimental nature, what is success to you? 
Akilesh: We are aware of the situation in the current music scene, so we definitely cannot have all songs being 15 minute-long improvisations. For this coming performance, we have a couple of songs that we feel are a bit easier to listen to, so we would say that it is an aspect we are looking into in terms of success. But I think the bigger success comes from trying to push the form that we play – building awareness for the kind of music that is not so formulaic. We want to have our own identity and make sure that people understand that there is this form of music that can be easy to listen to. From there, we build up to exposing people to more complex pieces. 
Vignesh: I guess, success for us will be when people actually start broadening their horizons. When people come to music festivals, they are not looking for the same old stuff, they are actually looking to experience something new and unique. So, I feel like the success of this band is, like Akilesh said, increasing awareness and making music where it's a dialogue. People who enjoy mainstream music may not even know that this is something that they enjoy. 
Impulse by Varsha will be performed on Saturday and Sunday, 1 and 2 June, at 8pm, at the Play Den, Festival House. Get your tickets here.
---