A month of karaoke sounds too good to be true, but Hear65 Sing Along SG turned this dream into a reality. This week, we celebrate some of our favourite local artists again, as this series draws to a close on Saturday.
It's going to be a memorable night, with Shak'thiya, Joanna Dong, Jeremy Monteiro, and Charlie Lim concluding the final session of Hear65 Sing Along SG. While all four of them are stellar solo artists, Jeremy Monteiro's jazz numbers will bring new colours to the palette, as he will be joined by jazz singers and musicians including veteran singer Jacintha Abisheganaden, Alemay Fernandez, Melissa Tham, Sean Hong Wei, Tamagoh, and Colin Yong.
In conjunction with Hear65 Sing Along SG, Singapore music has also been given a new look on Twitter. Introducing the 'SGmusicmoji' - a purple vinyl disk with Singapore's country code 65 in its heart. It appears over the next three months when tweeting use a range of local music-related hashtags. Try it out by tweeting #Hear65 #SingAlongSG #SGmusic #musicSG #SupportSGmusic during Saturday's programme.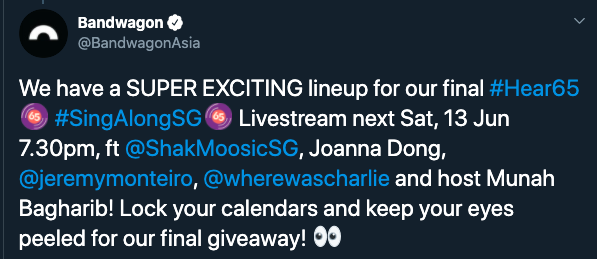 Expect to sing along with karaoke-style lyrics on screen, dance along with friends from all parts of Singapore, and don't forget to stay for artist interviews and games after the performances, hosted by local actress Munah Bagharib.
The 3-hour karaoke party will begin from 7:30pm this Saturday, 13 June, on Hear65's Youtube and Twitch, as well as Bandwagon's Facebook and Twitter pages. Fans will also be able to donate to their favourite artists via Twitch. 
Don't miss a second of it - tell your family, friends, and neighbours too, save the date and set a reminder to catch the livestream here:
Rewind and share your favourite moments from last week's session with Iman's League's adrenaline pumping punk rock, Sobs' bedroom pop performed literally in their bedrooms, MICappella's harmonization that blew everyone away, and Sezairi's mix of soulful melancholy and catchy upbeat tunes.  Watch the full-length replay here:

---
Hear65 Sing Along SG is a month-long re-imagined virtual karaoke concert series in response to the widespread cancellations of events and closure of performing venues nationwide due to the COVID-19 pandemic. This series of concerts involved 90 self-employed practitioners from the Arts community, providing work while tapping on their talents and creating an innovative program by Singaporeans for Singaporeans. In collaboration with Bandwagon and the National Arts Council, the project is part of the #SGCultureAnywhere campaign which brings together Singapore's arts and culture offerings on A-List.sg
---