In Singapore's music scene, language crossovers are not a new phenomenon. From as early as the 70s till now, homegrown artists such as The Quests, Dick Lee, Kit Chan and more, have been making music in both English and their Mother Tongue languages, reaching audiences at home and beyond Singapore's shores. 
Despite the benefits of a wider audience base, expanding into the larger Asian music market also brings its own set of challenges such as lyric translation, introducing another language into already niche music genres such as rap or jazz, and even limitations that come with each language. 
Given these challenges and doing what seems to be twice the amount of work, why are artists today still focused on producing music in a second language? 
Hear65 speaks with Mandopop-Jazz singer, Joanna Dong, star music producer, George Leong, award-winning Tamil-English artist, Shabir, and Tamil-English hip-hop rapper, Yung Raja, industry names who have actively and successfully created identities as bilingual artists, with a passion to continue with this mission.
Why the desire to produce music in a second language?
Practically speaking, Mandarin Chinese is spoken by 11.9% of the world's population while English comes in ranked 3rd at 4.9% so if an artist decides to create bilingual music, they have access to already 16% of the world population. Meanwhile, a whopping 70 million people in the world speak Tamil. "By nature of Singapore's multi-cultural society, it is the perfect stage and background for its artist to be recognisably bilingual. Use it to your advantage," George asserts. 
Increased exposure aside, passion for language resounds across the board for all three artists. "It is who I truly am! Being a bilingual boy born and raised and Singapore, my second language is part of my DNA." shared Yung Raja.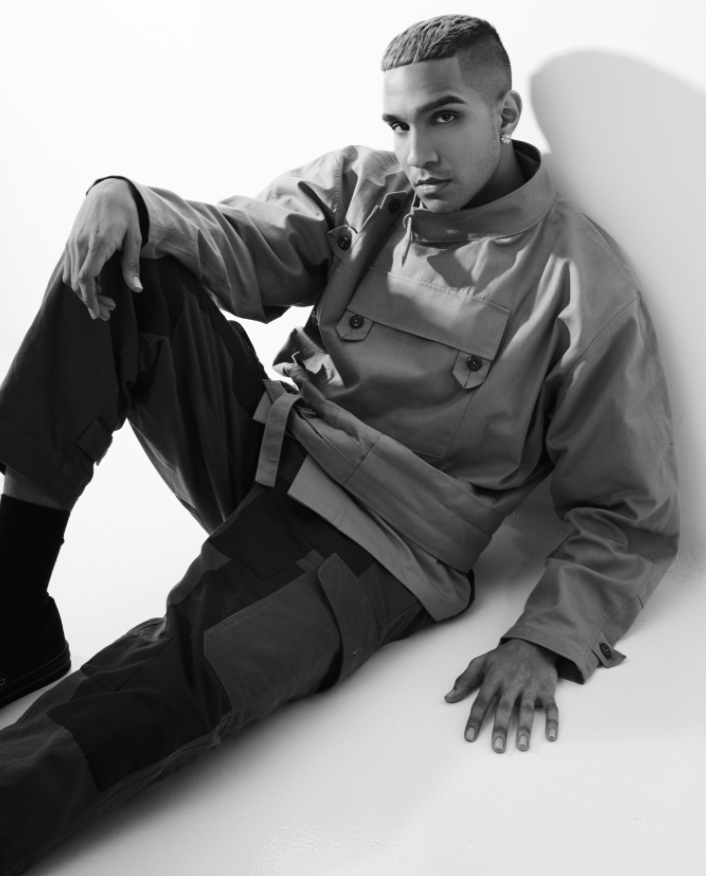 Yung Raja, Singaporean hip-hop rapper 
The deliberate choice to pursue music in a different language was also driven by a desire to contribute to the local music scene. Joanna explains that when she first started singing gigs in jazz, she realised there wasn't enough Chinese jazz music, "I felt like there had to be more contemporary voices for this whole concept of Chinese jazz, and so that's when I began to translate some of the popular jazz standards into Mandarin."
For Shabir, working on music in a different language was a personal challenge to expand and diversify his music, "I went to a producing internship, back in 2008, and I got to choose either English or Tamil. I chose Tamil because I understood that specialising in writing Tamil requires a different brain altogether. I wanted to work on the craft which requires you to learn like in classical music and all that, there's a lot of fun learning that you need to put behind it if you want to follow that, so I chose that path." 
---
Challenges and creative differences creating music in multiple languages 
Various artists go through remarkably different creative processes, as some voice out their concepts to the producers and then try to execute and bring that to life, while some have a Do-It-Yourself attitude. "When the words are not sufficient, then I try and do whatever's the equivalent of like a music Pinterest for the producers and arrangers, so I give them a bunch of music references and say, somewhere between these songs is the common denominator for the song I'm looking at," shares Joanna.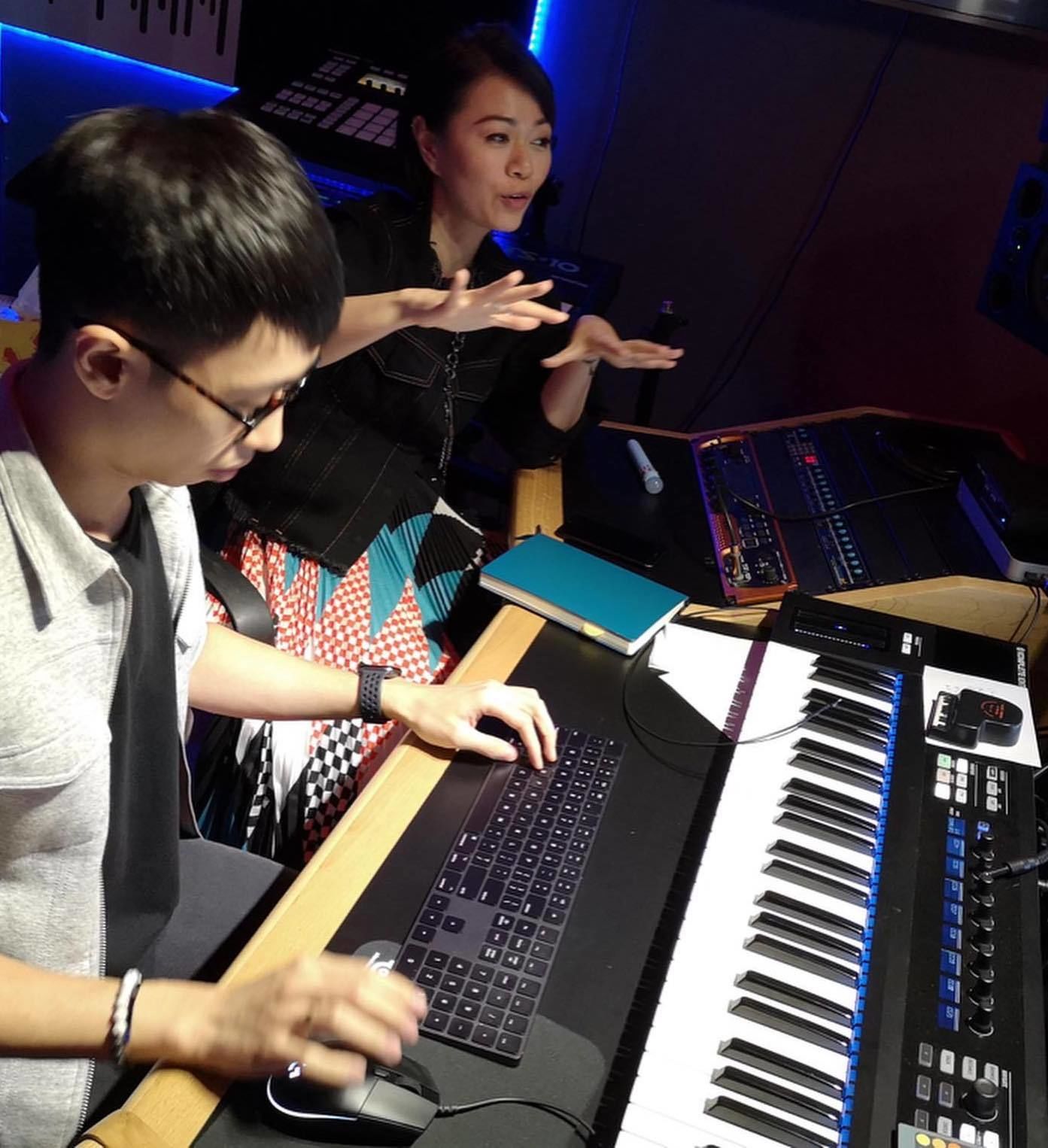 Joanna in the studio 
The biggest challenge for her was translating English to Chinese jazz music, "A lot of jazz standards had too many notes, there are so many different notes in a melody, you almost have to find ways to fill them up with words without seeming almost too redundant. But you cannot input too many rubbish Chinese words, if not the whole thing just feels very wordy for no good reason at all." Though she took Chinese as her first language back in school, she felt that when performing or songwriting in Chinese, it made her immediately more emotional because it was the language she grew up speaking to her mother at home. Whereas for English, it feels more academic and intellectual to her. 
For Yung Raja, his creative process sometimes occurs as a Eureka moment. "I often get a "Damn, this has never been said before like this" moment. Writing is always my first step. I constantly explore ideas lyrically." After which, he would proceed to work with his favourite collaborators to elevate the concept. 
As a young rapper, he felt that introducing Tamil-English rap to the small hip-hop scene in Singapore was challenging but he reinforced his determination in pushing for the movement, "For the longest time, I've been speaking on embracing and celebrating our mother tongues and especially encouraging youths to hold on to their culture tightly, as it's a foundational part of what makes us who we are." 
On the same spectrum, Shabir, who has been self-composing and writing some of the best Tamil-English hits since his music career started, felt songwriting in Tamil just comes naturally to him when pen meets paper. Recognised as one of the top producers in the Kollywood film industry, the singer-producer shared, "The range is much wider because I have learned the art for a very long time, I've practised it. I've exposed myself to writing for different kinds of scenarios," while it may be a little different when it comes to English, "my choices will be much more limited, much more focused, I would not want to dabble into everything, I'd like to stick to a certain sound when it comes to English." 
---
Greatest goals and favourite moments when making bilingual music
On top of bringing joy to her fans, Joanna wants to introduce her listeners to new genres and expand the jazz audience in Singapore. The songstress does just that by making Chinese jazz song covers. "My goal is to be the gateway drug, so to speak, for people to have an easier entry into jazz music. And if they fall in love with it, hopefully, they will go on to check out all the jazz greats." 
To create music in two languages would mean having to differentiate not only lyrically, but also sonically. For Shabir, the best part of creating his art is that he gets to explore diverse sounds in Tamil music as the audience is open to a wide range of sound that doesn't mind the genre shifts and eclectic characteristics. He reinforces the overarching reason and adds, "Tamil is also a very beautiful language, it has got so much character, it's one of those languages where I can express myself freely." Agreeing with this point, Yung Raja shares that it is the constant exploration of ideas and new ways of expressing himself that are the most fun to him.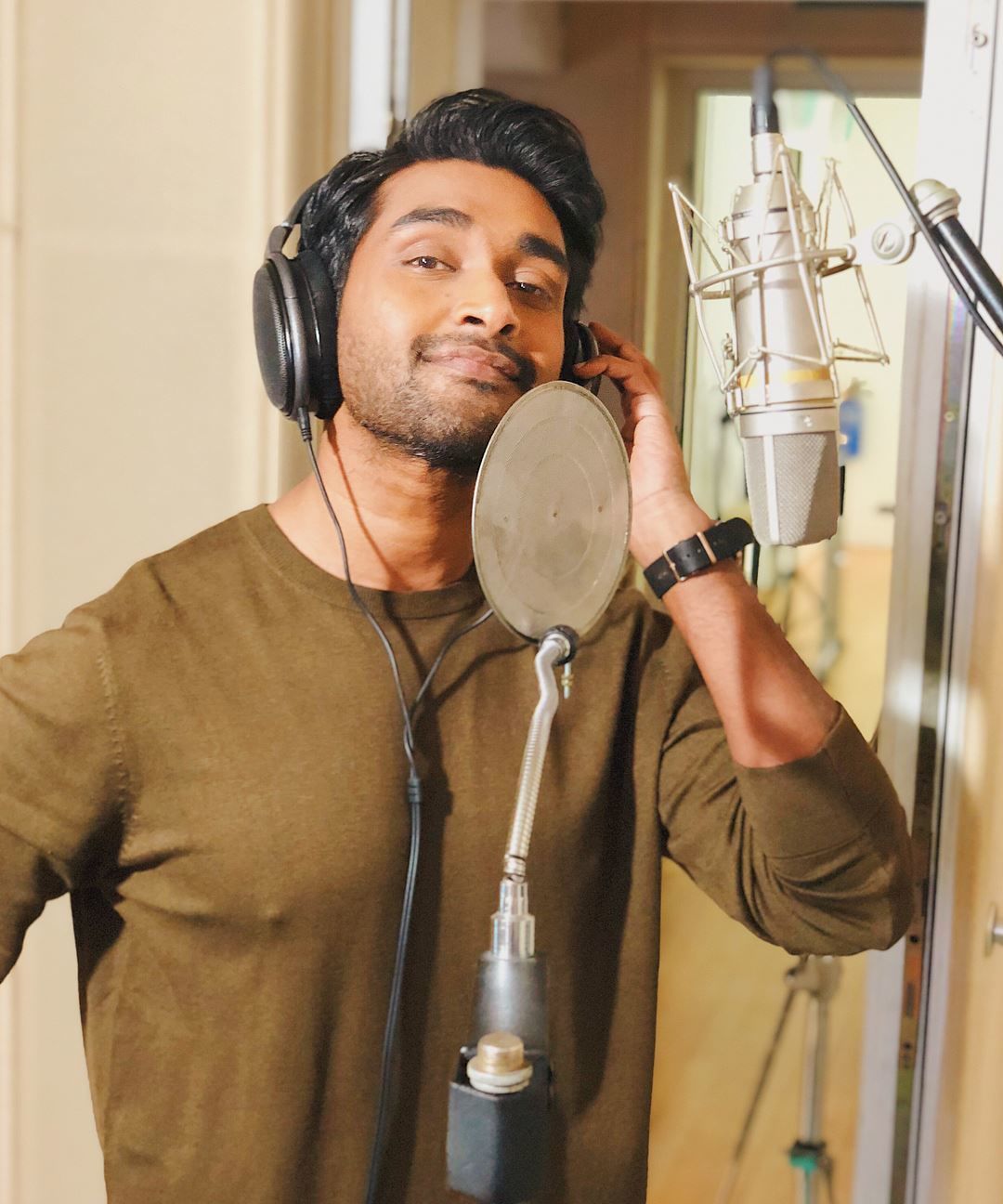 Shabir, Tamil-English composer, artist, singer-songwriter
As a young hip-hop artist, Yung Raja is clear and sure that he wants his music to always spread good vibes and to uplift his fans. "I'd say that one of the strongest pillars in my brand of music is the element of fun/joy. I want to spread happiness, positivity, smiles to as many people as possible through my art and I consider that a huge privilege." 
In terms of the crucial behind-the-scenes production process, George shares that in his many years of experience, it all boils down to one word – Emotion. Regardless of the language, a good song will evoke emotions in the listener. George explains, "A song with a good hook is one that gets stuck in your head and makes you want to listen to it again and again, is a potential hit. The hook elements are usually a combination of lyrics, melody, instrument lines and groove. To make this song with a good hook a hit, you will need to get it played to as many people as many times as possible so as to hook the listeners."
George in his element, creating bops in the studio 
Sharing one of his best memories while working on Sandy Lam's best-selling 伤痕 Scars album, George continues, "During the production process, I know that the song has reached that point of emotion when I get goosebumps in the studio even after listening to the song a few hundred times."
---
Markers of success 
Success is subjective, and everyone defines victory in their own special way. After years of experience in the music industry for Joanna, it is not so much about craving professional recognition but learning to step out of her comfort zone, to constantly evolve her music, "For example, doing very big shows, it also requires maybe stepping out and trying to do more pop, more contemporary sounding music tracks, trying to keep up with the times. So it's constantly evolving." 
The definition of success can be extremely straightforward too. "If the next song is more authentic, more true, more honest than the previous one, that is a success. And that success is universal, regardless of the market for me," shares Shabir. For Yung Raja, he appreciates the human impact, "to have people rap your songs word for word at a show... that's when you realise, your true impact on people!" 
So how do budding artists create their own success? Having worked with Mandopop stars such as Leslie Cheung, Sandy Lam, Jolin Tsai, and many more, George advises artists looking to launch their career in a second language, "preserve your very own organic feel and identity. Don't become a totally different persona just because you are singing in a different language. The music and image have got to be consistent and identifiable to the fans".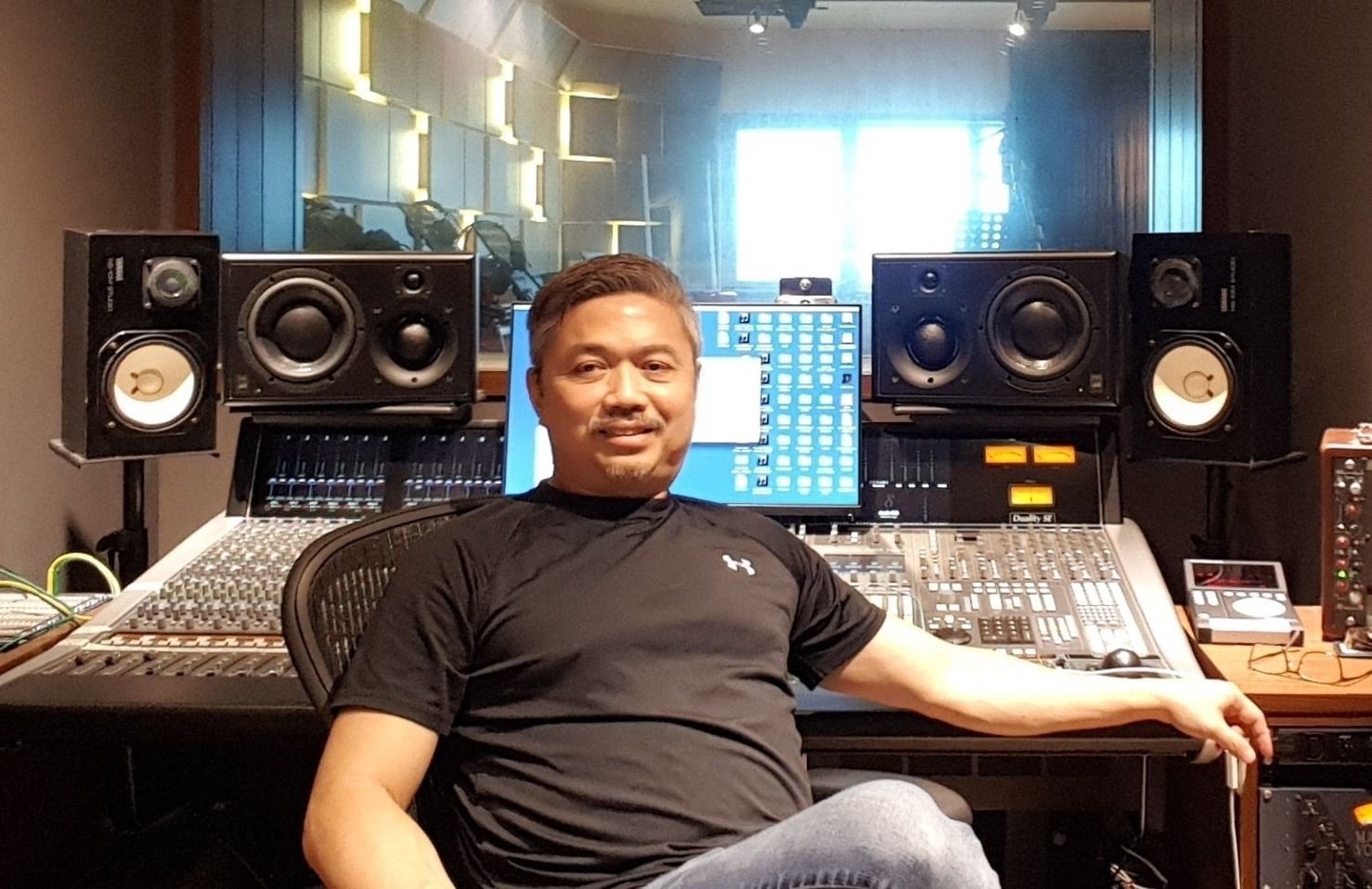 Producer, George Leong
Though 2020 has been an exceptionally tough year with the COVID-19 pandemic, music continues to provide direction for these artists - Yung Raja has new plans in the pipeline after dropping the peppy rap anthem, 'The Dance Song' just last week; in November, Joanna Dong will be putting out a new song cover of a quintessential Chinese classic, and Shabir will be releasing a new Tamil track titled, 'Thanimai'. As Shabir poignantly shares, creating music is bigger than the individual or just any one language, it's a mission which says, "I want to connect to other people, no matter what language it is." 

---