Kollywood. Not Hollywood. Yes, you read that right. This nickname bodes itself to the Tamil version of Hollywood, located in the Koambakkam neighbourhood in Chennai, India, the hub for the Tamil film Industry. It's here where Singaporean composer and artist Shabir has made his mark, scoring for 7 films and counting, including Sagaa, from which the hit song catapulted him into the spotlight upon his debut.
Beneath the multiple hats Shabir dons as a singer, songwriter, film scorer, and the CEO of his own music company, he is not ashamed to make known his passions of championing the arts as an extension of his culture. One of Shabir's most well-known works is 'Singai Naadu', a song that almost did not make it to the stage of NDP 2012. Yet, after rounds of consideration, the song ultimately was sung by a choir during the pre-parade segment. 'Singai Naadu' even caught the likes of PM Lee Hsien Loong, who consequently posted about it on his Facebook page, calling it "one of the most soulful and heartfelt" National Day songs.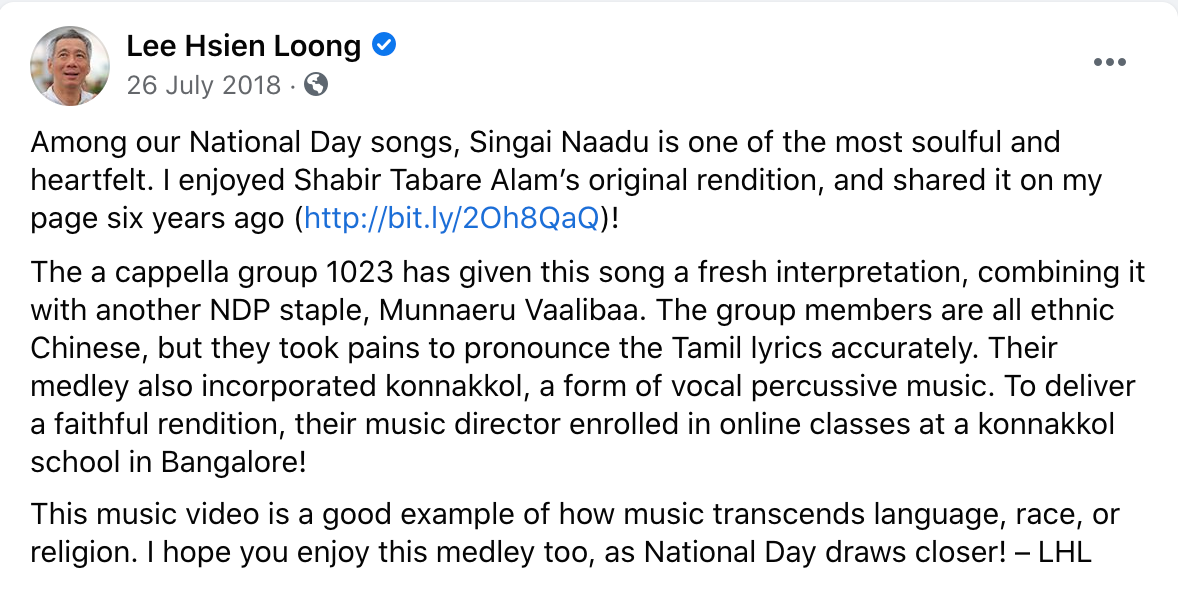 'Singai Naadu' has proven its value in transcending the barriers of languages and cultures, being picked up by the Singapore Symphony Orchestra, the Singapore Winds Orchestra, The TENG Ensemble, and various chinese orchestras as part of their performance repertoire. 
Eight years later, Shabir had decided to release Singai Naadu on Spotify. Hear65 spoke with Shabir recently to find out more about the significance of 'Singai Naadu' and what the future holds for Tamil music in Singapore.
---
Hi Shabir, congratulations on the release of 'Singai Naadu'! Tell us more about what you have been up to recently.
We have recently released
'Thedichoru'
featuring The TENG Ensemble. It was released by one of the major labels in South India and we are happy to have brought this collaboration done in Singapore to the audiences from India. Apart from that, this year, I am performing a song titled 'Together' from my upcoming lockdown EP with
Abby Simone
at
NDP 2020
. Speaking of which, yes, I have an EP that is about to drop real soon. 
Share with us why you decided to release the song now, 8 years after it was first heard at NDP 2012.
The music video has been on YouTube since 2012, garnering about 712k views but it was never ingested into streaming platforms. 'Singai Naadu' itself was a ground up project where I did a lot of the work by myself including seeking funding to make it happen.
One of the key tasks my Executive Music Producer Buvan wanted to get to after joining us was to better ingest and integrate the older works into the digital platforms so they are more accessible. So the ingestion into streaming platforms may seem absolutely insignificant from the outside but it is a key development for me as an artist and it also shows the efficiency of my team members. 
Over the years, the song has been adapted and re-imagined in different ways, by choirs, a cappella groups, bands, and even chinese orchestras. What is your favourite version of 'Singai Naadu' that you've heard?
I love the version by SMU Chinese Orchestra that was arranged by Wang Chen Wei.
The Purple Symphony which comprises talented musicians with and without special needs did a version and it gave me goosebumps. That version was arranged by Liong Kit Yeng.
The one by Zaidi Sabtu-Ramli was technically one of the best and my personal favourite. It was done with Orkestra Sri Temasek, Ding Yi Music Company and Flame of the Forest.
And the version by Cedar Girls Choir was super cute. You must see their dance during the interlude. Wait, that's more than one! Sorry.
Tell us about how you felt when the song was largely played by prominent Chinese orchestras in Singapore and even being included in the grading syllabus for Chinese music examinations.
I was elated. Composer Wang Chen Wei told me that the Chinese orchestras love the song and every year have an orchestra playing it without fail. I even attended one of them in person to watch it. The Raffles Alumni Chinese Orchestra performed it very well and I was told to stand and the entire auditorium gave an applause. It was heartwarming. Knowing that the song is now an exam piece is a key development. I can take it as the song is loved by musicians and people and it is here to stay. And that is why we write songs for our nation and people. 
---
On the role of Tamil music in Singapore
"Singapore has one of the most unique musical landscapes, in potential. But I question if we have seriously explored that potential to the fullest," said Shabir.
Having championed Tamil music throughout your career, what do you feel is the role of Tamil music in Singapore today?
Tamil being one of the four official languages of Singapore means that the Tamil society has a duty to create the conditions for the language and culture to flourish. This can be achieved through various mediums such as academic, literary, theatre, music and entertainment. Music happens to be one of the most powerful and accessible mediums so I believe I have a responsibility to my language, the Tamil community and the nation.
Apart from the responsibility, dabbling into Tamil music as a listener can be a real adventure. By Tamil music, I mean its film and independent songs and these have various pillars. The ancient Carnatic music tradition, folk music genres from Tamil Nadu, its rich film music heritage and genres such as pop, hip-hop, lo-fi, trap and rock. Tamil songs are diverse and they truly embrace the world's musical elements. It is no exaggeration if we conclude that the Tamil music industry is the most eclectic in comparison to Malay and Chinese music scenes.
Just try listening to one of the most successful Tamil composers, the Grammy and Oscar award winning A.R Rahman on a streaming platform and you will be exposed to a myriad of genres and subgenres in a single playlist or album. Such is the sensibility of Tamil music and it's listeners. I believe Singaporeans who wish to try something different should check out Tamil music as it is one of the most multifaceted genres. 
For someone who has never encountered Tamil music before, how would you encourage them to start appreciating it?
Start with A.R Rahman. His sound is universal and it is palatable to all. Also if you want something closer to home, try my single from Feb 2020 titled 'Aayizhai'. ;)
In a multi-cultural society like Singapore, what are some ways we can use music to bridge cultural differences between people?
Sometimes I wonder why can't we cross collaborate more. Singapore has one of the most unique musical landscapes, in potential. But I question if we have seriously explored that potential to the fullest. Apart from showing a multicultural musical event during NDP and Chingay, we ought to experiment more. We are so close to each other. This is not like India or China where we can claim to not know the culture or the music of the people from the North East because they are far away in the hills or in the dense forests, separated by geographical distance.
I believe classical musicians have been doing this more. But I believe musicians from the indie, pop, and hip-hop community can afford to cross collaborate more. This might be tough as artists do work to stay relevant and survive first and foremost so bridging cultural difference through music unfortunately would be one of the last on the list. But based on my film scoring experience which brought me to work with so many different ethnic instruments and musicians, I firmly believe once we get the hang of it, we would be immersed into the process. 
---
Listen to Shabir's latest single, 'Thedichoru', in collaboration with The TENG Ensemble:
---