Homegrown jazz band Evolution Quartet are back with their pandemic-themed album, more relatable now than ever. 
On Thursday 13th January, the quartet launched its second album, Pandemic Blues, an aural diary of the reflections, stories, and lived reality of battling COVID-19 in today's times.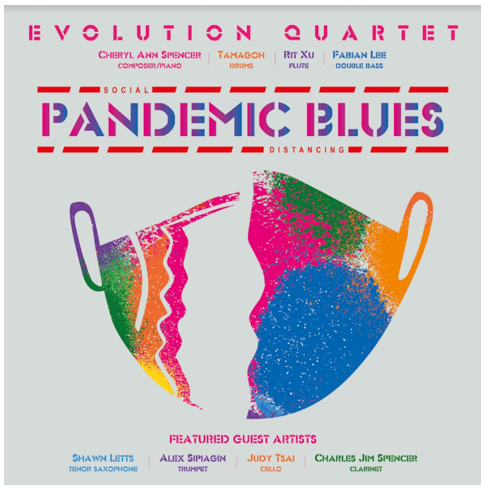 The album is a mixture of various musical styles — ranging from Bossanova and modern cha-cha to pentatonic scale and blues — all summed up in 9 showings. Featured in the album are jazz favorites such as cello player Judy Tsai, Clarinet player Charles Lim Spencer, trumpeter Alex Sipiagin and tenor saxophonist Shawn Letts, all the way from the United States. 
In a press conference, leader Chery Ann Spencer shares that creating an album during the pandemic was no easy feat. 
"This album is essentially a whole year's work - all that jamming amidst adversity gave us inspiration to indulge in full on composition and I wrote profusely. It is intense, brimming with flavour and is truly a reflection of the zeitgeist"
The quartet was formed by the love of jazz, consisting of leader and jazz pianist Cheryl Ann Spencer, celebrated drummer Tamagoh, flutist, composer, educator and recording artist, Rit Xu, and jazz bassist Fabian Lee. Together, they have created their own unique style of jazz that'll have listeners drawn in before they know it. This follows the release of their EPs Yet Not I But Through Christ In Me, Shoe Shopping, and Jesus You Are Always There For Me, and well as their debut album, Reflections, which celebrated the diversity of life. 
With the emersion of Omicron, and the spike in COVID-19 cases, Pandemic Blues is the album we turn to, as it expresses our frustration, confusion, and feelings of isolation in these uncertain times.
Listen to Pandemic Blues here, and leave your review at Hear65. 
---