Since the beginning, we've been reviewing music on Hear65 every week, and now we'd like to break away from this tradition and pass the baton over to you - the listeners of Singapore's music. If you've ever been itching to share your thoughts about a new track release, or simply want to introduce good earworms to more listeners, then read on. 
For the uninitiated, the Hear65 website has a Review Function to help visitors discover and gain greater insight into the music in Singapore. Good music should always be shared, and we are inviting contributions from friends and fans of our homegrown artists.
Every two weeks, the Hear65 team will select 6-8 reviews every two weeks to publish in a Review Round Up article. Just check out the latest releases and submit your review for a chance to be featured. 
Here's what readers have to say this week:
---

Calum Kevin Seah, 90/100: With a slew of catchy melodies and boppy tunes, the sleek singer-producer Rangga Jones has charmed audiences with his smooth vocal delivery, relatable lyrics and clean song production throughout the year. 'Favourite Things' is no different, another chill pop-R&B track that is not just reminiscent of Lauv and Jeremy Zucker, but also holds a level of earnestness and sincerity that leads us to reflect on what we can be grateful for this year. The song adds on to Jones' discography with much continued flair, and seems to be a display of an artist growing into his own. Perhaps the only thing we can look forward to is more Jones-y goodness in the new year to come!
---

Ammelie Ho, 100/100: For a song about not being able to fall asleep, it's been really great at helping me chill and unwind for a better rest at night. 
---

Saleha Jubir, 100/100: This song is beyond 100! Because it is literally an amazing song! The fact that Cravism featured a diamond (Naburlee) and paired her voice with Howe, it is a song the world needs to hear. GTF is a song that has changed 2020!!!
---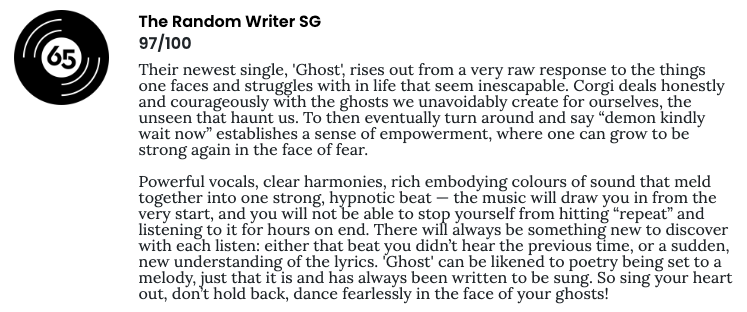 The Random Writer SG, 97/100: Powerful vocals, clear harmonies, rich embodying colours of sound that meld together into one strong, hypnotic beat — the music will draw you in from the very start, and you will not be able to stop yourself from hitting "repeat" and listening to it for hours on end. There will always be something new to discover with each listen: either that beat you didn't hear the previous time, or a sudden, new understanding of the lyrics. 'Ghost' can be likened to poetry being set to a melody, just that it is and has always been written to be sung. So sing your heart out, don't hold back, dance fearlessly in the face of your ghosts!
---

Lynn, 99/100: 'Hollow Heart' is a song with deep lyrics, painting a picture of a soul that is lost and broken, unsure of how to love and be loved. It reflects introspection and makes one wonder what it means to be deserving of love. A great song lyrically and in melody, looking forward to even greater creations by Cheryl Cecilia! :)
---
Hazel, 100/100: Realism in music, this song captures the spirit and emotions without losing its authenticity. Continue to keep it real and uniquely you!
---