Since the beginning, we've been reviewing music on Hear65 every week, and now we'd like to break away from this tradition and pass the baton over to you - the listeners of Singapore's music. If you've ever been itching to share your thoughts about a new track release, or simply want to introduce good earworms to more listeners, then read on. 
For the uninitiated, the Hear65 website has a Review Function to help visitors discover and gain greater insight into the music in Singapore. Good music should always be shared, and we are inviting contributions from friends and fans of our homegrown artists. 
Every two weeks, the Hear65 team will select 6-8 reviews every two weeks to publish in a Review Round Up article. Just check out the latest releases and submit your review for a chance to be featured. 
Here's what readers have to say this week: 
---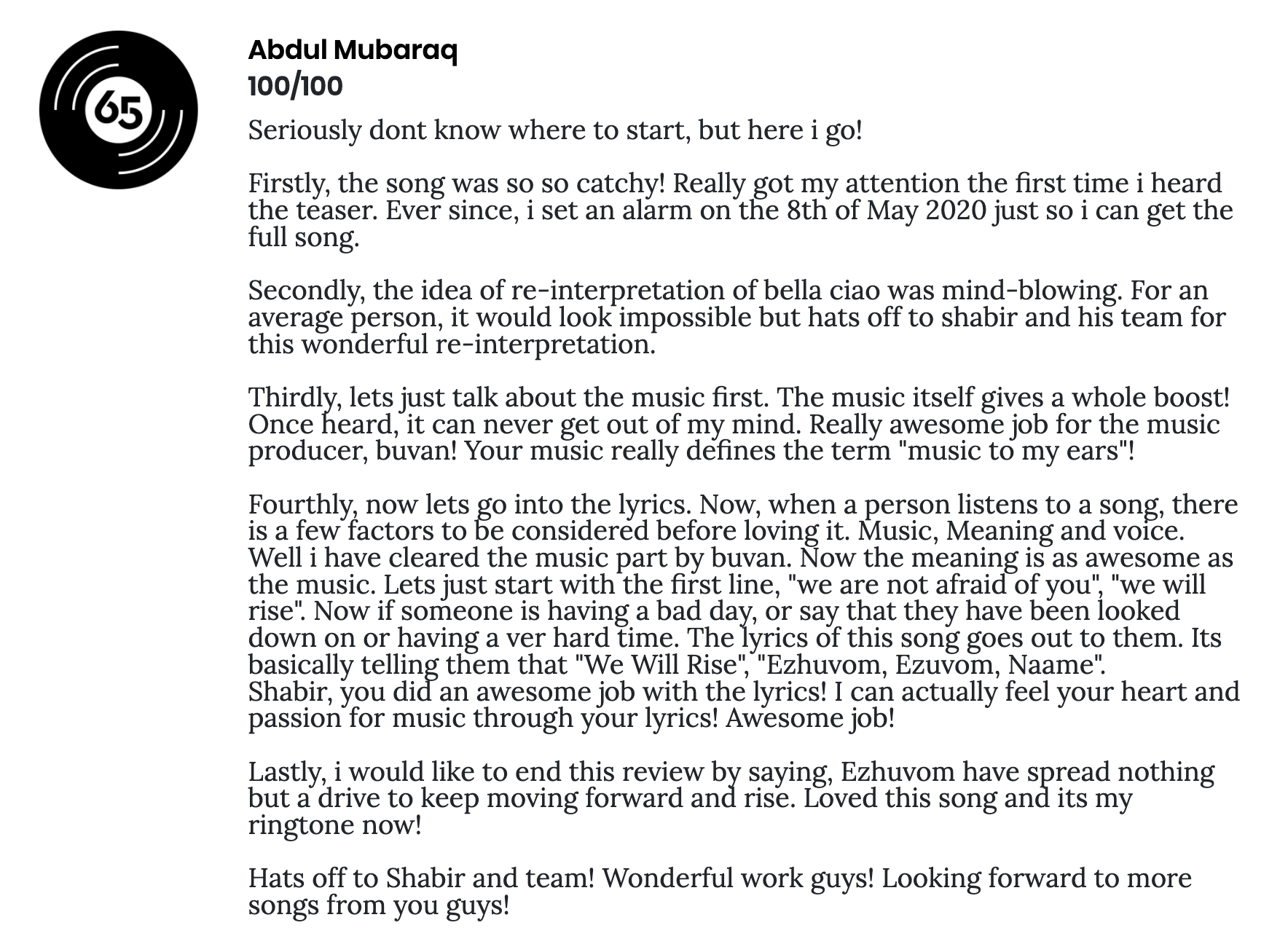 Abdul Mubaraq, 100/100: "Ezhuvom have spread nothing but a drive to keep moving forward and rise. Loved this song and its my ringtone now! Hats off to Shabir and team! Wonderful work guys! Looking forward to more songs from you guys!"

---
Sherman Zhuo - 不习惯

Foo Hsien Weng, 95/100: "The combination of blues and lo-fi beats throughout the song was brilliant. It blends very well and such a genre is rare especially in modern-day Chinese pop music. Unconventional move which sets it apart."
---
Poh Chin - Run Away
Ng Kian Hui, 90/100: "Poh Chin's newest single, Run Away, does not disappoint as usual. Poh Chin is still able to showcase his talents as a musician through his music very well, despite it only being his fifth month since his first single, Rose, was released."
---
Jon Chua JX - Give It Back

 (In Partnership with Esplanade's Baybeats Budding Writers Programme)

Amelia, 95/100: "With Jon Chua JX's new track, it goes without saying that he's pining for a different time, one that feels a lot easier and simpler. And in this current climate, intentionally or not, it lends a hopeful depth to the track that makes it more than just wistful musing."

---
SILOWAV - Addicted

Kayla, 100/100: "Channeling a blend of R&B and indie pop vibes, 'Addicted' really caught my attention with its tuneful guitar lines, groovy beats and beckoning synth all at once. Having been a follower of SILOWAV's work in bands Laid Comers and WAVV, his new solo work is definitely a refreshing change."
---
Hauste - nara

Charis, 90/100: "Catchy yet intriguing at parts, nara is uplifting and compels you to listen on. Akin to being taken on an ethereal adventure, this latest release is characteristic of Hauste's strength in using their technical abilities to bring out emotions. One of a few strong new singles they've been putting out recently!"
---
Airii - How Do I

Siti Nur Afiqah, 100/100: "This song was so beautifully written. Almost like it was storytelling itself into your imagination, and you can picture every word sung by Airii."
---
Mia Insyirah, Fahmy, the MC - Talking To My Screen

Min, 100/100: "A mix of pop and rnb that explains clearly how one would feel about talking to their crushes. Has my feelings in a whirl while listening to this song. A song definitely not to be missed!!!"
---
Have your review featured when you review your favourite tracks
here
. Let's share great Singaporean music with the rest of the world!
---