Every year on 9 August, a nation unites as one to celebrate another year since Singapore's independence. We are proud to celebrate how far we've come and the occasion is marked by a parade, air show, and fireworks.
This year, preparation for the National Day Parade (NDP) at The Padang will see a stark difference and a silence not witnessed before due to COVID-19. However, participants have continued to pour their hearts into the various performances and displays, as we continue to march forward as one nation.
NDP 2020 will be the first in history to be livestreamed without an audience, and the show will most definitely go on. Here are 10 things you need to know about this year's parade and how you can participate.
---
1. NDP 2020 will boast a full day of festivities from morning parade to night performances
NDP 2020 will see a full day of celebrations from morning to night without an audience in attendance. Catch the parade taking place at The Padang from 10:20AM to 11:30AM, with the 'Anthem Moment' at approximately 10:30AM. The Public Warning System will sound, indicating the start of the nationwide flag-raising ceremony.
The second segment of evening performances will be livestreamed from The Star Performing Arts Centre from 7PM, a first for Singapore, with previous years of performances having took place at The Float @ Marina Bay or The Padang. At 8:20PM, unite in solidarity as a nation at the 'Pledge Moment', which will be followed by an interactive light-up moment then fireworks from 10 different locations around Singapore.
Check out the programme guide on NDP2020's website here.
---
2. The theme of NDP 2020 is 'Together, A Stronger Singapore' and will feature 55 stories of Singaporeans 
From frontline healthcare workers to Singaporeans who have gone the extra mile to help local communities in need during the pandemic, 55 stories will be featured as short films during the livestream programme. Out of these, 8-9 stories have been featured in the music video of this year's theme song.
---
Performed by local artist Nathan Hartono, Singaporeans have another reason to love the song even more. NDP 2020's theme song. 'Everything I Am' was written and produced by jazz musician and previous National Day Music Director Joshua Wan, with the lyrics commemorating the spirit of togetherness and encouraging a kind and caring society. NDP 2020's music director, Dr. Sydney Tan, was also behind the production and arrangement of the song.
---
This year's NDP brings something new to the table, with small groups of a total of 87 performers instead of the traditional performance mainstays with thousands of participants. Specially choreographed and designed to be viewed on screens, the NDP Show experience will be one like no other.
In the meantime, check out our picks for the most creative NDP song renditions and jam your favourite NDP songs on at home with guitar chords for 'Home', 'Where I Belong', 'Our Singapore', and more.
---
5. Don't miss JJ Lin and Stefanie Sun's duet of 'Stay With You'
Homegrown Mandopop stars JJ Lin and Stefanie Sun will be performing a duet dedicated to the unsung heroes in our lives during the NDP2020 show. Titled 'Stay With You', the song was composed by Lin with lyrics written by Sun, and will be sung in English.
---
Known for adding a burst of local flavours to their originals, there is much to anticipate this time with performances from our homegrown rappers.
---
7. A virtual choir of more than 1,900 voices will perform 'We Are Singapore' with Hossan Leong 
NDP 2020 will unveil a video stitched together from over 1,900 submissions from Singaporeans singing 'We Are Singapore', led by television personality Hossan Leong. 
---
8. NDP 2020's funpack is designed by the visually handicapped and Primary Five students
Dubbed as the Singapore Together Pack, this year's designs are artworks of 10 visually handicapped persons from associations like Singapore Association of the Visually Handicapped (SAVH) as well as 10 Primary Five students. 
HANDS UP FOR SINGAPORE "I give my thanks and highest appreciation to all hospital workers who have worked hard and are...

Posted by NDPeeps on Saturday, 18 July 2020
As we celebrate National Day remotely for the first time in history, each household is entitled to collect a funpack consisting of local memorabilia, snack and drink, and essentials such as a re-usable face mask, thermometer, and hand sanitiser.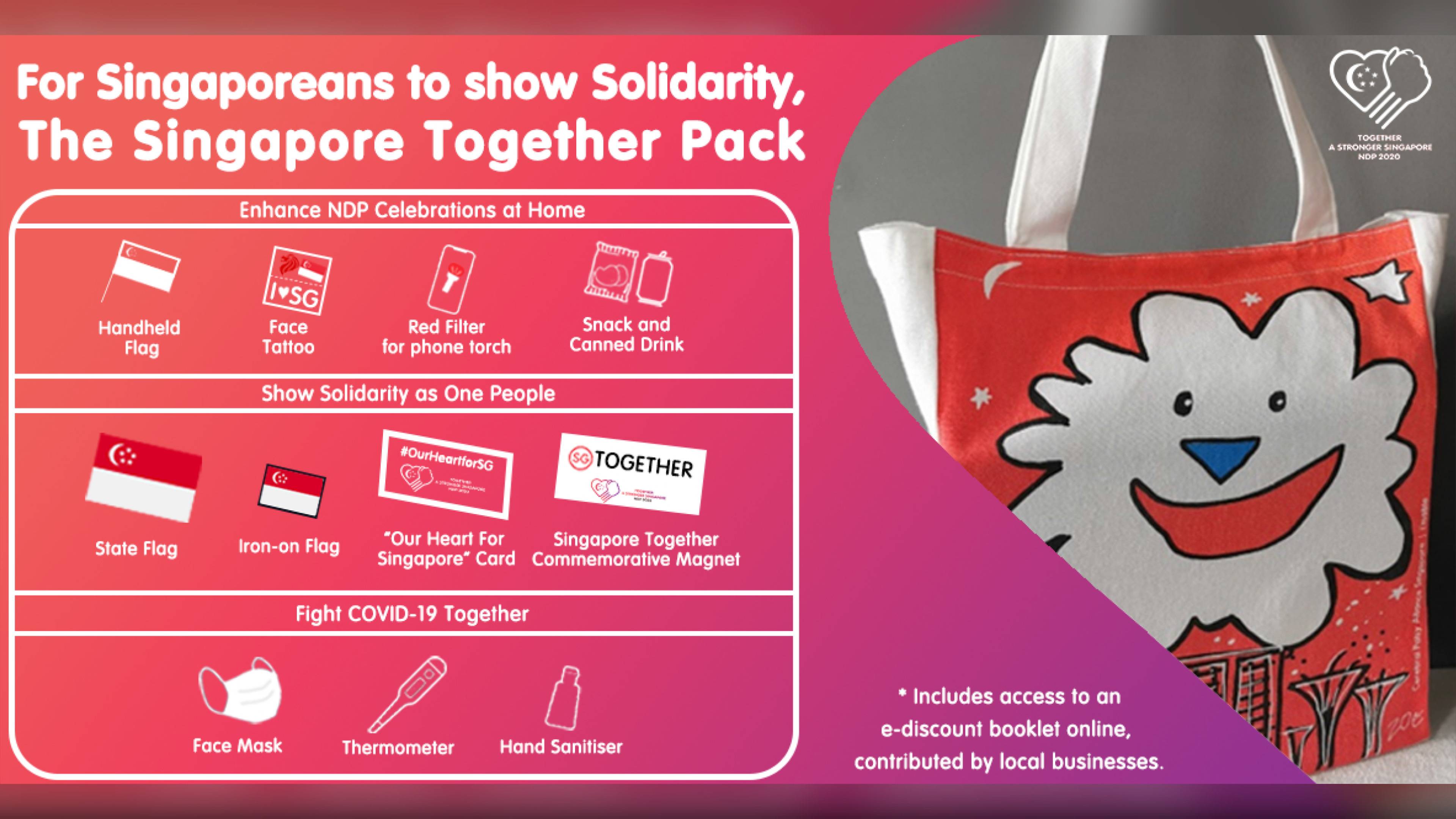 ---
9. Find out what National Day song are you with Hear65's Instagram story filter
Think you know your National Day songs? Get into mood for National Day with this randomising filter on Hear65's Instagram page here and share your result with your friends too.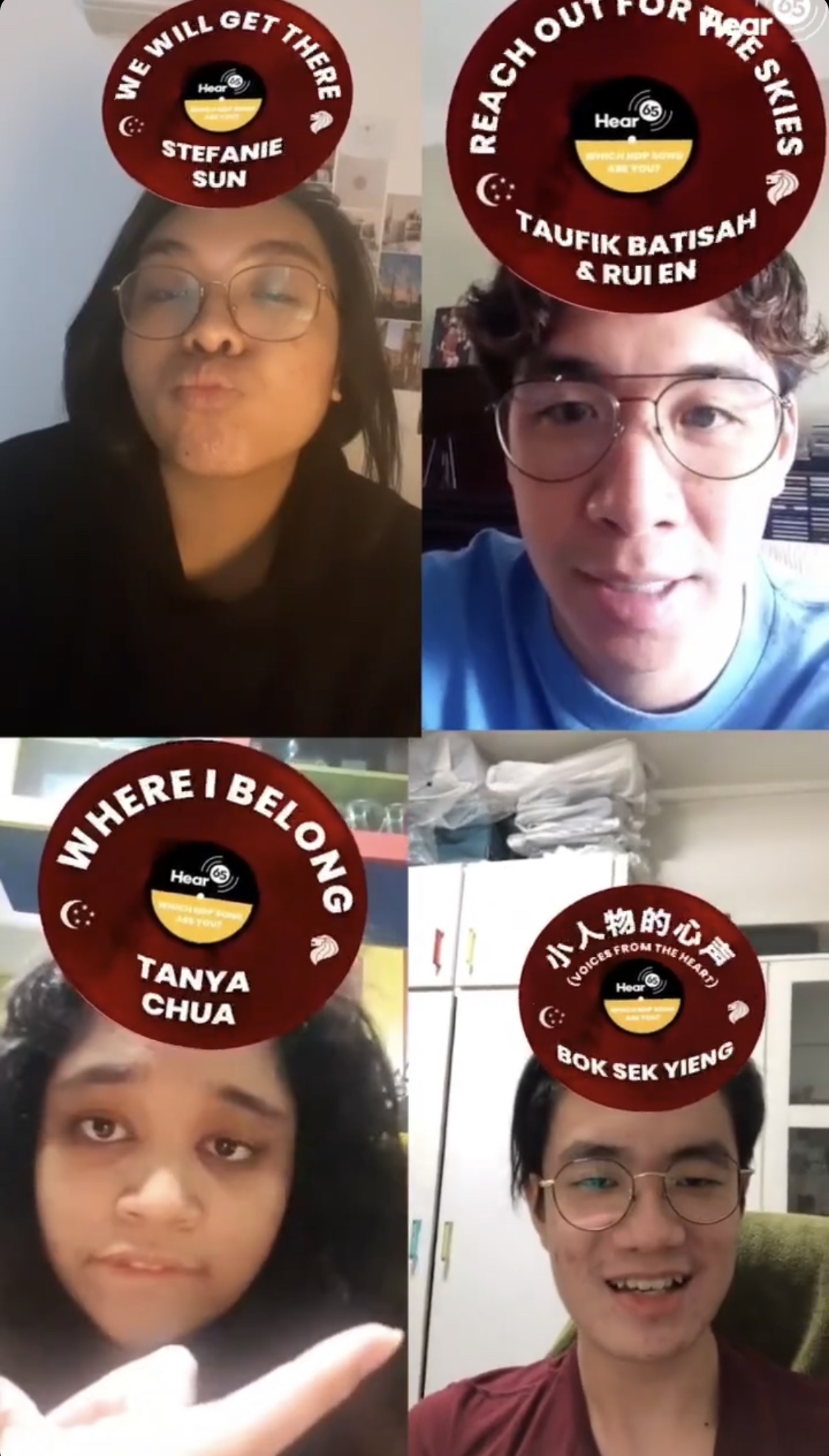 Check out the filters here on Bandwagon and Hear65's Instagram pages and share them to your stories!
---
10. Where to watch NDP 2020?
Catch the morning parade from 10:20AM and the night performances from 7PM on any Mediacorp free-to-air television channels or watch the livestream on NDPeeps' Youtube channel here.
---