If you're searching for a new form of virtual escapism, Bondee might just be the thing you need.
Singapore's tech firm Metadream has launched the newest meta-universe social networking sensation that has taken the online community by storm. With numerous exciting features to explore, it is no wonder users have quickly taken to Bondee to check them out. These features include an array of comical actions to update their statuses with, items that they get from "setting sail" (a unique feature of the app that allows one to attain rare items), and avatar and room customisation options — because there's nothing better than being able to take control of your own virtual life.
If you're still not convinced as to why you should join the social platform, why not let our Singapore artists show you what you've been missing?
Hear65 invited five homegrown acts to share their Bondee creations, the inspirations behind creating their avatars and rooms, as well as their favourite aspects about the viral social networking platform. Check them out below!
---
Estelle Fly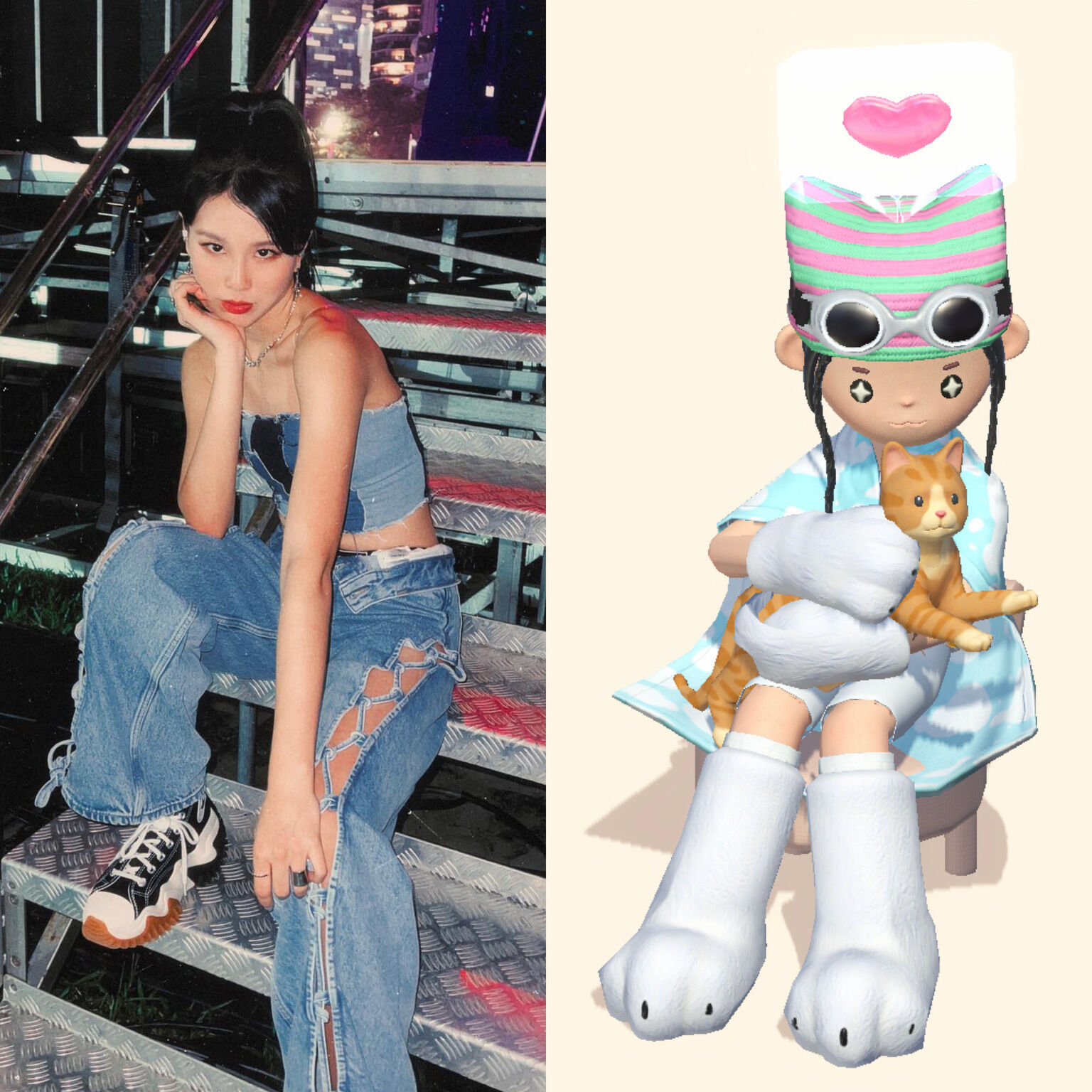 Singapore's very own Estelle Fly, who was once a member of Japanese idol group Sea*A, has defined her musical style as a blend of pop and R&B. Not only is she a singer, songwriter, dancer, and actress, she has now added Bondee to her list of things that she's become proficient at. From how she designed her Bondee room, we get a sense of her creativity as she has aptly used the room designing features to create a space that is so uniquely her.
Hi Estelle! How did you go about designing your avatar and room? Where did you draw your inspiration from?
I really like simple but cute/creative rooms so to me adding a bed kinda defeats the purpose because although it was a room, it didn't necessarily have to be a bedroom.
I missed the opportunity to bag myself the bubble couch so the moment I got myself the crescent couch I was literally over the moon. I kinda curated my room around that couch. I wanted it to look like I was either sitting on the moon in the night sky or even just sitting on the crescent, floating over a river. I added photos of stars and had the humidifiers look like smaller moons surrounding the crescent couch. I think it looked cool!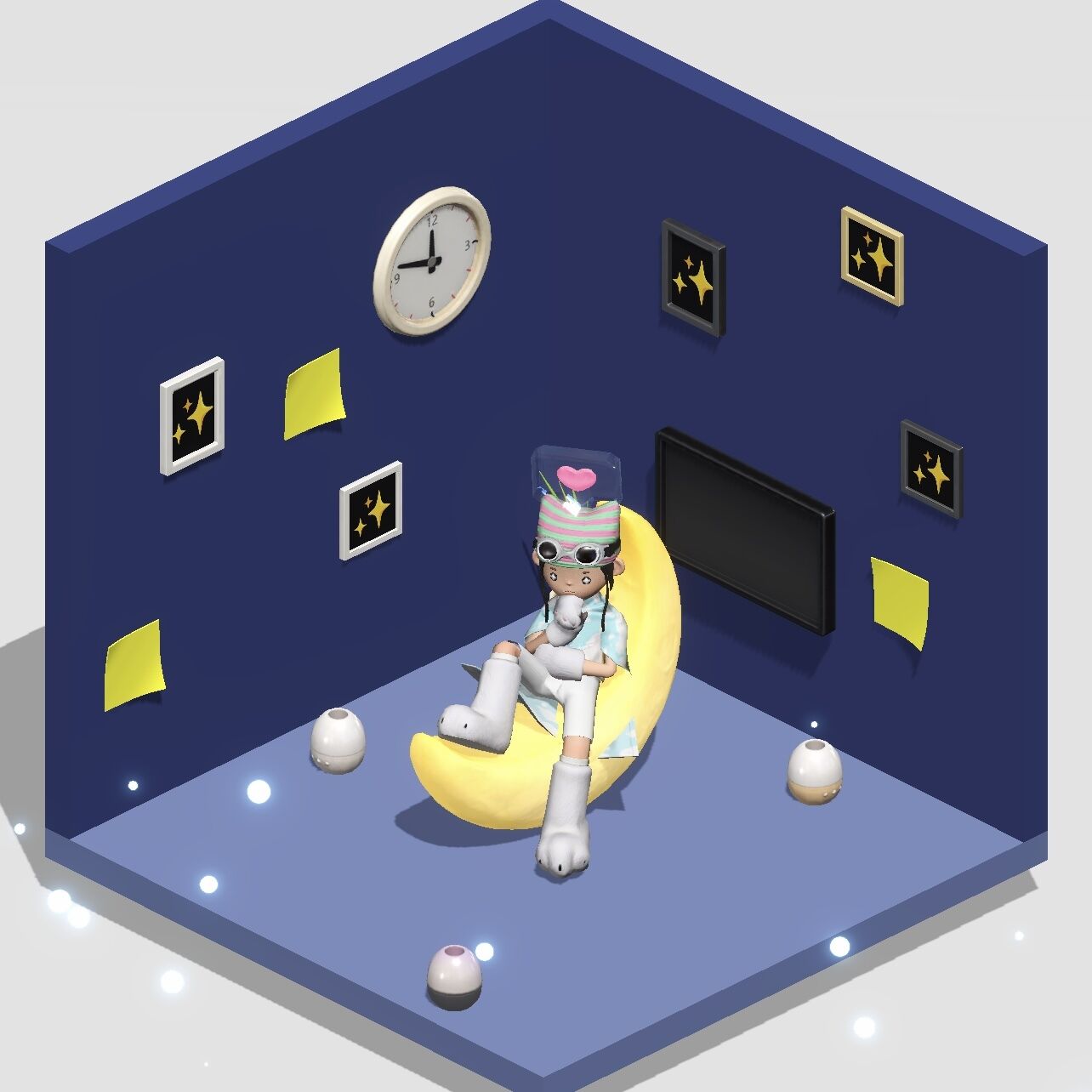 What do you enjoy the most about Bondee?
It kinda feels like a much-upgraded version of Windows Live Messenger meets Habbo Hotel kinda situation. You are able to personalise your own avatar and room, chat with your friends in a private and group setting, and use their inbuilt emote software which is super, super cute. It's nice to be able to express yourself through your avatars.
---
TENGY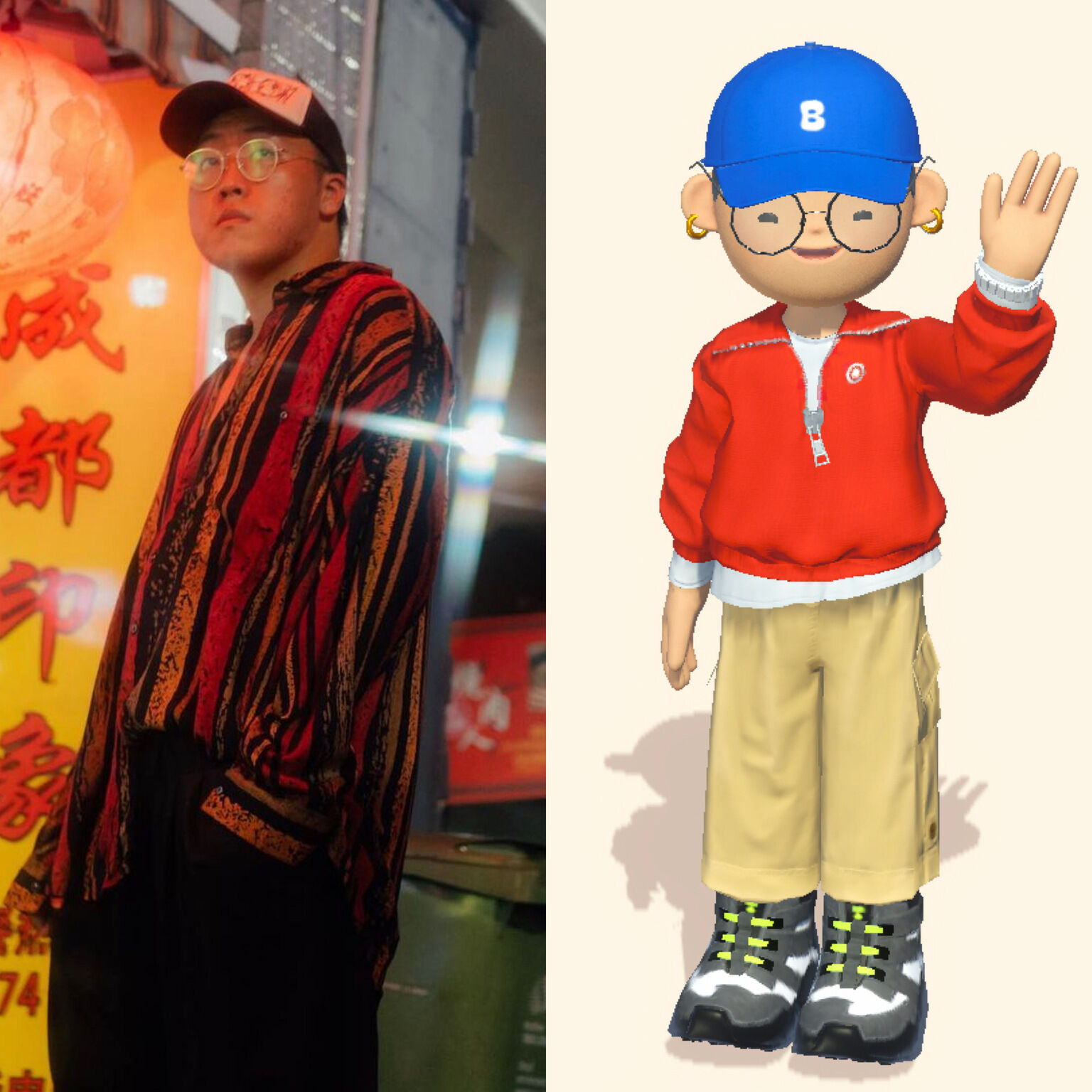 Homegrown hip-hop artist TENGY, known for his freestyle raps and spectacular vocal covers of popular songs, is no stranger to impressing audiences with his signature music. Most recently, he released 'ice lemon tea freestyle' in a collaboration with fellow local artist ABANGSAPAU. For Bondee, we see TENGY bringing elements of his real life into his avatar and room design, which gives it a personal touch and a glimpse into what his daily life is like.
Hi TENGY! How did you go about designing your avatar and room? Where did you draw your inspiration from?
I designed my character to resemble how I'd probably dress if I were outside in real life and my room is based on how my own room would probably look if I was able to build it!
My inspiration just came from how I live my daily life; cup noodles on the table because I love snacking, and a gaming console with the television mounted in front of my bed — exactly like my real-life room. The studio is still a work in-progress in reality but that's how I'd like my station to look.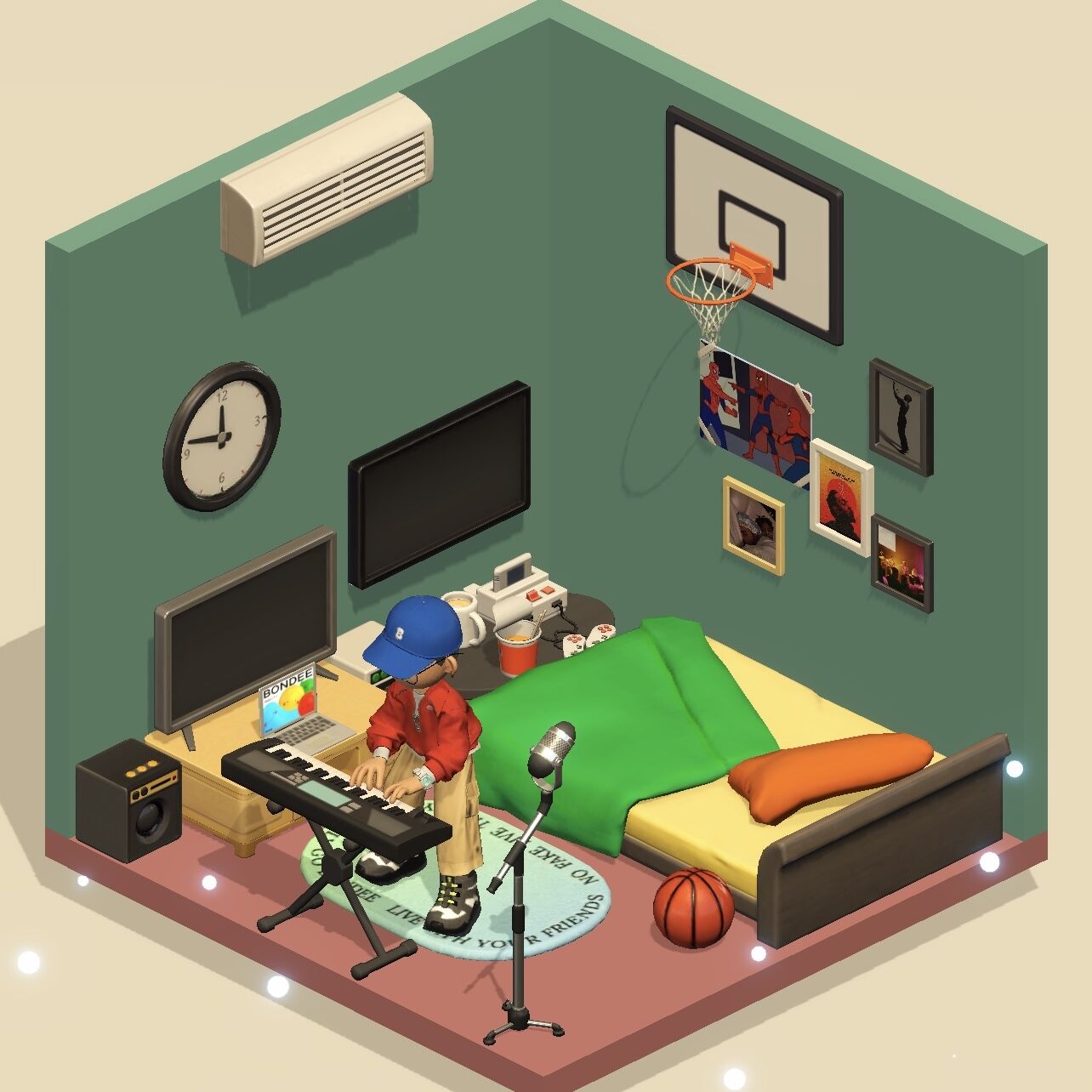 What do you enjoy the most about Bondee?
I feel like Bondee captures our attention because of the art style and the fact that you can hang out with your friends without actually being physically there. It's also pretty cool to see how people view themselves online and in reality from the clothes that they choose and the way that they design their rooms!
---
Shye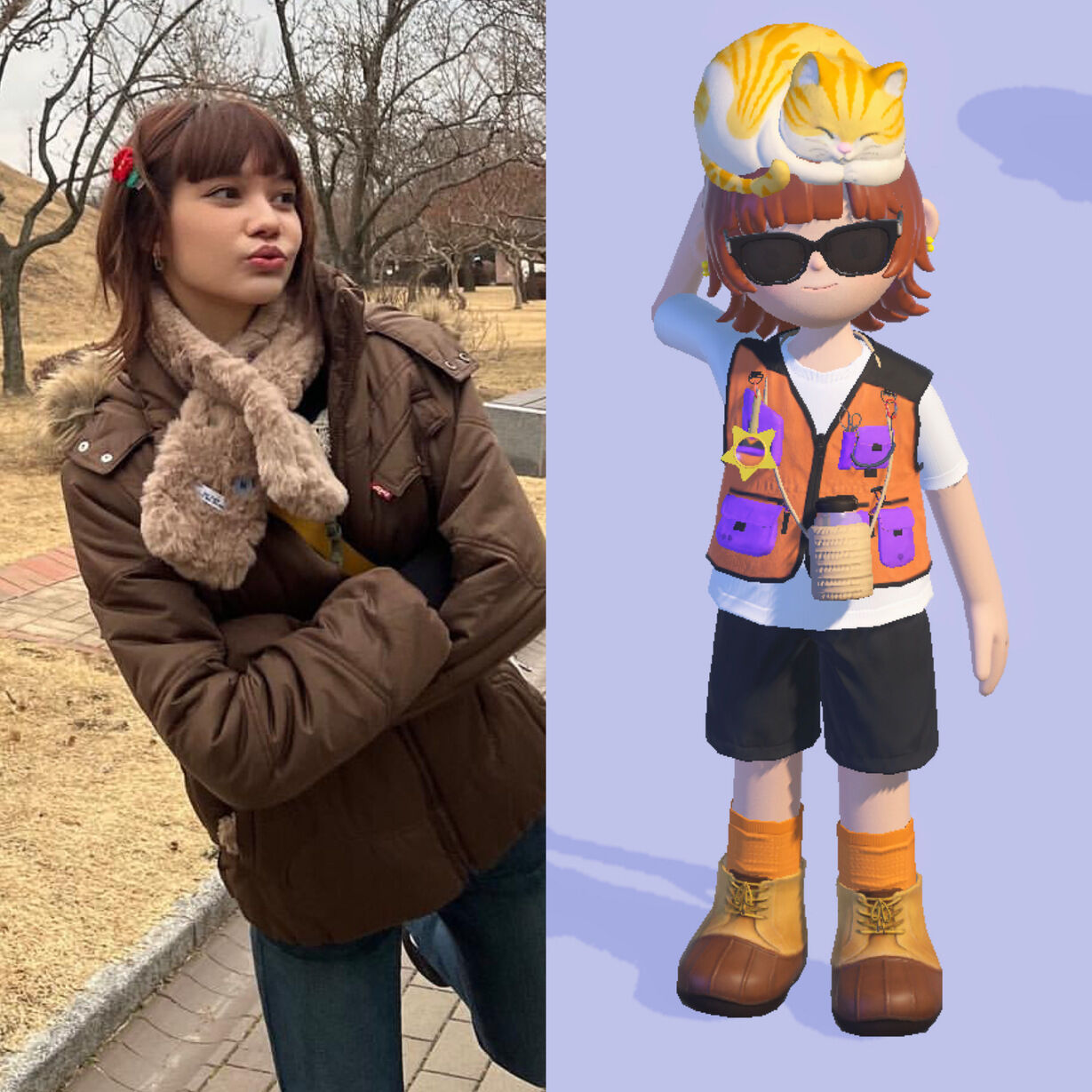 Whether she's making cosy bedroom-pop tunes or building her virtual presence on Bondee, one thing is for certain — singer-songwriter Shye is fuelled by innate love for what she does. Fresh off 'Safe', her first song of 2023, Shye designed her room around the theme of it being a safe space. What stands out to us is definitely how she emphasised her love for her beloved pet cat in the pictures on her Bondee room wall. 
Hi Shye! How did you go about designing your avatar and room? Where did you draw your inspiration from?
For my avatar, I tried to find an outfit that I would wear. I also love that I can have a cat on my head lol. Also, the little doggie in the bag my avatar is carrying is so cute. I decided to make my room just somewhere I would be able to call a safe space. I like to sit on the floor so that's why there aren't chairs haha. I also have pictures of my cat around because she makes me very happy.
[I drew my inspiration from] honestly nowhere … I'm not the most creative when it comes to stuff like this so that's why it's nothing special hehe.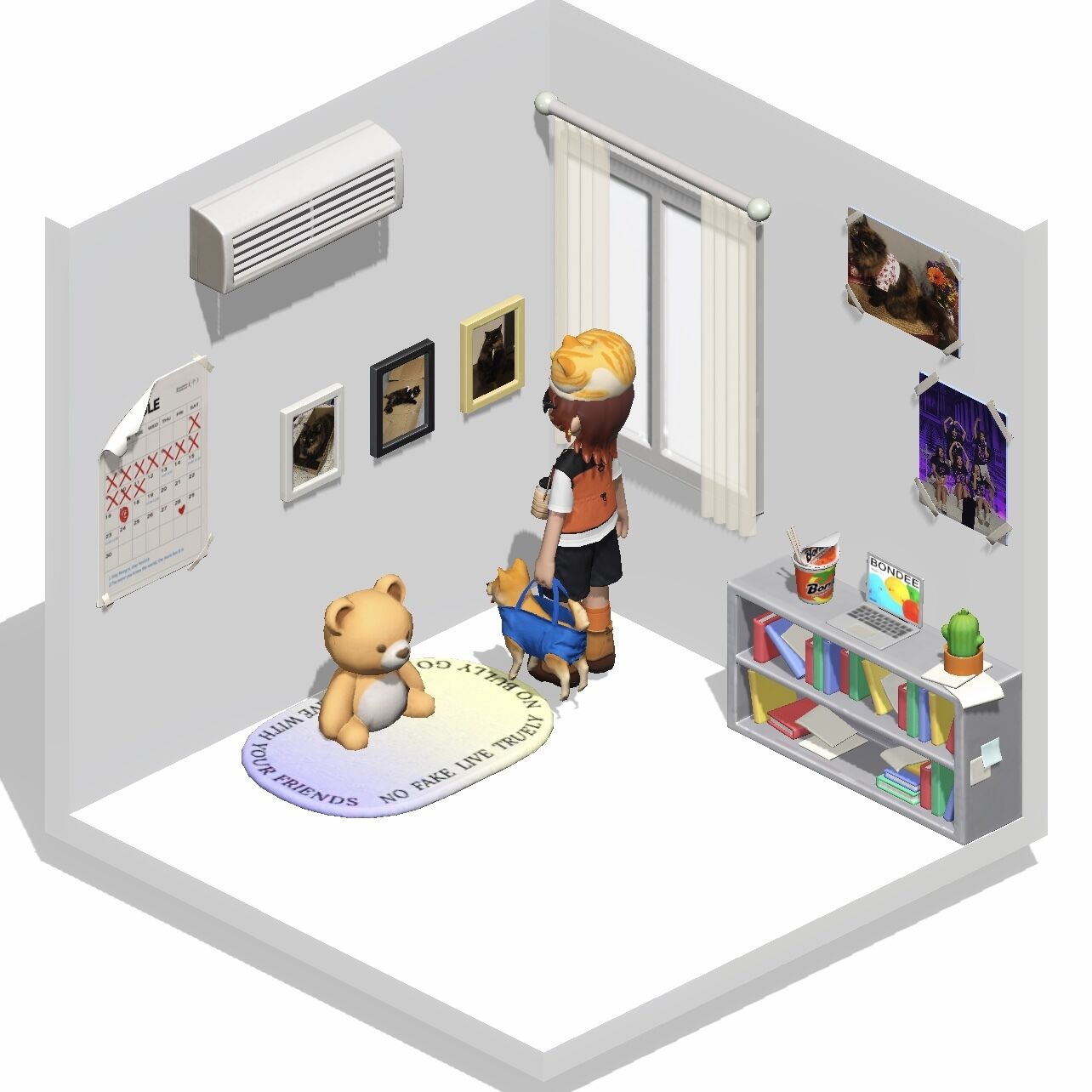 What do you enjoy the most about Bondee?
I like the different outfits and looks you can create for your avatar. I like to change my outfit every now and then. It's like playing dress up and it's really fun.
---
Soph T.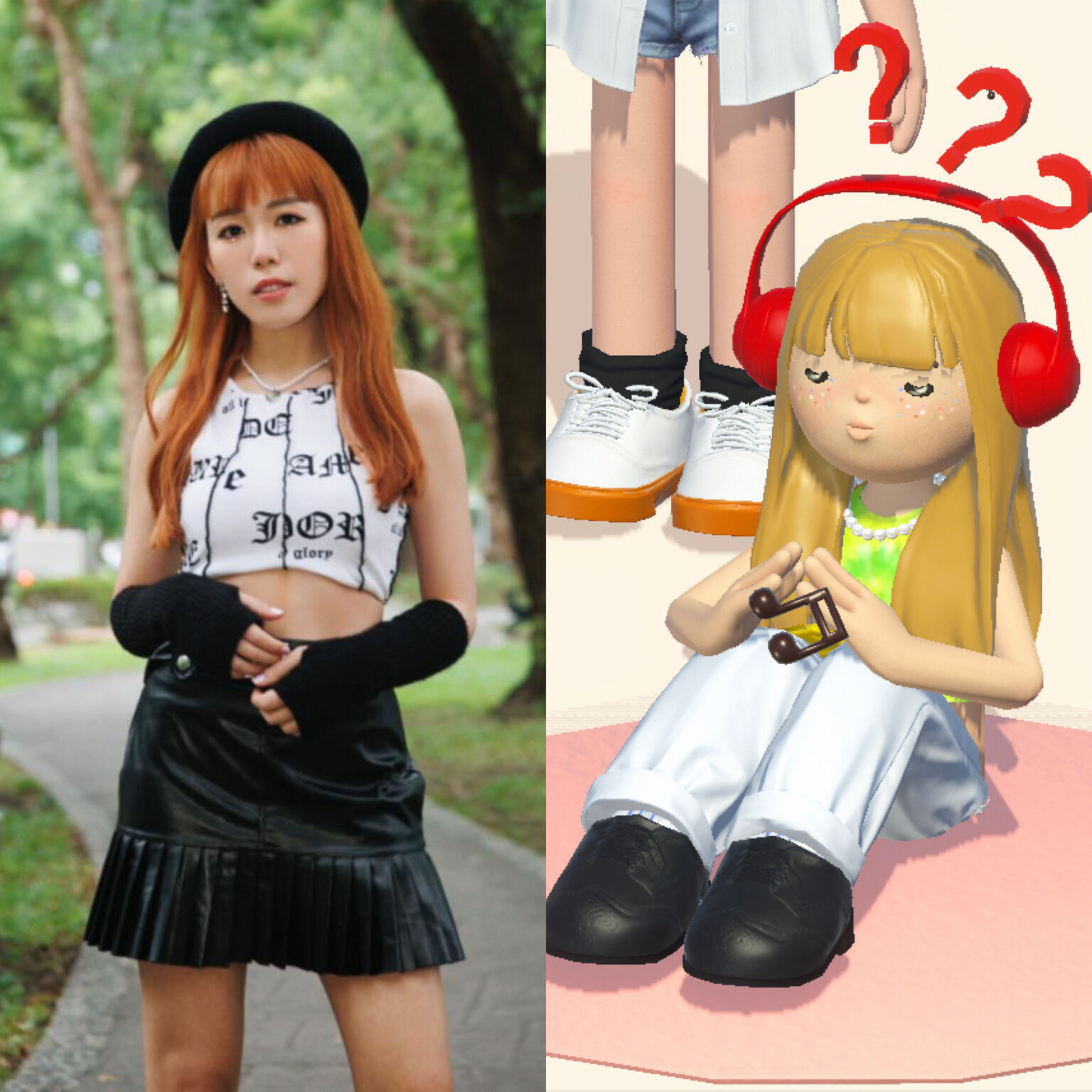 As an icon in Singapore's Mandopop scene, Soph T. has proven that she possesses exceptional talent and an effortless sense of style wherever she goes. Known for her infectious pop tunes and relatable music, the multi-talented artist also keeps her virtual life on Bondee close to her real life with an additional splash of quirkiness — a showcase of her keen eye for an aesthetic that she loves and knows well.
Hi Soph T.! How did you go about designing your avatar and room? Where did you draw your inspiration from?
I made my avatar look just like me with one quirky odd-on — the duckie float. I change up my outfit to match what I'm wearing on some days just for the lols. As for my room, I kept it light and airy with lots of white furniture. My favourite colour is lavender, hence a lavender-coloured wall was a no-brainer!
I drew inspiration from the things I enjoy doing the most — jamming with my instruments, playing my video games, and lounging like a sloth haha.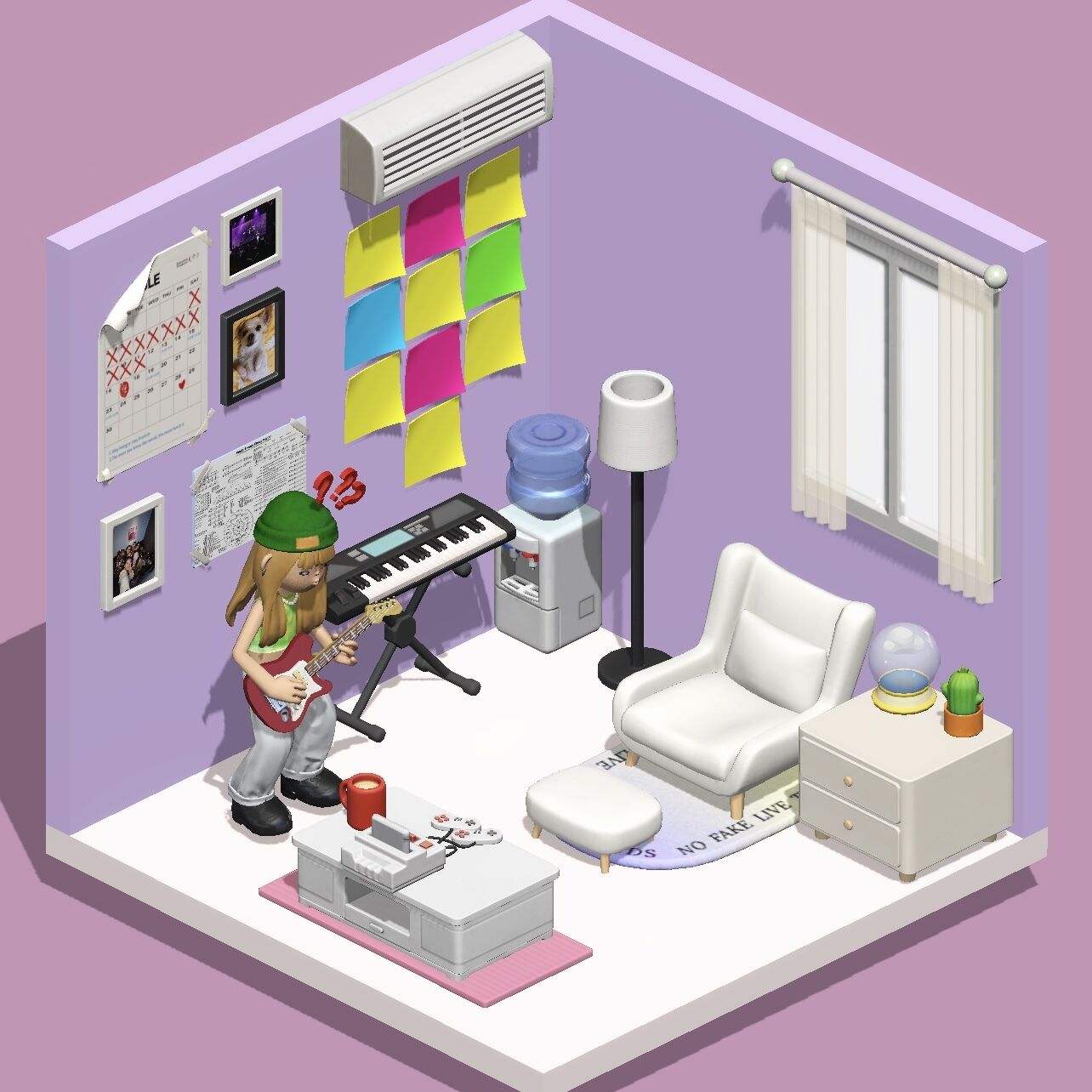 What do you enjoy the most about Bondee?
The real-time interaction of the avatars in the chats is super cute! I love using the hammer on my friends!
---
Vivien Yap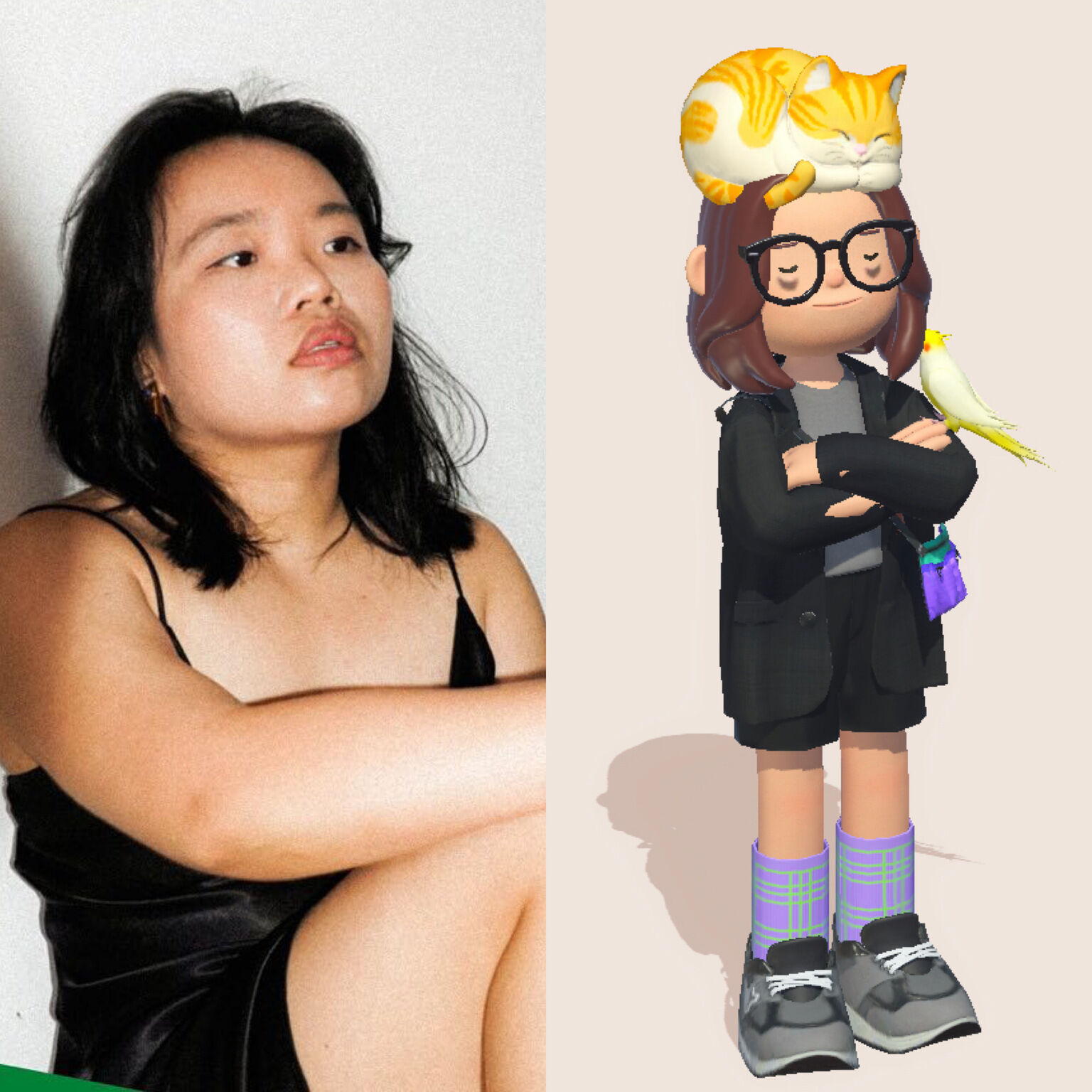 When it comes to making relatable music and being unapologetically confident, Singapore's very own singer-songwriter Vivien Yap has proven to be the perfect epitome. Apart from releasing her latest single 'My Best', she has also been living her best virtual life on Bondee. From recreating her own personal quirks to showing her appreciation for those who have supported her music, Vivien has shown us how she expertly puts her own spin on the new social networking platform.
Hi Vivien! How did you go about designing your avatar and room? Where did you draw your inspiration from?
I love wearing black and when cats sit on my face. Also, having a bird on my shoulder and carrying a feather duster is pretty weird and I'm all about encompassing the duality of life. My room just has a window because I love natural light, and I love prints that make people laugh uncomfortably. The wall is a great way to show my appreciation for the people over at Spotify for supporting my music! My plants are dying and drinks are spilled because in general, being an adult is just hanging in there with my filth even when things don't seem to be working out.
I also drew inspiration from my life and my fluctuating state of mind.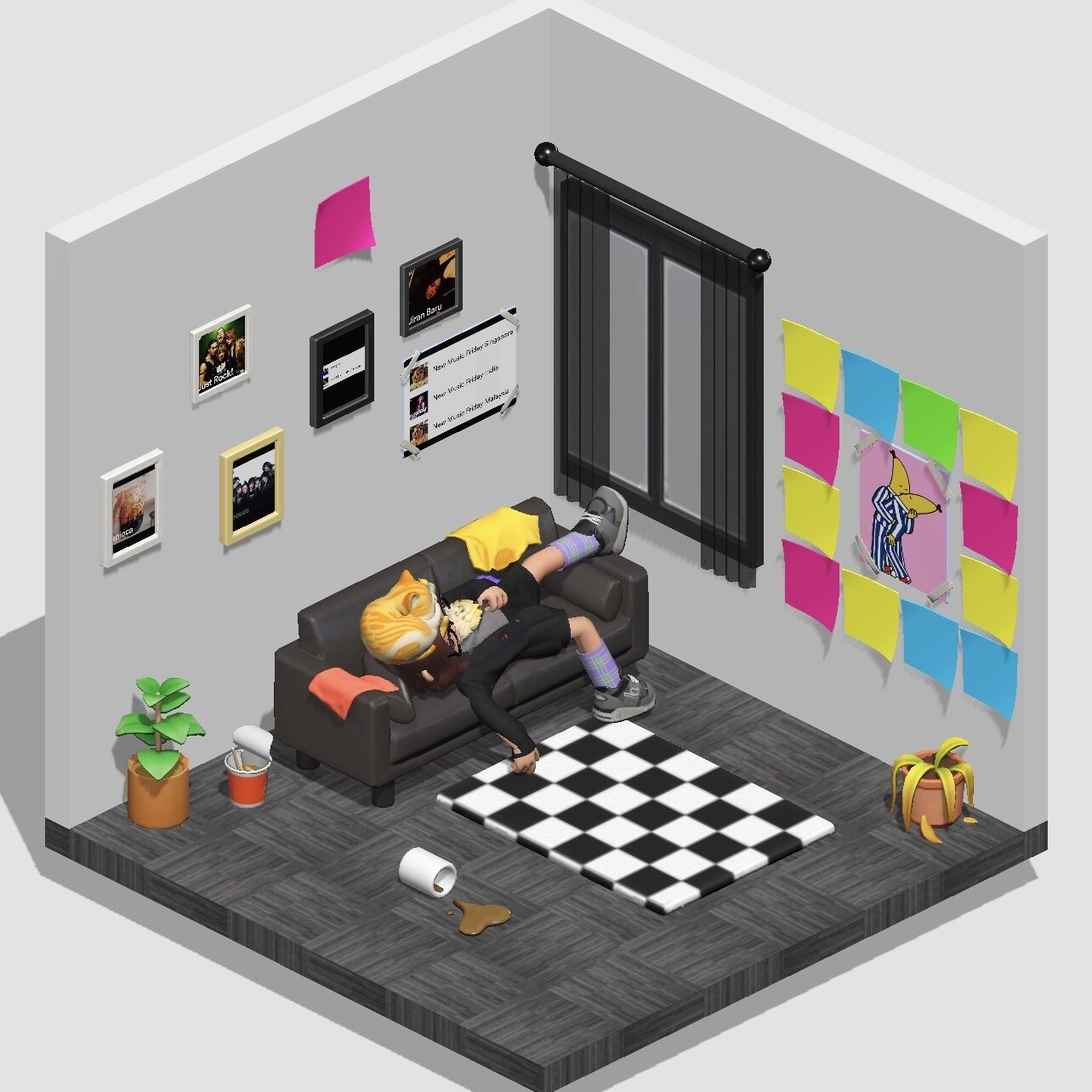 What do you enjoy the most about Bondee?
I enjoy the old-school vibe of updating my status, disturbing my friends, and vandalising their rooms. It's very much like tough love.
---