Since the beginning, we've been reviewing music on Hear65 every week, and now we'd like to break away from this tradition and pass the baton over to you - the listeners of Singapore's music. If you've ever been itching to share your thoughts about a new track release, or simply want to introduce good earworms to more listeners, then read on. 
For the uninitiated, the Hear65 website has a Review Function to help visitors discover and gain greater insight into the music in Singapore. Good music should always be shared, and we are inviting contributions from friends and fans of our homegrown artists.
Every two weeks, the Hear65 team will select 6-8 reviews every two weeks to publish in a Review Round Up article. Just check out the latest releases and submit your review for a chance to be featured. 
Here's what readers have to say this week: 
---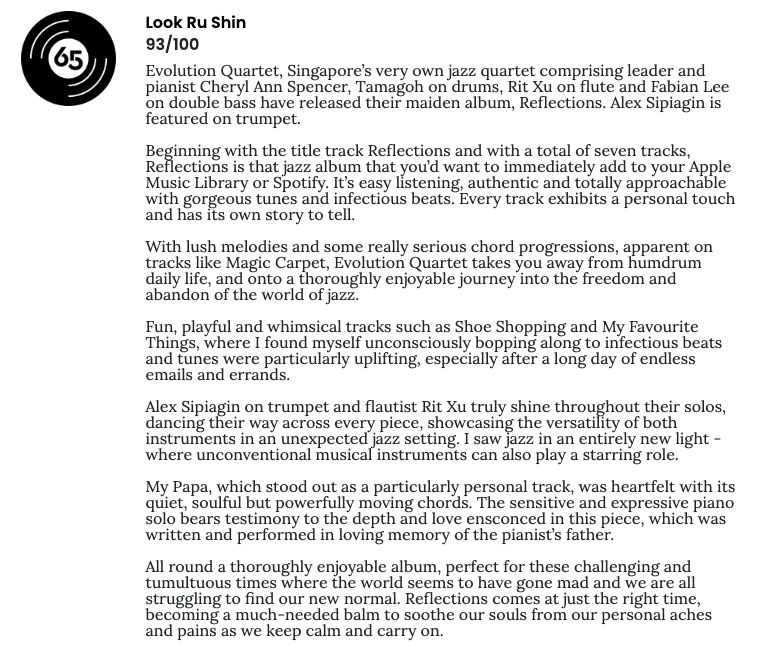 Look Ru Shin, 93/100: Evolution Quartet, Singapore's very own jazz quartet comprising leader and pianist Cheryl Ann Spencer, Tamagoh on drums, Rit Xu on flute and Fabian Lee on double bass have released their maiden album, Reflections. Alex Sipiagin is featured on trumpet.
Beginning with the title track Reflections and with a total of seven tracks, Reflections is that jazz album that you'd want to immediately add to your Apple Music Library or Spotify. It's easy listening, authentic and totally approachable with gorgeous tunes and infectious beats. Every track exhibits a personal touch and has its own story to tell.
With lush melodies and some really serious chord progressions, apparent on tracks like Magic Carpet, Evolution Quartet takes you away from humdrum daily life, and onto a thoroughly enjoyable journey into the freedom and abandon of the world of jazz. Fun, playful and whimsical tracks such as Shoe Shopping and My Favourite Things, where I found myself unconsciously bopping along to infectious beats and tunes were particularly uplifting, especially after a long day of endless emails and errands.
Alex Sipiagin on trumpet and flautist Rit Xu truly shine throughout their solos, dancing their way across every piece, showcasing the versatility of both instruments in an unexpected jazz setting. I saw jazz in an entirely new light - where unconventional musical instruments can also play a starring role.
My Papa, which stood out as a particularly personal track, was heartfelt with its quiet, soulful but powerfully moving chords. The sensitive and expressive piano solo bears testimony to the depth and love ensconced in this piece, which was written and performed in loving memory of the pianist's father.
All round a thoroughly enjoyable album, perfect for these challenging and tumultuous times where the world seems to have gone mad and we are all struggling to find our new normal. Reflections comes at just the right time, becoming a much-needed balm to soothe our souls from our personal aches and pains as we keep calm and carry on.
---

Asher Fam, 85/100: Long Way From Home, Toby Madox's sophomore single, features a deceptively simple sound centred around Toby's power vocals and deep bass design. The upbeat groove got my head bobbing pretty quickly, but it's in the lyrics where this song really excels. Peek in a little closer, and the cheerful beat betrays the haunting story of a girl trapped in an other-created, self-preserved hell. Describing the song in a review would never do Toby's story enough justice. You'll just have to listen to it yourself!
---

Darius Wong, 100/100: Even though the song is called, 'Solitary' I can sense a warmth in his voice. I love the fact that even though he is new in this market, he sounds like a matured singer. Great job, Linus!! Keep it up!!! Looking forward to more of your original songs!! 
---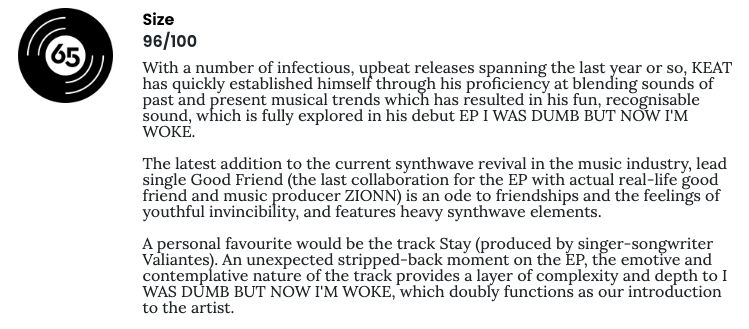 Size, 96/100: With a number of infectious, upbeat releases spanning the last year or so, KEAT has quickly established himself through his proficiency at blending sounds of past and present musical trends which has resulted in his fun, recognisable sound, which is fully explored in his debut EP I WAS DUMB BUT NOW I'M WOKE.  The latest addition to the current synthwave revival in the music industry, lead single Good Friend (the last collaboration for the EP with actual real-life good friend and music producer ZIONN) is an ode to friendships and the feelings of youthful invincibility, and features heavy synthwave elements.  A personal favourite would be the track Stay (produced by singer-songwriter Valiantes). An unexpected stripped-back moment on the EP, the emotive and contemplative nature of the track provides a layer of complexity and depth to I WAS DUMB BUT NOW I'M WOKE, which doubly functions as our introduction to the artist.
---

Suzannah, 100/100: Default to Gray speaks to the muse in all of us, and reaches out to take us a step deeper into understanding our own grays. The soothing vocals and chill beats stir nostalgic thoughts of quiet rainy afternoons. Definitely a favourite. On repeat. 
---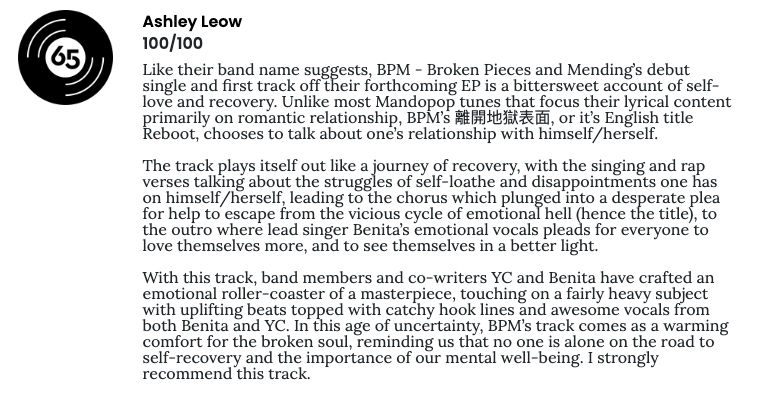 Ashley Leow, 100/100: Like their band name suggests, BPM - Broken Pieces and Mending's debut single and first track off their forthcoming EP is a bittersweet account of self-love and recovery. Unlike most Mandopop tunes that focus their lyrical content primarily on romantic relationship, BPM's 離開地獄表面, or it's English title Reboot, chooses to talk about one's relationship with himself/herself.
The track plays itself out like a journey of recovery, with the singing and rap verses talking about the struggles of self-loathe and disappointments one has on himself/herself, leading to the chorus which plunged into a desperate plea for help to escape from the vicious cycle of emotional hell (hence the title), to the outro where lead singer Benita's emotional vocals pleads for everyone to love themselves more, and to see themselves in a better light.
With this track, band members and co-writers YC and Benita have crafted an emotional roller-coaster of a masterpiece, touching on a fairly heavy subject with uplifting beats topped with catchy hook lines and awesome vocals from both Benita and YC. In this age of uncertainty, BPM's track comes as a warming comfort for the broken soul, reminding us that no one is alone on the road to self-recovery and the importance of our mental well-being. I strongly recommend this track.
---