Since the beginning, we've been reviewing music on Hear65 every week, and now we'd like to break away from this tradition and pass the baton over to you - the listeners of Singapore's music. If you've ever been itching to share your thoughts about a new track release, or simply want to introduce good earworms to more listeners, then read on. 
For the uninitiated, the Hear65 website has a Review Function to help visitors discover and gain greater insight into the music in Singapore. Good music should always be shared, and we are inviting contributions from friends and fans of our homegrown artists.
Every two weeks, the Hear65 team will select 6-8 reviews every two weeks to publish in a Review Round Up article. Just check out the latest releases and submit your review for a chance to be featured. 
Here's what readers have to say this week: 
---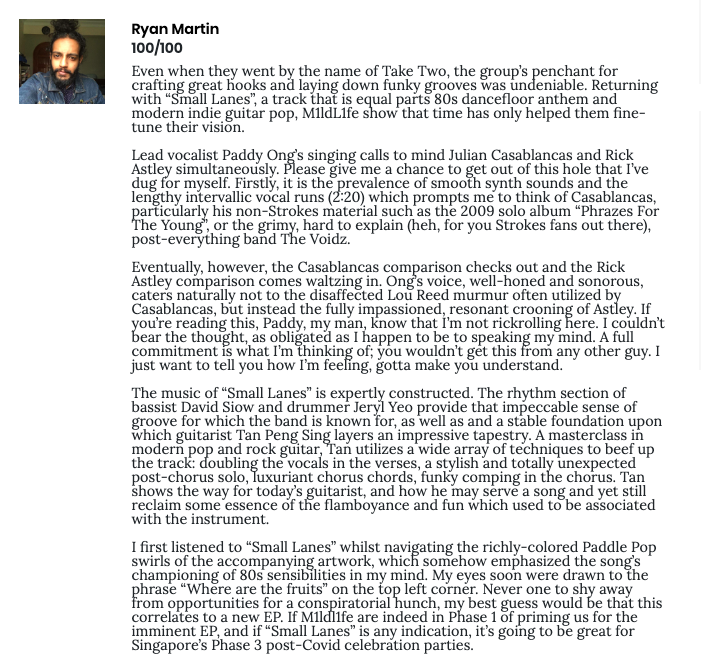 Ryan Martin, 100/100: If M1ldl1fe are indeed in Phase 1 of priming us for the imminent EP, and if "Small Lanes" is any indication, it's going to be great for Singapore's Phase 3 post-Covid celebration parties.
In Partnership with Esplanade's Baybeats Budding Writers Programme
---

Jun Young Lee, 100/100: Behind the cheerful "The Beach Boys" rock-and-roll vibe, Makizushi's lyrics tell a story with a tinge of bitterness, reminiscent of an ex-lover. Burmese Bombshells explore a new style in this new release (away from their usual chill, dreamy indie-pop that you might hear in a cafe), but you will feel yourself bobbing your head to the beat of Makizushi as if rock-and-roll was their homeground. 
---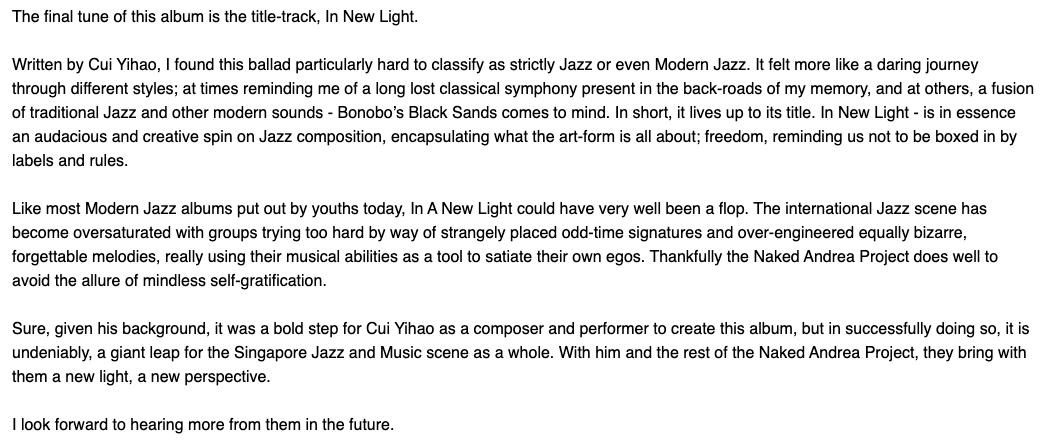 Joshua Nathaniel Francis, 90/100:  In New Light - is in essence an audacious and creative spin on Jazz composition, encapsulating what the art-form is all about; freedom, reminding us not to be boxed in by labels and rules.
Like most Modern Jazz albums put out by youths today, In A New Light could have very well been a flop. The international Jazz scene has become oversaturated with groups trying too hard by way of strangely placed odd-time signatures and over-engineered equally bizarre, forgettable melodies, really using their musical abilities as a tool to satiate their own egos. Thankfully the Naked Andrea Project does well to avoid the allure of mindless self-gratification.
---

Ruijie SK, 100/100: A song much needed for times like this, I bobbed along with the jovial beat, and reminisced about pre-covid times, while looking forward to better days ahead when we can finally meet with our friends again to catch up over a drink or two. The melody and arrangement stirs happiness, paired with JARVIS' solid vocals and lyrics written in an approachable way that keeps it real makes this *the* song of our times, that many Singaporeans probably would identify with.
---

Ryan Martin, 100/100: pretty havoc. promised high energy and 80s vibes, and they're not messing around. "lasso" is a drive with the top down, chock full of savoury vocal melodies and even a guitar solo (2:08) cut right out from the Journey school of radio rock. Really doesn't get any more 80's than that.
---

Nurul Anisah, 100/100: You can feel the emotion in the song, giving the old R&B vibe and the message that people can relate. Definitely a song that you would like to repeat listening. I can definitely hear this song playing on the radio.
---