The year is 1992. Rudra played their first-ever show in a pub along Clarke Quay to four people who were all, unsurprisingly, piss drunk. But that certainly didn't stop the idiosyncratic band from pushing forth because they had a clear vision right at their very inception.
Fast forward to 2021. Rudra has just performed at the Esplanade Theatre to a huge crowd, and it wasn't just any regular gig—it was a live visual audio-production combining Indian classical music and unadulterated extreme metal, an avant-garde matrimony of sorts, if you will. If you take two radically different genres from both ends of the musical spectrum and interpolate them, Vedic metal is precisely what you're going to get.
As vocalist Kathir mentioned in-between songs during the concert which was part of Kalaa Utsavam – Indian Festival of Arts 2021: "This is very special for us being here. It took us 29 years to get here but you know what, it's never too late."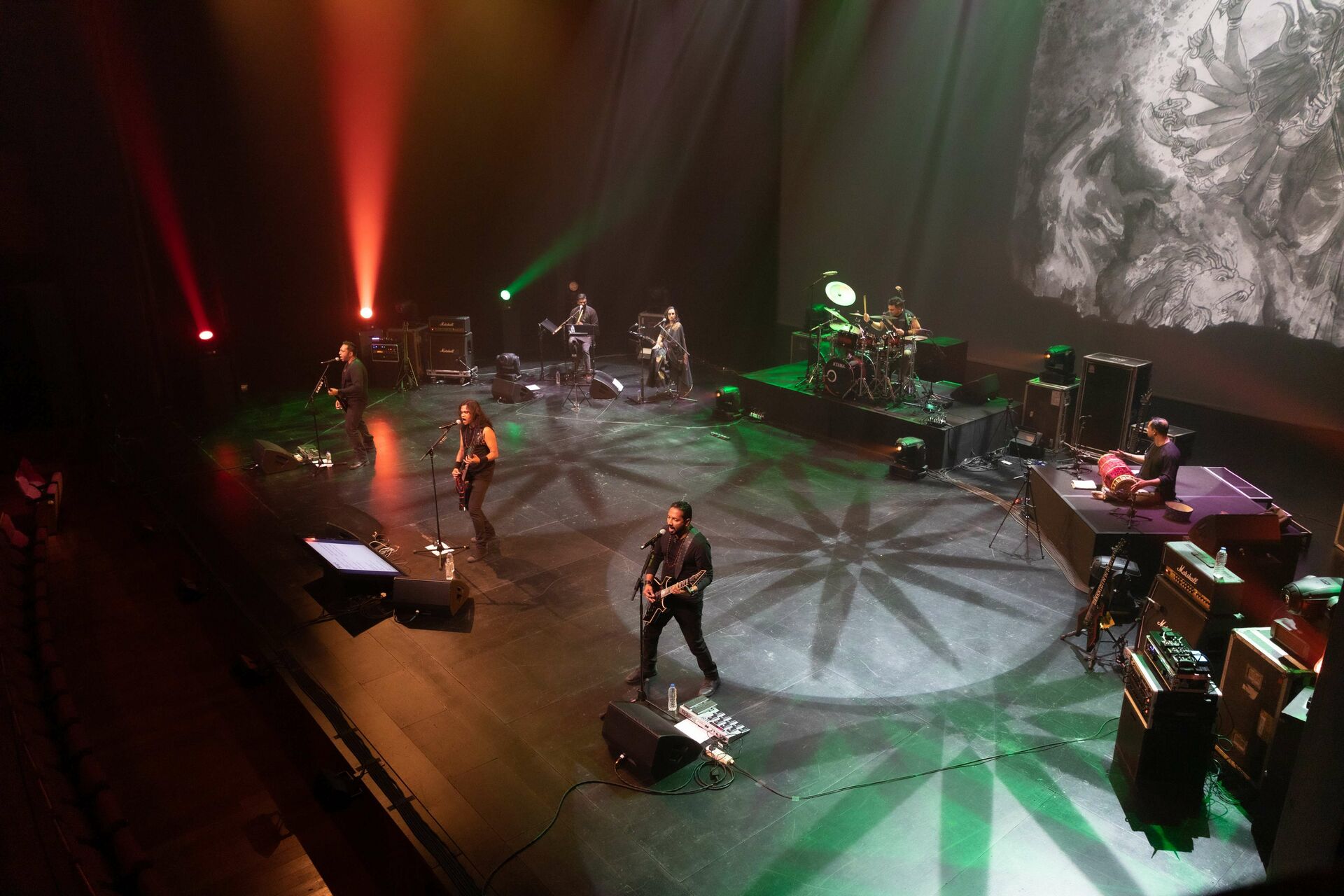 While the band has always used backing tracks for the traditional Indian elements of their set, they have done away with that this time, and have instead, teamed up with three critically acclaimed classical musicians Aditi Gopinathan (vocals), Raghavendran Rajasekaran (flute) and Viknash Balakirshnan (mridangam) to bring about a unique one-off concert experience like no other. 
Starting off their set with 'Death' from RTA which was inspired by Valmiki's deeply emotive Ramayana, Kathir wastes no time in going into his highly meditative vocals as soon as the intro kicks in. The flautist Ragha chimes in with a tranquil solo before guitarists Devan and Vinod begin strumming their guitars, and Kathir switches to his raspy snarls. Almost on cue, the green, purple, and orange strobe lights begin flashing, adding to the intensity of the set, and reminding audiences who may have been fooled by the lavish setting of the theatre that, this is, after all, still a no-holds-barred extreme metal gig.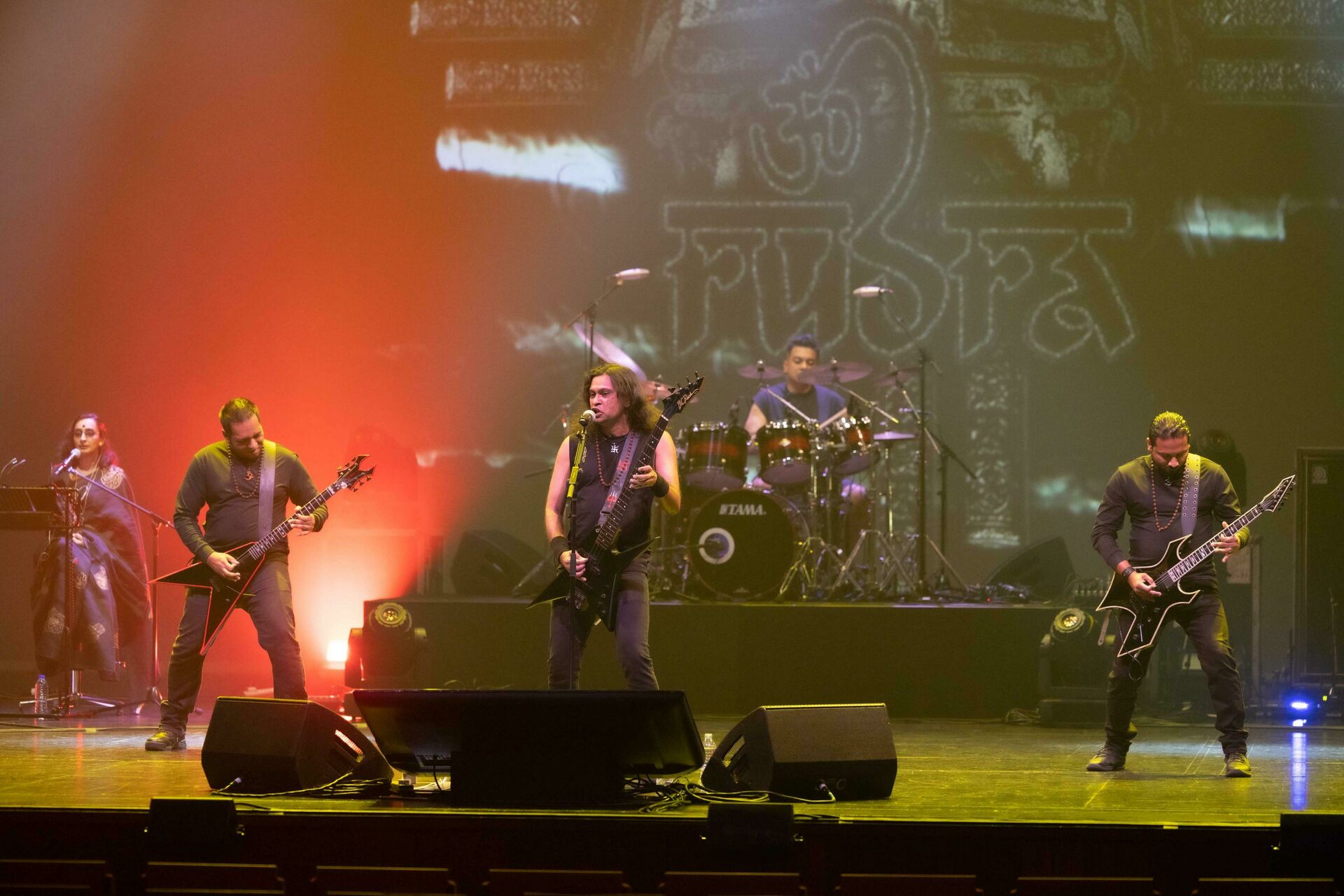 Death transitions into life on the next track 'Ananda' from their self-titled album Rudra. As soon as classical vocalist Aditi starts belting out her powerhouse vocals, the audience is entranced and begins rhythmically clapping to the song. Before long, the set is bathed in blood-red as all the members of Rudra begin banging their heads in time to the music, and what's amazing is the fact that the classical musicians are all effortlessly keeping in time with the blast beats and riffs. If anything, their ability to collaborate with one another to seamlessly fuse traditional Indian music into heavy metal was truly astonishing to me. 
Following that, the band played a medley from RTA which included 'Manipulation,' 'Heartbreak,' 'Abduction' and 'Resolve.' The arrangement of tracks put together in this assemblage was breathtaking as it depicted, and brought to life a melange of emotions, even the seemingly intolerable ones we choose to close ourselves off to.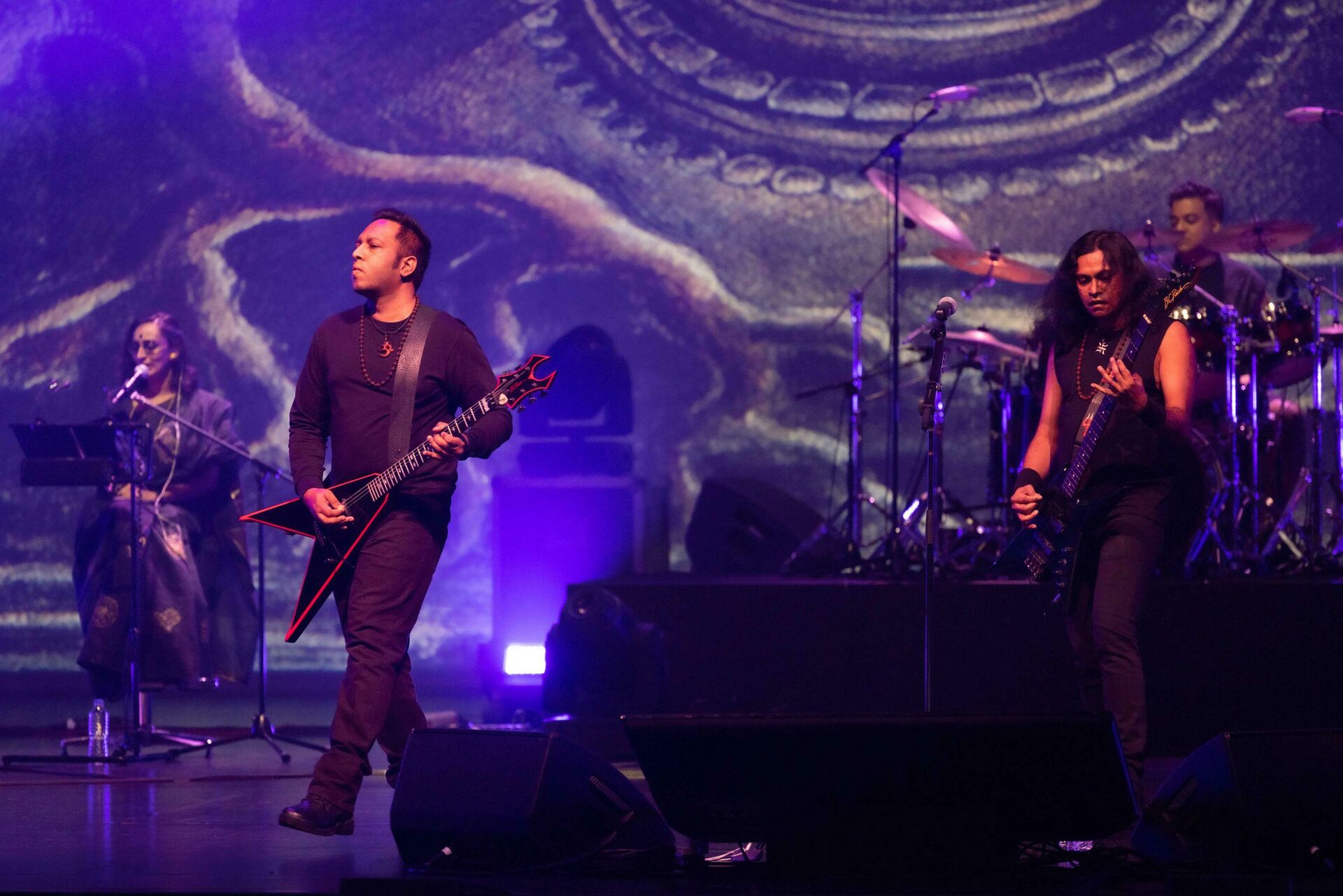 What ensued was yet another medley; this time consisting of an eclectic mix of songs from various albums—'Hymns of the Immortal Self' from Brahmavidya: Immortal I, 'Rudrapatni' from The Aryan Crusade, and 'Asura Mardhini' from Kurukshetra. During 'Rudrapatni,' the fervent chant of 'Mahakali' (the Hindu Goddess of destruction and doomsday) resonated throughout the theatre as the fluorescent blue lights glimmered in the background, adding an almost ethereal dimension to the set itself. 
Fans of the band's 2013 album RTA were certainly pleased with the setlist as they continued to play 'Assault' right after, and then, of course, one of their more popular numbers 'Hymns from the Blazing Chariot' off Brahmavidya: Transcendental I. One of my favourite bits from the concert was when Ragha, the flautist, chimed in with an impressive solo which not only rang crisp and clear but reverberated around the theatre. Towards the end, the classical percussionist Viknash also fluidly exchanged drum solos with drummer Shiva, and that in itself, proved Kathir's points that "music transcends language," and as "one of the highest forms of expression, [that] is the reason why today we can bring these two extreme genres together." 
'Hermit in Nididhyasana' from Enemy of Duality is where Aditi's vocals truly shine. In this duet, Aditi and Kathir deftly trade vocals, offering an intriguing rhythmic juxtaposition between the incandescent light and the shadowy darkness—sonically, the former's stirring melodies complement the guttural growls from the latter in ways you would not expect, and their harmonies sound just as good, if not better than the actual recording itself.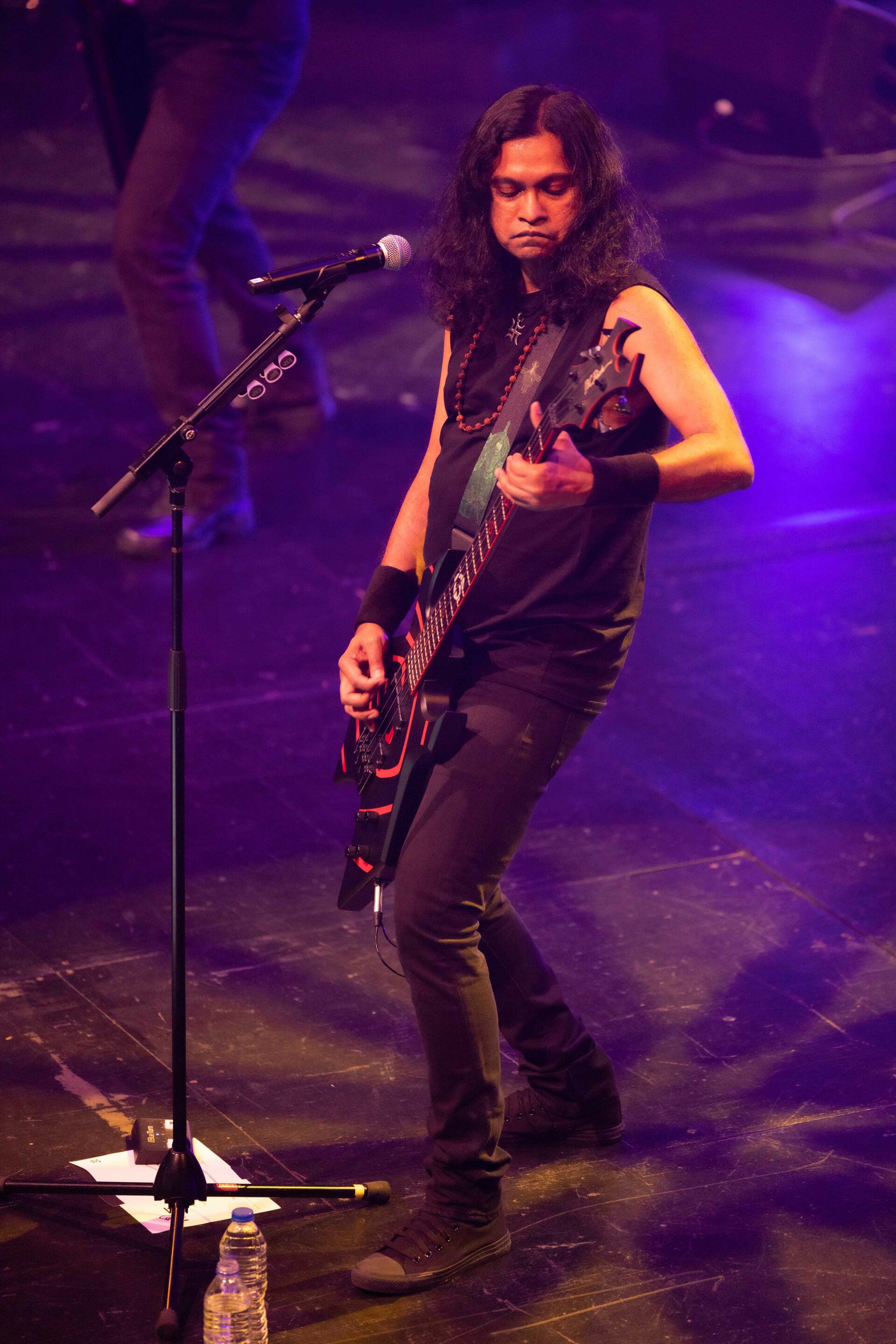 Before Rudra went into their second-to-last song 'Ancient Fourth' from Enemy of Duality, Kathir jokingly posed a rhetorical question to the audience: "For the non-metalheads in this room, is this too heavy for you? It's too late, there's no refund." As always, the mesmeric nine-minute epic never failed to pack a punch with its immersive instrumentation and prodigious percussive beats. 
Unfortunately, all good things must come to an end, and the band had to close off their set with one last song—'The Pathless Path to the Knowable Unknown' from Brahmavidya: Primordial I. This track takes the spot for Rudra's most-played song on Spotify, and for good reason. As soon as the hypnotic intro 'Hara Hara Shankara Shiva Shiva Shankara' kicked in, you could tell the crowd was enraptured, and couldn't resist bobbing to the pulsating music. Even when the track ended and the band bid their farewell, you could still hear metalheads from the crowd demanding 'Aryaputra' from The Aryan Crusade be played but alas, there was no encore to be had.
While most metalheads, myself included, are accustomed to standing gigs where we can freely mosh to our hearts' content, I'm sure none of us at this particular performance, minded the fact that we had to remain seated throughout. All we wanted to do was watch these Vedic metal legends put on the most riveting show of their musical career, and that, they did.
---