When you think of parties, the immediate association one might have is clubbing, which in turn leads you to think of stalwart nightlife institutes like Zouk, F Club, Bang Bang or even Baliza. While genres like EDM and reggaeton dominated most of the alcohol-induced partying scene in Singapore, there has always been an alternative space cultivated by tastemakers and alternative-experience seeking people alike.
Take for an instance, label Darker Than Wax's BREW. Spearheaded by Dean Chew, co-founder of the locally established, bi-continent label, BREW provided a space for DJs to spin genres like house, techno, and virtually every and any genre that didn't fit into a 'genre' box. Nestled on a street in Jalan Besar outside of local cafe Chye Seng Huat Hardware, 2019's edition of BREW saw an entire street being closed for a block party.
 

 

View this post on Instagram

 
From sampling regional classics like 'Balik Kampung' to uncovering the deepest of deep cuts from the DJ's selections, BREW provided a space for everyone to release themselves - all in the good spirit of having fun and dancing. If you've been to a BREW party, you'd know from the get go there was no sense of gate-keeping or exclusivity set there - everyone from all walks of life were welcome. In an instagram post, Chew wrote: "Everyone is welcome in the house of "BREW". No categories, no BS." 
 

 

View this post on Instagram

 
The list of alternative parties in Singapore spreads far and wide. While the generalised association of partying with tracks of a certain BPM or a certain sound is strong, alternative purveyors Adrian Wee, Ginette Chittick, and the trio behind EMONIGHTSG along with their loyal patrons would tell you otherwise.
---
The Birth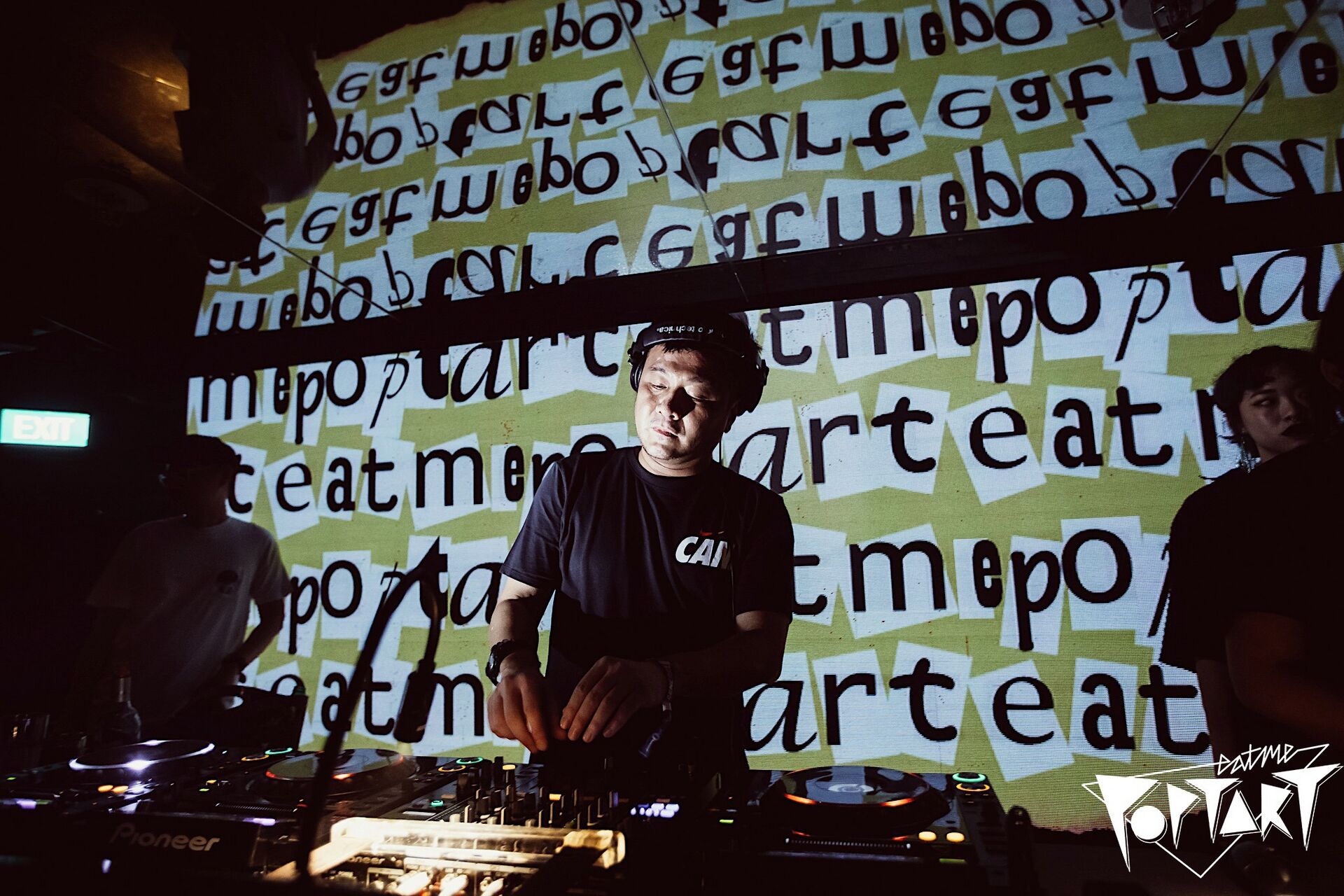 Wee, one half of EATMEPOPTART is no stranger when it comes to helming the decks. He has been acquainted with the partying scene from as early as the 2000s. But it was not until 2004 that he figured it was time to set up a party that centered around genres like Britpop, alternative rock, grunge, punk and electronic. Recalling the infancy of EATMEPOPTART, years before it transpired to the iconic, lathering and foot breaking (I broke my foot once during their set) parties it's known for today, Wee tells Hear65: "We didn't end up at Mad Monks (what Home Club was called before it was Home Club) until a few months later. The space was perfect- it was so perfectly run down- but was spacious and had a dancefloor and a chill-out area with a pool table. We ended up doing our monthly parties there for the next three years."
 

 

View this post on Instagram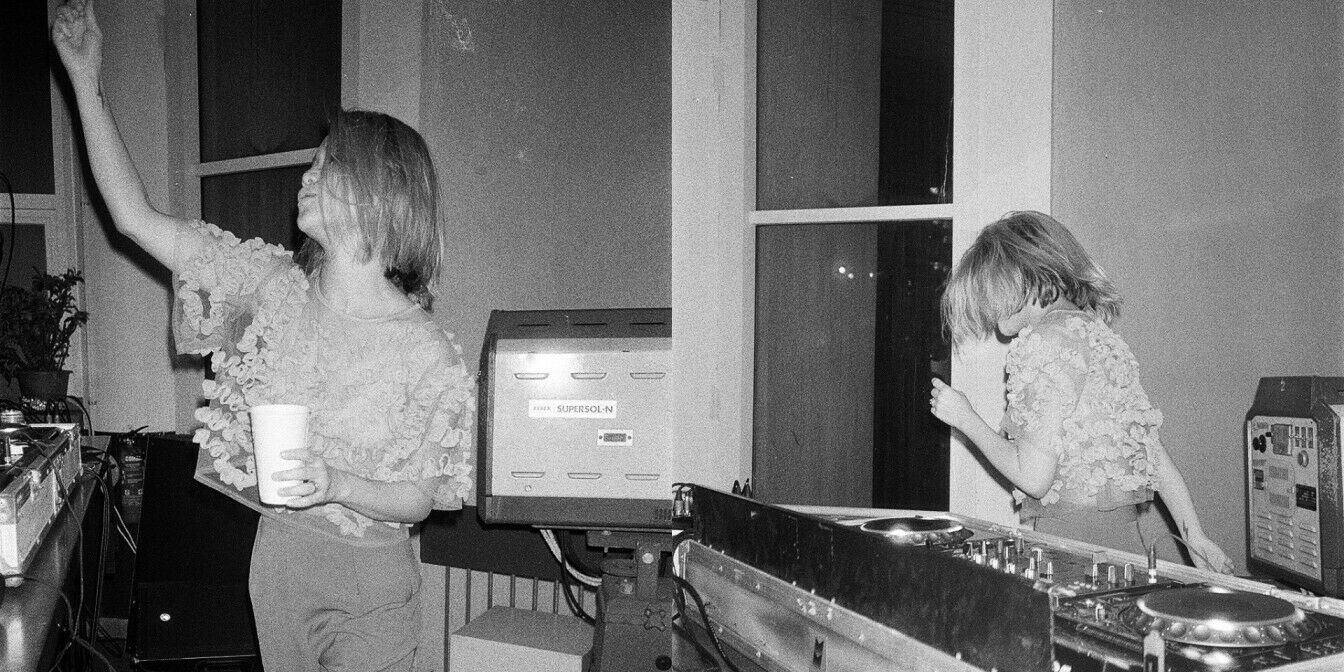 Chittick is someone who wears multiple hats. A musician, fashion and bag designer, visual artist, lecturer and a mother all at once. She started her DJ endeavours alongside Joe Ng and George Chua at Home Club with 'BEAT!', a weekly party where people would be drenched in sweat from dancing to indie rock anthems being played over the speakers. "It was the inimitable duo George Chua and Kelvin Tan who dreamt up the idea and invited Joe Ng (endearingly called the Dogfather of the indie scene) and I to be in BEAT! with George. Kelvin co-owned Home Club and needed an alt-rock night. 
I told them I didn't know how to DJ and they didn't bat an eyelid. I was just coming along for the ride. Saying yes was one of the best decisions of my life," recalled Chittick who describes her sets as a "raucous reckless alt-rock carnage, glitter sweat bomb, all out indie rock action."
 

 

View this post on Instagram

 
Home Club seemingly held a position of importance to Wee and Chittick, being the venue that housed the start of their parties. It provided a haven for people seeking all things underground and alternative. They've also notably brought mammoths from the UK in Andy Rourke from The Smiths and Kele Okereke from Bloc Party, amongst countless others for guest DJ sets.
Chittick, who went on to be a resident DJ at Home Club for 7 years, beautifully encapsulates Home Club's imprint: "Home Club wasn't just special to me in terms of dance music, but also that it was a place where underground bands held countless shows. My own band, Astreal, played there many times and I also ran a series of gigs called RNDM where local bands would play alongside bands from Malaysia, Indonesia and Thailand. It was a really great venue for that because the soundsystem was freaking amazing and the venue size was perfect. People underestimate how important it is to have venues of various sizes in an underground scene. It really was the epicentre of all things alternative."
Wee, however, felt a larger affinity for its original state but still attributed the change in dynamic of the set and setting of EATMEPOPTART to Home Club, saying: "It took us a while to get accustomed to Home Club. We were so drawn to the dive-look and cosy arrangement of Mad Monks- which was perfect for what we planned for in the beginning."
"Having said that, when it became Home Club, we actually started looking at our parties as more of a club night than a night out in a pub. With a proper dancefloor, DJ console & bar, we were more conscious of the music played at the different times of the night- we now had a clearer plan of how we approached the warm-ups, peak-time hours, and closing of every night."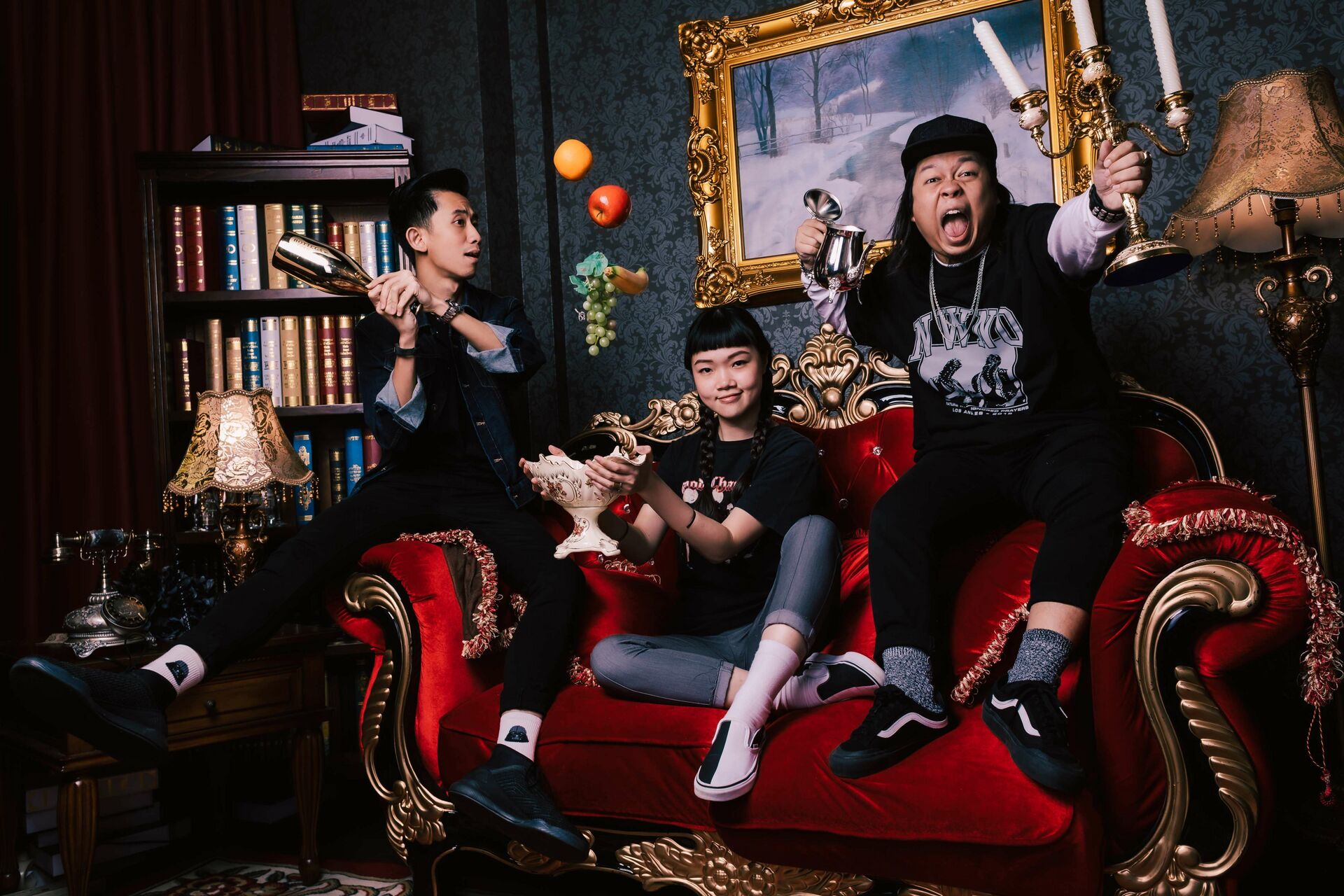 On the other side of the coin, EMONIGHTSG, branded as a "celebration of all things alternative" is fronted by trio Bryan Ulric Sta Maria, Amelia Chen, and Edwin Waliman of Look Ma, No Hands. Their parties capture that nostalgic (or questionable) teenage phase in your lives, or as some emo music purists (might) declare, "it was never just a phase, mom", playing anthems from the past from bands like Taking Back Sunday, Saosin, and My Chemical Romance.
Amelia describes the energy of their parties: "You know how when you ride roller coasters, you scream your loudest when it comes to that sharp drop? It's the same give-your-all type energy, just that we're yelling lyrics (and instrumental parts) to songs, not caring about anyone looking, collectively disarming each other as we get fully lost in shared emotions, and without having to say anything else to another person in the room, feel like you understand each other on an intimate and genuine level."
"It's hours of infectious euphoria, a liberating release of unfeigned emotions and the heartwarming assurance of being in a room that may be filled with strangers, but feel like family."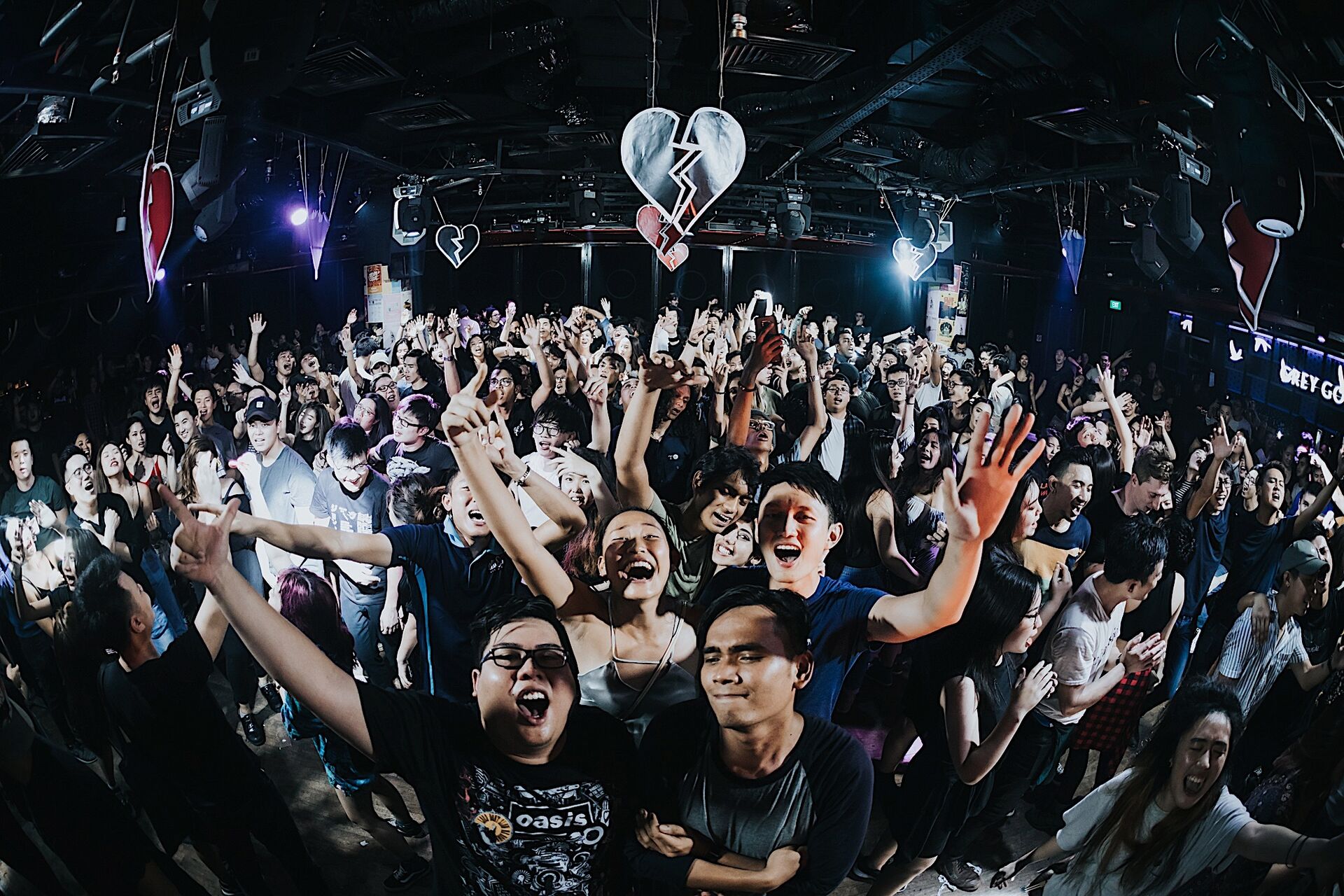 The idea for it etched from a moment in time where Bryan was clearing up his wardrobe with Amelia, uncovering all of his old band t-shirts that he bought from Peninsula (if you know, you know). Those t-shirts invoked a sense of reminiscence of simpler times between the two of them, and they started to ponder on "capturing the zeitgeist" of said times.
Bryan still recounts that exact moment. "After spending some time googling what "zeitgeist" meant, I finally understood and suggested we throw a party for us and our friends who we knew shared the same love for this era of music. "
"We met up with Edwin and our then partner Ritz at this bar that we had frequented back in the day called KOI Bangers at Haji Lane, we shared with them the idea and they thought it would be fun too. And it just so happens that KOI Bangers also had a tiny 30/40 pax event space on the second floor of their Haji Lane location. We spoke to the owner that night, albeit skeptical, he gave us a chance and on Amelia's birthday (17th May, 2016) the first EMONIGHTSG party was held. "
 

 

View this post on Instagram

 
"That same night at Haji Lane we talked all night long about music and nightlife in Singapore. And from there we basically set out to create an experience we'd like for ourselves and the fact that it resonated with so many others over time is a very comforting reminder that we were not alone."
Personally, without a doubt, EMONIGHTSG would've fit perfectly into the catalogue of events at Home Club; however, starting out in a time where it already unfortunately dissolved - the trio held their parties at multiple different venues, such as Cherry Discotheque and the now closed Kilo Lounge.
"It took a lot of persuasion from the venue manager to convince us to try doing our events more regularly because we had so much doubt about sustaining it and if the novelty would wear off. When the monthly series kicked off, the dance floor and venue looked dead and empty because we only had 50 people show up to our 350-pax venue. But we were so happy that we even managed to get these 50 people there," Edwin recalls.
In the years to come after the birth of their now established parties, EATMEPOPTART seemingly moved between venues in a vagabond fashion: The Butter Factory in 2008, the OG Zouk at Jiak Kim, Kyo, Cherry Discotheque and most recently (before COVID graced our lives), Phuture.
 

 

View this post on Instagram

 
Chittick eventually found a home at The Projector's Intermission Bar with her new monthly party DAYDREAM NATION,
 

 

View this post on Instagram

 
while EMONIGHTSG settled at the Hard Rock Cafe.
 

 

View this post on Instagram

 
What sets alternative parties aside from "conventional" parties, is filling a 'void' for party-goers and music lovers
For some, perhaps it's not that deep. A night out spent being around friends might suffice. But, where does that leave the people who need more than just that? That's where Wee, Bryan, Edwin and Chittick chimed in. Their respectives sets filled a void for both party-goers and music lovers, tapping into spaces that weren't as readily available until then, and in time, growing into treasured spaces for those seeking an "alternative" experience.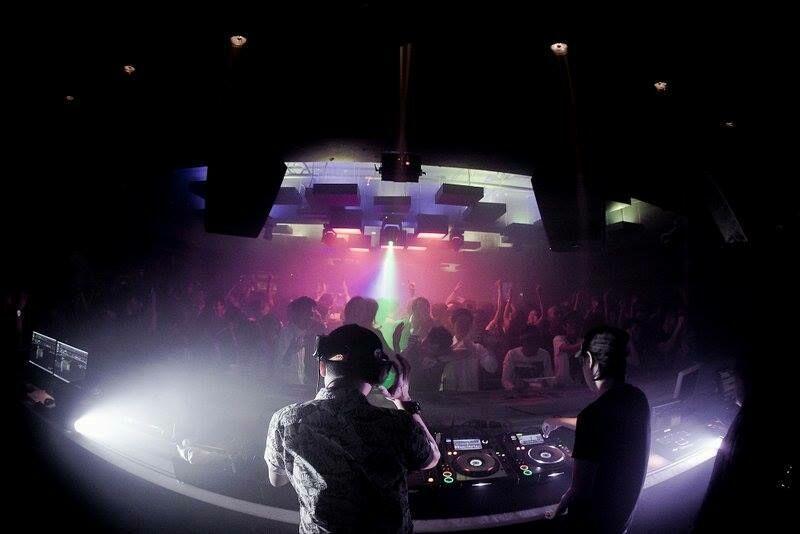 "As a DJ, a few years after I started out, I got a little tired of how the club scene was heading towards- house music & techno became fashionable more so than anything else; and all I wanted is a party where we could just let loose, where we could play whatever we wanted outside the clubby norms, and not worry so much about what we were wearing, what classy drinks we had on our hands or what others thought of us. I didn't expect it to grow that big so fast- I just wanted something I could enjoy doing and a crowd enjoying themselves," Wee expressed.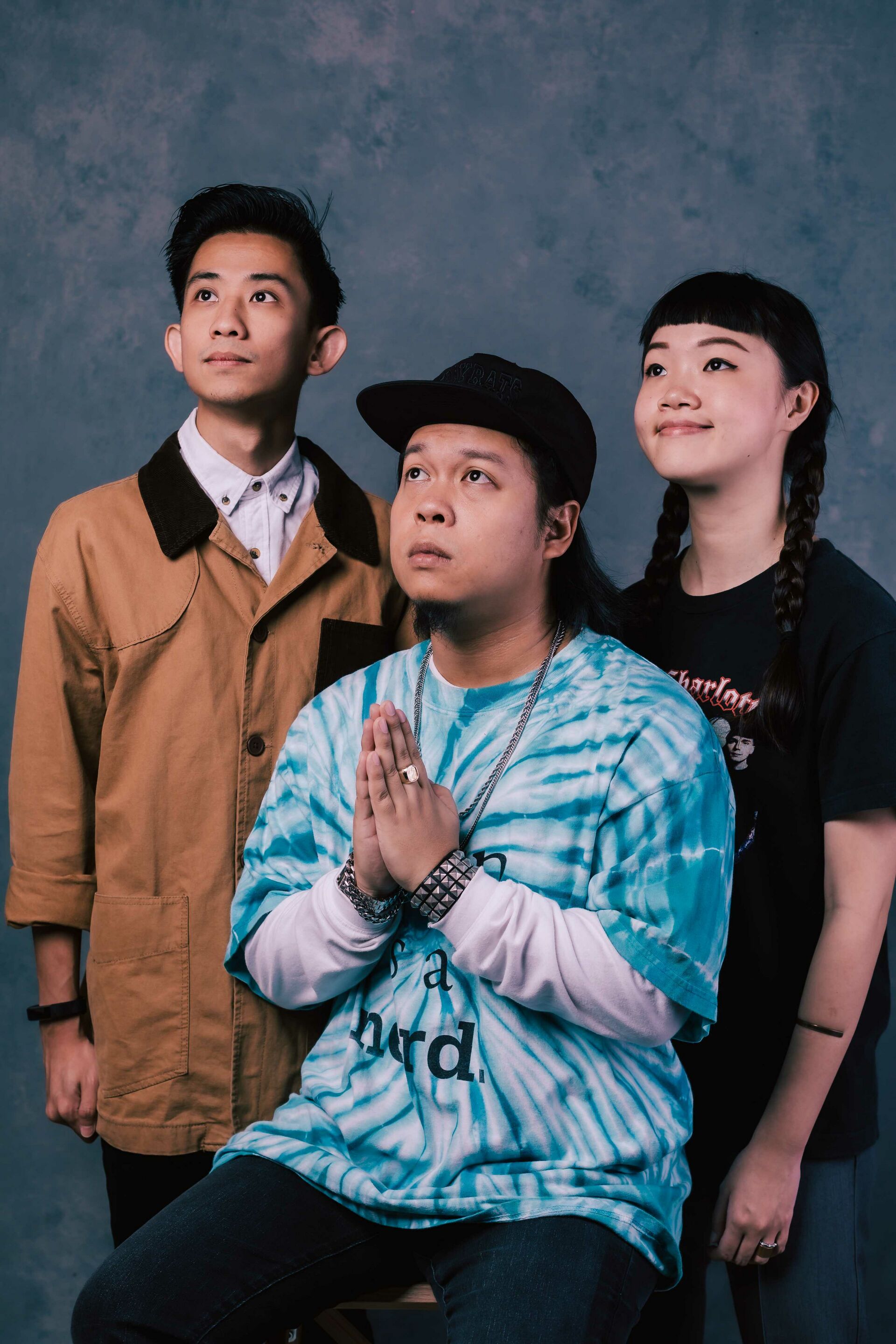 Bryan continues the sentiment in the same vein. "There's a lot of debauchery in the nightlife scene. The kind that glorifies big spenders and puts luxury on a pedestal, the atmosphere of groups of people hunting for a hook-up. It perpetuates this toxic culture of reducing a person to their financial status or some superficial standard. That's just something we're not into."
Highlighting the importance of inclusivity and applauding the community that transpired from their parties, he continues to say: "So, being able to have a night where we can set the stage for a more inclusive environment is really fulfilling, but truthfully credit goes to the EMONIGHTSG community for upholding this spirit of inclusivity."
Edwin echoes Wee and Bryan's viewpoints: "Growing up, I never really enjoyed the nightlife scene. I just didn't feel like I fit in with that crowd and I didn't enjoy the music that was played. I just thought it'd be nice to have a space to listen to alternative/rock/emo music with other like-minded people. So it's really heartwarming to be that platform that creates this shared experience and memory for our community."
 

 

View this post on Instagram

 
They also spoke on the stark difference of the crowd Chittick attracts compared to the stereotypical party-goer, and the venues she spins at: "I love dive bars and Home Club and The Projector both have got that grime. You walk in there and you know no one is there to throw up some cash for a bottle that has sparklers just to be seen. You know people are there to get caught up in a feeling that is driven by the love of music and I'm at the wheel, I'll take you there."
She goes on to cement the experience at her parties: "When you find your tribe who have come to you in a space you've held for them on the floor and when you connect it's just unbelievable. I feel incredibly lucky that they've allowed me to do this time and time again!"
The highlights that they have seen during their parties run far and wide. Personally, many of my best nights have come at an EATMEPOPTART, DAYDREAM NATION and EMONIGHTSG parties. The times spent dancing, screaming and shouting in unison, and of course times that I'll never speak of again. It's much more than a release, or an aural nostalgic trip - it's the coming together of friends and strangers, it's the synchronised jumping, it's the celebration of what we've always known and loved - music.
 

 

View this post on Instagram

 
Bryan imprinted a personal and intimate milestone at one of EMONIGHTSG's parties, where he proposed to Amelia. "Bryan and Amelia's proposal has got to be right up there! We planned a whole prom theme and had Kyle Patrick (of The Click Five) perform an acoustic set without Amelia suspecting anything! It was a special night," recalled Edwin.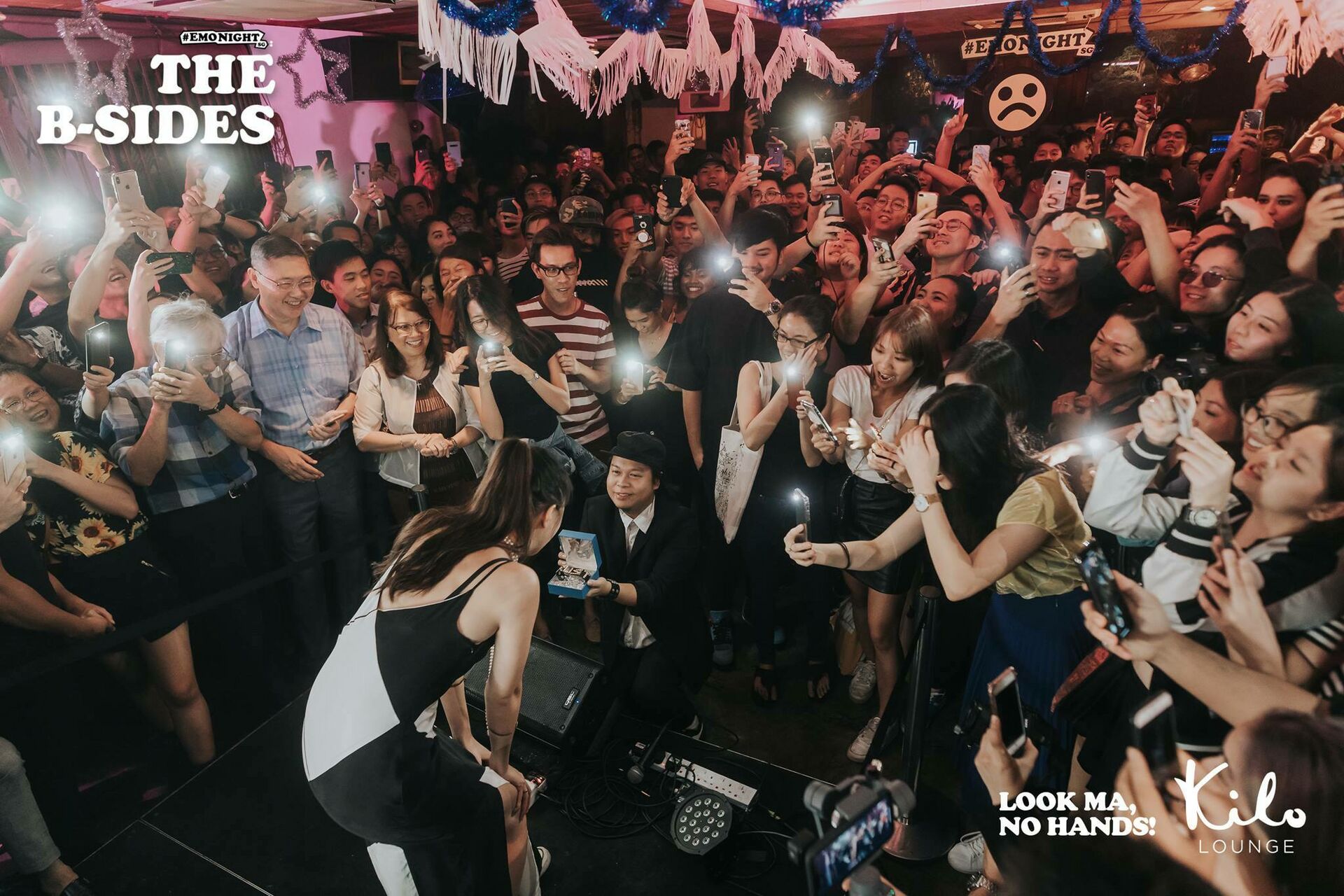 Khaiesha Talib, an avid EMONIGHTSG goer, recalls many nights spent. She tells us: "EMONIGHTSG is honestly a sacrosanct ritual for my friends, sister and I. I feel most connected with myself when I'm at their parties." She even baked a cake for the Look Ma, No Hands trio.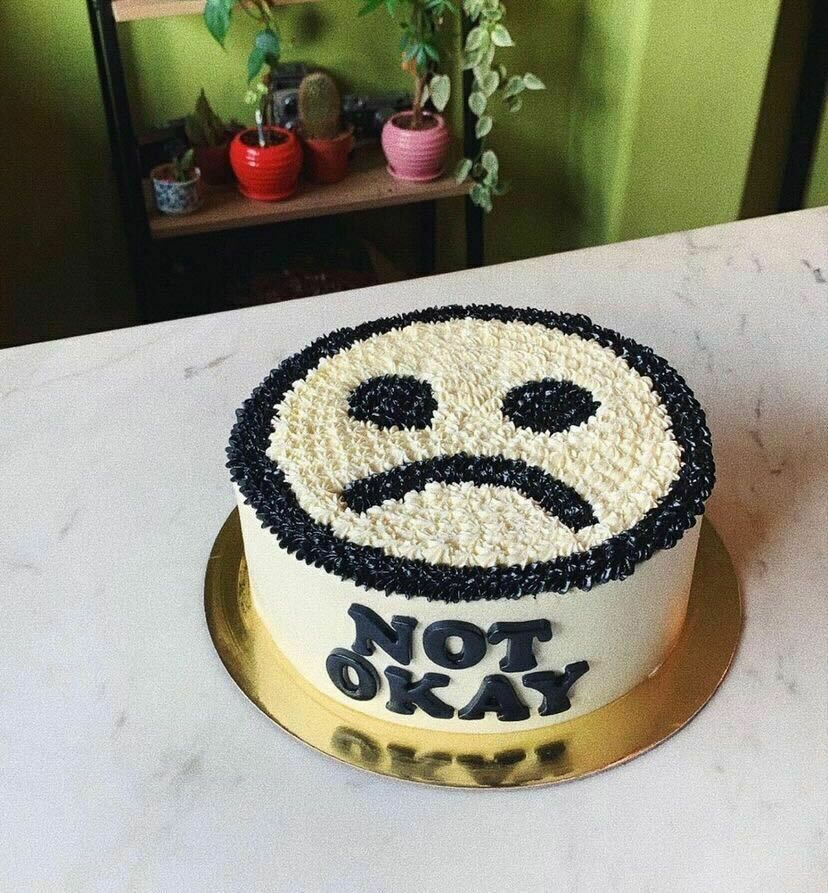 Decorated with the party's iconic deflated smiley face, along with it's tagline: "NOT OKAY, she gifted it to them whilst they where on the decks, to rapturous applause.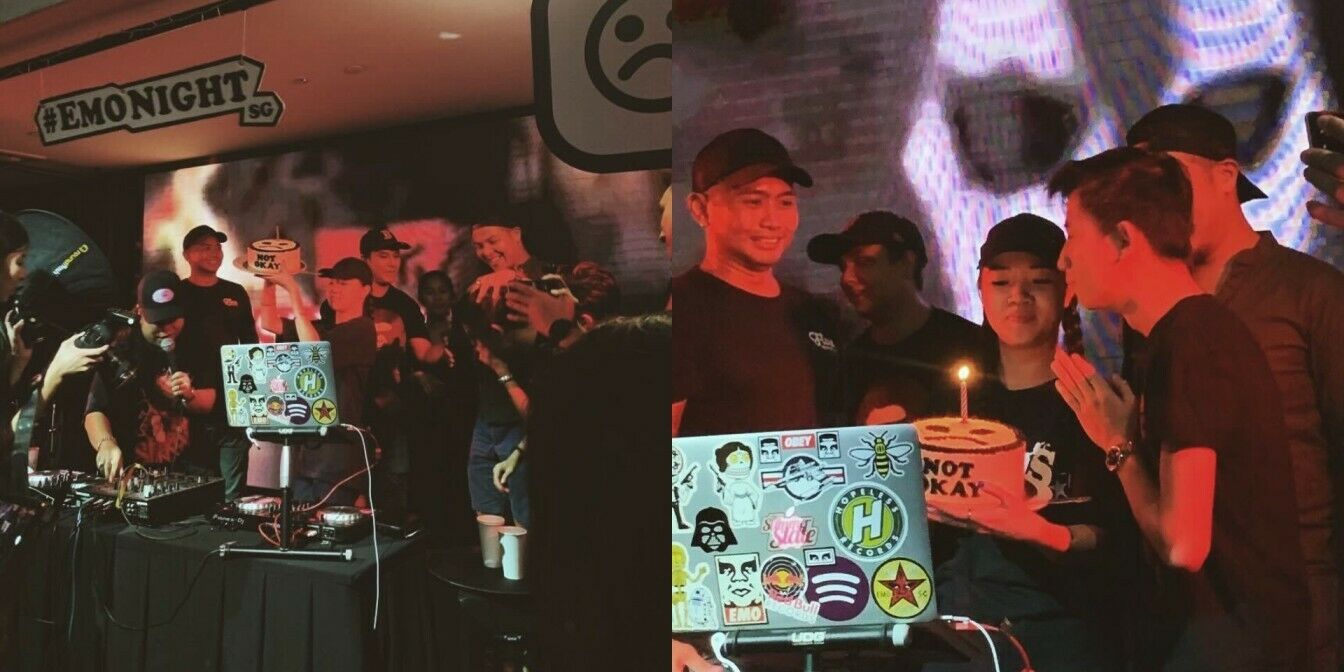 The cake was shared, and most notably, Kyle Patrick had his fair share.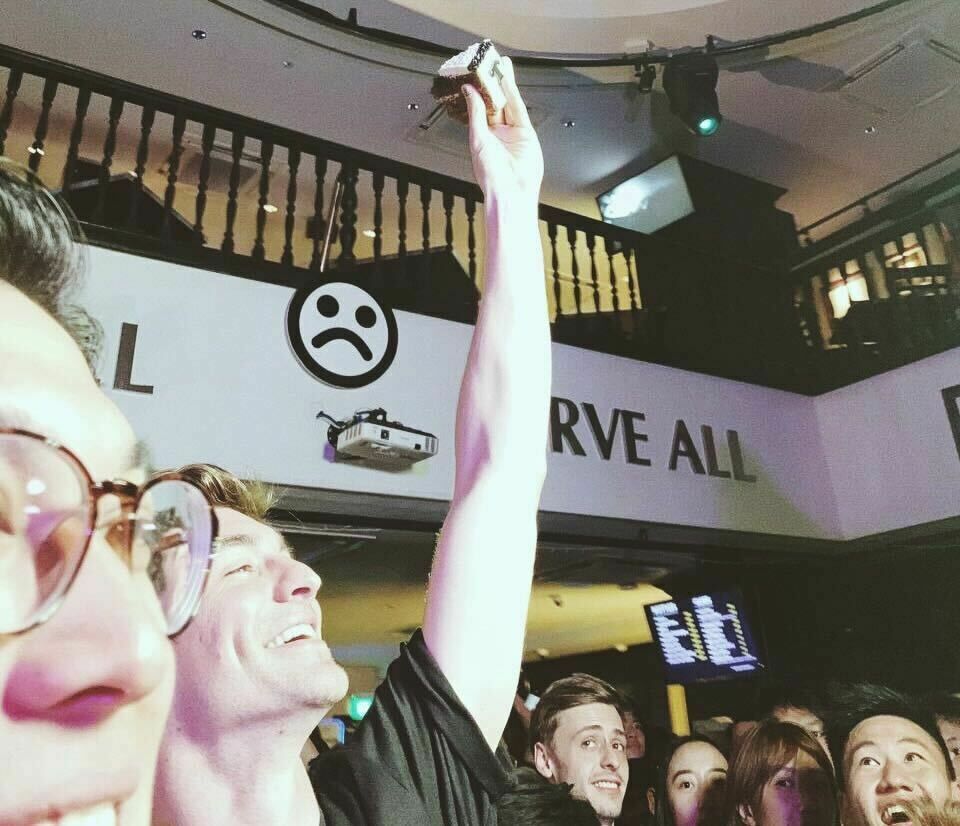 Khaiesha, the pastry chef, is still in disbelief: "There are no words to describe Kyle Patrick eating my cake. I'm putting that in my resume."
For Wee and EATMEPOPTART, he recalls milestone events at the Esplanade Annexe Studio where they celebrated their anniversaries, programming and organising festivals at Fort Canning, and playing at the renowned Laneway Festival in 2017.
 

 

View this post on Instagram

 
"As for the wildest [experience], let's just say during the early years, I had a lower tolerance for alcohol and yet was drinking way too much tequila. What happened after was disastrous and I won't comment further except to say that I once woke up the next day with one eyebrow burnt off," he quips.
Palpable tensions for parties to resume
We've flown around the sun twice now, living in a pandemic. And the angst for parties to resume are at an all time high, with DJs and patrons alike sharing their sentiments all over their socials most notably. Fariz, one half of the twin brothers DJ/producer duo Doppelgangzerz is one such example.
 

 

View this post on Instagram

 
On the 22nd of October this year, KAYE, the other half of the brains behind Darker Than Wax released his debut album Distant Dancefloor. Speaking in an interview with Mixmag Asia, the celebrated saxophonist and DJ said: "...and now in many parts of the world, things are finally opening up or even in full swing - in Singapore, dance floors still remain distant in spite of the fact that we have one of the most highly vaccinated populations in the world. It's incredulous, I know."
And while most of us have not set foot into a party in what seems like never-ending restrictions and pivots, the obvious response would be livestreams, setting up your own solo parties at the comfort of your home. We've seen plenty, and most recently, the folks over at Therapy Room have exemplified this - providing a space for DJs to showcase their sets, whilst bridging mental health and music together.
But physical parties seem to still be lingering in the realm of nothingness, and as immersive as virtual experiences can be, it still doesn't envelope the feeling of being there physically. To a certain extent, it's been exhausting, and the only way I see us coming out of this lethargy and feeding the insatiable hunger that empty dancefloors have left us is through the resumption of physical parties.
Speaking on the prospects of it returning, Chittick says: "I think when it returns, it returns with hellfire. We've seen a lot of spaces vacated by businesses due to the pandemic, let's hope some of these get turned into unexpected underground party spaces because we are ready to rock."
Edwin weighs in, saying: "The demand is at an all time high but it would be naive for me to think that everything will go back to the way it was pre-pandemic. The landscape has changed a lot in the past 2 years, we've already seen so many small to mid-sized venues close down for various reasons and there'll even be fewer places for independent promoters like ourselves to hold our events. I'm sure new opportunities will present themselves so we just have to adapt accordingly to keep the culture alive." 
Wee, expressed his pessimism, after witnessing the recent "decimation" of clubs and bars: "The future looks ******* bleak!"
We're still living in very unprecedented times, and although things are slowly looking up with gigs reopening again through the Esplanade and Baybeats as of late - no one truly knows for sure. No one has the answer right now, and while we're still brooding over what has been ripped away from us - let's (try to) look towards the (hypothetical) future. We've seen the likes of Ice Cream Sundays, Singaporean party collective organising parties in unconventional settings like Haw Par Thrilla at Haw Par Villa, and Bandwagon with Bandwagon Riverboat.
Which begs the question - how would Wee, Chittick and the brains behind EMONIGHT throw a party in Singapore, bound by no restrictions and given all the resources to do so?
Wee's kitty-petting, chilly, no-Chainsmokers-allowed forevermore: "Can I change the weather as well? I'd like a huge field of different zones where bands & DJs would play in their own zones, and we'll also have a chillout zone, recreational games and activities in another area, a swimming pool, and a petting zoo filled with hundreds of fluffy kittens. All this under a cool 16-degree daytime and it'll be held forever and everyone is invited."
"Also we'll have bouncers to throw out anyone that requests for Chainsmokers."
For Chittick, a skate-friendly, movie screening, fun-for-all spectacular: "Old Kallang Airport (fitted with air conditioning please), with various spaces to movie screenings, genre rooms - Nu Disco/Indie Dance, Alt Rock, DNB, Techno, Tech House, House; spaces where underground bands could play as well. Skate ramps outside on the runway, roller disco inside. Crowd - folks from Home Club and The Projector of course, and everyone in-between and peripheral."
With the Look Ma, No Hands! collective, a carnival-esque, food truck galore: "It would be a dream to do a massive festival at an outdoor venue like Gardens by the Bay or at Siloso Beach. We'll have multiple stages for live bands and DJs. Obviously the line up will be stacked – My Chemical Romance, Blink 182, Paramore, the list goes on. Mark Hoppus and Sonny Moore/Skrillex can play their DJ sets. We'll also have Uncle Ringo and food trucks everywhere to throw in the carnival vibe. We'll probably be super swamped coordinating everything but hey, since it's our show we will headline it! If there are any investors out there interested in funding this, hit us up!"
Till we meet on the dancefloor again, #neverlosethatfeeling.
---