From the birth of the glorious and victorious "Kallang Roar" in the old Kallang Stadium during the 70s, packing 60 thousand fans in a 50 thousand seater, witnessing the "Dream Team" of the 90s, to the bitter defeat against Malaysia of 2014 in the new Singapore Sports Hub (which led to a parody of Taufik Batisah's 2014 regional hit '#AwakKatMane') - football in Singapore has experienced highs and lows on both club and international levels. No stranger to these moments in time, THELIONCITYBOY previously cheered on the now defunct team LionsXII in 2013 with rap anthem 'P.Y.C.O (The Legend Returns)'
8 years later - he is the creative director of Lion City Sailors, and the first musician in Singapore to do so. 
This unique and 'for the first time ever' link-up between the local football club and the producer/rapper was befitting in every way possible, made even more so with both names of the two entities seemingly screaming for each other to be together given the rapper's love for uplifting local circuits, and the club's propensity to go global.
And on-brand with his love for intermingling both cultures, the artist recently featured Aqhari Abdullah, Tajeli Salamat, and Hafiz Nor on the track 'Ole Allez Allez' which plays on the big screen at Jalan Besar Stadium before their home games - rallying all of the Sailors fans together.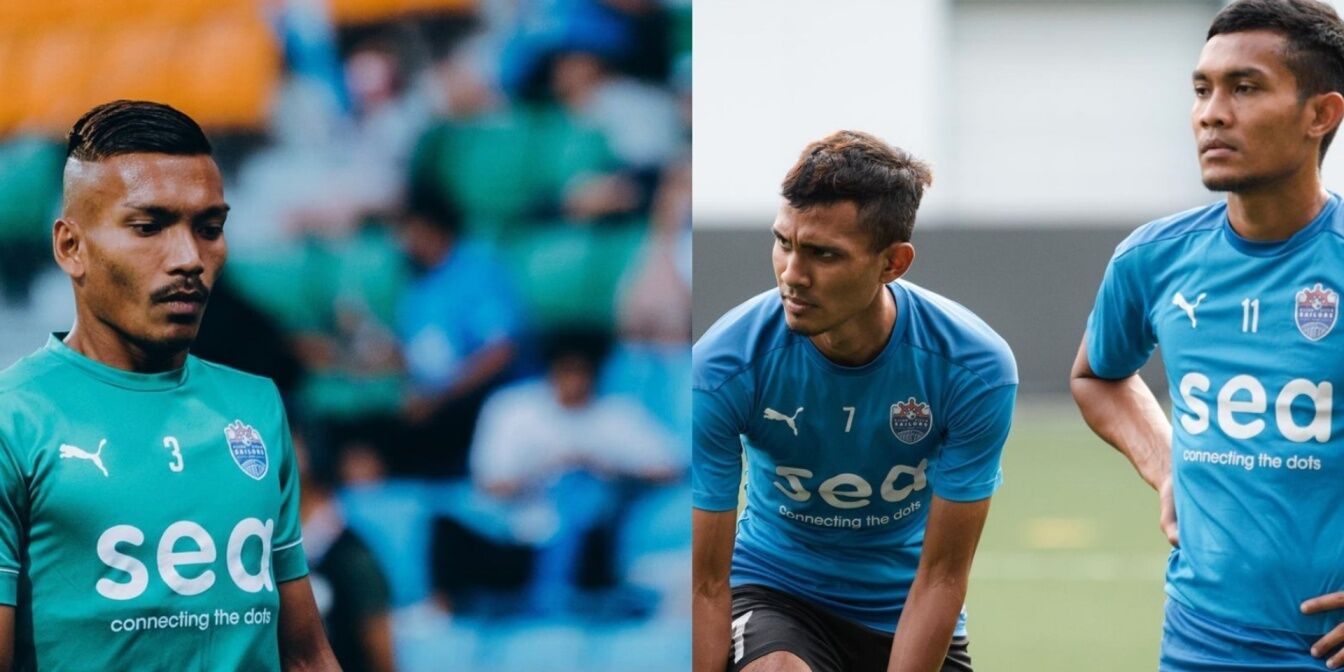 When speaking to us about trading their football boots for the microphone, right-back Aqhari gave heaping praise to the rapper: "When THELIONCITYBOY called the 3 of us for an idea he had of us being part of the song that he was creating, my answer was a straight yes without even thinking. To be in the same song with the best rapper in the country, it was a huge honour." Aqhari also shared with us that 'YAYA' and 'Buang Suay' by THELIONCITYBOY are his favourite local tunes to listen to.
Tajeli, the defender for the club who is also regarded as the DJ and a 'clown in the dressing room' by teammate Hafiz, candidly expresses his nerves: "To be honest, it was my first time and it was really fun trying something new by helping THELIONCITYBOY. Although the task was rather simple and not like a record deal signing kind of thing, I was very nervous." 
"It was a great experience and I had so much fun. I'm looking forward to more opportunities like this in the future." Aqhari also mentioned that you will almost always catch Tajeli and himself "busting out dance moves in the dressing room" as they pump themselves up before games. Winger Hafiz caps off the chat by nonchalantly describing his experience: "It was something new for me. Quite an experience for me and of course, I had fun."
 

 

View this post on Instagram

 
As a writer who lives and breathes music and football, I was over the moon when I found out that THELIONCITYBOY would be "dedicating the 2nd half of his music journey to Singapore football". To fully understand and appreciate this trailblazing link up, we recently had a peek into THELIONCITYBOY's psyche as he talks us through how it happened, what it means for a local lad like him, and what he intends to achieve with the marriage of football and music through his new role.
---
How did the relationship with Lion City Sailors first come about? Let us in on your initial thoughts, how it felt when you received the news, and if there's anyone you look towards for inspiration in a similar fashion.
I've always been a big fan of artists who challenge the idea of what it means to be a rapper or a music artist. Acts like A$AP Rocky with MTV, Kanye, Pharrell with his work with IamOther, or Kid Cudi - who is unapologetically himself. They never really fit the mould of what people wanted them to be but even better, they made a path for themselves. Their stories inspire me everyday.
Football lives in my heart. I've played the game all my life - from my living room, to the void deck, to the basketball court to the amateur leagues. I'm a product of the early days of football fandom in SG - a Sundramoorthy, Fandi, Malek Awab fan since young. When I met the Sailors, it was through their Head Of Marketing - he dropped me a text to have a coffee. I didn't ask what for. If it was about football I was there no matter what.
Little did I know, I was going for a meeting that would change my journey. Badhri and him (Ravi) got me hooked with their ambitions and goals as a club. I was hungry to be part of it. Each day with the club is a dream. 
 

 

View this post on Instagram

 
Being the first Singaporean musician who is also a Creative Director of the football club, what do you intend to inject into the football-meets-music world?
I hope to help them build their story, cross into new channels and connect the club with new creators that have the same vision and values as we do at Lion City Sailors. I didn't sign up to make one song, for one moment, I'm here to make this thing feel like a movie. That's my personal goal. As a club we're going all out and all the way. To see people already do up murals just because of Hariss and me, is so heartwarming.
 

 

View this post on Instagram

 
There's a fire in the city waiting to be reignited. I wanna be part of that process regardless if it's on a track or behind the scenes. 
As a football fan, a musician, and now a creative director- what does the future look like for these two cultures that have always permeated each other?
As an artist, I've always had football references - in songs like PYCO or Halimah with the Baihakki line. When I'm writing in the studio, honestly it's just part of my vocabulary to put these lines in. I try not to overthink the process. Like will everyone get this Baihakki line? If I put my heart into it, you'll hear it on the track and if you don't get it... I'm still proud of painting the lion city clearly for you. As a rapper you gotta represent your environment. That's why I do it.
I think now, I have a chance to bring music culture and sports closer. If it's not by me, I wanna bring together people who are excited about this project as I am. We're already working on some cool collaborations for the fans... dropping soon! It's gonna be wild.
Talk us through the creation of Ole Allez Allez; how did it feel like recording in Jalan Besar Stadium instead of a studio? What was it like working with Aqhari, Tajeli and Hafiz on the track?
I wanted Ole Allez Allez to be as real as it gets. I was confident of the idea of the song and already imagined the parts. I ran the idea by the club and some of the players to lend their voices. After training, I set up a mini recording booth in the referees room that day. I never imagined being this close to the field, now I'm recording a track inside JBS. How life plays out. Amazing. What I loved about it was the players eagerness to be part of it too. They were ON. We were recording group vocals, shouting, ad libs. A day I will remember forever. I got so much love for Aqhari, Taj and Hafiz for trusting me. 
 

 

View this post on Instagram

 
Your music has always been social commentary centric mixed with satire. How are you planning to translate this into your new role in Lion City Sailors, if ever?
I've never been afraid to immortalise a moment, my Singaporean story or what I see happening on the streets. I will always lift this city up. That's been the plan from day one. Ole Allez Allez is the same. I have a front row seat to see what the sailors are going to be. I wanted to make a soundtrack to that. You know what's crazy? When you come for a game now, you're going meet Sailor fans that will greet you like you are family and when you leave each other - they will say goodbye and then shout Ole Allez Allez!
 

 

View this post on Instagram

 
---
Listen to THELIONCITYBOY's curated playlist of songs guranteed to pump you up: 'SAILOR SQUAD Tunes' here.

---
---