It is a known fact that live music entertainment can draw individuals closer and foster a greater sense of community and connection. After all, there is nothing quite like the experience of listening to music being performed live together with your loved ones.
Now that we are living beyond the COVID-19 pandemic where live performances are back in full force, there is no time like the present to reacquaint yourselves with Singapore's local music scene by witnessing live performances with your very own eyes (and ears).
Hear65 has compiled a list of 13 live music venues in Singapore where you can have gatherings with families and friends, dance up a storm, or just unwind while being entertained by musicians.
From jazzy music lounges to prominent clubs, there is bound to be something for you regardless of your mood and music genre preferences. Check them out below!
---
Cool Cats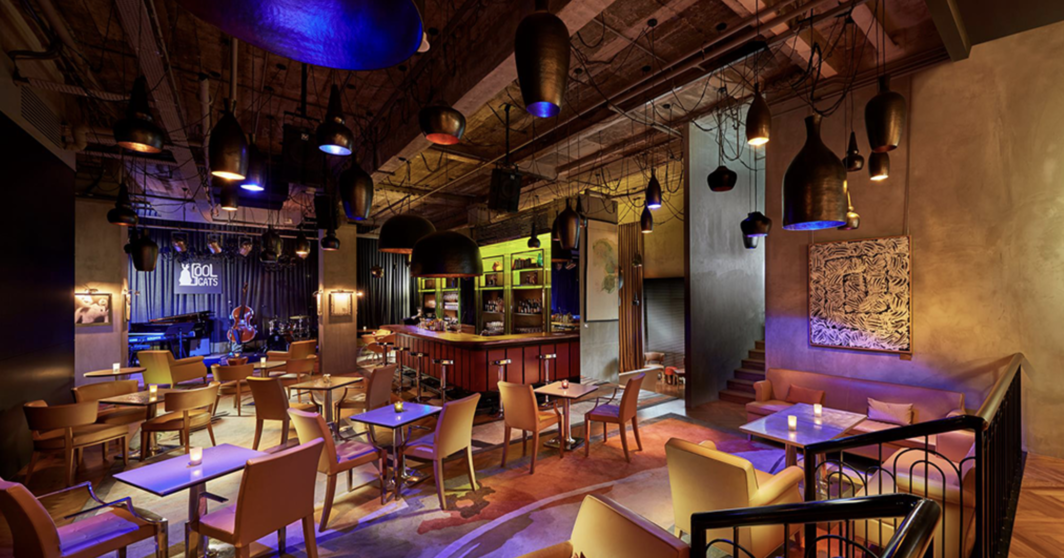 Credit: Cool Cats Website
Address: COOL CATS, THE NCO CLUB, 32 Beach Road, Singapore 189764
Website: https://www.coolcats.sg/
Branded as a "swanky live music lounge", the cosy, warmly-lit interior of Cool Cats, coupled with an unmistakable classy setting, is bound to leave visitors captivated the moment they set foot into the charming establishment. The bar, a brand by The NCO Club, also boasts live music performances from professional musicians with a focus on blues, jazz, and R&B genres. 
The lounge hosts lively swing music by jazz artists in its Jazz Sessions, where visitors can enjoy soulful performances from a good mix of both locally and internationally acclaimed artists as they partake in specially crafted cocktails and bar snacks. Notable Singaporean artists who have performed at this venue are jazz musician Jordan Wei, R&B singer NyaLi, Singapore Idol finalist Mathilda D'Silva, flautist Rit Xu, producer and composer Chok Kerong, and more. 
With dazzling and refined entertainment in addition to a fascinating bar culture that they have cultivated, Cool Cats is set to be a destination jazz bar in Singapore.
---
Hero's Bar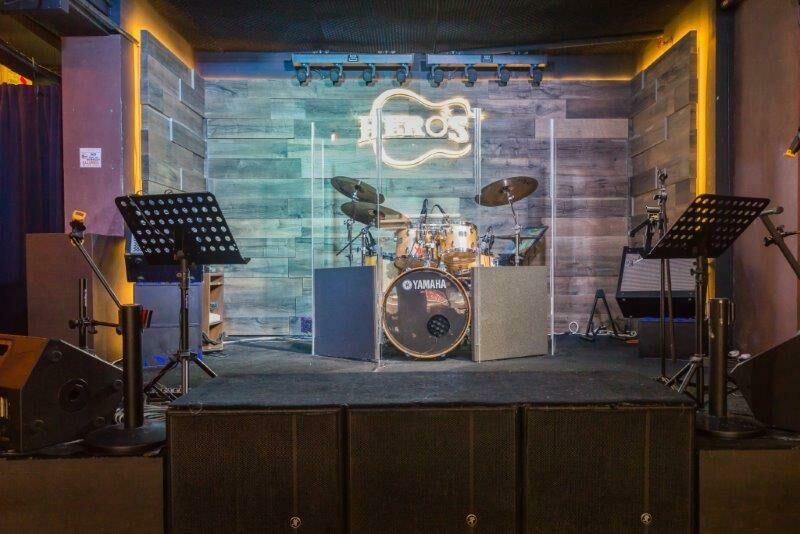 Credit: Hero's Bar Website
Address: 69, Circular Road, #01-01 Boat Quay, Singapore 049423
Website: https://heros.sg/
Established by the Mogambo Asia Group, Hero's Bar is a live music and sports bar that is distinctly recognisable by its wild west influences. The spacious venue is decorated in a "contemporary yet timeless" old western saloon style. It also features unique beer-tap booths where VIPs can pour their own pint from the comfort of their tables. 
For six nights a week (Mondays through Saturdays), visitors will be treated to live music ranging from hard-hitting rock and pop to more mellow acoustic acts while they enjoy viewings of some of the current biggest sports games and feast on a fusion of Indian and Western cuisine as well as a draft beer selection from homegrown company Foodcoholic.
The bar's resident band, Fusion Act from the Philippines, is well known for its exciting live music performances of popular songs that cover a good mix of pop and rock genres. Besides it, the bar has also hosted local acts such as premier reggae band Bushmen, old-school R&B band The Souls of Singapore, blues-rock music group The Blues Machine, and many more. Hero's Bar has also been known to organise themed music events for Halloween and New Year's Eve, an edge to the bar's well-beloved entertainment provided apart from its daily music offerings. 
---
Level Up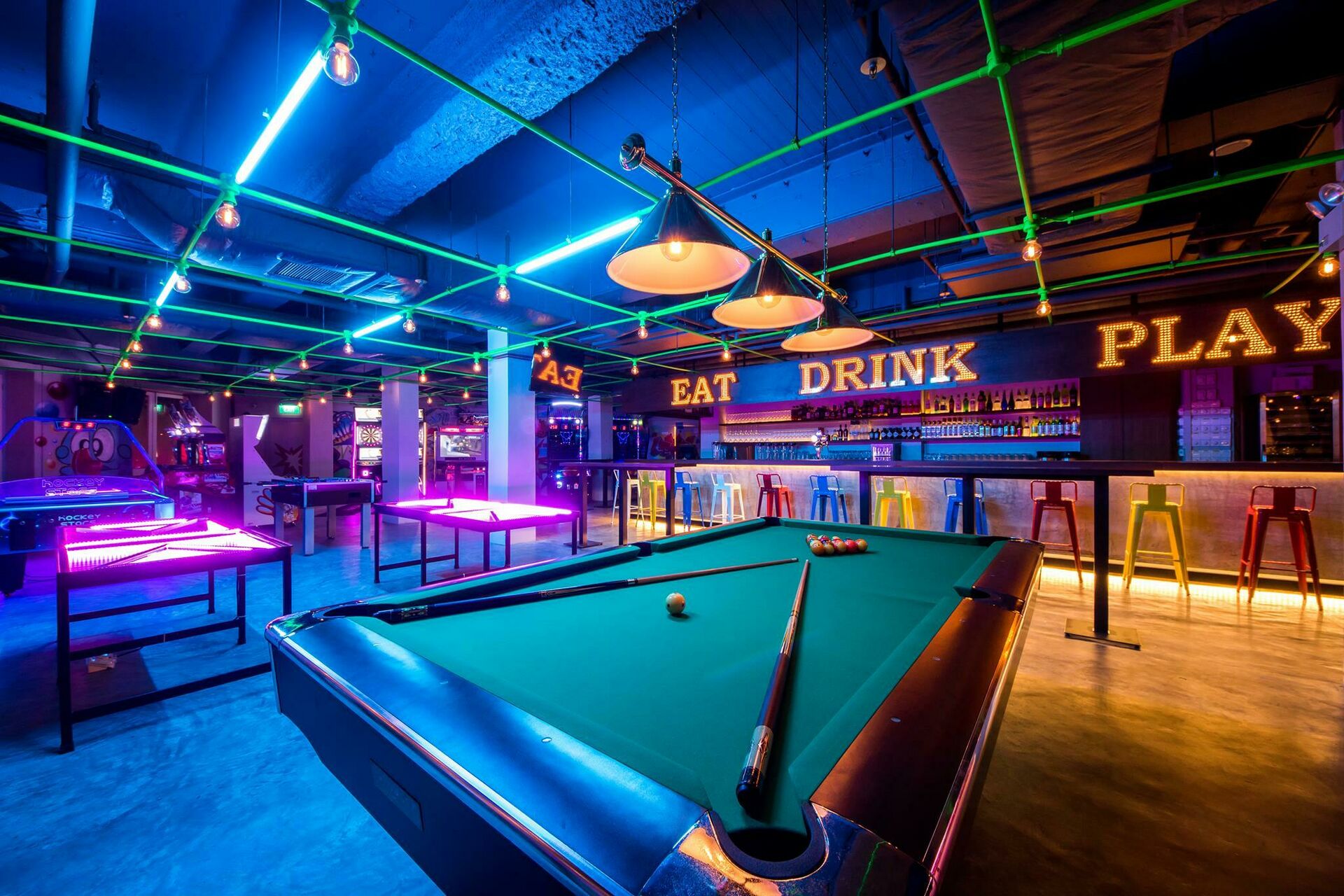 Credit: Level Up Facebook
Address: 3A River Valley Road #02-04, Singapore 179020
Website: https://1-levelup.com/home
If you're a lover of retro-themed arcades just looking to have a music-filled time with friends and take Instagram-worthy shots to remember your time by, Level Up is the place for you. Opened in late 2017, the unique lifestyle concept promotes a sense of belonging and community in a vibrant setting where visitors can catch up with one another and have relaxed conversations. 
The brand lives by its motto to "Eat! Drink! Play!" as it provides an Asian twist on casual bar fare, shareable drink options, and even games such as arcade machines, foosball, beer pong, and pool. Besides these offerings, Level Up is also well-known for its live band entertainment from local artists. 
Where live music goes, Level Up boasts a current lineup of eight stellar artists bound to capture your attention with their powerhouse live music sets covering a wide range of music genres. Featuring acts such as Heybae, Too Much Drama, Syltra Band, DJ Kohsh, and more, there's something for every music enthusiast as visitors will get to enjoy music from a different artist each day. 
---
Luxe NightClub Singapore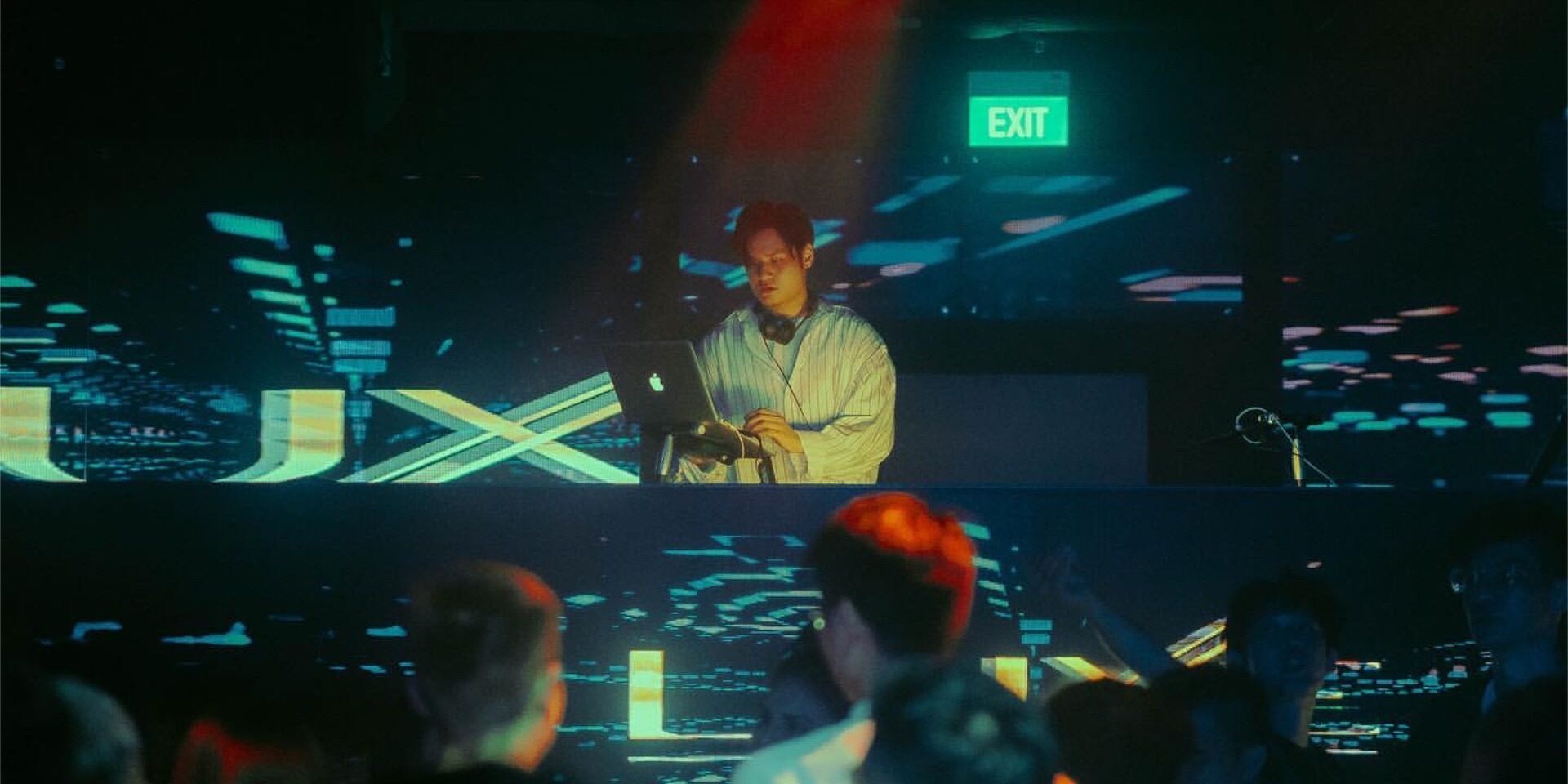 Credit: Luxe Club Singapore Instagram
Address: 7 Raffles Boulevard, Pan Pacific Hotel
Website: http://luxeclub.sg/
No "Luxe Experience" is complete without electrifying beats and thrilling live music entertainment the moment you step into the 4000 sqft nightclub space.
Luxe Nightclub is home to resident DJs SoundsOfFai, DJ PIN, and Andrew T. The hip-hop-based music that SoundsOfFai plays is as smooth as his ability to excite a crowd and keep a dance party on their feet for hours on end. DJ PIN, who was the second runner-up for *SCAPE's Live Mix Maestro DJ Battle, is known to helm some of the major clubs in Singapore. Meanwhile, Andrew T. is the mastermind behind the previously held Legacy Festival and the founder of music entertainment group AOS Collective.
 

 

View this post on Instagram

 
From hosting events that feature Egyptian trance music duo Aly & Fila, homegrown DJ/producer brothers Fariz and Fazrin, who make up Doppelgangerz, and so many more, Luxe NightClub Singapore is well known as one of the ultimate rave party destinations that one can find in Singapore.
---
Maduro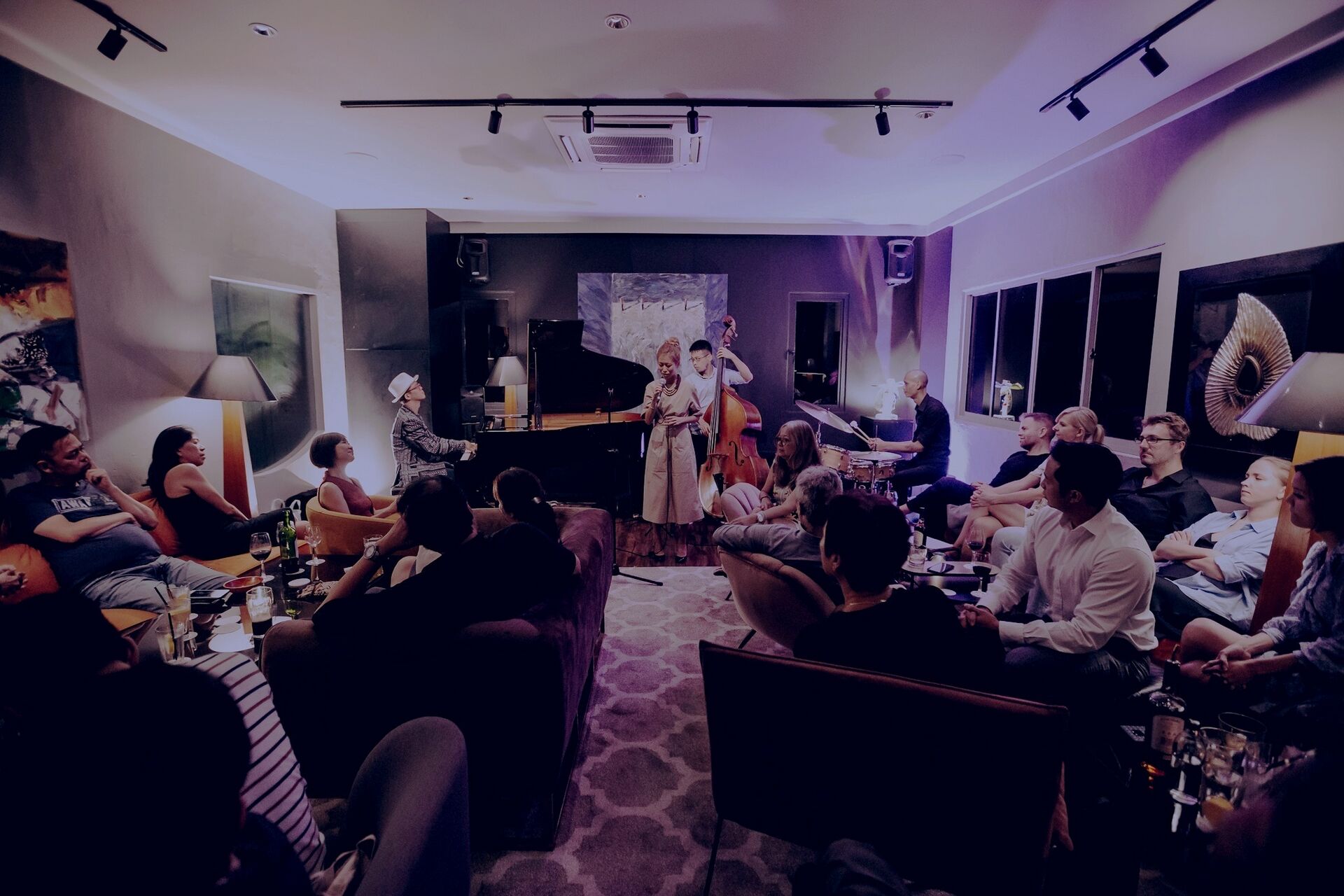 Credit: Maduro Website 
Address: 40C Harding Road, Level 3 (above Atout), Singapore 249548
Website: https://www.maduro.sg/
If there ever were a bespoke cocktail bar and jazz lounge that you should check out, it would have to be Maduro. It is a place that has seen rich history, survived the COVID pandemic and is now back better than ever. More importantly, it is a place that jazz musicians can call home.
Located in an unassuming but fascinating corner of the Little Red Dot, Maduro — juxtaposed against a tranquil, lush green backdrop — is a charming and quaint hideout at Dempsey Hill. It is a place that combines the jazz listening experience with a cocktail programme that was conceptualised by consulting acclaimed beverage director Andrew Yap. Maduro specially curates live music performances that have featured the likes of renowned jazz and pop vocalist Carol Gomez, homegrown act Litmus Jazz Ensemble, classical and jazz-trained violinist David Loke, and many more to date.
 

 

View this post on Instagram

 
If you're lucky, you may even catch a glimpse of Peter Ng, who commonly goes by the moniker Mr. P, the individual behind everything that makes up the Maduro brand. A classically trained musician well-versed in jazz and pop genres, Mr. P founded Maduro's success in 2019, the same year he released his music album titled Journey with My Friends.
---
Prism Club Singapore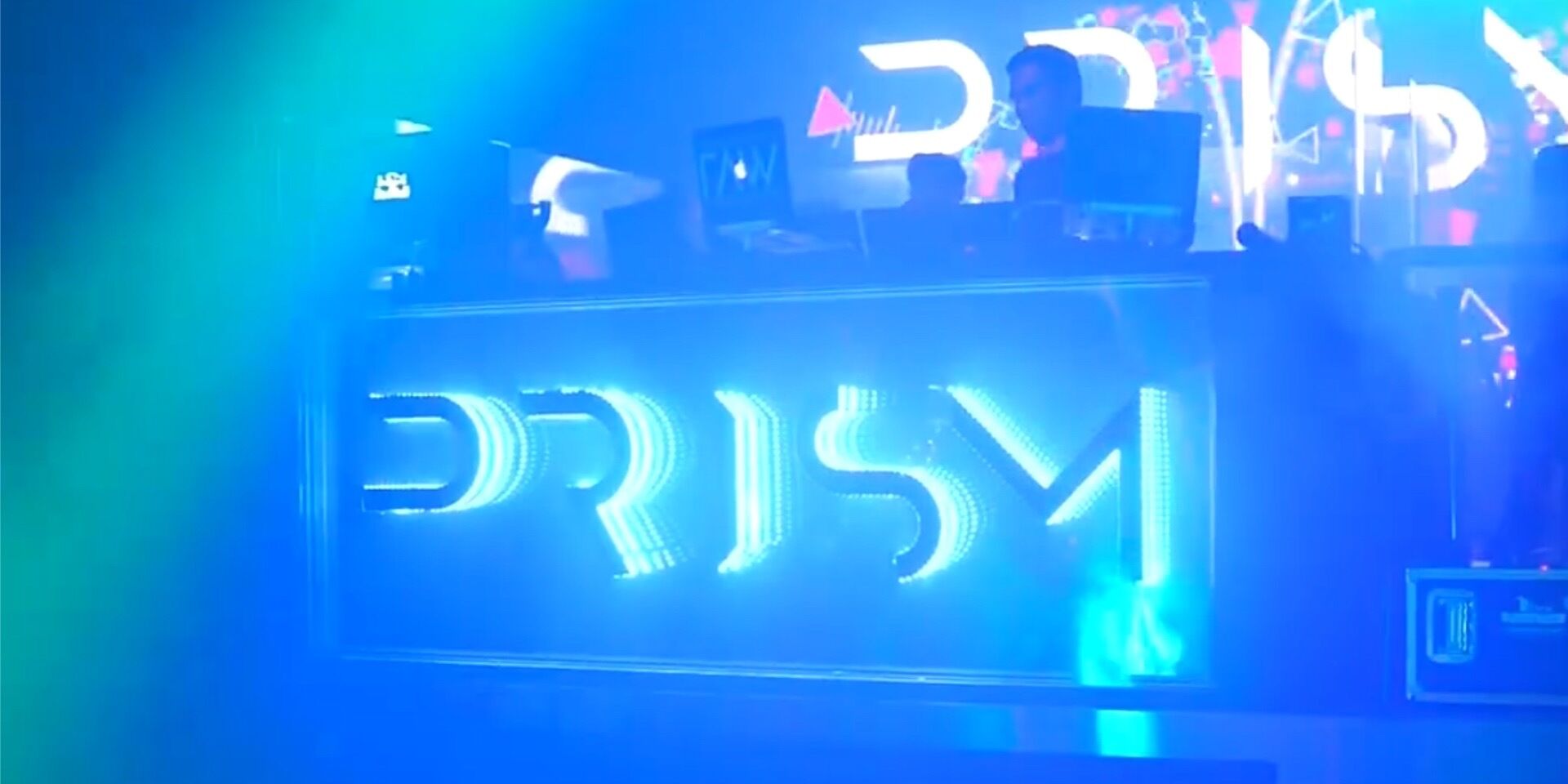 Credit: Prism Club Singapore Instagram
Address: 6 Raffles Boulevard #01-04/5, Singapore 039594
Website: https://www.instagram.com/prismsingapore/
Prism Club Singapore, which officially opened on 18 November 2022, is a relatively new nightclub that is fast joining the ranks of other prominent clubs in Singapore. Just like its name, the many facets of Prism Club will leave guests longing for more of the scintillating experience each time they visit. 
Known for hosting themed events such as hip-hop nights, Valentine's Day raves, and even Lunar New Year dance parties, there is never a dull moment at Prism Club as resident DJs will be spinning electronic dance beats for guests all night long. Notable events include 'Ladies First' night for this year's International Woman's Day hosted by homegrown DJ Cherish, a resident DJ at the club.
More recently, Los Angeles-based rapper, singer-songwriter, and record producer Kid Ink brought his electrifying music performances to the club for the after party of this year's It's The Ship — a well-known cruise festival experience that finally made its return after the COVID pandemic. He was supported by Kuala Lumpur-based DJ and producer NAHSYK, who is a familiar face in Asia's clubbing scene.
---
Stage Live Music Restaurant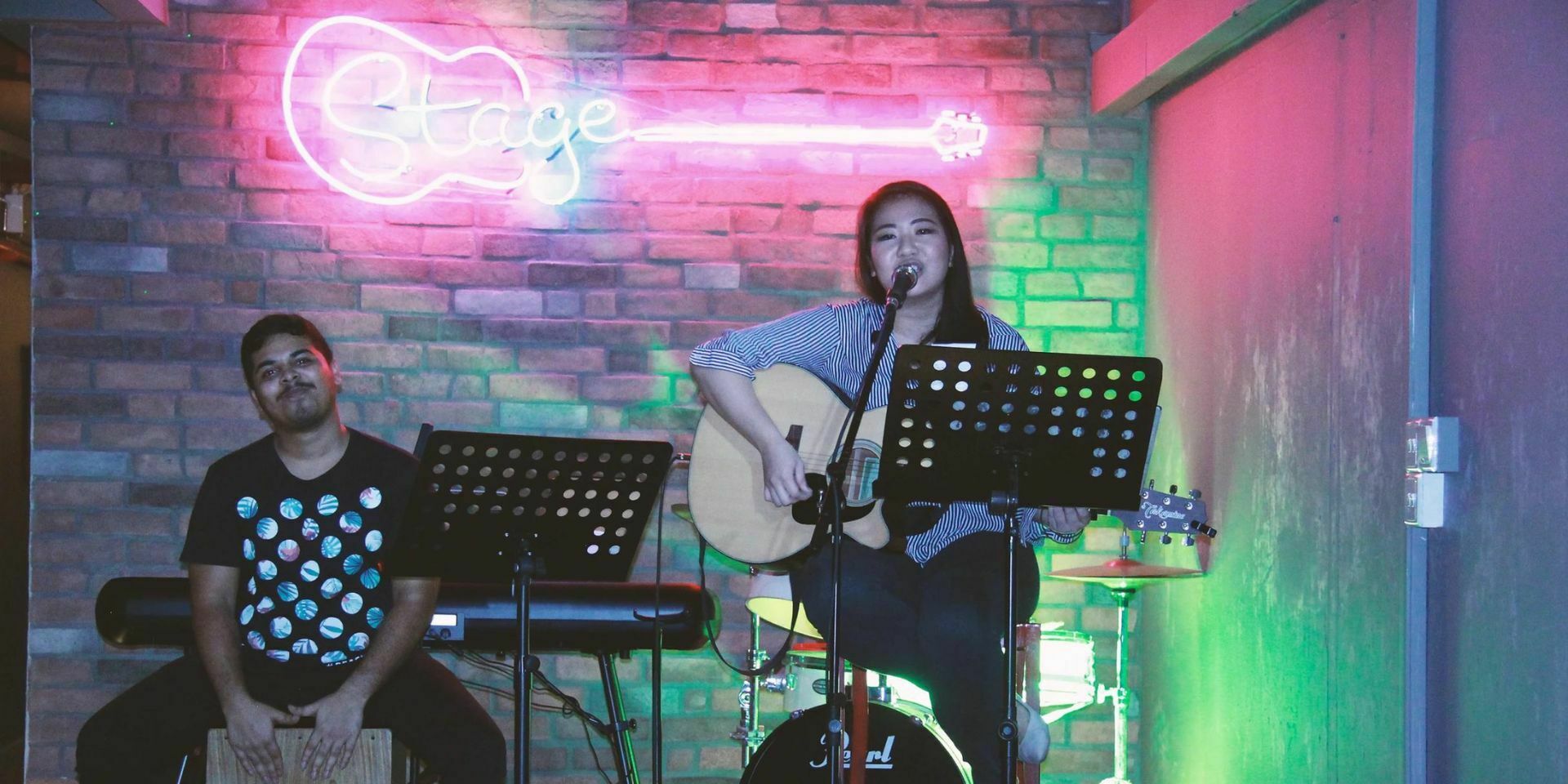 Credit: STAGE Website
Address: 60 Prinsep Street, Singapore 188664
Website: https://www.stage.sg/
For budding musicians, public open mic nights are some of the most anticipated events as they are given the opportunity to share their music with others out of the comforts of their own homes. At Stage Live Music Restaurant, these individuals can have a go at performing for a live audience. 
 

 

View this post on Instagram

 
The establishment is likened to that of a jazz lounge and is limited to a capacity of 100 guests, making it a more homey and comfortable place perfect for both informal gatherings and corporate events alike. What's more, guests are able to pair an excellent live music experience with equally inviting food and beverages as the restaurant boasts a selection of premium wine and spirits and delectable food offerings that fuse western cuisine with local favourites. 
Stage has made its brand about spotlighting local talent and giving aspiring musicians a platform to showcase their talents by hosting open mic nights every Sunday from 8 PM to 11 PM. The live music venue comes fully equipped with a stage, a keyboard, microphones, a projector, and a screen — everything you need to take the stage and showcase your musical prowess. A place where musicians and just about anybody interested in music can immerse themselves in an enjoyable environment and share their love for music with each other. 
---
Blu Jaz Cafe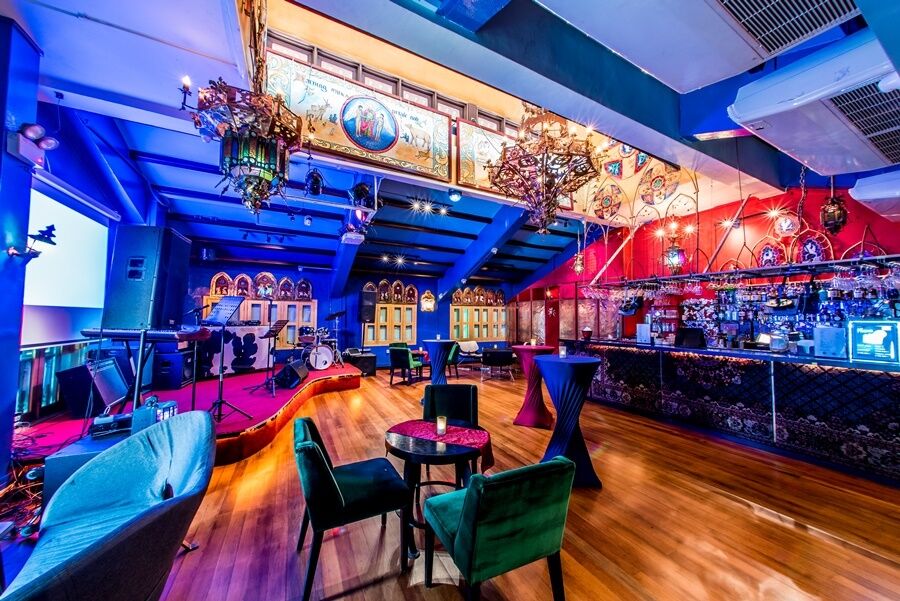 Credit: Blu Jaz Cafe Website
Address: 11 Bali Lane, Historic Kampong Glam, Singapore 189848
Website: https://www.blujazcafe.net/
Blu Jaz Cafe, known to many jazz musicians and enthusiasts alike, is an iconic destination in Singapore where visitors can look forward to evenings filled with memorable jazz music. What started as a 16-seater burger joint in Little India led to finding its permanent home at a prime location in Kampong Glam in 2006. 
There are many things that make the Blu Jaz brand so iconic — its vibrant and intricate decor, unique curations of food and drinks, and events including live music entertainment, comedy shows, and even poetry slams. 
Blu Jaz welcomes guests to be part of live music performances by a different, exciting act every day. Some notable acts on its weekly lineup include Yvette Atienza, a pioneer at the forefront of the local vocal and Latin jazz community, Christy Smith, who is an American-born professional bassist based in Singapore since 1993, and Tropic Green, an eight-piece jazz ensemble brought together by Singaporean composer Susan Harmer.
---
The Vagabond Club Singapore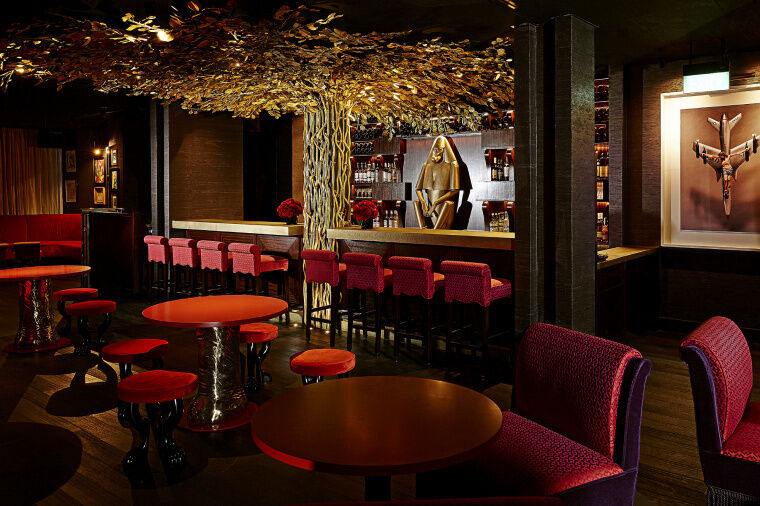 Credit: The Vagabond Club Singapore Website
Address: 39 Syed Alwi Road, Singapore 207630
Website: https://www.hotelvagabondsingapore.com/
In a market saturated with boutique hotel brands, The Vagabond Club — a prominent part of the Tribute Portfolio brand in Singapore — truly knows how to make a name for itself. Located just a stone's throw away from historical landmarks Little India and Kampong Glam, every inch of the space screams "classiness" and "luxury" with its posh red and gold and art-influenced decor. 
Along with everything remarkable that the brand is known for, it is also a sanctuary where everyone is welcome to put on their finest fits and be enthralled by slick jazz tunes at the hotel's internationally-acclaimed Whiskey Library and Jazz Club.
Suited for intimate and larger gatherings alike, guests get to enjoy authentic live music entertainment on the Whiskey Library and Jazz Club's Jazz & Whiskey nights. It is here where female saxophonist Nicole Duffell, who's also a prolific composer and a stalwart of the Southeast Asia jazz scene, performs as part of a quartet with renowned homegrown musicians Joshua Wan and Aaron James Lee, alongside featured artists such as jazz vocal artist Sarah Chew, New York-based musician Greg Glassman, and American bassist Christy Smith.
---
Timbre+ Eastside @ Expo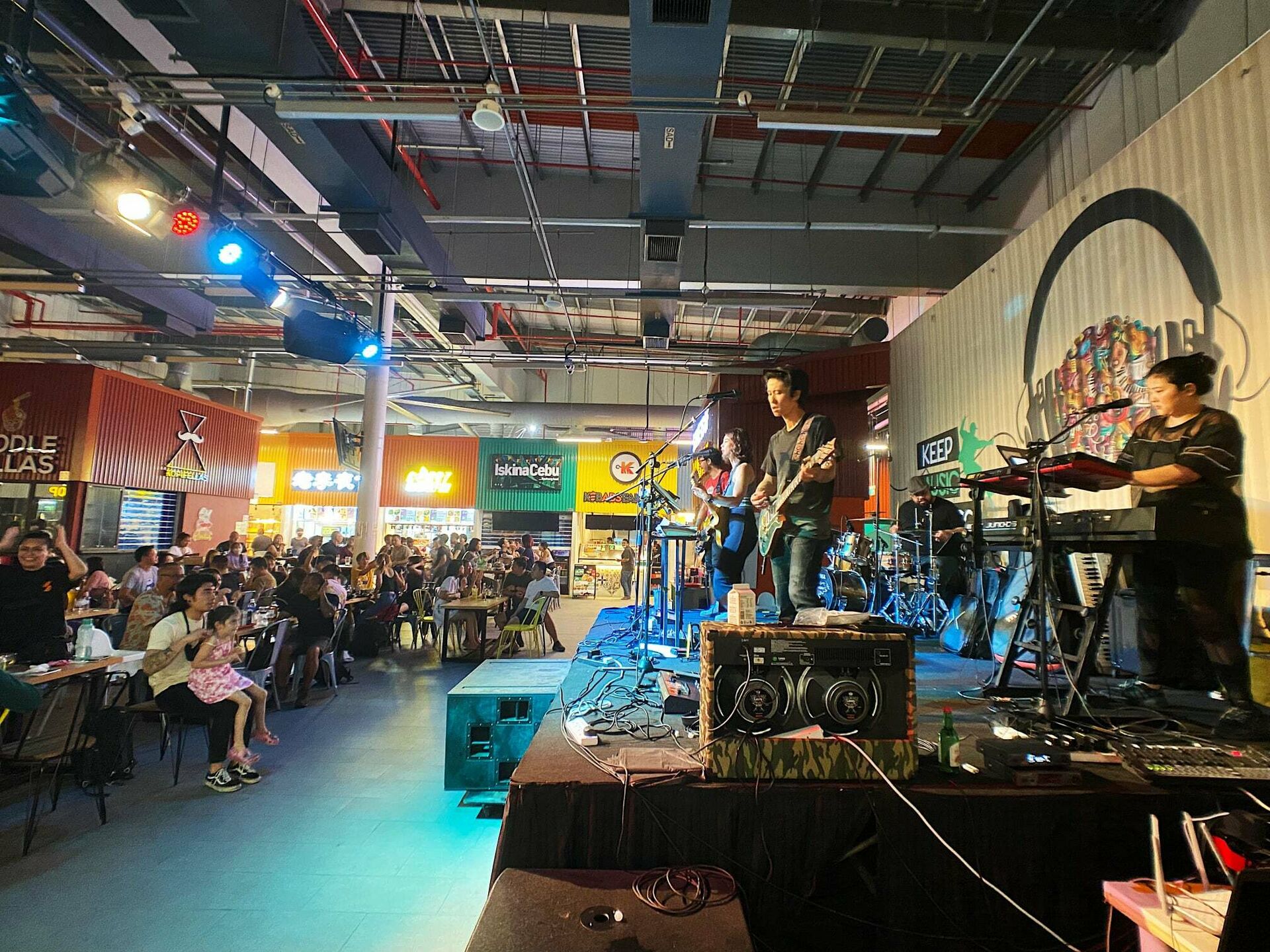 Credit: Timbre+ Eastside Facebook
Address: 1 Expo Drive (Outside Hall 5), Singapore 486150
Website: https://timbreplus.sg/venues/timbre-eastside-expo/
Nothing bonds families and friends together better than an inviting gastronomical affair coupled with live music, and that is precisely what you get to experience at Timbre+ Eastside. Spanning pans 2000 square meters and having a whopping 800-seat capacity, the event space was designed with the intention to promote communal gatherings. There is something for everyone, including book lovers and fitness enthusiasts.
More than just a green, sustainable food park built to reduce carbon footprints by being an environmentally-friendly event space, visitors already familiar with Timbre+ Eastside can attest to the unique music festival-esque vibe of the place.
Featuring a different music act each day, some of the artists who have played sets at the venue include Suncity Sons with their R&B, rock, and pop-influenced music, 53A, one of Singapore's most prominent cover bands, and Monty Crew, a noteworthy electro-acoustic quartet in the local music scene.
---
Tipsy Panda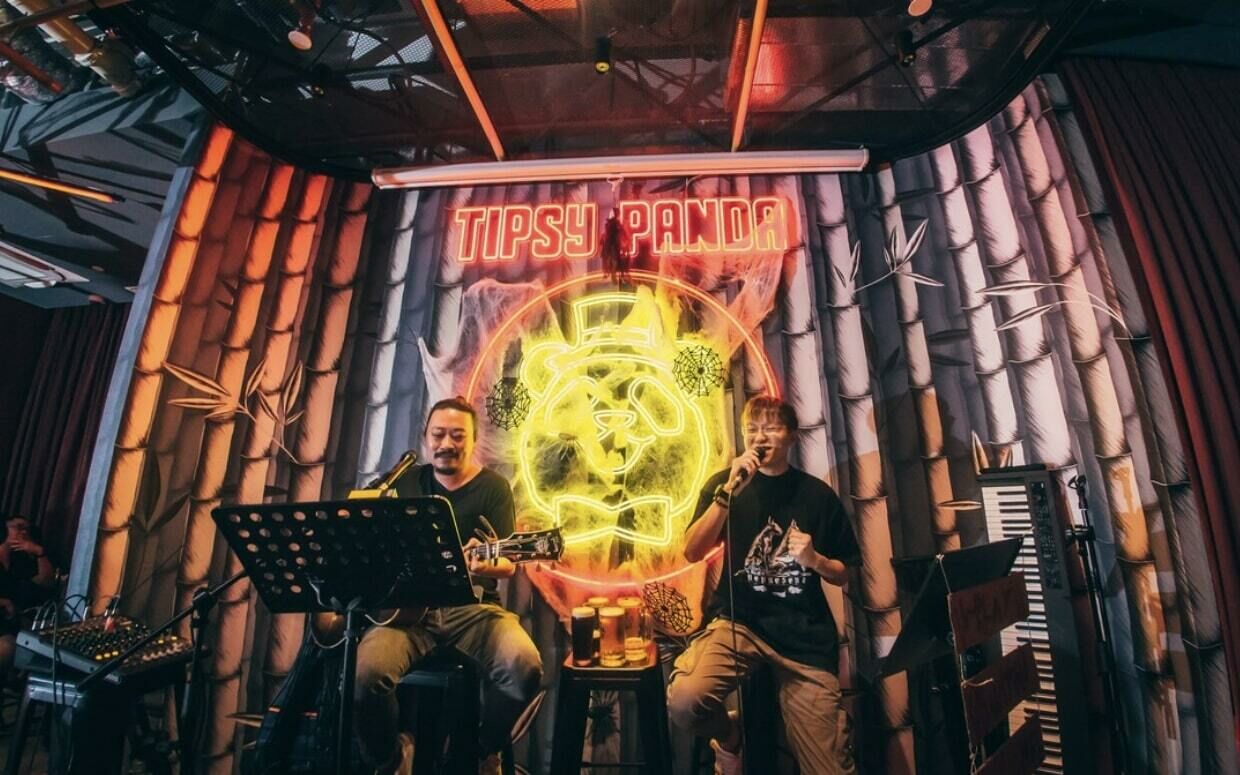 Credit: Tipsy Panda Instagram
Address: 6 Woodlands Square, #01-01 Woods Square, Singapore 737737
Website: https://www.tipsycollective.com/tipsypanda
Tipsy Panda, distinctively recognisable by its iconic panda mascot, is an established bar nestled in the heartland of Singapore. The bar is one of many brands under the Tipsy Collective and is known for its unmistakable Asian-infused vibes and cuisine. It is a place that is constantly reinventing the experience of enjoyment and entertainment for its visitors, making it the perfect choice for private events, parties, and celebrations. The establishment is furnished with neon signs and lights in dark shades of red and yellow that give it an overall comfortable and relaxed ambiance.
Apart from feasting on Asian delicacies and uniquely curated drinks, guests can come down and groove along to Tipsy Panda's resident live bands that play every Monday to Saturday. Some of the aspiring local musicians who have played at the venue include Neo Chua, Evan Liao, Fatt The OneBoyBand, Lennerd Lim, Chris Amber, and many more.
 

 

View this post on Instagram

 
---
Wheeler's Estate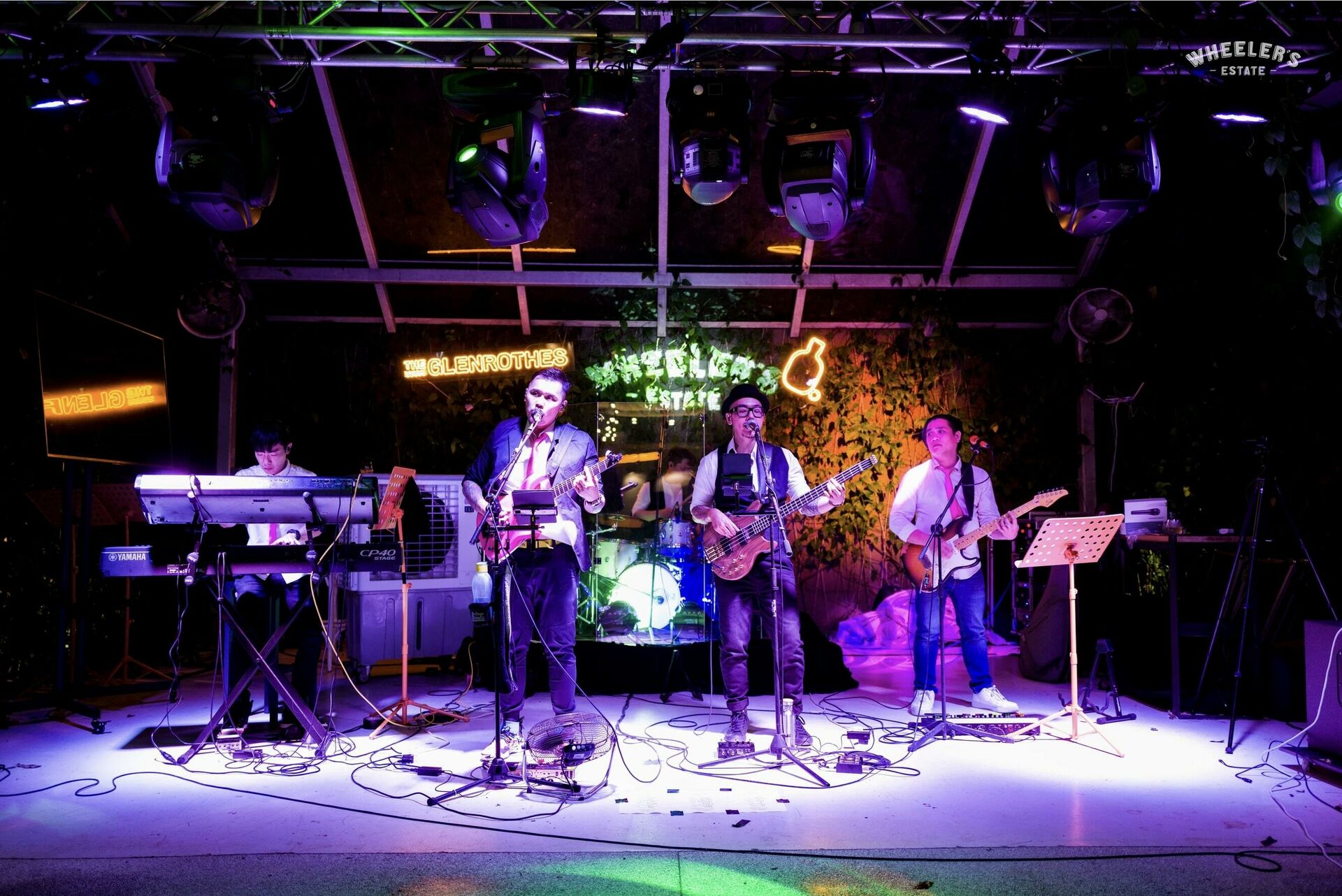 Credit: Wheeler's Estate Website
Address: 2 Park Lane, Seletar Aerospace Park, Singapore 798386
Website: https://www.wheelersestate.com/
Branded as a place where "life, play, and gastronomy meet", Wheeler's Estate is Singapore's largest dining destination hidden away in a rustic nook of The Little Red Dot where nature is of abundance. Not only will you find an alfresco restaurant, bar, and cinder steakhouse, but visitors to Wheeler's Estate will also be greeted with a lush green lawn 2-acre-wide lawn, perfect for carnivals, creative markets, and —as you may have guessed — live music performances.
Visitors will be treated to nights of exciting live band performances from Wheeler's Estate's latest resident band Fabulous Secret Powers, known for their renditions of English rock favourites, Shirlyn + The UnXpected, artists who play 80s rock hits, brother duo Descendants of the Tans (DOTTS) who perform vintage 80s to 90s hits, and more. 
For fans of classic favourite tunes, the venue also holds tribute nights to internationally-renowned artists such as Jay Chou, which features local four-piece bilingual band The JumpStart, comprising members Ashton, Nat, CK, and Yan Hua.
---
YANG Club Singapore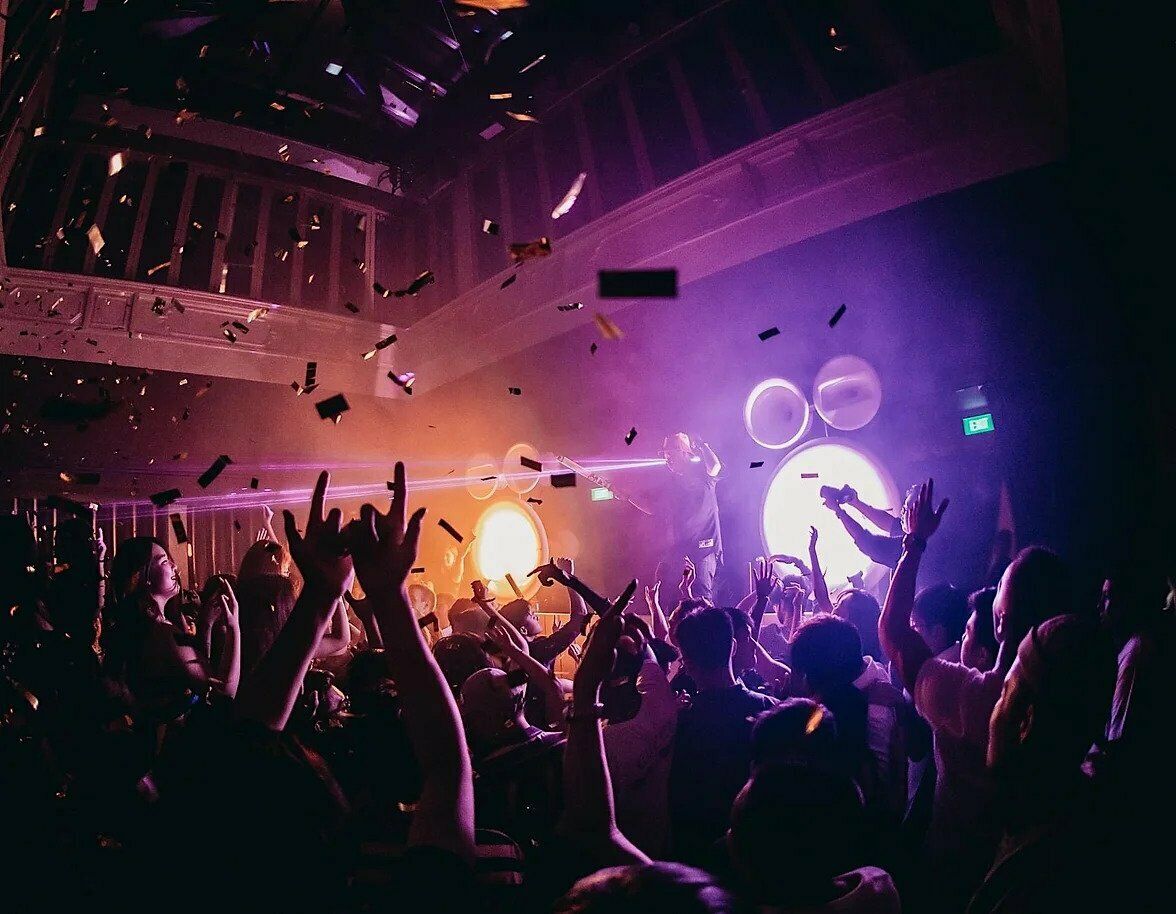 Credit: YANG Club Singapore Website
Address: 3A River Valley Road, #01-02 Clarke Quay, 179020
Website: https://www.yinyang.sg/yang
Singapore's first-ever premier international Asian club YANG Club Singapore is a prominent trendsetter in the local nightlife scene, notable for its oriental vibes that elevate the club experience for guests — a twist on what you would commonly find in an ordinary club.
Promising to provide the best in state-of-the-art sound and music entertainment, the iconic nightclub also has a stacked lineup comprising Singapore-based DJs such as Sherpa, Reiko, Shai, Kaylova, and many more.
Throughout the week, visitors can anticipate live music entertainment covering a broad spectrum of genres daily. Come dressed in your best club fits and immerse yourselves in party band bangers and throwback hits on Tuesdays and Thursdays. On Wednesdays, expect Top 40s songs and a mix of hip-hop, R&B, and reggaeton tunes. Look forward to future house, electro-pop, progressive & big room hits on Fridays. Finally, when Saturday comes, party to electro house, future bass, big room & hardstyle tracks on the dance floor.
---