About a month ago, a programme called 'Receiptify' was all the rage, and Instagram seemed to be a flurry with posts where listeners' Spotify playlists were turned into shopping receipts, which showed their favourite songs of 'All-Time', from 'Last Six Months' or even as recent as 'Last Month'. 
Interested to check out what they got in their shopping carts, we gathered "receipts" from some familiar names in Singapore's music scene, including those from Tay Kewei, MYRNE, Fariz Jabba, Abangsapau, and more, to take a peek into their most-played tracks, and maybe even uncover the root of their musical inspirations. From cartoon theme songs to catchy raps, here are some of their top tunes. 
---
Tay Kewei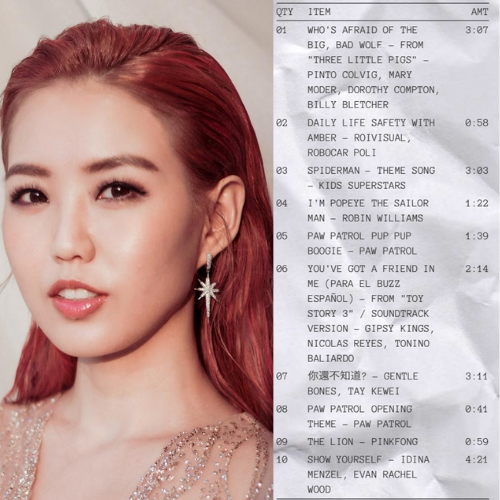 From broadway show tunes to cartoon theme songs, Kewei's playlist reveals some catchy songs and her role as a doting mother of two. Spot the Mandopop star's latest single with Gentle Bones, which has crossed 1.6 million streams on Spotify since its release earlier this year.
---
MYRNE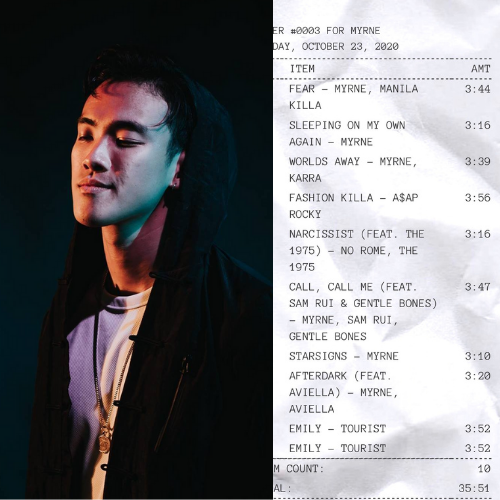 Be your own biggest fan, they said. While MYRNE's "receipt" includes some of his own songs such as 'Sleeping On My Own Again' and 'Star Signs', he also listens heavily to electronic and hip-hop music such as Tourist and A$AP Rocky for inspiration.
---
Fariz Jabba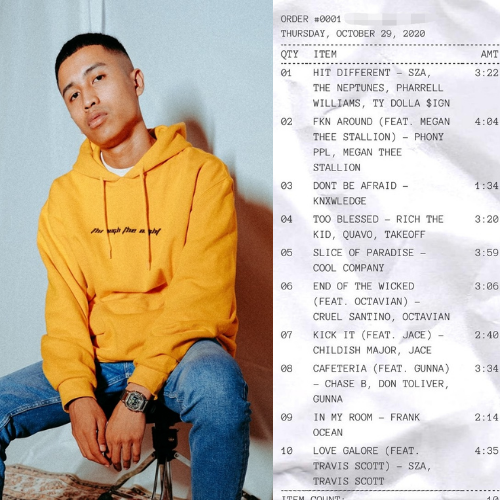 Coming from one of Singapore's prolific rappers, Fariz Jabba, we are not surprised by the hip-hop takeover in this one. From Travis Scott to soulful Frank Ocean, might that be an inspiration for another R&B track after his smash single 'Masa' surpassed 3 million streams on Spotify? 
---
JAWN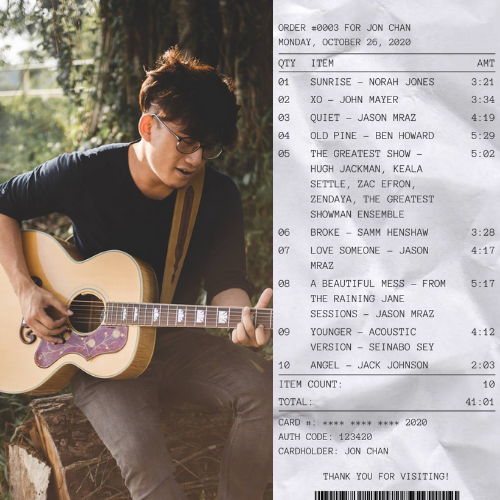 "I'm so basic!" Jon DM-ed us when he submitted his "receipt", but if anything, Jon is far from basic, the list has a mix of folk, theatrical music from The Greatest Showman, soul R&B and more. If you're sharp enough, you might spot Jason Mraz making a couple of appearances, as it seems that the folk-pop artist might be a jolt of inspiration whenever Jon creates his signature laid-back acoustic tunes that transport us to the blissful island life of our dreams. 
---
Opus Renegade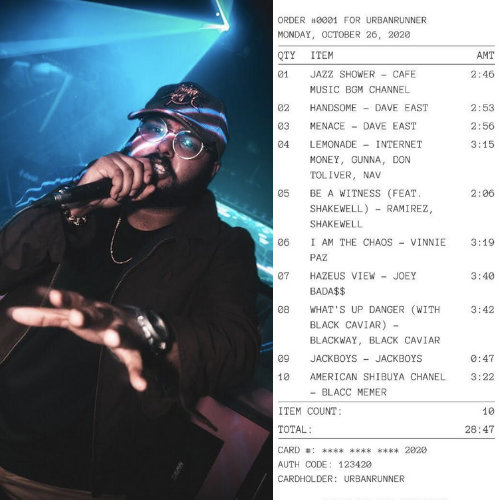 As one of Singapore's finalists for Vans Musicians Wanted 2020, Opus Renegade definitely listens to his fair share of hip-hop jams, which is probably one of the reasons why his impeccable rap verses radiate flawless hip-hop energy. 
---
Lee EinEin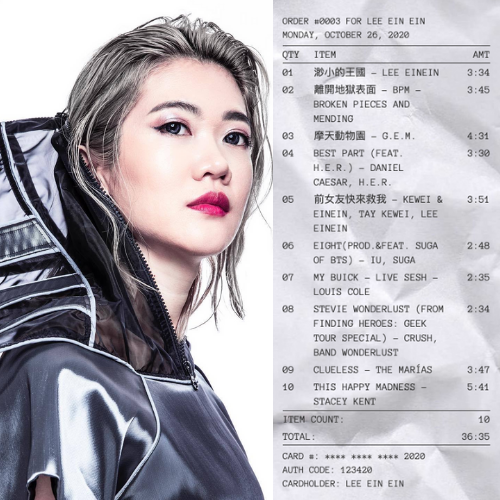 Having played with one of her close friends, Tay Kewei, as a pianist and singer-songwriter before finding her passion for singing, their collaborative single '前女友快来救我' that was released last year made it to the list. Spot her debut single as a solo artist '渺小的王国', along with tunes from the homegrown artist, BPM - Broken Pieces and Mending.
---
Abangsapau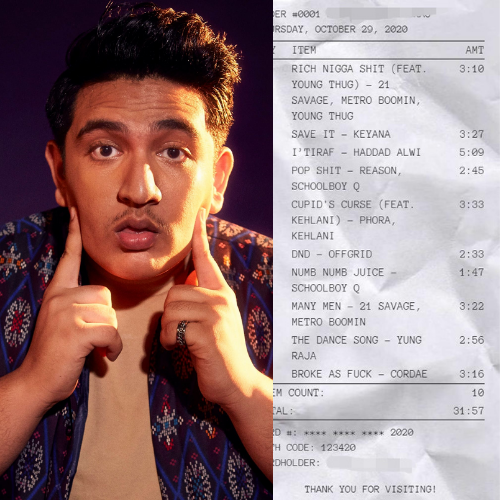 Abangsapau has had a pretty happening year, after dropping the 'Stay Home' track with other artists from Universal Music, he also performed at the 2020 NDP show for the very first time. The rapper listens heavily to hip-hop tracks, and he also shows love for labelmate Yung Raja's latest single 'The Dance Song' that is up there with established names such as 21 Savage, Kehlani, and Metro Boomin. 
---