Born with a cleft palate, Jean Tan was told that she would never be able to speak properly, and would have to go through numerous correctional surgeries. She was later diagnosed with an incurable kidney disease as an adult, and has been battling the condition for the past seven years. 

Despite all the cards that have been dealt, one thing has remained constant - her love for music. 
In the name of love for singing, Jean eventually proved doctors wrong when she got over her speech impediment early into adulthood.
Yet in 2010, while starting out as an educator and producing her debut album, she was diagnosed with an autoimmune kidney disease that caused her kidneys to leak protein and her body to swell. 
The singer-songwriter continued to push through the fresh set of challenges, and during the seven-year period of battling her kidney condition, she wrote her 2017 EP, Hideaway, to take listeners through the journey of battling a life-threatening condition.
As the age-old adage goes, 'What doesn't kill you makes you stronger', Jean's ordeal flowered her follow-up EP, Blooms, which recently dropped on 20 November.
Crooning about the resounding assurance that comes after darkness and death - like a magnificent phoenix rising from the ashes - the record emphasises finding the light at the end of the tunnel, with the aim to remind listeners of love and rebirth.
Since the start of her music career, the folk-pop artist has always made the conscious effort to use her music for social good by performing at schools, teenage homes, and non-profit organisations such as Operation Smile, which provides safe surgeries for children born with cleft or facial deformities.
Hear65 caught up with Jean Tan as she shared the process of discovering her passion for music through a karaoke set, how music healed her after a 12-hour jaw surgery, her latest album release, and more.
---
How did you discover your passion for music? 

I discovered my joy for singing at a young age when my dad brought home a karaoke set. We starting singing together – it became a family past-time – and that's when I discovered I really enjoyed singing. I also learnt piano from the age of 4, and I recall how in Primary school I often liked re-creating songs I'd heard on TV on the piano. Looking back, I realised too that my family was constantly listening to music, and the home was filled with a range of genres from classical, to jazz, to metal. So it was quite a natural environment for me to pick up an interest in music.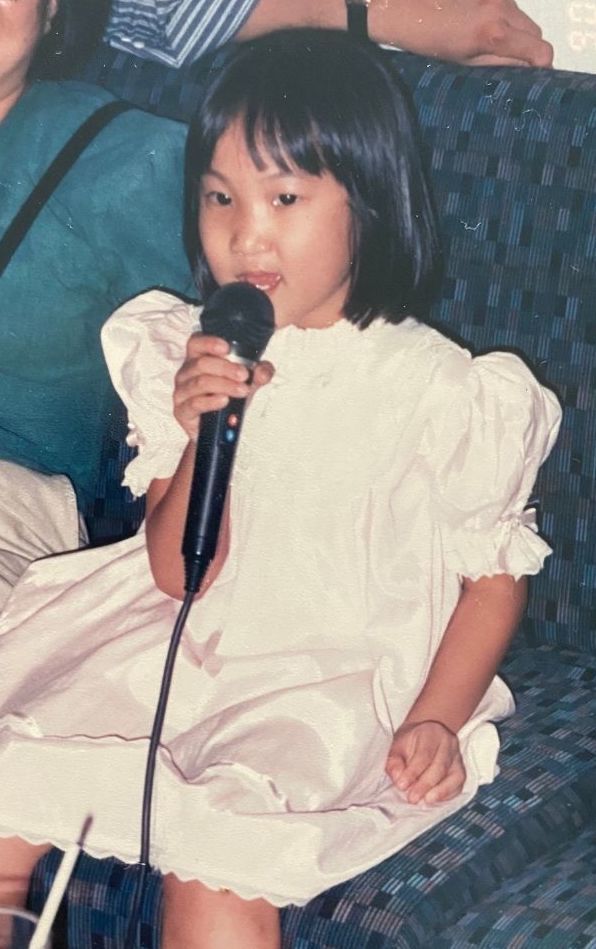 Jean, as a child playing with her favourite toy – the karaoke set. 
---
Having gone through so much in life, how does music / making music heal you and what keeps you going? 
The first time I realised music can be healing was after my 12-hour jaw surgery when I was around 16 years old. My mom had brought a CD player into the ward and played the "Fairytales" album by Radka Toneff and Steve Dobrogosz. The first song, "The Moon's a Harsh Mistress", was constantly on loop throughout my stay in the hospital.
It was such a melancholic, yet also a calming song – perfect for the bitterness and anger that was storming in me that post-surgery month in Dec 2001. Being a fully grown teen, I'd become well aware of the different life I had then and had experienced a fair bit of stigma and loss so far, so the brooding words and melody of the song spoke into my heart and soothed my soul a little from the pain of the surgery.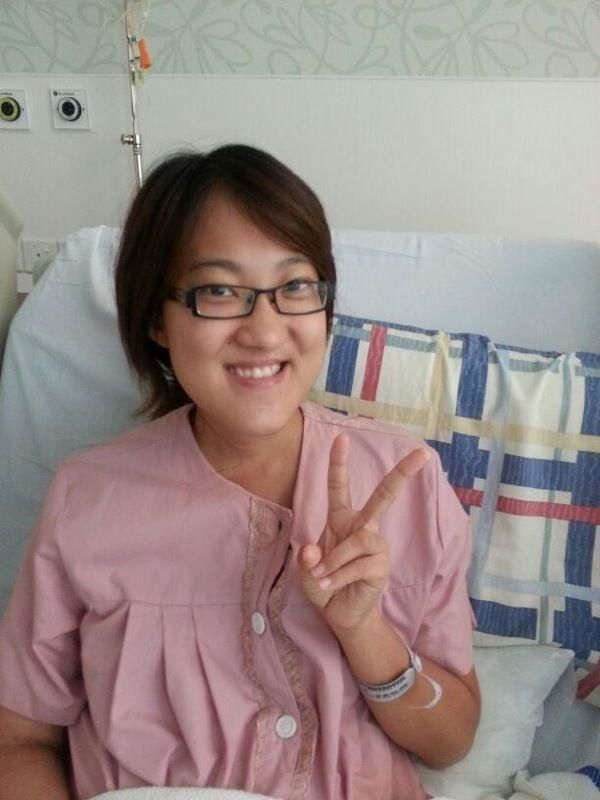 Hospitalised back in 2010 when Jean was first diagnosed with kidney disease 
As I went through subsequent challenges, I also became aware of how powerful music is as a mode of expression and connection – it helped me document my journey through dark and light and put me in a space where I could connect with others who were similarly going through stuff and needed a word of encouragement. My music is thus always deeply influenced by my life experiences – and not just by the challenges I'd experienced, but the liberation and joy that came through those trials as well.
---
'You wrote your previous EP, 'Hideaway', in a 7-year period while battling your illness. 'Blooms' on the other hand, is described to be about the light at the end of the tunnel. What was it like creating both of these albums at such different stages of your journey?
It's pretty interesting that I wrote these two sets of songs all around the same time. I was going to release them in one album, but Kevin Foo, whom I was working with for the Hideaway EP, had suggested them to be bunched in two EPs for greater sonic and thematic coherence. Hence, you get two EPs which mirror each other in some way: 'Hideaway' representing a more wintry, darker expression of the struggle, and 'Blooms' symbolising the promise of spring.
Most of the songs in 'Blooms' in fact were written even before things turned around absolutely for the better – Oak Cherry Wine, for example, is a song on marriage, but was written when I was still single and my heart was on the mend from a previous relationship; it was written, however, as a pledge towards healing and that I'd sing it on my wedding one day – it was then uncanny that I'd met my partner (who's now my husband) just a few months after I wrote the song. Collectively, the two sets of songs capture the reality of grief and disruption, and at the same time, the hope for things to come and a striving forward.
---
What is your proudest achievement and why? 
Just being able to live my life normally – meaning, to eat, breathe, walk, and go about daily life normally and joyfully. I'd lived 30+ years having to live from surgery to surgery or some kind of health, family, or relational crisis every few years. The 7 years in illness from 2010-2017 were, in itself, an insane battle of the mind and body. Just being able to work and serve and do what I do today, hopefully to the benefit of communities and people around me, is a great feat.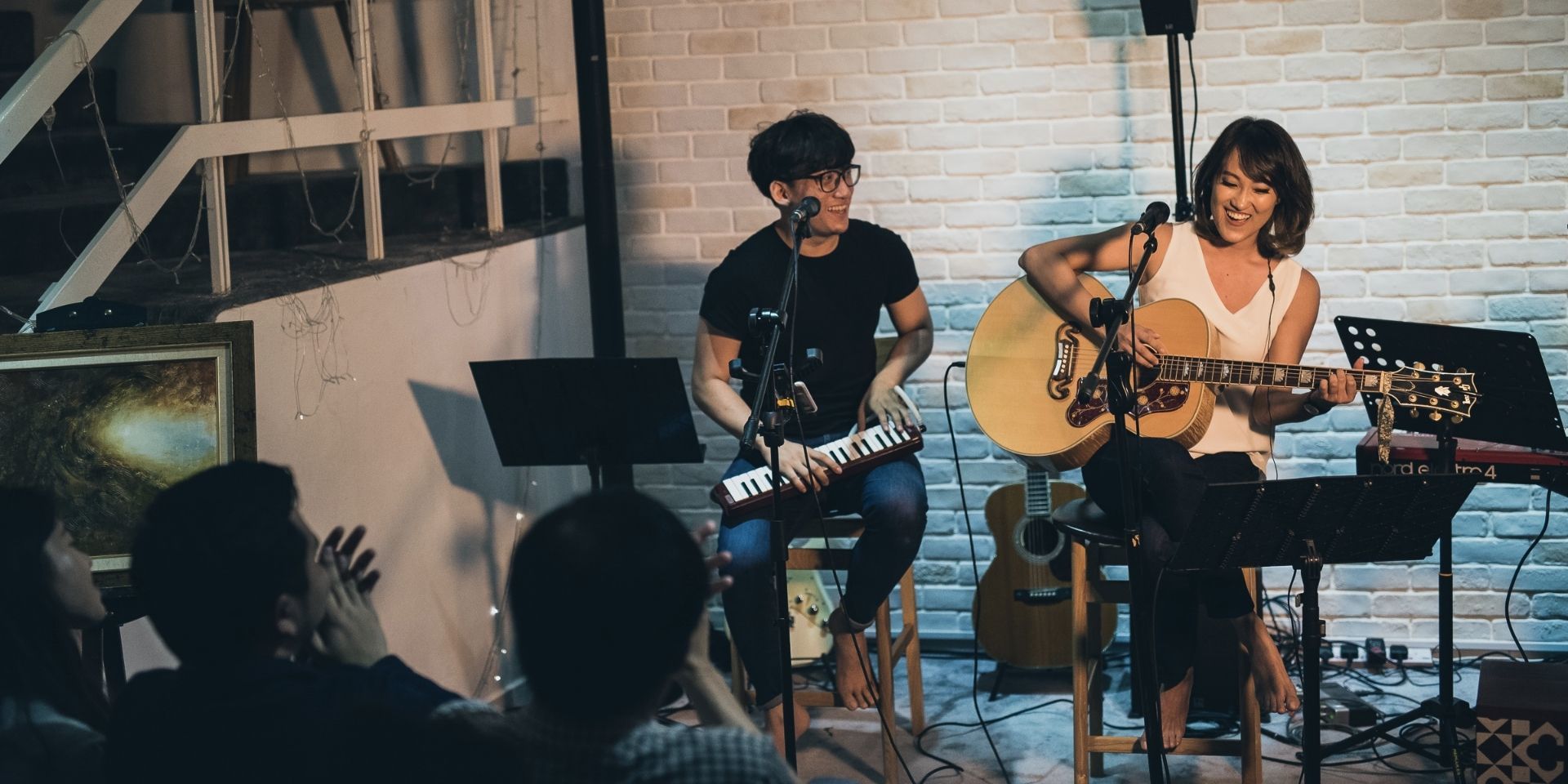 In her comfort zone, shining at what she does best – singing. 
---
Talk us through the story behind your latest EP release, Blooms, what do you want your listeners to take away from the EP?
For there to be life and growth, there has to be a kind of 'dying' in some way – in the same way that blooms are birthed from seeds and fruits that fall to the ground. It is excruciatingly painful, and you will feel at times like everything in life is stripped away. But forcing yourself to confront both the light and dark within yourself – and to accept it, and to be kind to yourself for it – you come out on the other end a lot clearer about who you are and what you stand for.
Sometimes, too, we just have to put one foot before the other, even when we don't yet understand, and one day you may be surprised by the blooms that come to fruition – and at a time you least expect.
---
How did going through your health challenges shape or change you to become the artist that you are today?
It's definitely made me more empathetic as a person and has helped me connect with the stories of others. Ultimately, we're all trying to survive as human beings and do good in a very colourful, but very rocky world. I've tried to embrace the struggle as much as possible in my music, and to use the stories behind the music to also encourage others more along the way. 
---
Moving forward, what are some of your goals for the new year?
I have a few singles in the pipeline to release in 2021, including a remix of one of the songs on the EP, 'Oak Cherry Wine'. It's quite a multi-national collaboration: first, a duet with Korean Youtube artist, 양중은June, and released along with the single is an MV filmed on the streets and in the subway stations of Sweden. I'm excited to let everyone hear it, along with the more pop-flavoured singles along 2021!
---
Stream Blooms on Spotify below:
Image Credits: Joss Yeo, Jensen Ching
---
---