Since the beginning, we've been reviewing music on Hear65 every week, and now we'd like to break away from this tradition and pass the baton over to you - the listeners of Singapore's music. If you've ever been itching to share your thoughts about a new track release, or simply want to introduce good earworms to more listeners, then read on. 
For the uninitiated, the Hear65 website has a Review Function to help visitors discover and gain greater insight into the music in Singapore. Good music should always be shared, and we are inviting contributions from friends and fans of our homegrown artists.
Every two weeks, the Hear65 team will select a few reviews to publish in a Review Round Up article. Just check out the latest releases and submit your review for a chance to be featured. 
Here's what readers have to say this week:
---
謊言 - LINGBRANDON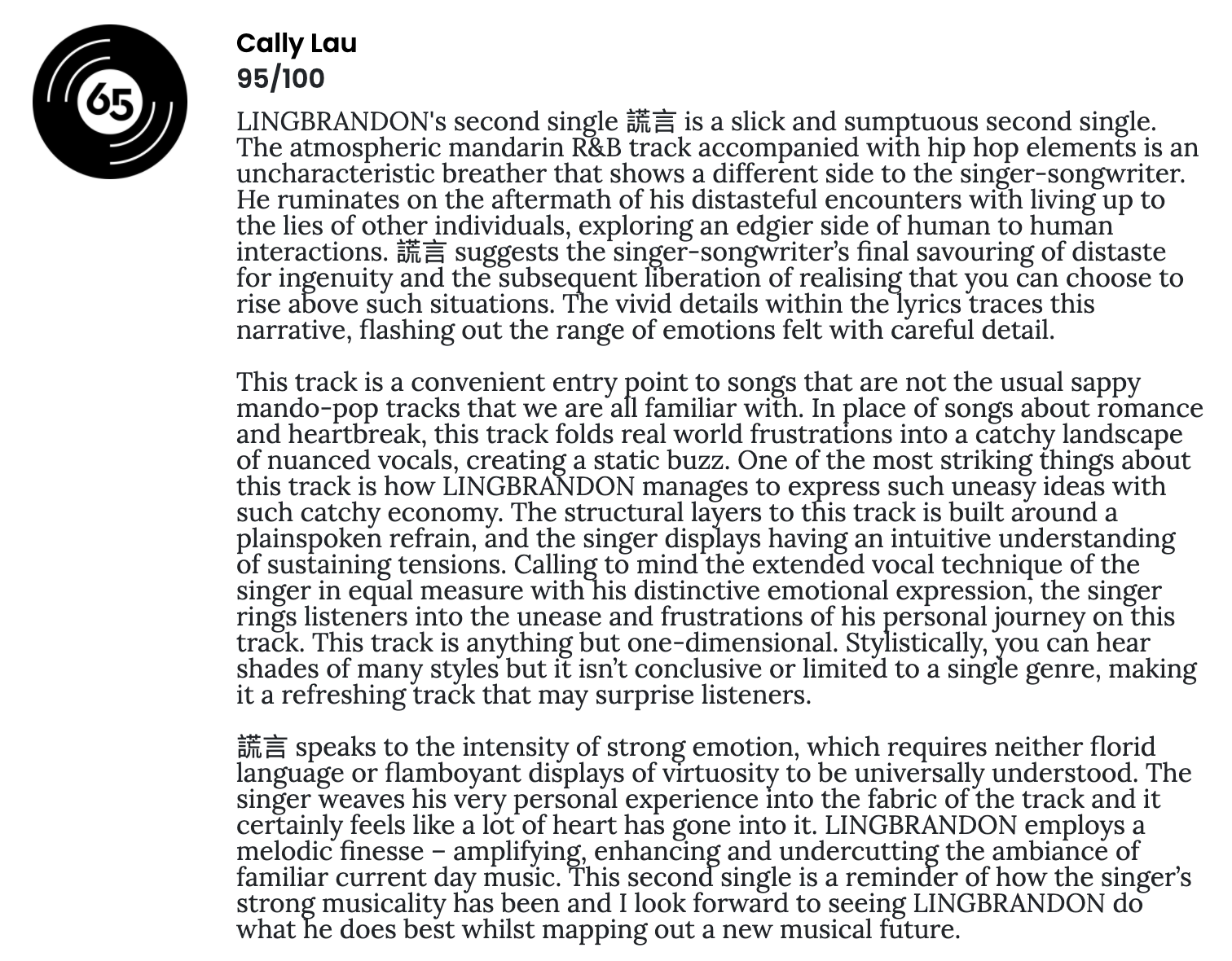 Cally Lau, 95/100: LINGBRANDON's second single 謊言 is a slick and sumptuous second single. The atmospheric mandarin R&B track accompanied with hip hop elements is an uncharacteristic breather that shows a different side to the singer-songwriter. He ruminates on the aftermath of his distasteful encounters with living up to the lies of other individuals, exploring an edgier side of human to human interactions. 謊言 suggests the singer-songwriter's final savouring of distaste for ingenuity and the subsequent liberation of realising that you can choose to rise above such situations. The vivid details within the lyrics traces this narrative, flashing out the range of emotions felt with careful detail.
This track is a convenient entry point to songs that are not the usual sappy mando-pop tracks that we are all familiar with. In place of songs about romance and heartbreak, this track folds real world frustrations into a catchy landscape of nuanced vocals, creating a static buzz. One of the most striking things about this track is how LINGBRANDON manages to express such uneasy ideas with such catchy economy. The structural layers to this track is built around a plainspoken refrain, and the singer displays having an intuitive understanding of sustaining tensions. Calling to mind the extended vocal technique of the singer in equal measure with his distinctive emotional expression, the singer rings listeners into the unease and frustrations of his personal journey on this track. This track is anything but one-dimensional. Stylistically, you can hear shades of many styles but it isn't conclusive or limited to a single genre, making it a refreshing track that may surprise listeners.
謊言 speaks to the intensity of strong emotion, which requires neither florid language or flamboyant displays of virtuosity to be universally understood. The singer weaves his very personal experience into the fabric of the track and it certainly feels like a lot of heart has gone into it. LINGBRANDON employs a melodic finesse – amplifying, enhancing and undercutting the ambiance of familiar current day music. This second single is a reminder of how the singer's strong musicality has been and I look forward to seeing LINGBRANDON do what he does best whilst mapping out a new musical future. 
---
Grass Field - Thaddeus Lin

BedroomListener, 100/100: This is one of Thaddeus Lin's songs that stands out among his recent releases. The ambient sounds in the track give it depth and make it easy on the ears. This is a perfect song to come home to after a long day, when you just want some time to yourself. 
---
Khabar Angin - Bani

Noah, 100/100: For me, this song takes its listeners for a spin from being vulnerable and accepting it, then to come with standstill confidence when facing the storm of uncertainty upon them. With much of Bani's work has been influenced by Malaysia's underground sound, this is another song that encapsulates today's pop-R&B trend.
---
Poison Skies - Solvant

Louis Logic, 99/100: I think the song is a really awesome piece of metal-core with nice melodic moments and a pertinent social/environmental message. Great tune! 
---
Serotonin - jyeo, jupiterkid

Cervone, 100/100: This song is just 100% chill vibes. The arrangement, composition and writing complement each other well, which suits the overall intention of it, and amazing vocals going on too. 10/10 recommend! Go give it a listen, your ears will be blessed! :)
---
meet me there - Amelia Rae

Roz Tavakoliyan, 100/100: This song is so peaceful and calming. Every time I listen to it, it warms my heart and cheers me up.
---
---