Singaporean musician jaye will be working with acclaimed Bulgarian artist Mihov to put together Singapore's first NFT cross-border arts exhibition titled 'Broken Capitalism.'
A joint effort with Hatch Art Project, the exhibition is slated to take place from 25 November till 8 December. It will be held in person at Hatch's gallery on 7 Yong Siak Street in Tiong Bahru, as well as online at digital art markets MakersPlace and Async. 
The exhibition seeks to address society's capitalist system and will be accompanied by jaye's latest two-track EP titled how much is your life worth?. 'TIME NOT $' is about the overvaluation of money as opposed to time, while 'BACKLASH' is a track about not conceding due to a fear of judgement.
how much is your life worth? pic.twitter.com/9VXd6F7iXV

— jaye (@jayefunk) October 28, 2021
The recently unveiled music video for the EP was produced by Bless7Up, and features jaye and his wife Nicholette Pang in a dystopian universe.
"My music videos have always been cinematic, so naturally I wanted to pull all the stops and shoot a short film," explained jaye. "I wanted to introduce my idea of the future by introducing Cryptocurrency, NFTs, VR and AR as I believe this will eventually become the new normal."
The music video also features an art piece titled Time! conceived by Mihov. The creation represents consumerist society's inclination to spend their entire lives seeking affluence purely for luxury. Details from patterned prints of popular designer brands such as Versace and Hermès can be seen in the artwork.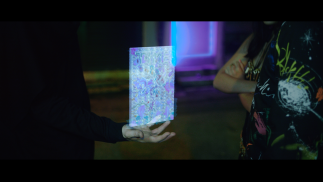 "We met one sunny day in Singapore to catch up and found out we both are working on the same topic. jaye's music video was discussing why one shouldn't spend their entire life chasing wealth, where I was exploring why we spend our entire lives chasing wealth," explained Mihov. "Coming from the financial sector, I developed interest in exploring the behavioural impact our system has and trying to understand what drives it."
The NFT series by the duo will feature pieces that are a mixture of the art piece Time! as well as GIFs from jaye's music video. Proceeds from the sale of the NFTs will be donated to the United Kingdom charity organization eShareLife, whose aim is to help the needy through art.
Other Hatch Art Project artists from around the world will also be displaying their work on consumerism at the exhibition. These artists are Venezuela's Eduardo Enrique, the United States' Bradley Foisset, Singapore's Mojoko, The Philippines' Reuel Rendon, Thailand's Tawan Wattuya, Vietnam's Nguyen Quoc Dzung, and Indonesia's Iabadiou Piko. 
---
Check out jaye's EP how much is your life worth? below and leave a review on Hear65.
---