Mother's Day is just around the corner. Have you made plans with your mom yet?
This year, consider taking your mom to a concert and display your love and affection through the sweet gift of music! Here is a list of music events taking place this weekend to celebrate and honour the most important woman in our lives.
---
"To Mum with Love" by Singapore Chinese Orchestra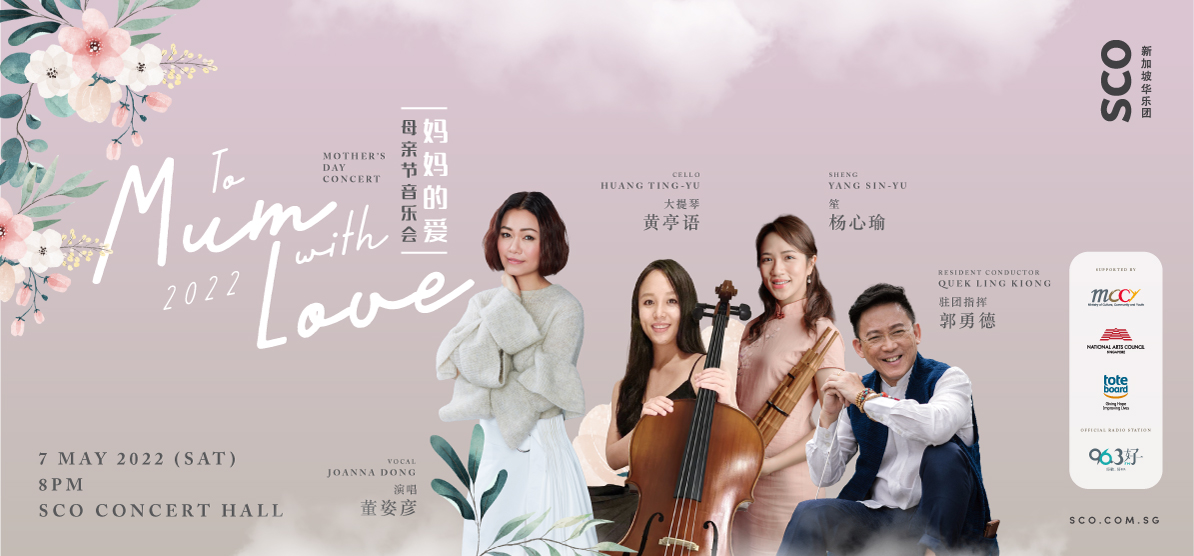 When: 7th May 2022 (Saturday), 8 pm
Where: Singapore Chinese Orchestra Concert Hall
Tickets: $28-38, purchase here.

Singaporean jazz-pop singer Joanna Dong will be teaming up with the Singapore Chinese Orchestra (SCO) for a symphonic extravaganza this Mother's Day. The concert will be helmed by SCO's Resident Conductor Quek Ling Kiong and also feature musician moms like SCO sheng musician Yang Sin-Yu and cello musician Huang Ting-Yu. Dong's saccharine vocals coupled with the majestic melodies of the SCO promise a heartwarming night for music fans.
---
To Mum with Love 
When: 8th May 2022 (Sunday), 6.30 pm & 8 pm
Where: Esplanade Outdoor Theatre
Tickets: Free 

Not to be confused with the concert above with the same name, this event is a free music performance to be held at the Esplanade Outdoor Theatre. It marks the second collaboration between Singaporean trio LimTayPeng (LTP) and four 96.3 Hao FM DJs, namely Wang Deming, Yu Siyuan, Hong Jingyun, and Chen Liyi. LimTayPeng will be performing songs of their signature flavour—quirky and authentically local, while the Hao FM DJs will be delivering familiar Mandarin pop tunes to serenade moms on their special day.
---
"Mothers' Day Special" by Signifique & RINES
When: 8th May 2022 (Sunday), 5.45 pm, 6.45 pm & 7.45 pm
Where: Esplanade Concourse
Tickets: Free

This event will feature a unique collaboration between electropop act RINES, and Signifique, a song-signing performance group comprising both deaf and hearing volunteers. RINES will be performing a collection of songs dedicated to mothers, while Signifique aims to showcase the beauty, versatility, and artistry of sign language through song-signing and increase public awareness of the deaf in the visual performing arts field.
---
The Love Jukebox
When: 8th May 2022 (Sunday), 2 pm & 5:30 pm
Where: Esplanade Concert Hall
Tickets: Free (pre-registration required)

Take your mom to The Love Jukebox to indulge in nostalgia this Mother's Day! Community band Novo Winds will be joined by guest singer Khim Ng to revisit iconic hits from the past, featuring a wide selection of music from Dick Lee to The Carpenters.
---
Candlelight: A Tribute to Jay Chou
When: 8th May 2022 (Sunday), 2 pm, 5:30 pm & 8 pm
Where: Victoria Theatre
Tickets: $45-70, purchase here.

The Candlelight tribute concert series is back this weekend, this time featuring the music of Taiwanese superstar Jay Chou. Held at the Victoria Theatre, the concert provides a multisensory experience, not only with its spectacular classical music but a striking visual feast too. For the moms who have never stopped loving the "King of Mandopop," this Candlelight tribute concert will definitely take them on a nostalgic ride into Chou's extensive discography spanning over two decades.
---