Indo-Asean contemporary ensemble Brahmastra will be performing seven original compositions at their upcoming concert 7 Wonders of Tamil. In dedication to the Tamil language, for the Tamil Language Festival 2022, the musical is an audio-visual wonder that features local Tamil artists, singers and youth lyricists as they bring their ideas to life. The concert will take place on the 30th of April 2022 at the National Library Drama Center from 8PM to 9.30PM.
The musical is produced by Brahmastra's music director and creative producer, Niranjan Pandian, a Singaporean multi-award-winning composer and pioneer of the bamboo flutes. Renowned for cross collaborations and expanding the boundaries of the bamboo flutes, Niranjan has performed at numerous concerts and festivals throughout Asia and will be performing at "7 Wonders of Tamil" as well. His EP Tamizhe, which can be pre-saved now, will also be launched at the concert.
Drummer, percussionist and music educator Muraledharan Naidu will also be performing in the upcoming concert, as part of Brahmastra. Muraledharan boasts an impressive h istory of performances, having shared the stage with international artist Leona Lewis, homegrown talents Sezairi, Jack and Rai, and ShiLi and Adi. Muraledharan has also performed in opening concerts for Taylor Swift, MGMT and Whitest Boy Alive.
We interviewed Niranjan and Muraledharan to learn more about the "7 Wonders of Tamil" concert, Brahmastra, and their illustrious journeys as musicians. 
---
Hello Niranjan Pandian, tell us a little about what you've been up to as of late.
As of late, I have been performing for a few world music ensembles and cross-genre performances, while also curating and music directing productions. I have also gotten into pondering about life from different perspectives and embedding them into productions and performances.
Describe the musical "7 Wonders of Tamil" and what it's about for the uninitiated. What can we expect from it?
In "7 Wonders of Tamil", the narratives of common people living in Singapore from diverse backgrounds and their interconnections through Tamil will be shared. These stories, which were initially poems, will be presented in a very unique audio-visual manner in the concert, and the performance will include old and new repertoire. The concert also features exciting elements such as a music video featuring Kollywood playback singer, Haricharan and local singers namely Sai Vignesh, Meenakshy, Nandhitha, Punitha, Madhavan, Karthigeson, Harran and Sindu. It is ultimately an all-in-one experience where the audience will be entertained by these incredible musicians and singers, accompanied by wonderful lyrical anthologies produced by Vasanthakumar.
Tell us about your role in the musical, and what your responsibilities are.
This musical was conceptualised and curated in a way that the songs not only connect the audience to the wonders of the Tamil language, but also relate with certain aspects of the audience's daily lives. As a producer for this concert, it was a challenge to balance music direction and music performance all at once. Ultimately, this process, though rigorous, has been a fulfilling one. I worked hand-in-hand with mixing and mastering engineers, as well as the lyrical video producer, to get the projects and EP ready in time. At the same time, I also had to get the backing tracks, reference tracks and scores available for the artists, musicians and narrators. On top of this, I had to practice the flute parts of the repertoire.
You've been the creative director of Brahmastra, the Indo-ASEAN contemporary ensemble, from 2014 till today. Give us a bit of background on Brahmastra and your contributions to it.
Brahmastra has ventured into cross collaborations and its unique sound has been featured in numerous local festivals, concerts and media productions. The sound of the ensemble developed over the years - from a full Indian traditional music setup to where it is today, a lot of experimentation and exploration has been done. To ensure that the experimentation and explorations are encapsulated through our performances and productions, I have bridged certain frameworks for the ensemble, including the workflows and management of timelines so that musicians can be better organised for rehearsals. The fact that I am a strong believer in cross collaborations has led the ensemble to work with the diverse Singapore Indian diaspora, as well as the international music scene. A few major productions Brahmastra has been a part of include Sangae Muzhangu 2017, Arts In Your Neighbourhood 2019 and 2021, Tamil Language Festival 2020 and 2021, Kala Utsavam 2021, ARTWALK 2022, and Raagangal Palavitham by Mediacorp. Brahmastra has performed in international festivals such as the 7th and 8th International Festivals of Arts and Music in Thailand, and triumphed as the winner in the Band Category of the Raga & Beyond 2020 competition by Arte Compass and Indian Raga. While the ensemble has come a very long way, it still has more capacity for cross collaborations.
Along with bagging a myriad of awards and accolades, you've also toured the likes of Australia, India, China, and many other countries to perform and produce in. What can you tell us about the reception of the music you perform globally?
I have performed in the Thailand Official Countdown 2016 concert which had millions of people tuning in, and been a part of performances in exchange programmes with audiences of thousands. It is rather inspiring to see how they all celebrate music. There have been instances where audiences would come up to me and quote the flute solo that was performed in a particular section and convey to me how much of an impact the music has made on them. Furthermore, as I cross collaborate and perform alongside ASEAN artists, I discover that we instantly have this musical connection while I also learn how integrative this connection through the notion of sound has been in my musical journey. This very love for sound has brought me closer to the right mentors, audiences and platforms.
For those who haven't gotten their tickets yet, what's one thing you would say to entice them?
The "7 Wonders of Tamil" concert is a movement and it showcases the voices of independent musicians. The concert also celebrates the balance between aesthetics and artistry, and features the best talents of Singapore from various art forms. Come and join us in building the landscape where arts and music become a huge part of all our lives. 30th April 2022, see you there!

---
Hello Muraledharan Naidu, tell us a little about what you've been up to as of late.
The last few months have been a fruitful journey for me as a musician as I have had the most amazing opportunities. I recorded for three albums (Third Culture - Isuru Wijesoma, Aikyam - Niranjan Pandian and the upcoming EP, Tamizhe - Niranjan Pandian), performed in multiple live concerts such as Kala Utsavam, Raagangal Palavitham for MediaCorp Vasantham and the Tamil Language Festival 2022 Preview show with Vasantham, as well as online festivals. I have also been balancing these with a daily practice regime, teaching my students, and being a family man.
Describe the musical "7 Wonders of Tamil" and what it's about for the uninitiated. What can we expect from it? Tell us about your role in the musical, and what your responsibilities are.
This musical has a special place in my heart as it's my way of serving and promoting the Tamil culture. Moreover, it resonates even more with me personally, as my late mother was once a Tamil teacher. She always did her best in promoting the language and culture in her school. This is my way of continuing that legacy and I am truly honoured to have this opportunity. I am playing the drum set in this musical. While playing a western instrument like the drum set, I have the opportunity to fuse different genres of drumming such as rock, jazz, funk, drum and bass, and Afro-Cuban styles, with elements of traditional Indian music. I have to consistently shift amongst various musical paradigms within a song while laying a comfortable and steady groove for the other musicians to express over.
You've performed with local and international stars like Leona Lewis, Sezairi, Jack & Rai, and have opened for many other acts such as Taylor Swift. Tell us a bit more about your journey - how you started, how you got these opportunities, and where you are now.
I started learning to play the tabla, an Indian instrument, at the age of 5 and grew up listening to a wide variety of genres. I became interested in the drum set around the age of ten and went on to take lessons from Yamaha under the tutelage of Anthony Fong. Fast forward to my National Service days - I got posted to the SAF Music and Drama Company (MDC) where I gained a lot of performing experience and practised up to 9 hours a day. This is where I honed my skills as a drummer and percussionist, and also made connections with the most talented musicians in the industry. Opportunities kept coming from then on and every gig that I played led to the next. My mom inspired me to be an educator and that drove me to pursue my degree in Music Education. After 4 years of training to be a teacher, and a 4-year jazz mentorship under one of Singapore's drumming greats, Tama Goh, I became a music educator.
As an educator who plays a myriad of instruments, what do you impart in your students through your experience and expertise?
I am always trying to bring authentic musical experiences to the classroom where my students create and perform music as much as possible. It is important for me to also cater to the child's interests too and stay updated with current musical trends. This helps me build rapport with my students. All that said, my main philosophy as an educator is to help the child find a purpose to pursue in life. Most teenagers that I teach are not going to become musicians. But I do use my stories and experiences to inspire them to find a passion in their lives and encourage them to pursue it deeply. I emphasise the need to use that passion to serve others.
For those who haven't gotten their tickets yet, what's one thing you would say to entice them?
Brahmastra is a band that pushes boundaries in the music world. Imagine witnessing a lab experiment, where the best scientists synergise and stumble upon the latest discoveries that will make a difference in your life. This concert is bringing to the stage the result of years of experiments by musicians. The synergy that has been created with these new perspectives of Indian music is beyond phenomenal. For those who have yet to get your tickets, let this be the light at the end of the COVID-19 tunnel! Finally, you have a chance to experience live music once again after a long time. We'd love for you to spend a magical evening with our music. We promise you a night of entertainment and a journey into the world of Indian fusion music. See you on 30 April 2022!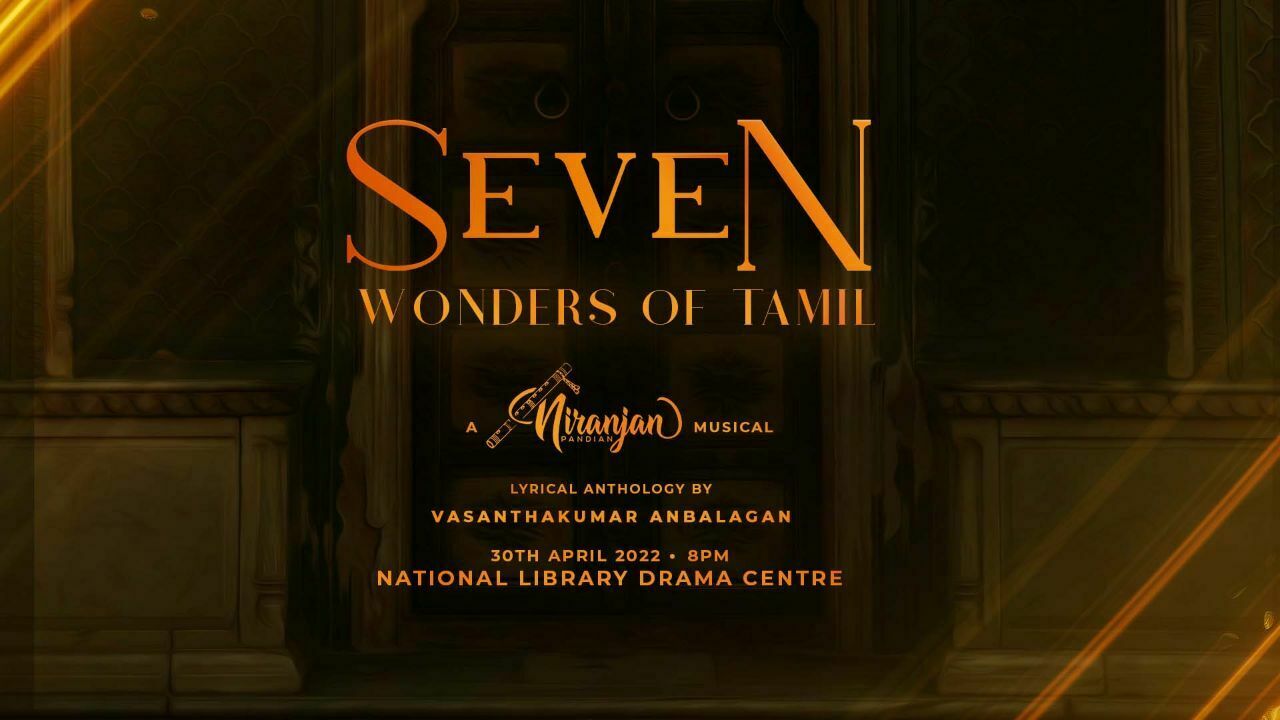 ---