As part of Singapore International Festival of Arts (SIFA) 2022, a series of seasonal capsules curated by homegrown electronic music label Syndicate were made. Capsule #1 saw the collaboration between local musician cum illustrator Anise and artist Brandon Tay. 
 

 

View this post on Instagram

 
Anise's work dives deep into her own psyche, garnering inspirations from the expansive nature of the mind, as well as the relationships between land and the people who inhabit it. Tay on the other hand delves into moving imagery, installations, and world building via digital means. When the two collided, Non-Breaking Space was birthed.
Non-Breaking Space is a digital art exhibition that also acts as a five-track EP release for Anise. You can listen to the three out of the five tracks that have been released now, 'The Source', 'ANIMISM', and 'ANIMA ANIMUS' while navigating through an accompanying space in which they inhabit, created by Tay through real-time game engine Unity.
We recently caught up with Anise and Tay to get a better grasp of how the tracks and digital worlds were created, the headspaces they were in, past experiences, and ventures outside of SIFA in the near future.
---
Greetings Anise. To start, tell us more about the virtual exhibits, your ethos coming into this, and where your creations with Brandon sit in respect to SIFA's diverse offerings this year. 
Greetings hehe. In this EP most of the work was led by the curiosity to explore some of the bigger questions, the distance I felt from the land and from other beings, the whys of things and bodies, but most of all to try to locate a sense of peace from the immensity of climate grief, the pandemic, collective isolation and the nihilism of recent times.
This year's programming involved such a kaleidoscopic roster of artists and we were moved to respond to the idea of Ritual. My destination in this work is also the search: the ritual of artmaking. Our final offering and process is non-absolute, non-definite but a vulnerable acceptance that what we create is miniscule in the grander scheme of things but to the makers, a glimmer of hope that things can get better.
With The Source and Animism, the experience seems to be highly anarchic and visceral - and there's something confrontational about it that we couldn't quite wrap our heads around. When you and Brandon fashioned these, was this the intended expression, especially with the use of adversarial networks?
The Source's use of generative adversarial networks wasn't specifically to create a sense of anarchy but to reframe the narrative of the apocalypse as also generative, verdant and revelatory. The track begins by acknowledging the apocalypse had already begun when humans wielded fire, that we are not separate from the apocalypse. The track ends with a distorted oscillation between "The earth wants plastic, you are plastic" & "apocalypse means revelation".
We are also the apocalypse, but within us lies a fertility and a potential for regeneration.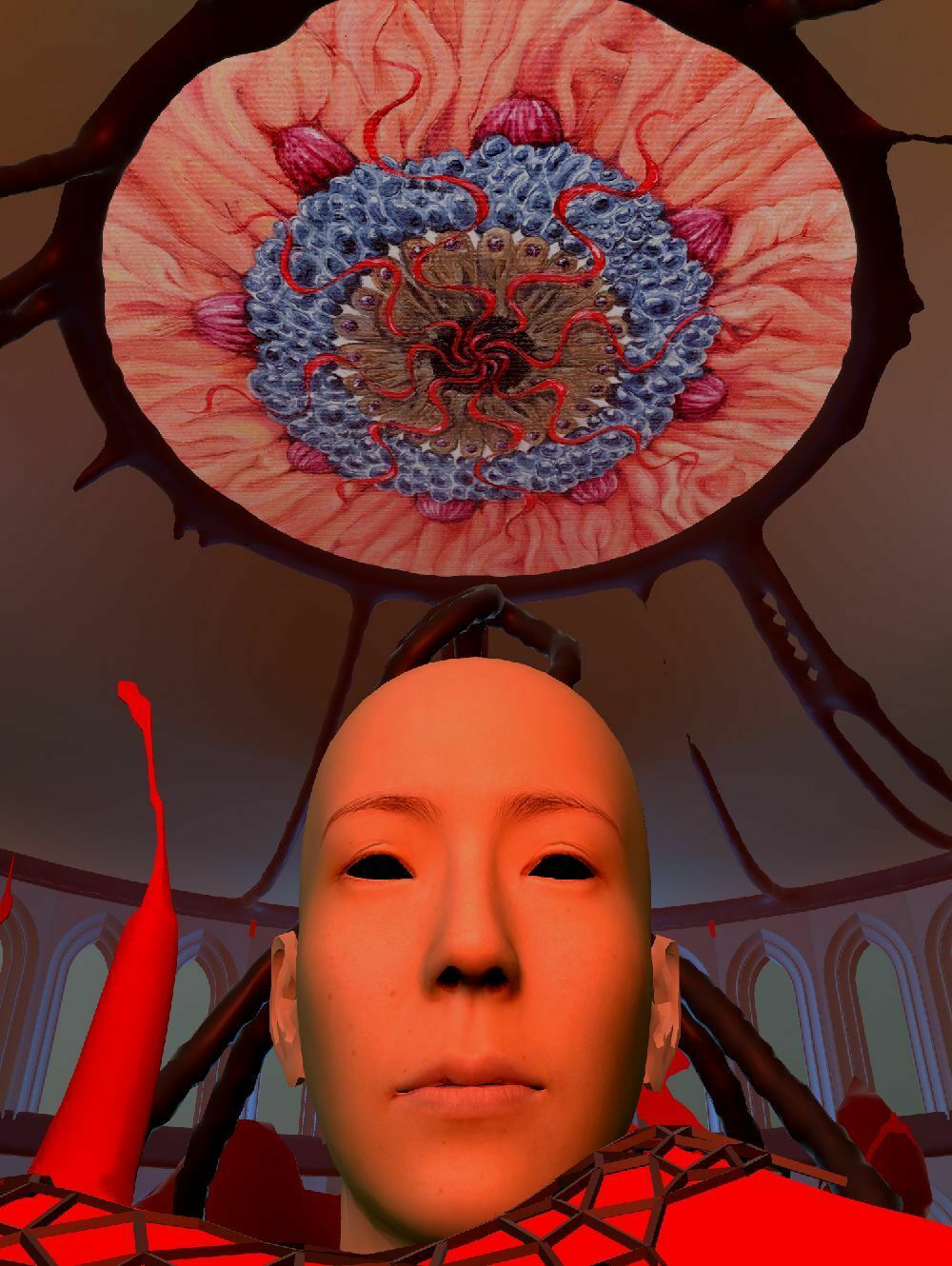 Animism forces a confrontation when encountering a different discomfiting form of ourselves in the virtual mirror - reassessing ourselves vs object vs animal. Channelling the visceral experience of the singularity and non-hierarchy of our bodies, objects, phenomena, nature; experiencing the anarchy of stepping into ourselves and merging with all around us.
The subsequent tracks, especially Mutualism & Citizen are a lot less jarring and more reparative, meditative. I look forward to you experiencing them! In reference to the overall experience, I'd say that nature is wild and unruly and beautiful and confronting. All of those things.
How did the approach affect the way the music was fashioned - or was that kept separate and then tied in together afterwards? Take us through the building process.
A roadmap was drawn up spanning themes like mutualism, decomposition, animism as a holding space for experimentation. I kind of let the tracks manifest from those themes, weaving in the emotions and new ideas that came up from researching them. I tried as much as I could to let the work unfold. The experiences and illustrations were crafted hot on the heels of the music being written.
The themes from Hopkins' work often confront the self tied by non-secular assertions. What specifics did you translate from "As Kingfishers Catch Fire, Dragonflies Draw Flame" that were present in Animism, and how did this affect the composition of the climax from an aural standpoint?.
The melody, production and verses were all done before I went out searching for the right words for the climax. It used to be "I wait for you, in spite of me", but the chorus didn't contain the peace I was looking for – and I found them in As Kingfishers Catch Fire, Dragonflies Draw Flame. The lines that spoke to me were beyond conventional spirituality. I read the poem through a more existential lens, especially "What I do is me, for that I came", I wanted to pay tribute to the beauty and profundity Hopkins brought / how Hopkins made me and everything around me feel whole and necessary. I was also trying to melt and sample from different sources to find that wholeness – from the ideas of animism, wetness and OOO etc. Another poem that informed these lyrics was I'm Nobody, Who Are You? by Emily Dickinson. The rest of the track kind of fell into place after. 
What I arrived at was that existential peace should be available to all. You are this for me, I am this for you.
Outside of SIFA, tell us about your future endeavours and what's in the bag for Anise, the artist.
I'm still developing my visual and auditory vocabulary and finding ways to enjoy the process! Hoping this EP will get to be performed live soon :)
 

 

View this post on Instagram

 
---
Hey Brandon. Non-breaking Space sees two digital exhibitions in The Source and Animism. The former takes on a form from Anise's illustration and metamorphosing effigies created by you, while the latter serves as a response to the "quintessence of being". Talk us through the thought and creative processes that went behind creating the topographies. 
For the pieces I think a lot of the process was very collaborative, the conceptual basis for the songs and the piece as a whole was very evocative, as Anise is a visual artist herself. As all fruitful collaborations begin, it always starts with a conversation. Specifically for The Source and Animism, I think we were aligned in how we saw the works and the imagery it generated, maybe interpreted in different ways.
For Animism, I thought about rhythm as a sort of primordial engine, something that drives the multiplicities of life. For the Source, I think we wanted to work with something a bit more singular, thus the avatar as the central figure.
Where was your head at when you first heard the tracks by Anise? How did you translate all of those feelings into the digital scape you built for this exhibition? 
For music-related projects, I think a key part of the process is to really listen to both your collaborators and the tracks themselves. For the music at some point you end up internalising it, and then the imagery and interpretation comes after. Then at least for me, its a process of iteration, to figure out what sticks.
You used the real-time game engine Unity to create the landscapes that Anise's tracks now live in. Then, were there any specific scenes, games, or source materials that inspired you during the creation process?
I've been working with Unity for a while already, and used it in many ways. This project, more than the others, really uses the logic of level design that I appreciate in well-made games.
Sources from that field I enjoy and respect are the legendary Hidetaka Miyazaki of Dark Souls fame, and the work of the studio Red Candle Games. Aesthetically I think the point of reference was natural forms, and how in the wild, how things kind of look like one thing and turn out to be another, like in the case of the stick insect. Those served as the inspiration of the avatar in the "lobby" in Animism.

Outside of SIFA, you've worked with a myriad list of Singaporean and international artists, such as for Flying Lotus's in 2016 as well as DoHits x Darker Than Wax amongst many more. How do these chart your trajectory as an artist up till today, and what of moving forward? 
To be honest, I don't really know. I think I've been doing things like this for a while, and exploring new technologies seems to be the "thing" to do now, although what can be defined as truly novel I think is hard to situate a context for if everyone else isn't already doing it. I think I'll keep working in this space until I stop enjoying it, whenever that may be.
Lastly, where do you think you and Anise's creations sit in the backdrop of Singapore's appetite into such cerebral artforms? 
I kind of hope people learn how to experience new things without first needing to define in their heads what it is. These pieces we're making are sort of an EP, sort of an exhibition, sort of a digital experience, I think they are neither and all but the fact that I have the opportunity and tools to participate in its creation is something I'm grateful for.
---