Hear65 recently met with a group of Singaporean kids and special guests from all sectors beyond the music landscape to listen to some of our finest homegrown tracks, to get a grasp on their thoughts surrounding local music (and to start em' young if they haven't, of course).
The two-parter kicks off with five kids; Damon Fong, whose dad Jonathan manages the acclaimed math/emo rock trio Forests, along with siblings Estee and Elma, who are etched in the local music scene via their father Amin, who owned legacy gig-space Decline on top of being the guitarist for Generation 69.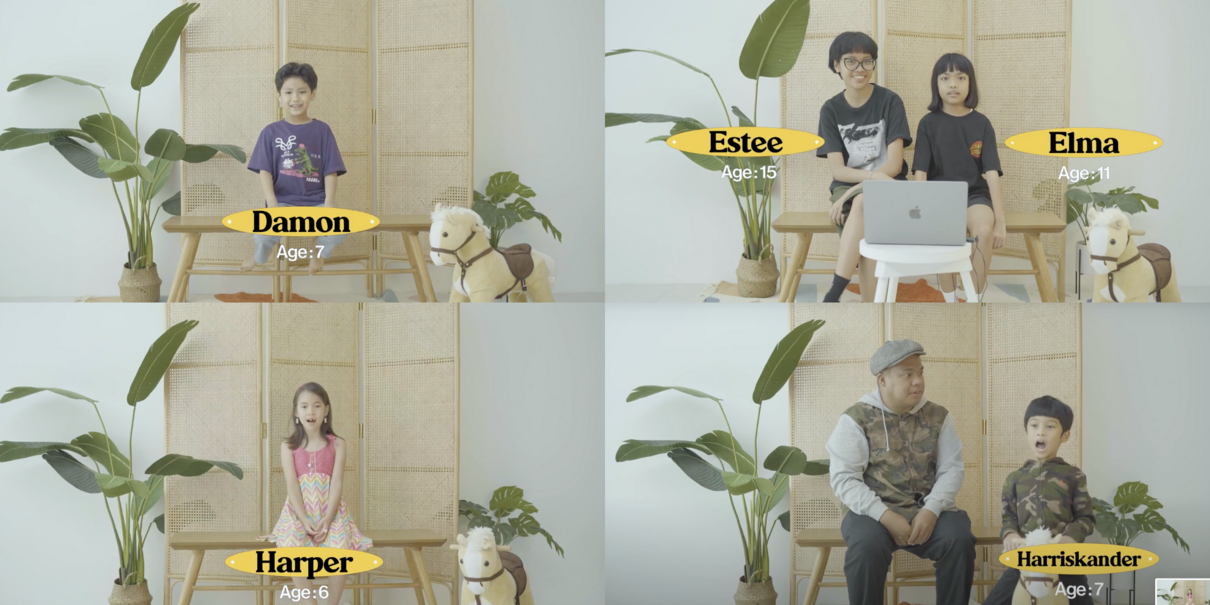 Harper Kislevitz and Harriskander, aged 6 and 7 respectively, are up next. The former's dad, Elijah, is a key figure in the Vans Musicians Wanted team, while the latter's parent Shahrizal Zainal has been heavily involved in the homegrown hardcore scene since 1996 – he is also the vocalist for Overthrown, as well as a guitarist for BIND.
No one is as blunt and unfiltered about their opinions as kids are; watch what they have to say here.
The second episode features guests from different professions and industries, such as sports, theatre, arts, gaming and content creation. Selena Tan is a renowned director, writer, and actress. She also founded Dream Academy, a homegrown theatre company that has produced the likes of Broadway Beng, Happy Ever Laughter, and Dim Sum Dollies - who Selena is also part of.
Rishi K on the other hand has been creating YouTube videos, showcasing his thoughts on current affairs and "viral" happenings in Singapore since 2020. To date, he has 27 thousand subscribers on his channel and has amassed over 1 million channel views.
The Quah siblings, Ting Wen, Zheng Wen, and Jing Wen are national swimmers and the sisters have represented our colours at the biggest stage of them all, the Olympics. Jing Wen, who is currently serving National Service, has won 5 gold medals at the Commonwealth Youth Games and SEA Games.
Thomas Kopankiewicz is a content creator, a scriptwriter, and also the first Singaporean eSports medalist. In 2019, he won the silver medal in 2019's SEA Games for Starcraft II, a highly-skilled and competitive game. 
And lastly, Jeynelle Ng is a Gen-Z content creator who focuses on fashion and fitness. She often shares fitness tips, fashion styling videos, and the coolest eateries out there.
We wanted to know what Singaporeans outside of the music circle felt about its music. Here, they danced and sang together to all their newly discovered local tracks – but what did they think of it?
---