Have you ever wanted to record your musical masterpiece professionally but do not know when or where to begin? Look no further! 
Aspiring artists will be glad to know that our sunny island offers opportunities to turn your musical dreams into a tangible reality. Professional artists will also benefit from the opportunity to acquire music direction and performance advice from highly-skilled professionals with a wealth of industry experience. 
Whether you're a professional or just someone trying their hand at music, chances are there is a recording studio that caters to all your needs just waiting to be discovered. 
Read on to learn more about 11 recording studios that provide a space for making music and all the professional support for your music recording needs.
---
Backbeat Studios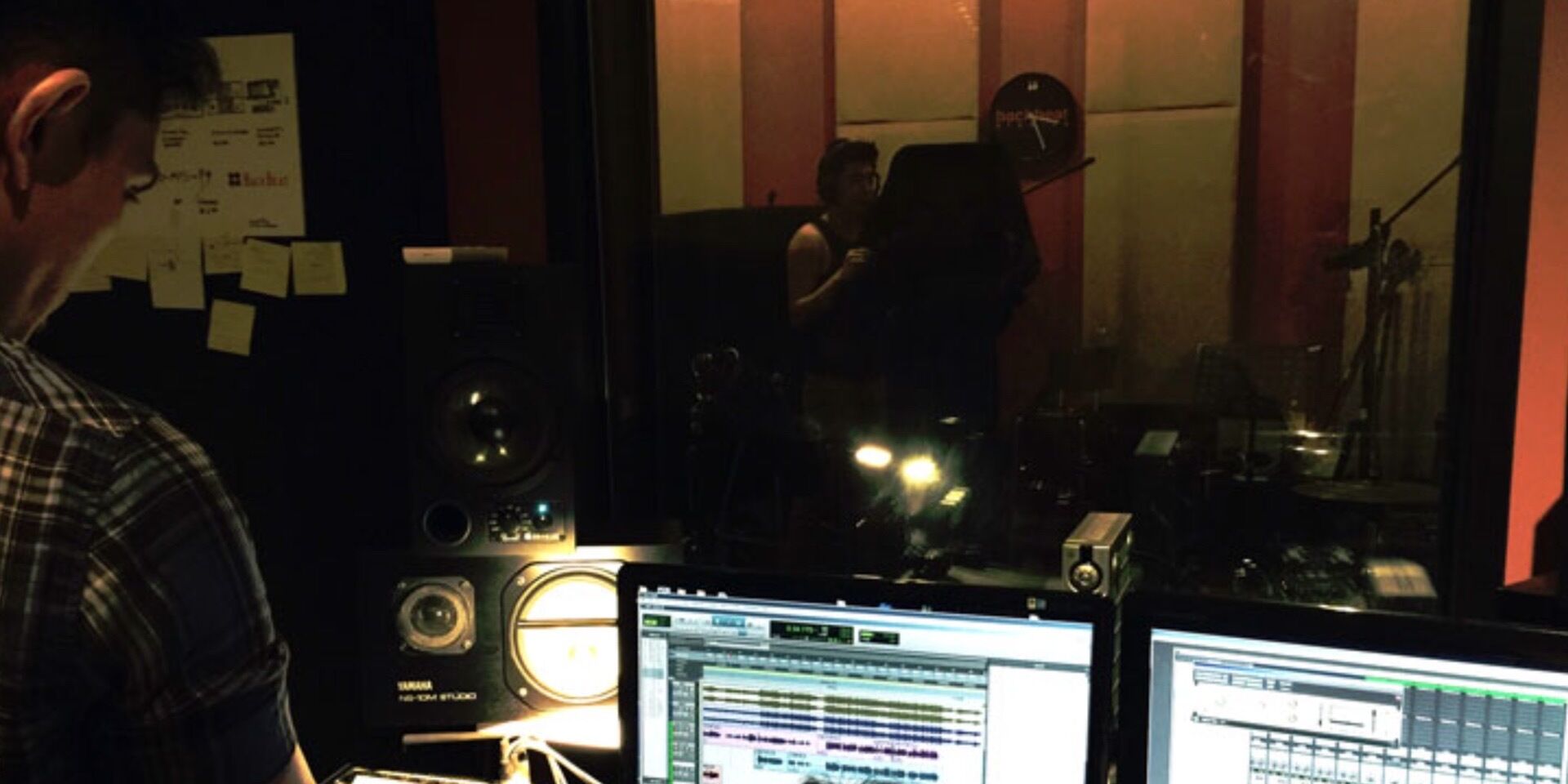 Location: 215A Jalan Besar Singapore 208898
Website: https://www.biggerbetterbackbeat.com/
Backbeat Studios is a recording and media production studio with over a decade of experience. The team behind the establishment prides itself on playing an integral part in helping creative ideas come to fruition and is eager to work cooperatively with like-minded individuals on projects they are passionate about. The studio offers its services for various projects, which include podcasts, sound design, brand storytelling, audio editing, and fixing. 
It is clear and precise in its approach to the creative process. After obtaining a brief of the project, the team will proceed with pre-production after ascertaining the concept's scope. Subsequently, recording begins in the studio, and post-production rounds up the final step of the entire process. The recordings are then conscientiously mixed and mastered to prepare for broadcast or online delivery. On its recording process, the studio stated on its website, "Any studio with a microphone can record a voice for your project, but only a handful captures the creativity of the idea during the recording process."
---
Doppler Soundlab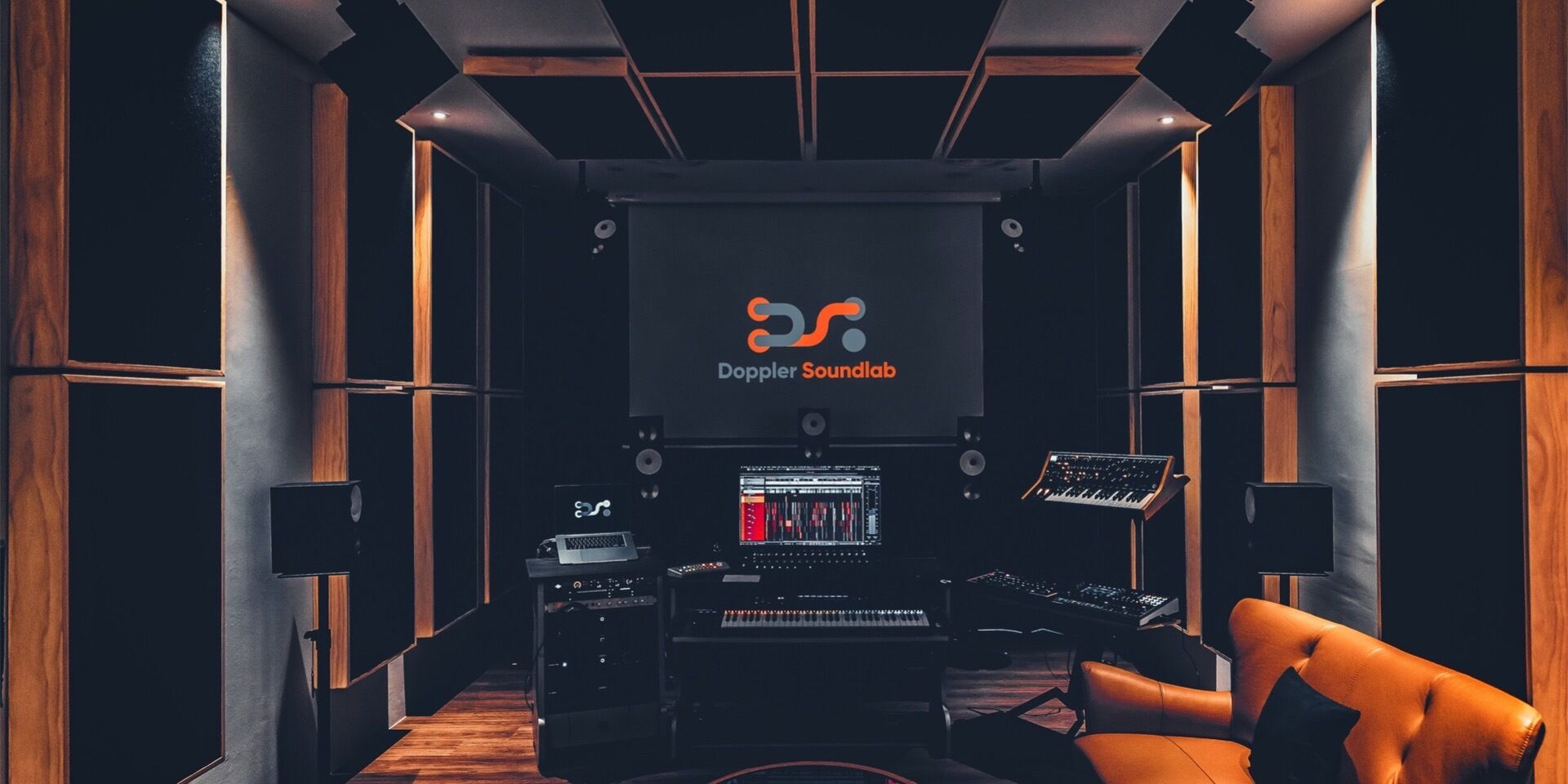 Location: 2 Kallang Ave, #05-16 CT Hub, Singapore 339407
Website: https://doppler.sg/
Asia's first Amphion Dolby Atmos Studio, Doppler Soundlab Singapore offers audio production services for film, television, commercials, music, games, and VR. With over ten years of experience, they boast knowledge, audio expertise, and state-of-the-art equipment, allowing them to deliver professional services of the highest standard to their clients.
The team recognises the passion that goes into its client's projects and aspires to elevate them to create impactful results. Doppler Soundlab's range of audio services includes music composition, audio post-production, VR and immersive audio, and mixing and mastering. Doppler's website stated on its services, "It is our relentless endeavour to offer sound services of the highest calibre. From the nascent stages to the completion and final touches, our services are tailored to deliver that perfect sound."
---
Dreambox Studio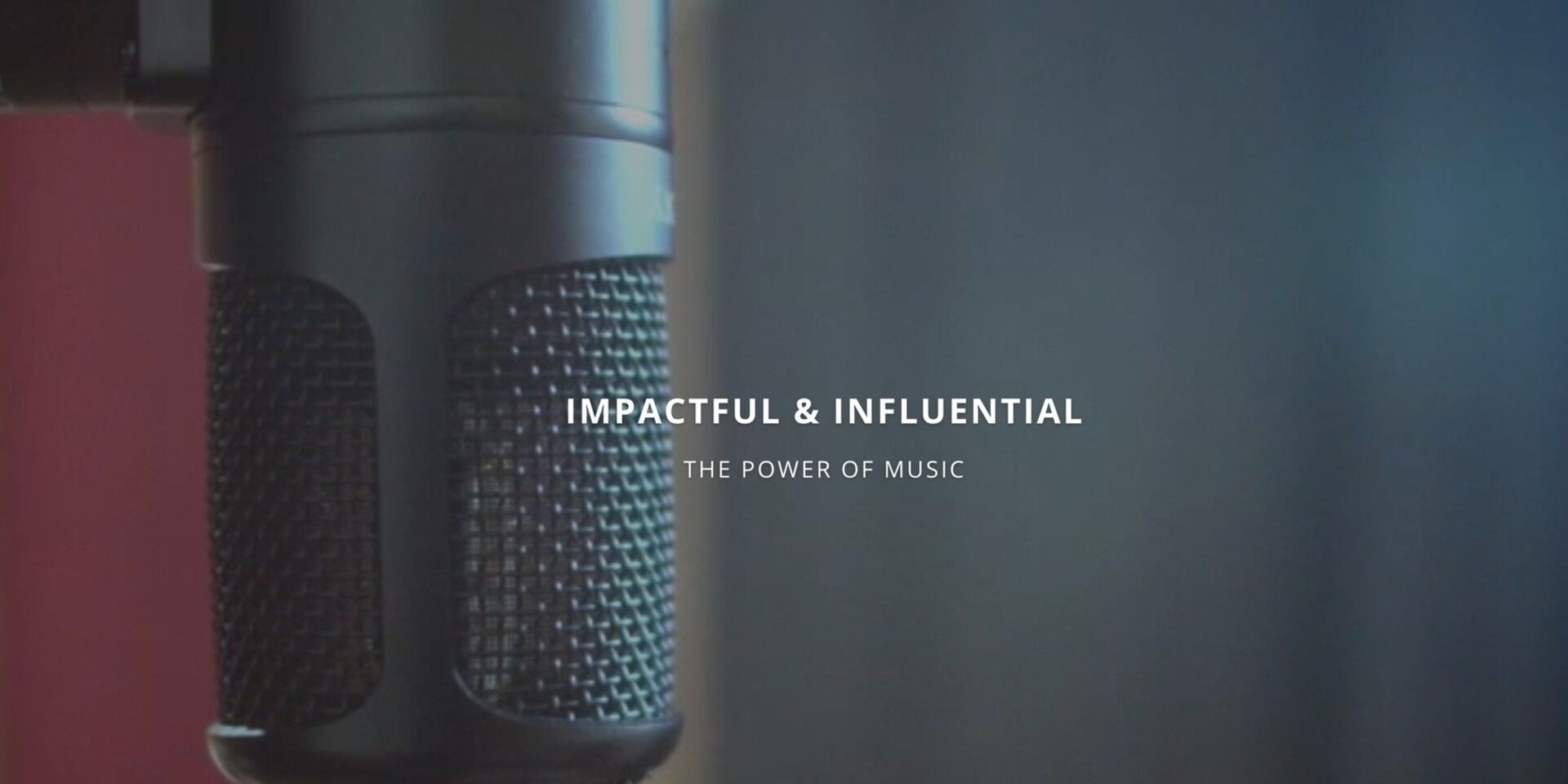 Location: 3 Upper Bukit Timah View, Singapore 588133
Website: https://www.dreamboxstudio.com.sg/
As a Creative & Media Agency, Dreambox Studio's wide range of expertise sees them taking on various aspects of the creative industry. The team behind Dreambox Studio consists of experienced directors and talented professionals passionate about working with clients for their brand, corporate, public relations communications, advertising, and marketing needs. Dreambox Studio's media production services cover video and music production, photography, sound design, live streaming, video editing, voiceover recording, digital marketing, online advertising, and last but certainly not least, a recording studio that artists can use to record their musical masterpieces. The team recognises the intricate processes that music recording entails and is passionate about devoting time and seeing through every detail of a project.
Dreambox Studio has an impressive list of clientele and projects that see Singaporean household brands such as Universal Studios Singapore, SBS Transit, SingHealth, M1, Singapore Airlines, Mediacorp, and the Ministry of Education Singapore. The studio has also worked with notable Singaporean artists such as Jarrell 黄俊融 and Shawn Tok on their music releases. 
---
Snakeweed Studios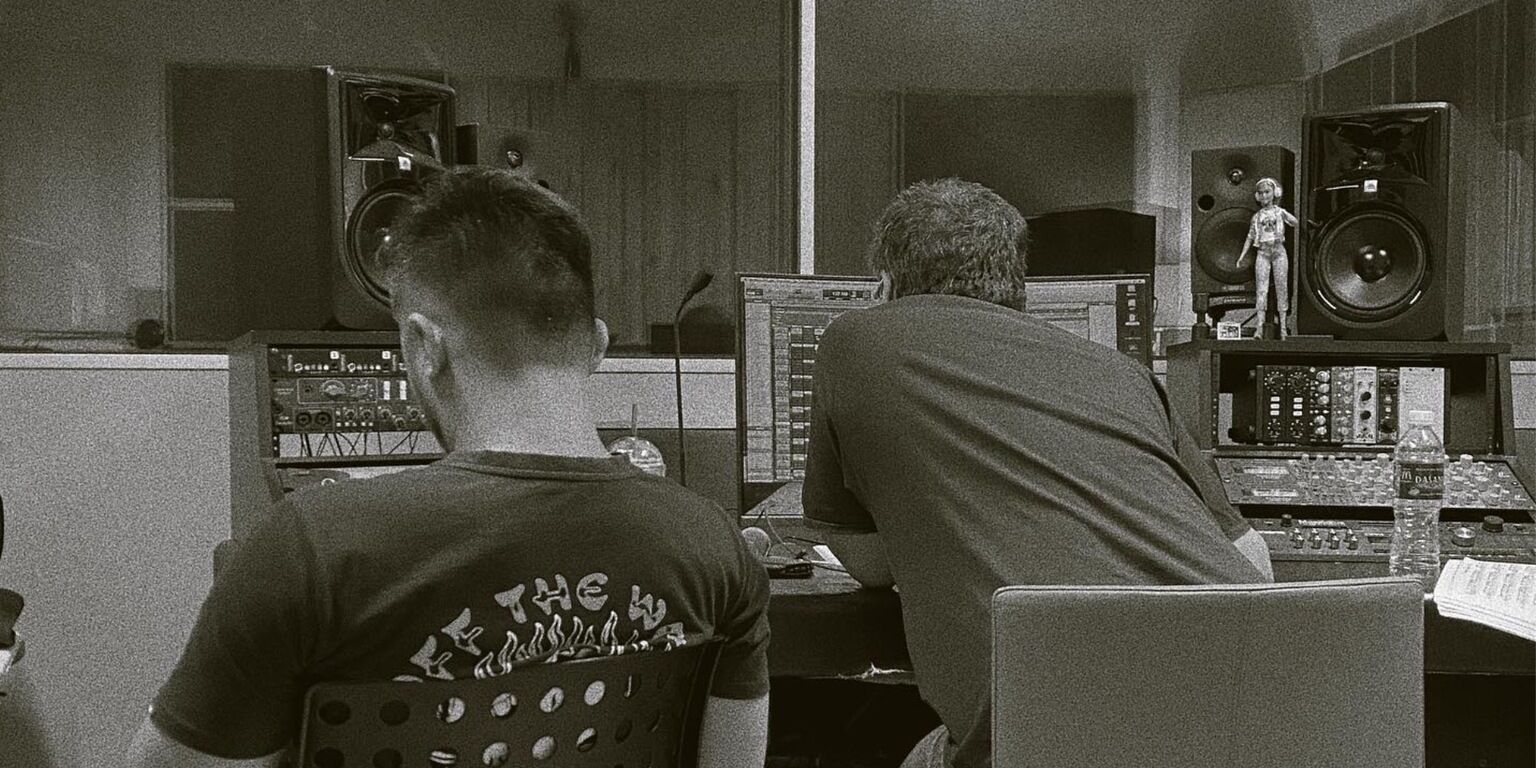 Location: 61 Kaki Bukit Ave 1, 04-14, Singapore 417943
Website: https://www.snakeweedstudios.co/
Founded in 2000 by renowned record producer Leonard Soosay and his managing partner Josh Wei, Snakeweed Studios is an independent recording company that has played a critical role in the Singapore music scene. Its portfolio boasts notable titles from homegrown artists like RRILEY's 'Love Me Like A', Narelle's 'Blue', and Gentle Bones' 'I Wouldn't Know Any Better Than You'. The studio has played a vital role in local music and has been primarily involved in international hits such as SORN ft. YEEUN's 'Nirvana Girl', CL's 'Siren', Stray Kids' 'Up All Night', ALY & AJ's 'Church', and Kylie Minogue's 'Red Blooded Woman (Remix)'. 
In an earlier feature with Hear65, Josh Wei stated, "I started to look at the place as a community for the scene, for the industry, and for the people to gather here. There's bands rehearsing, there's bands recording, and people coming together and enjoying themselves." 
---
Studio Ugly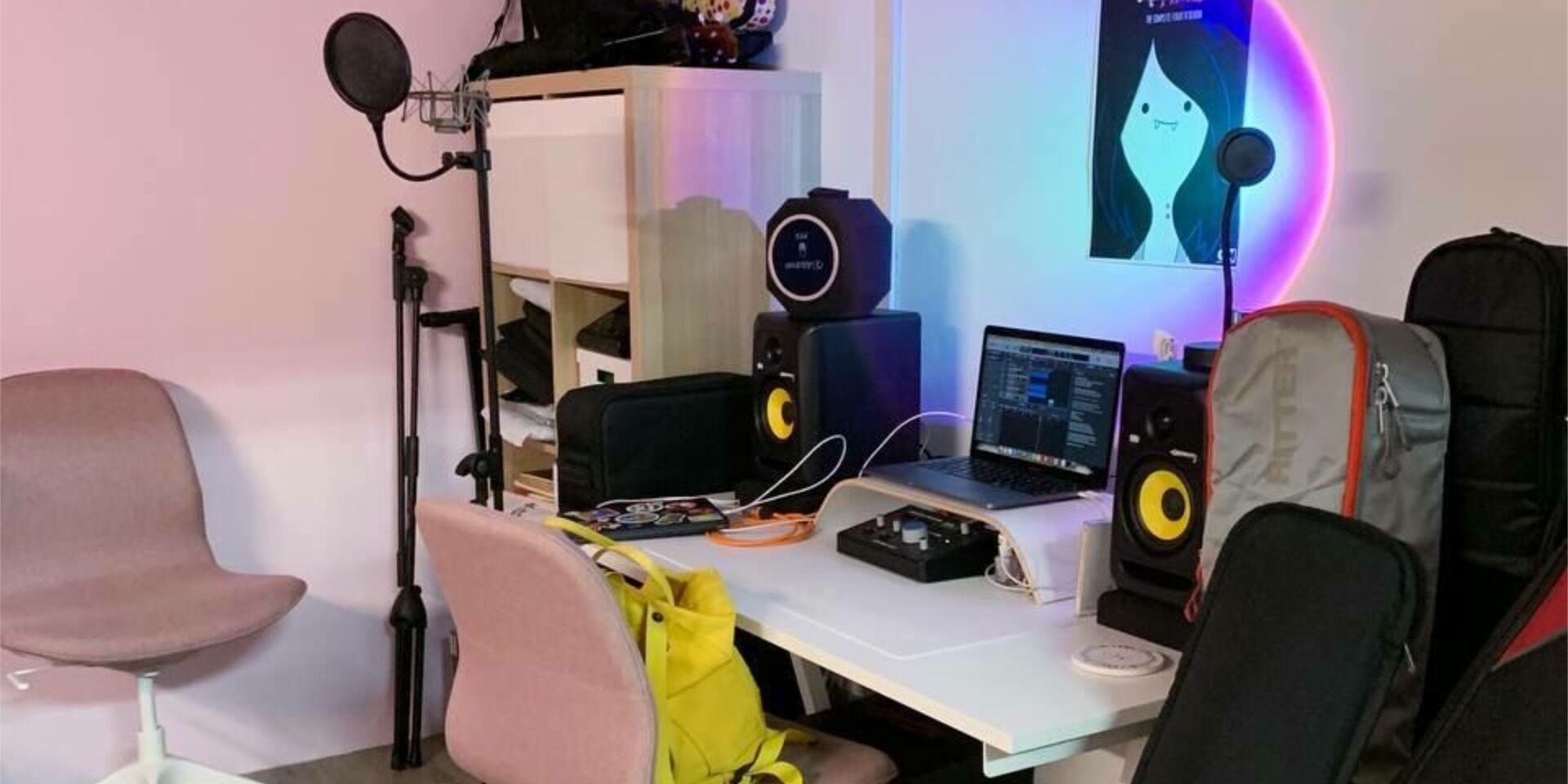 Location: 29 Hillview Ter, #04-03G, Singapore 669245
Website: https://www.instagram.com/studiouglysg/
With an all-female team and almost a decade of experience, Studio Ugly is definitely one to look out for. Their studio space gives off an overall relaxing atmosphere and features two music workstations, an art crafting station, and a recreational area where creatives can take a break between sessions. The stairs and railings, which represent the backbone of their studio layout, are painted pink, which follows their motto of being "unapologetically feminine". 
The team is dedicated to creating more opportunities for artists and providing a safe space for them to enjoy making music and hone their skills in the process. Music production, composition, arrangement, and songwriting make up the bulk of the services that they provide. For music professionals seeking performance advice, the team is uniquely positioned to impart tips and strategies as it has previously worked with a music festival events company. Made up of artists and creatives in art management who have worked with international companies like Disney. Skilled in art direction, illustration, animation, and production, Studio Ugly is well-equipped to see your masterpieces come to fruition.
The team recognises the vulnerable nature of musicians in Singapore. It is passionate about working with artists and giving them advice and support as they take on the local arts scene. In an earlier feature with Hear65, the team shared, "Studio Ugly is our answer to the uncertainty faced by creatives in Singapore: resilience through adaptation."
---
The Basement Studio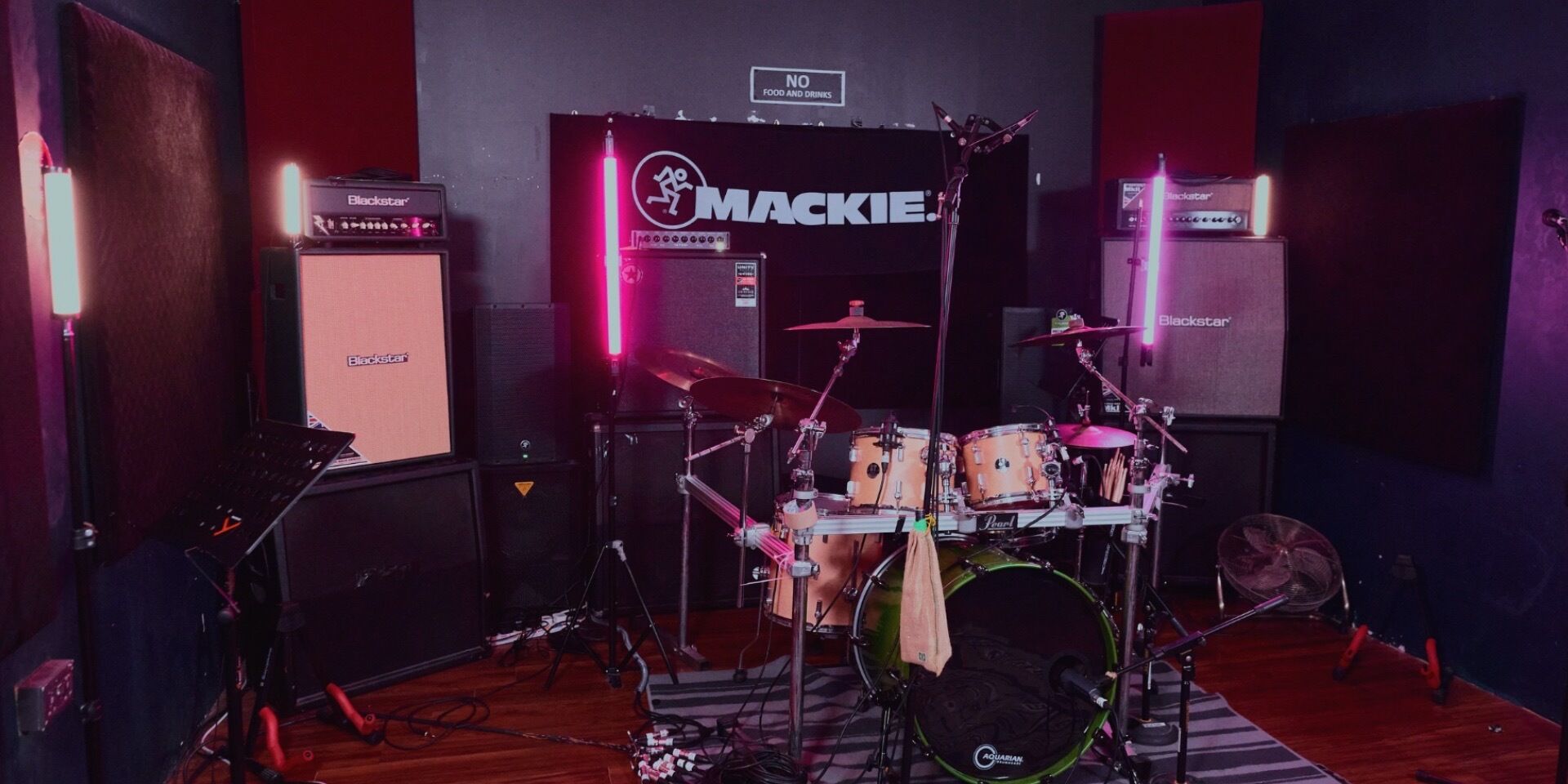 Location: 6001 Beach Rd, Golden Mile Tower, Singapore 199589
Website: https://www.thebasementstudiosg.com/about
The Basement Studio had its beginnings in 2013. What started as a space for all musicians to express their artistry through rehearsing and creating their works of music, the studio has since built on that and evolved to become a dynamic space with more services and facilities covering multi-track live-streaming events, and voiceover recording. The team comprises studio owner and director Yazzit Ismail, co-founder/technical director Hosni Altway, and event coordinator/videographer Syafurah.
The Basement Studio's portfolio has seen them working on notable projects such as the #BATTLEGROUNDSSG Finals and SKATESG. 
Their studio has space for rehearsals, recording, and live streaming. The studio offers three main packages, namely Jam&Record, Jam/Rec/Shoot, and the City Music Reload package. These are catered to their client's needs. Artists will also have a chance to be featured on City Music and The Basement Studio's website. 
The breakdown for its studio packages is as follows:

---
The Music Parlour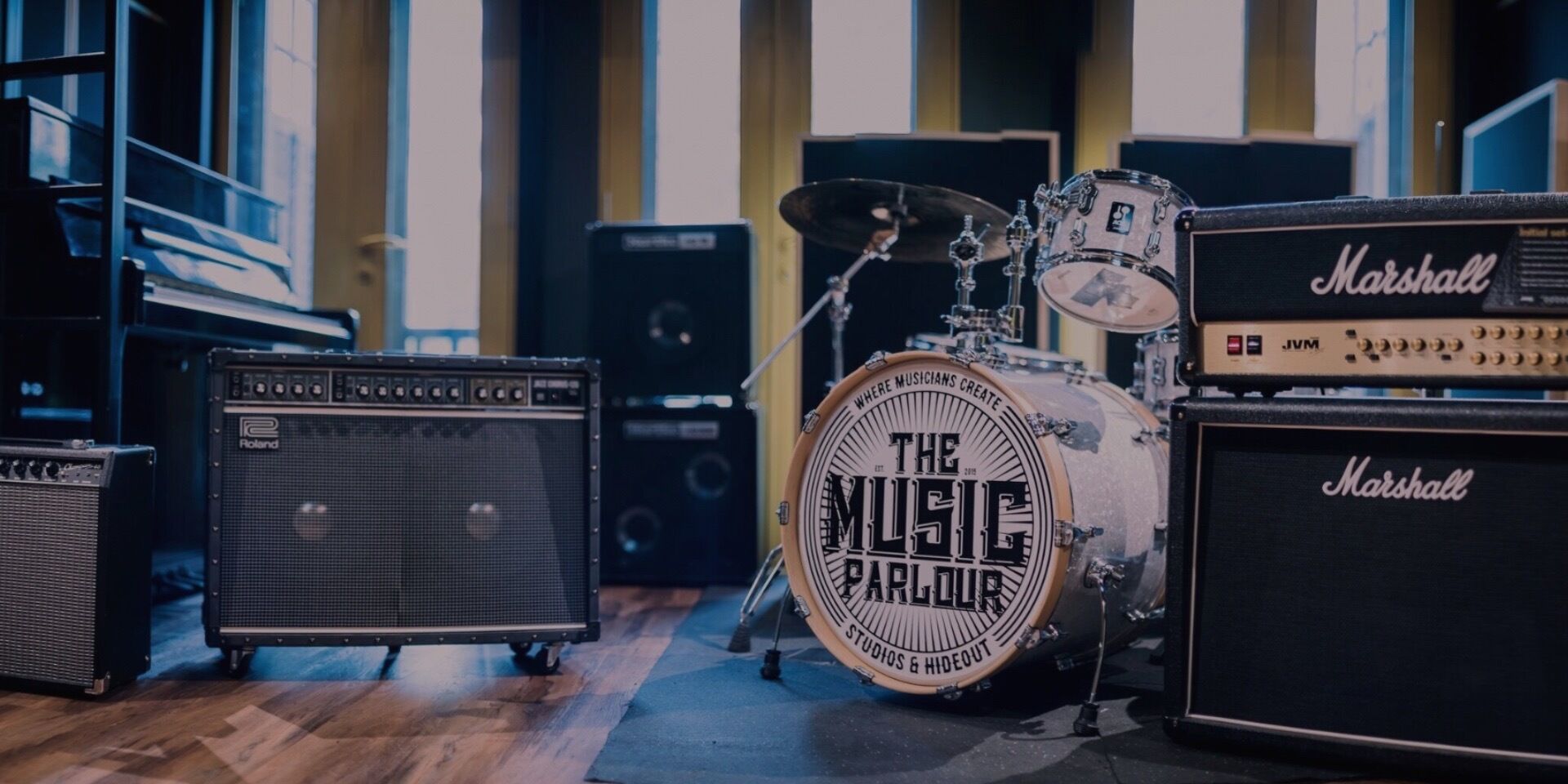 Location: 1) City Hall – 3 Coleman Street, #04-20 Peninsula Shopping Centre, Singapore 179804 2) Farrer Park – The Parlour Singapore, 140 Owen Road Level 2/3, Singapore 218940
Website: https://themusicparlour.com.sg/
Started in 2015, The Music Parlour is a downtown hideout providing a home for all musicians to immerse themselves in their music-making craft. Visitors to The Music Parlour will be charmed by its cosy lounge space, where they can find acoustic instruments and a bookshelf littered with vinyl records, creating an overall soothing and light-hearted atmosphere for their hangouts. The team, comprising founder Jaye Foo, Marcus Chua, and Ashwin Menon, think of The Music Parlour as a safe space where musicians and artists alike can "practice, explore, and create". Their impressive clientele to date sees the likes of Mediacorp, Singtel, Lenovo, and Music & Drama company. Besides offering recording services, the establishment also hosts gigs from established local and upcoming artists.
The breakdown for the rates of its recording spaces and instrumental rentals is as follows: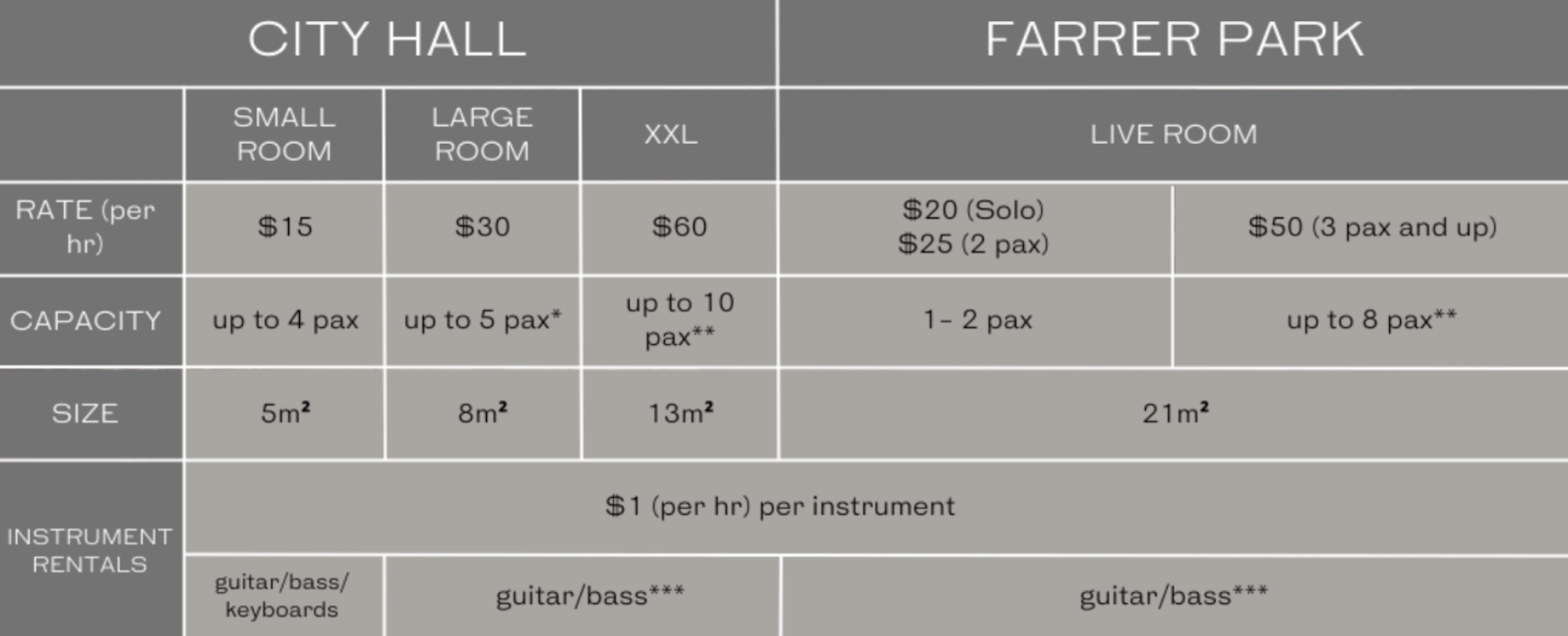 ---
Tonehouse Studios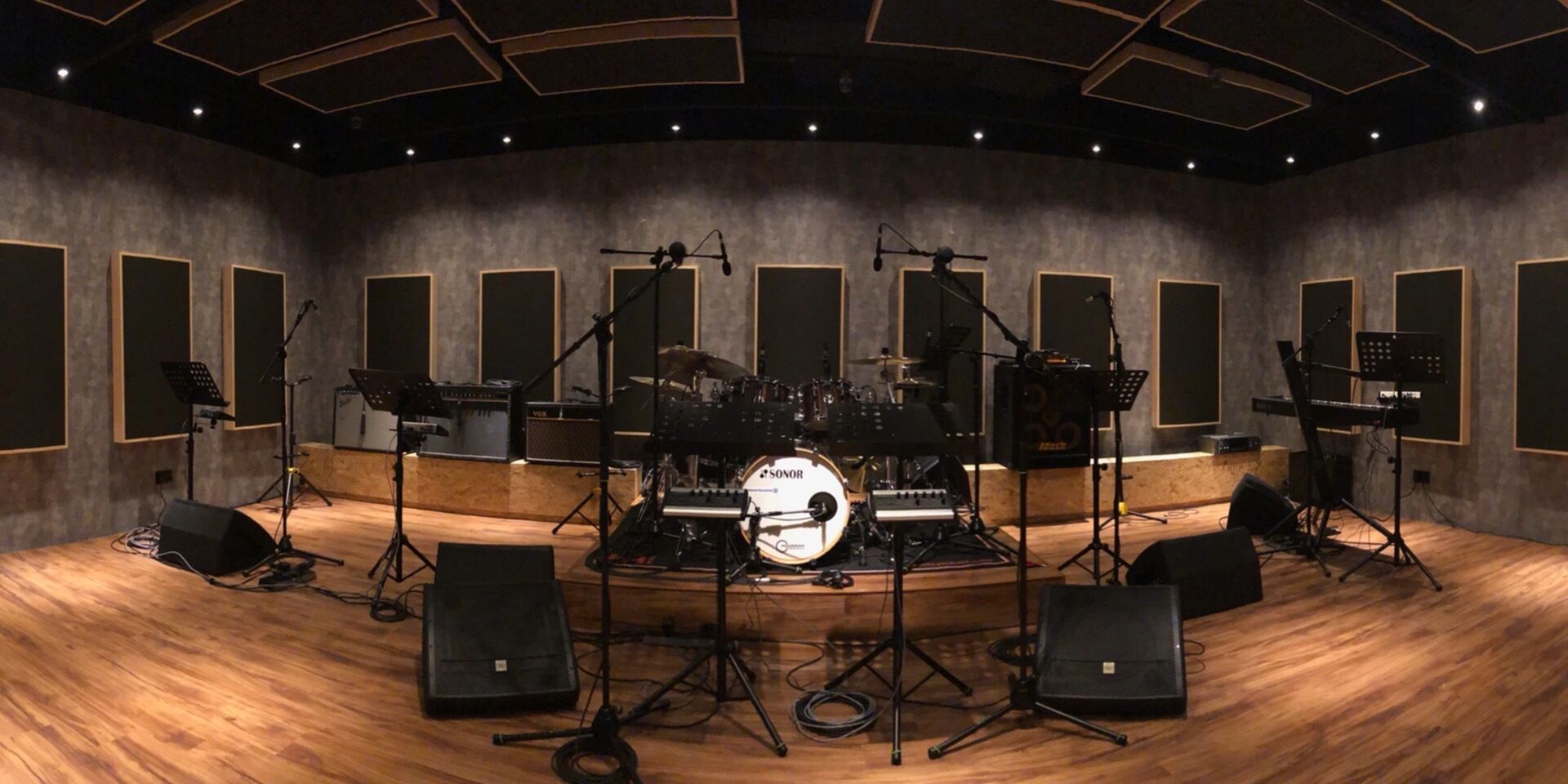 Location: Parklane Shopping Mall, 35 Selegie Rd, #03-09, Singapore 188307
Website: https://www.tonehouse.sg/
Branded as a "boutique rehearsal studio", Tonehouse Studios provide rehearsal, recording, and live-streaming services at reasonable prices in the heart of town. The talented team behind Tonehouse Studios comprises founder Mah, producer and studio engineer Ian, recording and monitor engineers Brandon and Zharfan, and video production lead Chihwee.
Artists can choose from "The Living Room" and "The Bed Room" — two different spaces catered to the size of your party and music needs. Visitors with sizeable parties and more significant scale projects can opt for "The Living Room" as it features a larger space for rehearsals, recordings, live recordings, live streaming, gigs, and events. Individuals looking for a smaller, cosier space for rehearsals and simple live recordings can opt for "The Bed Room" instead. Furthermore, the team considers artists' needs and can customize the rooms to fit their requirements better.
What's interesting to note is that the company has its own merchandise available for purchase. Individuals looking to obtain a limited edition Tonehouse Studios black tee can complete the order form on its website.
The breakdown for the rates of its recording spaces is as follows: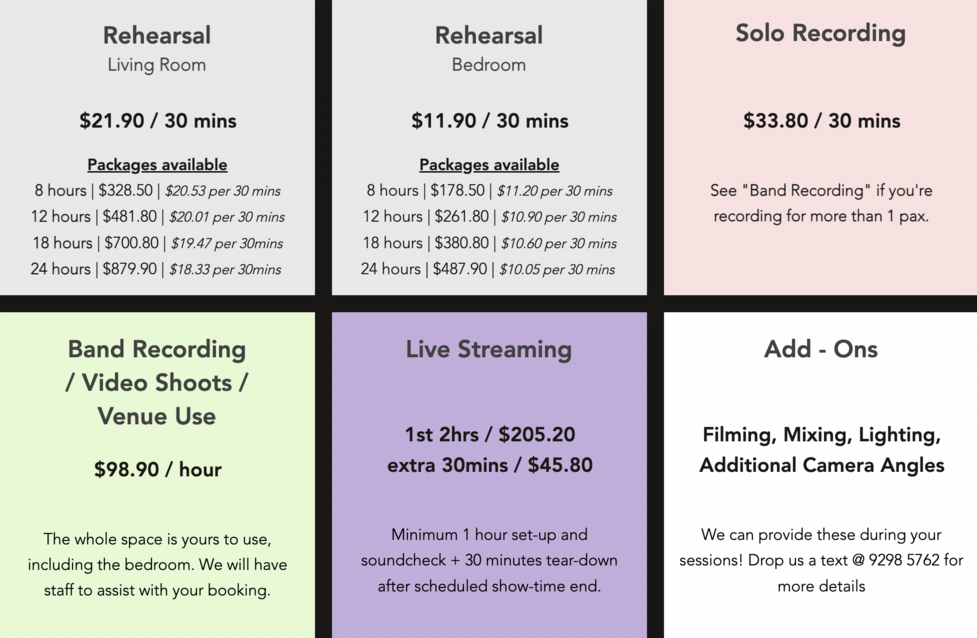 ---
VERTA Collective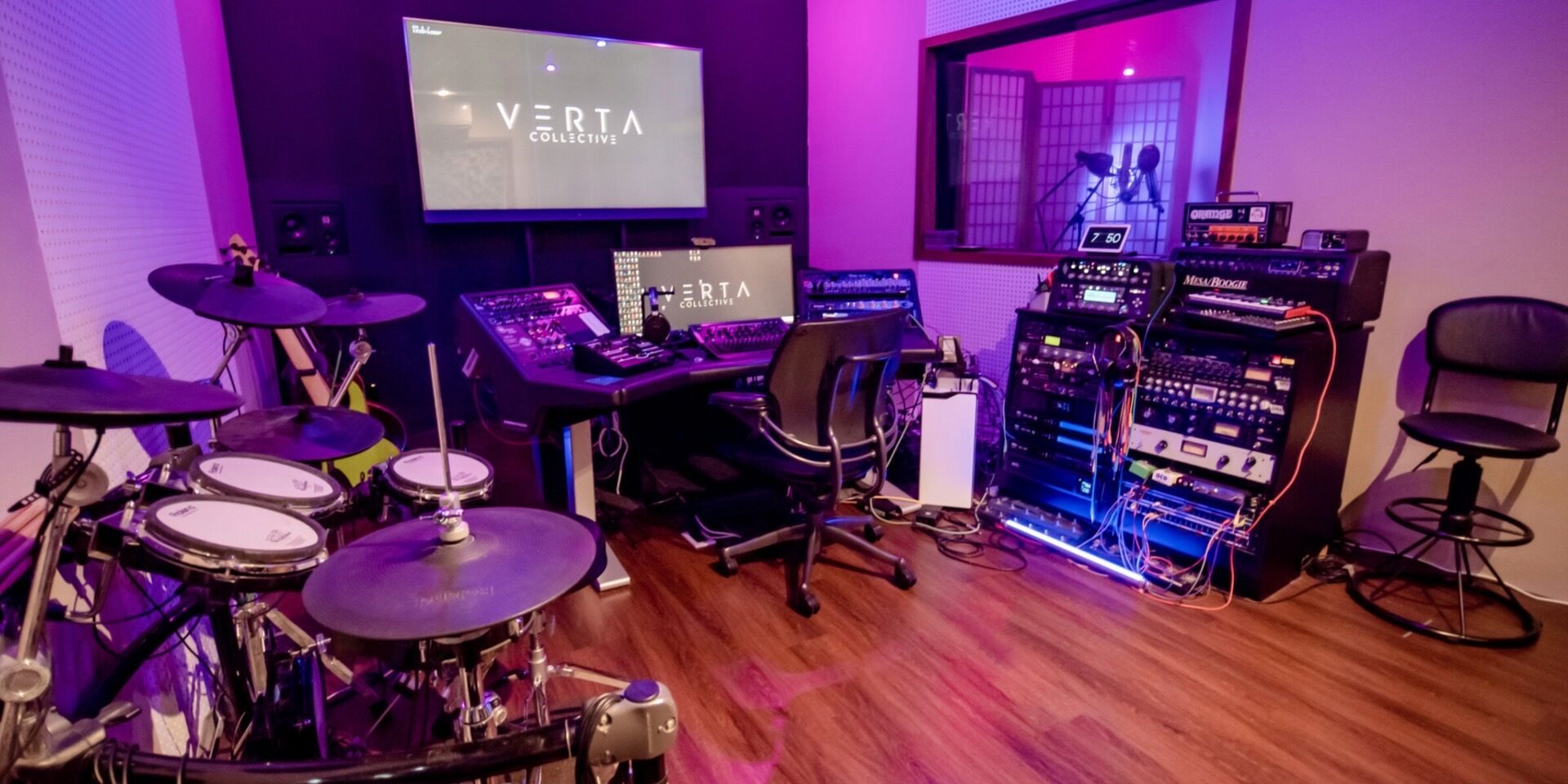 Location: 621 Aljunied Rd, #07-04 Lipo building, Singapore 389834
Website: https://vertacollective.com/
With almost a decade of experience in the creative industry,  VERTA Collective is active in helping like-minded artists reach their potential and is passionate about supporting the Singaporean and South-East Asian creative sectors. It offers all music production services, including recording, mixing, mastering, voiceover recording, sound design, and audio post-production. Individuals looking for a place to hold their events can contact the team to rent the event space for product launches, workshops/classes, and live-streamed events. The group consists of audio engineer Wong Kai Wen, music producer and recording engineers Wong Jian Liang and Wong Jian Ming, and audio engineer Benson Aw. As active artists in Singapore's music scene, they can further understand the needs and challenges that fellow artists may face.
VERTA Collective's studio has all the equipment for your music recording needs: an acoustically-treated control room, a vocal booth, and 200 square feet of space that is fully equipped with state-of-the-art equipment. The studio is well-prepared for soloists and even live band setups.
It has worked on RESERATE X DEBBI KOH's 'Playground' (Bea Miller/Arcane OST), AARCADE's High (The Chainsmokers), and Aggressive Raisin Cat's RAMEN.
On its story, VERTA Collective shared, "VERTA Collective isn't just an entity, it's a movement — one that seeks to help artists maximize their creative potential and provide them with the production quality they deserve."
---
What's Your Jam Music Studio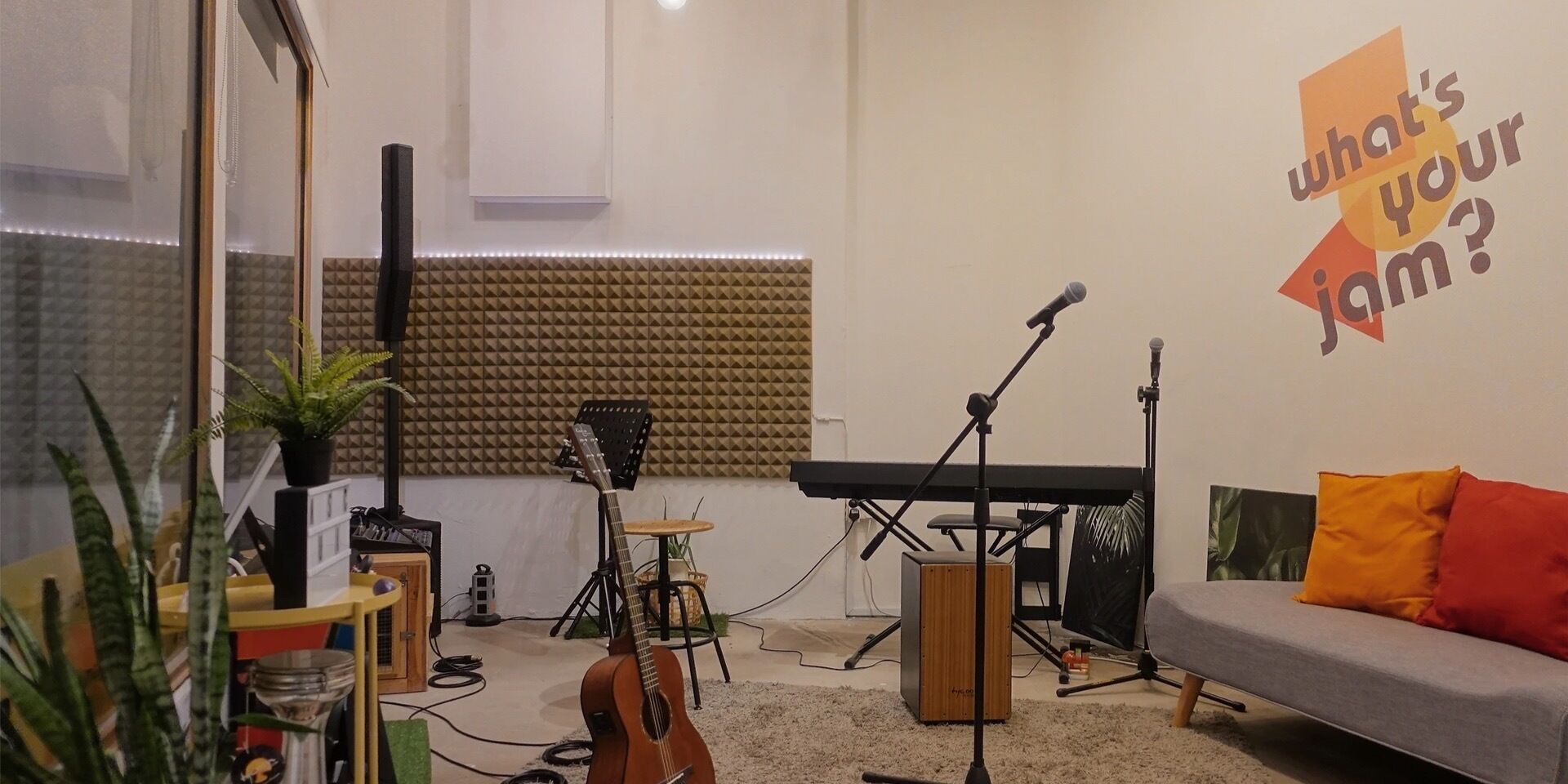 Location: 7B Kampong Bahru Rd, Singapore 169342
Website: https://www.whatsyourjam.sg/
The team behind What's Your Jam takes a cordial and welcoming approach to artists from all walks of life. Their recording studio is open to individuals from any experience level, primarily focusing on creating an experience that caters to their needs.
The studio has track recording packages for individuals and duets ($200 and $400, respectively). For up to two hours, artists can have a sound check and recording session and have their recordings mixed and edited by a sound engineer. Artists looking to record multiple songs can opt for the Studio Package instead, which includes services like track recording, pitch correction, mixing and mastering, and overall music production for up to 10 hours with a validity of three months for $800. 
---
Zendyll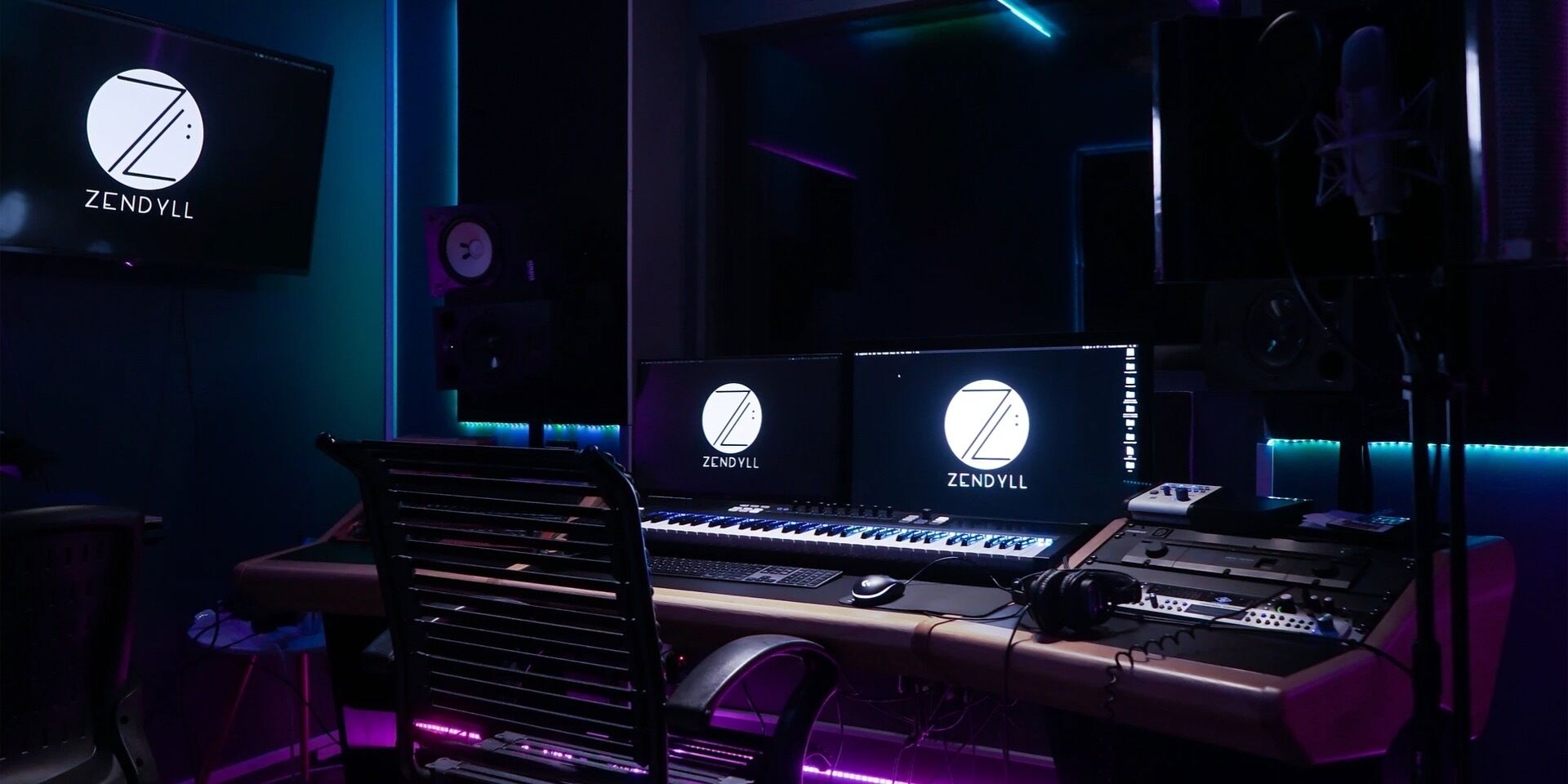 Location: 1 Pegu Rd, #01-02, Singapore 328358
Website: https://www.zendyll.com/
Branded as a "groundbreaking music agency", Zendyll Music is no stranger to the local and regional music community. Headed by Jon Chua, the agency is well-known for continuously pushing the agenda for Singapore's music industry. Its recording space provides an immersive and collaborative environment for songwriters, producers, and artists. Along with Jon, the agency is home to fellow artists RRILEY, Feez, Ae$op Ca$h, and Sham. It also represents songwriters such as The Sam Willows, RIIDEM, and Claire Chew.
Its portfolio features successful campaigns such as Goodbye Gantry U-turn (with RRILEY, McCann Singapore, and Mastercard), a series of songs to illustrate the ease of "Tap & go" on public transport. It has also composed music for Golden Village 25 Years which was shown on theatre screens before the start of every movie in celebration of Golden Village's 25th Anniversary.
Artists can enquire and book the agency's recording space which features two state-of-the-art recording studios, a live rehearsal room, and three writing rooms depending on the size of their group or project.
---